Thu Sep 5, 2019, 02:53 PM
demmiblue (28,664 posts)
7 replies, 630 views
Replies to this discussion thread
| | | | |
| --- | --- | --- | --- |
| 7 replies | Author | Time | Post |
| Feels. (Original post) | demmiblue | Sep 2019 | OP |
| | tblue37 | Sep 2019 | #1 |
| | lunamagica | Sep 2019 | #2 |
| | mahina | Sep 2019 | #3 |
| | demmiblue | Sep 2019 | #5 |
| | Karadeniz | Sep 2019 | #4 |
| | Bayard | Sep 2019 | #6 |
| | TomSlick | Sep 2019 | #7 |
---
Response to demmiblue (Original post)
Thu Sep 5, 2019, 02:54 PM
tblue37 (43,564 posts)
1. K&R for the pupper. nt
---
Response to demmiblue (Original post)
Thu Sep 5, 2019, 03:02 PM
lunamagica (9,967 posts)
2. ...
---
Response to demmiblue (Original post)
Thu Sep 5, 2019, 03:52 PM
mahina (12,414 posts)
3. Who is this artist?
---
Response to mahina (Reply #3)
Thu Sep 5, 2019, 04:40 PM
demmiblue (28,664 posts)
5. Travis Patenaude (animal rescue photographer)
About me
I always knew I would end up in a
padded room one day,
I just never expected it to be made
out of Dog Beds.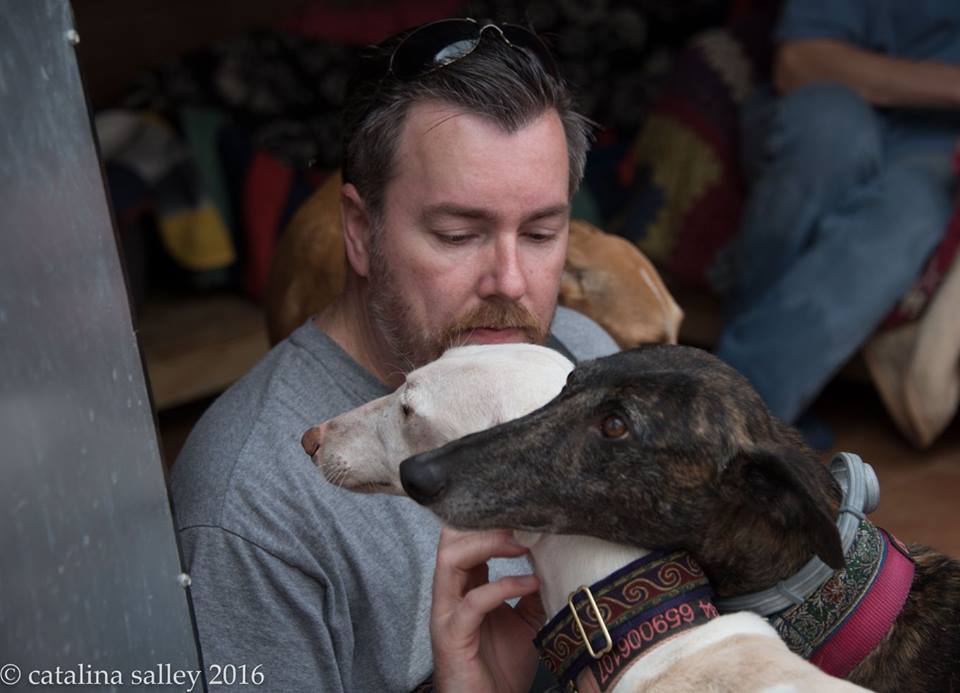 In 2012 my wife and I were blessed to be rescued by a Galgo named Leena. This scared little white Galgo inspired my wife and I to start Love Hope Believe Galgo Adoption (www.adoptagalgo.com) in 2013. When our group was first starting out, we were lucky enough to have a member of Hearts Speak (www.HeartsSpeak.org) take photographs of our adoptable Galgos and give me several tips to take better photos of our adoptable dogs. Since then I have been working on my photography skills and taking photos of the Galgos during our trips to Spain. Now I have the opportunity to pay it forward. My wife and I have made five trips to Spain to volunteer at the shelters and have transported 60 Galgos back to the US for adoption. In December 2014 I published my first photo book "Galgo Espanol After The Hunt" (
http://www.blurb.com/b/6708469-galgo-espanol-after-the-hunt
) The money raised from the book is donated to Baas Galgo, the shelter we volunteered at in February 2015. I also have two more Photo Books in the works that will benefit Shelters in Spain that care for these beautiful animals.
https://www.stinkeyephotography.com/bio
A quote from his website:
"When animals express their feelings they pour out like water from a spout. Animals' emotions are raw, unfiltered, and uncontrolled. Their joy is the purest and most contagious of joys and their grief the deepest and most devastating. Their passions bring us to our knees in delight and sorrow."~ Marc Bekoff
Instagram:
https://www.instagram.com/stinkeye_photography/
Animal people are the best people!
---
Response to demmiblue (Original post)
Thu Sep 5, 2019, 04:15 PM
Karadeniz (10,127 posts)
4. That is SO beautiful!!!!!❤❤❤ Is this what it's about? The man has just lost his bff
dog and holds onto a favorite toy while thinking of him. The memory becomes so vivid, he literally feels his dog's presence from the other side. If that's not what the scene depicts, don't tell me!
---
Response to demmiblue (Original post)
Thu Sep 5, 2019, 05:03 PM
Bayard (10,079 posts)
6. Greyhounds!
That's a beautiful work of art.

I lost 3 OTT Greyhounds over the years. They are wonderful dogs....and works of art.
---
Response to demmiblue (Original post)
Thu Sep 5, 2019, 10:52 PM
TomSlick (5,629 posts)
7. Wow! Just wow.