Fri Aug 21, 2020, 10:19 PM
Eugene (49,789 posts)
Stephen A. Douglas' statue to be removed from Illinois Capitol lawn
Source:
Associated Press
Douglas' statue to be removed from Illinois Capitol lawn
By JOHN O'CONNOR
August 19, 2020
SPRINGFIELD, Ill. (AP) — A statute of Stephen A. Douglas, a senator from Illinois whose national reputation in the mid-19th Century was built on the idea that each new U.S. territory should decide on allowing slavery, will be removed from the state Capitol lawn because he personally profited from slavery, officials decided Wednesday.
The board of the Office of the Architect of the Capitol voted unanimously to remove the figure of Douglas, whose career-long nemesis was Abraham Lincoln. A rendering of Pierre Menard, an early Illinois settler, politician and slave owner, also will be removed.
Architect of the Capitol Andrea Aggertt told the board that she did not yet have a cost for removal and storage.
The action came after House Speaker Michael Madigan asked the board to consider removing portraits and statuary of Douglas in and around the Capitol. The Chicago Democrat said he had recently read Lincoln biographer Sidney Blumenthal's account of how Douglas profited from family owned slaves. After George Floyd's death in Minneapolis sparked a nationwide movement to remove Confederate symbols, Madigan decided that references to Douglas should be banished.
The architect board took no action on a prominent Douglas statue inside the Capitol, or his portrait in the House chamber, voting to take an inventory of all paintings, murals, statues, and other art in the 1876 building.
-snip-
Read more:
https://apnews.com/75d7c8729ab5f7a5c4399386f676cb28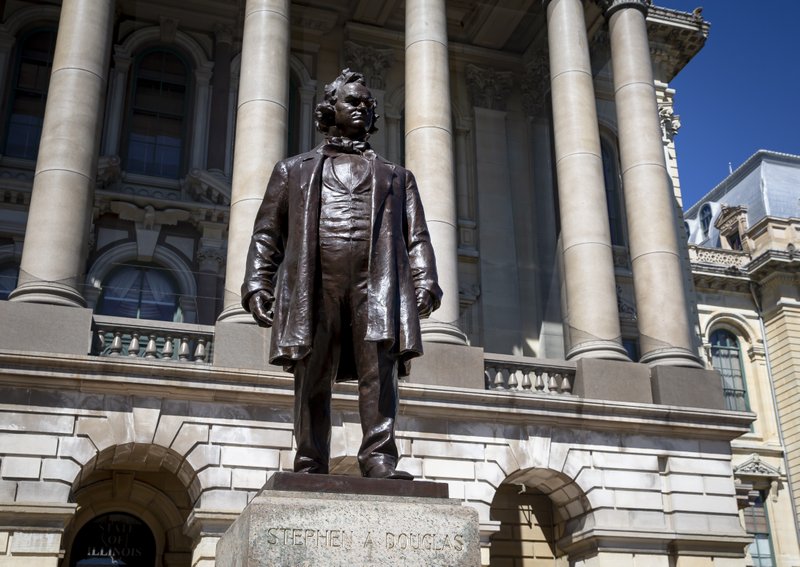 A statue of Stephen Douglas stands in front of the east entrance to the Illinois State Capitol, Wednesday, Aug. 19, 2020, in Springfield, Ill. Illinois officials approved Wednesday the removal of the statue of the 19th century senator from Illinois who owned slaves and espoused the notion that each territory should decide whether slavery would be allowed. (Justin L. Fowler/The State Journal-Register via AP)
0 replies, 673 views