Fri Jun 7, 2019, 12:18 AM
Rhiannon12866 (107,664 posts)
Everything You Need to Know about Car Safety Features
This is how active safety systems work and how they can save you from an accident.
The number of driver-assistance safety features available to car buyers has grown quickly in the past several years, so it's easy to be confused about which technologies do what. Understanding how these features operate and how they can help you avoid an accident are key to deciding if option packages that include them are worth the extra coin.
If you purchase a vehicle that has some or all of these features, it's important to know how they work and why sometimes they don't–and what to do if one should alert you to an impending incident. To help, we've gathered all of the current driver-assistance features here along with an explanation of how each functions.
Adaptive Cruise Control
Adaptive cruise control is a convenience that uses the car's radar and camera modules to alter the set cruising speed if it detects a slower vehicle ahead. When adaptive cruise control is engaged, the car will maintain a specific distance from the car in front; many cars come with three set options for the following distance. Some advanced versions of the feature will also bring the vehicle to a complete stop if the car ahead stops and will then start to back up when traffic begins to move. Such a feature is quite handy and reduces driver fatigue by allowing the use of cruise control in dense-traffic driving scenarios.
Active Park Assist
Using sonar and radar, vehicles equipped with active park assist will seek out and measure empty parking spots and then actively steer the vehicle into them while the driver operates the accelerator and brake. Some manufacturers offer both parallel- and perpendicular-parking capability, but some limit the vehicle to one or the other. In our experience, these systems aren't perfect and are easily tripped up by curbs, closely parked vehicles, or other environmental factors.
Automated Emergency Braking
Using forward-facing cameras and radar, vehicles with automated emergency braking will warn the driver of an imminent forward collision with another vehicle, pedestrian, or object and then brake the vehicle on behalf of the driver if he or she takes no action. Some vehicles also come with a similar automated emergency braking system that works when the vehicle is reversing. We tested automated emergency braking on several vehicles and found that while they do indeed work as intended, they don't always brake hard enough or early enough to avoid the collision altogether, so drivers should not rely on such features. Some systems work only at low speeds, while more advanced systems work even at highway speeds. Automated emergency braking will be phased into all new cars as a standard feature by 2022.
Much more:
https://www.caranddriver.com/features/g27612164/car-safety-features/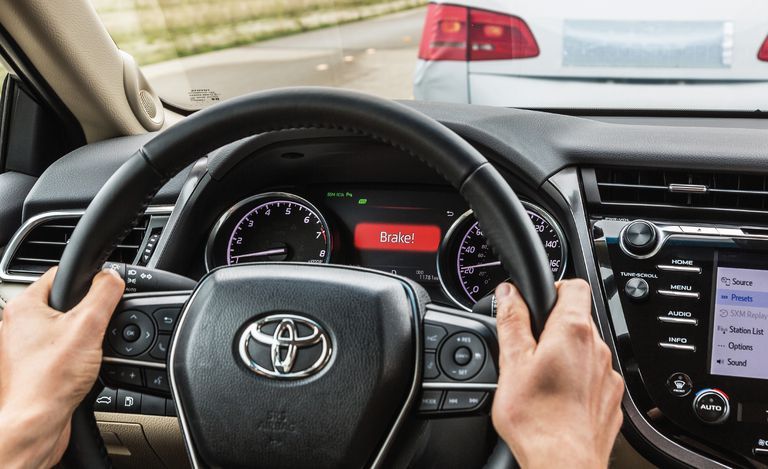 Toyota's Forward Collision Alert Feature in action.
Andi Hedrick - Car and Driver
0 replies, 338 views