Tue Jul 23, 2019, 06:10 PM
elleng (93,379 posts)
Even Unhatched, Birds Exchange Survival Skills.
'Eggs vibrate in response to parental alarm calls, then pass on the warning to nearby eggs.
On Sálvora Island, off the coast of Spain, thousands of yellow-legged gulls dot the grassy cliffs from April to late July. It is a riot of white wings and plaintive calls. Occasionally, the chorus changes as the seabirds engage in courtship and chick-feeding. And when the adults notice a predator, such as a dusky-coated mink, the chorus shifts again, to a characteristic alarm call — ha-ha-ha.
These acoustic cues reach not just young and adult gulls but unhatched embryos, too. In 2018, researchers found that when gull eggs hatch, the ones that were exposed to alarm calls were able to crouch and hide from predators a couple of seconds faster than others.
A few other bird species, including quails, fairywrens and zebra finches, are known to relay similar cues about the environment to their unhatched young, to prepare hatchlings to fend for themselves.
But embryos aren't receiving wisdom only from their parents. A new study, published Monday in the journal Nature Ecology & Evolution, suggests that they're also receiving cues from nearby unhatched siblings.'>>>
https://www.nytimes.com/2019/07/22/science/birds-embryos-communication.html?
1 replies, 499 views
Replies to this discussion thread
| | | | |
| --- | --- | --- | --- |
| 1 replies | Author | Time | Post |
| Even Unhatched, Birds Exchange Survival Skills. (Original post) | elleng | Jul 2019 | OP |
| | Rhiannon12866 | Jul 2019 | #1 |
---
Response to elleng (Original post)
Tue Jul 23, 2019, 11:58 PM
Rhiannon12866 (108,022 posts)
1. CNN: Baby birds can communicate about danger even before they hatch, study says
(CNN) Developing baby birds may be able to sense danger and "warn" other unhatched birds in the same nest about nearby predators, according to a new study.
It sounds like one of those mysterious, inexplicable things animals do, but pair of researchers from the University of Vigo in Spain laid out a very specific pattern of behavior and found that it changes the direction of the birds' development.
Affected birds shared the warning
The researchers studied 90 yellow-legged gull eggs, divided into "clutches," which is a term for all of the eggs in one nest. They separated some eggs in a clutch and played adult gull warning calls. As a result, the eggs started to move.
"Gull embryos alter their motility when exposed to alarm calls emitted by adults, an effect that causes the egg to vibrate," says the study, published in the journal Nature, Ecology and Evolution.
Here's where it gets really interesting: When those eggs were reintroduced to the rest of their clutchmates, who were busy developing in relative silence, it appears that they somehow transmitted the information -- namely, that some kind of danger was near -- to those who didn't hear the warning calls.
Read more:
https://www.cnn.com/2019/07/23/us/baby-bird-communicate-egg-study-nature-journal-trnd/?iid=ob_lockedrail_topeditorial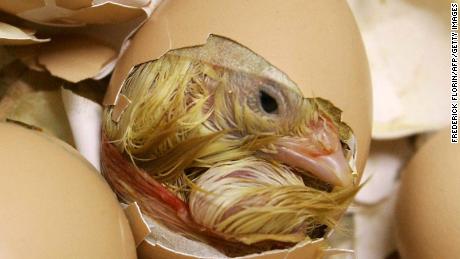 This guy may have already looked danger in the eye -- metaphorically, anyway.