Wed Feb 19, 2020, 08:38 AM
Celerity (25,339 posts)
The Absurdly Beautiful Mountain Country You've Probably Never Heard Of
https://www.thrillist.com/travel/nation/visit-kyrgyzstan-tourism-travel-what-to-do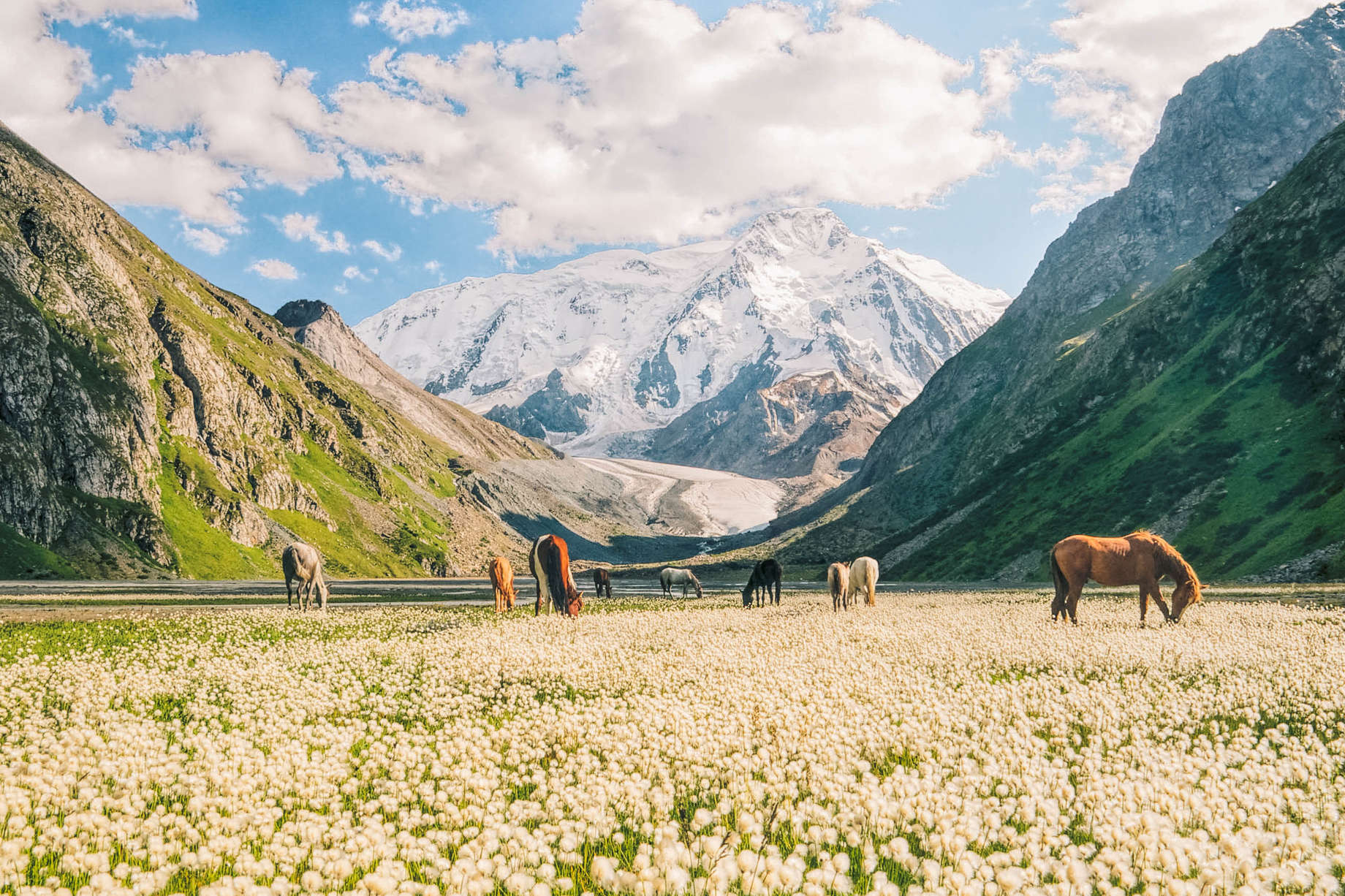 The most surreal vacation I ever took was to Kyrgyzstan. If you've never heard of Kyrgyzstan, don't feel bad -- I hadn't either until a friend, who had read about it on Reddit, texted me a few Googled photos of the place. I remember thinking, "That's what Kyrgyzstan looks like?" before promptly booking one of the most satisfying trips of my life.
If you're in Kyrgyzstan, you're probably on top of a mountain. A range called Tian Shan ("Heaven Lake" in Mandarin Chinese) covers about 80% of the country, and most of it is
at least 1,000 meters above sea level
. Its geological features vary from peak to peak, but the landscape is tied together by its exquisite, swoon-inducing beauty -- an extraterrestrial vastness that really clears the brain.
The serene, lake-spotted mountain hikes are why people come here, and they're still seared in my memories. It's so damn pastoral and pristine that my mind has now permanently coupled these two adjectives with this one country. It's sometimes referred to as "the Switzerland of Central Asia," but I personally think the comparison sterilizes the nomadic spirit of Kyrgyzstan. If you're an adventurous traveler who's desperate for total immersion in crushingly beautiful landscapes, who delights in exploring destinations that aren't all over your Instagram feed, who's down to push outside your comfort zone and encounter a welcoming culture that's nothing like back home, you need to book this trip ASAP.
Kyrgyzstan is a place that rewards a challenge
Kyrgyzstan is sandwiched between Tajikistan, Uzbekistan, Kazakhstan, and China: countries and cultures I was super unfamiliar with. When I got to Manas International Airport, I was instantly pushed beyond my comfort zone by a lack of English-language signage. Outside, cab drivers offered rides in Russian and I groaned at my lack of linguistic preparation. Fortunately, my friend had arrived the day before and scheduled a cab for my arrival.
snip
1 replies, 1757 views
Replies to this discussion thread
| | | | |
| --- | --- | --- | --- |
| 1 replies | Author | Time | Post |
| The Absurdly Beautiful Mountain Country You've Probably Never Heard Of (Original post) | Celerity | Feb 2020 | OP |
| | Docreed2003 | Feb 2020 | #1 |
---
Response to Celerity (Original post)
Wed Feb 19, 2020, 09:13 AM
Docreed2003 (13,317 posts)
1. Its a beautiful country
I got to see Kyrgyzstan briefly while traveling into and out of Afghanistan. It's an absolutely gorgeous country.