Sat Oct 15, 2016, 08:05 PM
rug (82,333 posts)
Trump just attacked Clinton on the Catholic church. He's definitely forgetting something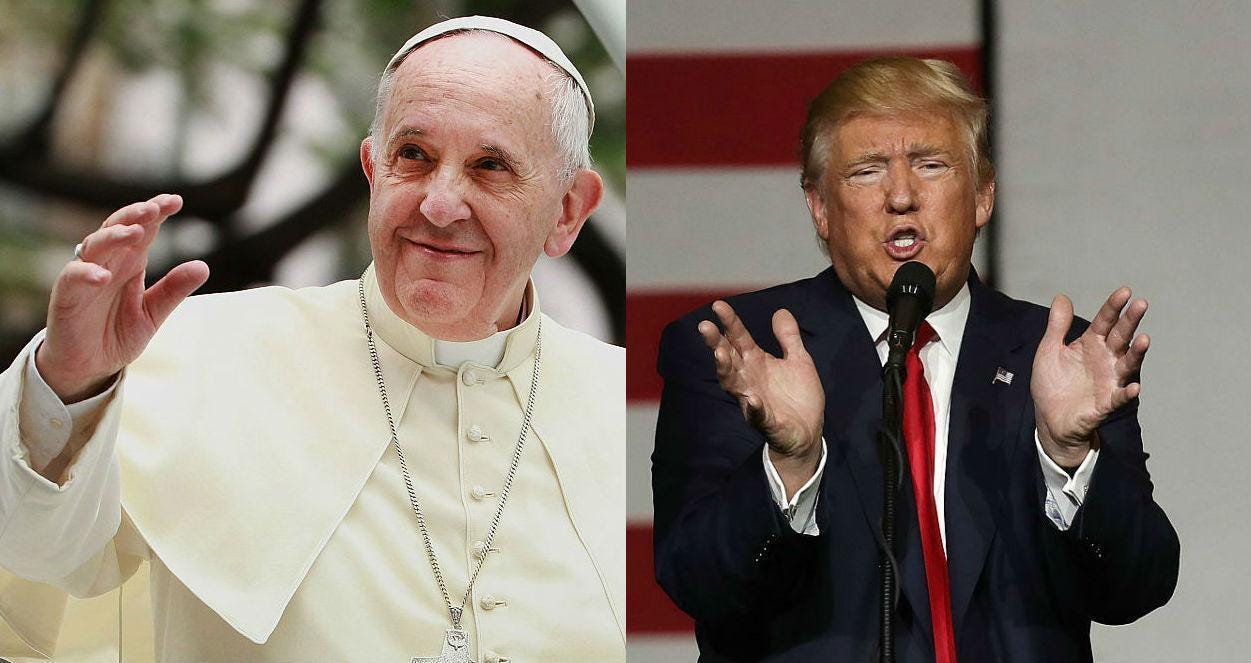 Posted about 17 hours ago by Joe Vesey-Byrne
Donald Trump criticised Hillary Clinton for her remarks regarding Catholics, forgetting the time he called the Pope 'disgraceful'.
In an all-caps tweet posted on Friday, the Republican presidential candidate wrote:
Donald J. Trump ✔ @realDonaldTrump
WHAT THEY ARE SAYING ABOUT THE CLINTON CAMPAIGN'S ANTI-CATHOLIC BIGOTRY:
http://bit.ly/2dcbtvkCrooked
11:23 AM - 14 Oct 2016 · Manhattan, NY, United States
The link took followers to a page of Trump's website which compiled quotes from TV pundits and news articles regarding perceived anti-Catholic bigotry in Clinton campaign emails released by WikiLeaks.
In February 2016 however, Trump's official campaign issued a statement that called the head of the Catholic church 'disgraceful'.
https://www.indy100.com/article/trump-clinton-catholic-church-pope-disgraceful-7362846
2 replies, 1097 views
Replies to this discussion thread
| | | | |
| --- | --- | --- | --- |
| 2 replies | Author | Time | Post |
| Trump just attacked Clinton on the Catholic church. He's definitely forgetting something (Original post) | rug | Oct 2016 | OP |
| | No Vested Interest | Oct 2016 | #1 |
| | rug | Oct 2016 | #2 |
---
Response to rug (Original post)
Sun Oct 16, 2016, 02:58 AM
No Vested Interest (4,722 posts)
1. IIRC, the remarks re the Catholic Church were not written or spoken by Hillary
but by her staffer, Jen Palmieri to John Podesta.

There's a general understanding that Catholics can criticize Catholics, Jews can criticize Jews, and other denomination can criticize their own.
Of course, it's better if those call-outs remain within the body, but, apparently, in today's world, that's not going to happen.
In other words, keep the dirty laundry within the family.
Don't pay any attention to what the "Catholic League" has to say - that's old Bill Donahue and no one takes him seriously.
---
Response to No Vested Interest (Reply #1)
Sun Oct 16, 2016, 05:53 AM
rug (82,333 posts)
2. No, they weren't.
trump probably expected some otraged reaction the ame way he expected the four Bill Clinton accusers would have some outrageous reaction against Hillary.