Thu Apr 6, 2017, 01:14 PM
JHan (10,173 posts)
Lab Grown Meat - The Future of Meat
Soon, hopefully, the idea we ever used live animals to feed millions will be considered barbaric.

Instead of intensive animal farming - which is not an efficient use of land, impacts the environment and is partly responsible for antibiotic resistance, the spread of disease, and harmful to animals - factory farms will replicate cultured cells of chicken, meat , maybe even plants.


11 replies, 7310 views
Replies to this discussion thread
| | | | |
| --- | --- | --- | --- |
| 11 replies | Author | Time | Post |
| Lab Grown Meat - The Future of Meat (Original post) | JHan | Apr 2017 | OP |
| | Warpy | Apr 2017 | #1 |
| | JHan | Apr 2017 | #3 |
| | byronius | Apr 2017 | #2 |
| | JHan | Apr 2017 | #4 |
| | Warpy | Apr 2017 | #5 |
| | JHan | Apr 2017 | #6 |
| | byronius | Apr 2017 | #7 |
| | Warpy | Apr 2017 | #8 |
| | byronius | Apr 2017 | #9 |
| | Duppers | Apr 2017 | #10 |
| | NickB79 | Apr 2017 | #11 |
---
Response to JHan (Original post)
Thu Apr 6, 2017, 03:58 PM
Warpy (102,793 posts)
1. Anyone who's ever driven by a feed lot in August will appreciate this
but cattle have pretty much the best deal, able to roam relatively free for a couple of years before being hauled off for "finishing" by having nothing to do while packed in a fenced area with a lot of other cattle, standing ankle deep in their own waste, and eating food they were never meant to eat to build up a lot of unhealthy fat in their muscles. At least they get time to be cattle.

Not so our other meat animals living their entire lives in factory conditions.

I very much look forward to the day when most of our meat is produced in trays, not by living creatures with the capacity to suffer. Soups are going to be a challenge, though.
---
Response to Warpy (Reply #1)
Thu Apr 6, 2017, 05:03 PM
JHan (10,173 posts)
3. Agreed. btw Memphis Meats just had their debut: tender chicken strips:
---
Response to JHan (Original post)
Thu Apr 6, 2017, 04:20 PM
byronius (6,979 posts)
2. I am totally into this as a concept. Awesome idea.
Fake wood, fake meat, fake violence -- it's the only way to move forward. The Beast wants what the Beast wants. But if the Beast doesn't know the difference between cheaper, healthier, better-tasting fake meat and the real thing -- the Beast won't care.

And the creatures of the world will sigh with relief.
---
Response to byronius (Reply #2)
Thu Apr 6, 2017, 05:04 PM
JHan (10,173 posts)
4. :D well said.
---
Response to byronius (Reply #2)
Thu Apr 6, 2017, 05:24 PM
Warpy (102,793 posts)
5. Yes and no
Domesticated animals, even meat animals, thrived with us for thousands of years. We made sure they had plenty to eat year round, chased off their predators, and increased their numbers far, far beyond what they could have achieved in the wild. We also saved them from old age with a quick death and I can tell you old age sucks.

Factory farming introduced monoculture genetics and inhumane conditions. That's what's got to go.

I think the rich will always insist on the real thing once the fake thing becomes lower priced. I don't think the real thing will be grown in factory farms again.
---
Response to Warpy (Reply #5)
Thu Apr 6, 2017, 05:56 PM
JHan (10,173 posts)
6. I was thinking that as well - that we may well see a strata in food with live animals at the top..
Rare and expensive. Grown by small farmers.

I try not to be too dystopian ( I 'm young, I want the future to be great!) But I think, just as the way wearing fur is no longer in vogue, eating food from live animals could be seen eventually as a no-no.
---
Response to Warpy (Reply #5)
Thu Apr 6, 2017, 06:15 PM
byronius (6,979 posts)
7. You may be correct until the Far Future arrives.
However -- consider the current status of meats that majority populations consider 'barbaric' and have made illegal -- leopard, lion, elephant, even more rare animals that are captured and sold to rich insanos as status-habits -- the prices are high because the practices are currently considered profoundly cruel and destructive/consumptive.

The sea change may happen sooner than you imagine. The number of young vegans is twenty times the numbers of their seniors, and the general number of vegans has doubled ever year for the last five years.

Me? Someone sponsors a bill to make meat wholly illegal, complete with draconian penalties -- I'll happily vote for it and give money to the sponsor. Short of that, really good fake meats that taste better than the real thing seem like the common-sense 'public health' approach to ending a hominid behavior that I now find utterly gross and distasteful.

I've changed radically on this issue in the course of my lifetime. I suspect generational change might be as profound.

I still eat Republicans, though. Tasty with the right sauce. Roasted.

---
Response to byronius (Reply #7)
Thu Apr 6, 2017, 06:34 PM
Warpy (102,793 posts)
8. Really? I find them overly fatty and all that bile ruins the taste.
Most of the "rare, expensive" meats on your list weren't eaten except in times of scarcity, mostly because we tend to avoid other meat eaters and especially carrion eaters because they don't taste very good. The "rare viands" on Henry VII's table were often more for show than for eating, demonstrations of his power and wealth that he could grace his table with the carcasses of foreign beasts. Their meat went to the hounds and their pelts eventually adorned the king or his chambers.

I do see the two tier eating, though. It's rather upside down these days, the rich dining on offal and the poor making do with the choicest muscle meats.
---
Response to Warpy (Reply #8)
Thu Apr 6, 2017, 09:26 PM
byronius (6,979 posts)
9. Well, boiled and minced, heavily peppered and marinated.
Okay, you're right. Heinlein's 'grokking' practice was meant as a representation of affection and respect. And, if we truly are what we eat -- bleahh. I don't want to grow mean and small-minded.

And yes, the weirdness of modern wealth -- the worst drug of all, the most addictive and damaging, with generational effects that routinely end in raving murderous psychopaths -- there's something that a smart culture would probably ban outright. FDR suggested a hundred percent tax rate on all incomes over a million dollars per year. Gosh, we could give them ten million, they'd still be more comfortable and secure than I've ever been in my life, and just think of all the lemurs and lamas and pandas we'd save from their trumpish grills.

I will admit that the spiritual aspects of veganism are not necessarily as important for me as the physical. Man, I feel good. Strong. Smarter. I snap back. I sleep good. I never have to see a doctor. Kale is my drug. Wow. So intense.

---
Response to JHan (Original post)
Fri Apr 7, 2017, 01:39 AM
Duppers (24,443 posts)
10. I applaud ANY measure that stops suffering of any species
"The arguments to prove man's superiority cannot shatter this hard fact: in suffering the animals are our equals."
- Peter Singer, philosopher
Leonardo Da Vinci...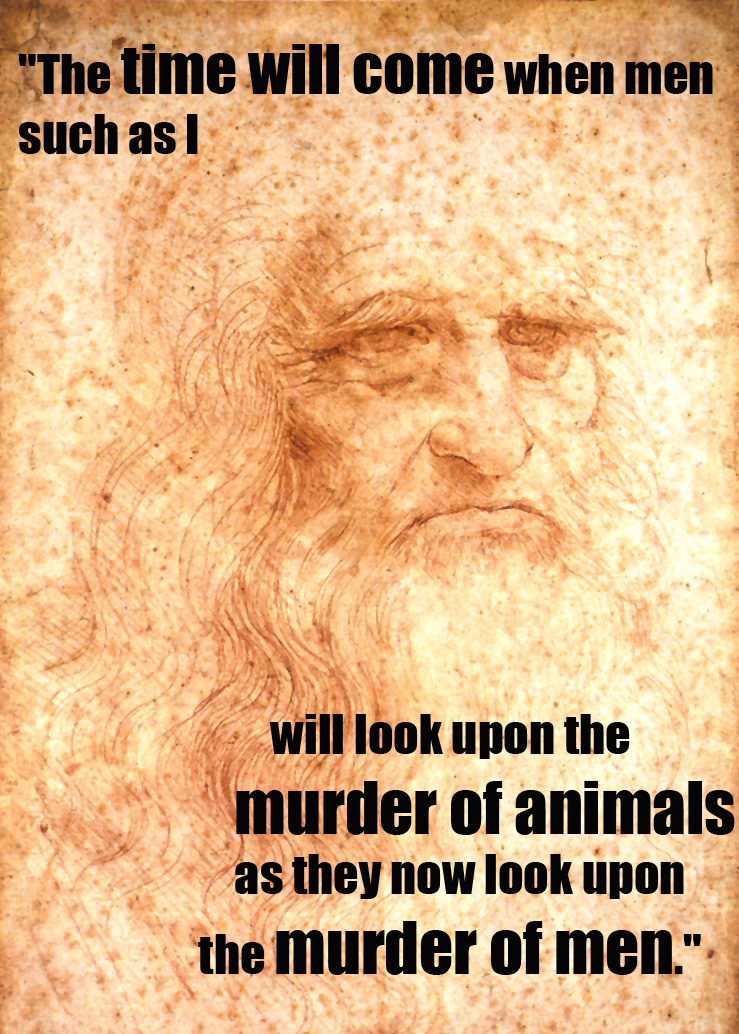 And thoughts to consider, not that I completely agree with this, but I applaud ANY measure that stops any suffering. No, I'm not a complete vegetarian. I'm a hypocrite who feeds my dog a bit of meat a few days a week. And i'm glad she loves eggs.
Dog, Horse... It's Good Food for Us

In February, 2009, a resident of Auckland, New Zealand killed his family dog and barbecued the body. Concerned neighbors informed the SPCA, who arrived at the man's home to find the dog's body roasting over an outdoor fire.

The SPCA investigated the incident, but recently came to the conclusion that no crime was committed, because the murder was carried out 'humanely'. According to the man's story, the dog was killed swiftly and painlessly. In what proves to be a classic example of the absurdity of animal welfare laws, New Zealand considers this perfectly legal.

Garth Halliday, of the Auckland SPCA, told reporters that the family had become 'tired of the dog', and decided he was becoming a pest, especially as he was riddled with fleas. Rather than treating the fleas and finding an appropriate home for the dog, they decided to simply kill and eat him, a practice that is commonly accepted in their native Tonga.

According to the man's wife, "Dog, horse, we eat it in Tonga. It's good food for us."

As someone whose life has been enriched greatly by my experience with dogs, it's hard not to see this as an exceptionally gruesome act, and as somehow different to the barbaric and unnecessary slaughter that occurs on a massive scale every day so that people everywhere can enjoy the taste of flesh. Dogs, after all, are animals who are treated as family members in many loving homes throughout the world, and it's hard not to fall victim to the speciesism that teaches us to see dogs as somehow entitled to a greater degree of protection than animals used by agriculture.

If Paea Taufu worked in an animal factory, he could be killing animals all day long, and not only would it not be considered controversial, he would be paid for it, and regular people would buy the animals' flesh to eat it themselves. The difference? Dog = Pet. Lamb = Food. But this incident offers us a remarkable opportunity to examine such cultural prejudices and see them as they really are: meaningless justifications for cruelty toward some that we would not tolerate toward others.

To the vast majority of humanity, animals are judged edible and inedible according to irrelevant characteristics. Pigs, just like dogs, are intelligent, social, affectionate creatures, who love a tummy rub and will greet their people with wagging tails. Cows sorrowfully mourn the loss of their young, and can bellow for days after their babies are taken from them to be killed and eaten as veal. Turkeys can experience deep emotional connections with people, and chickens can be psychologically traumatized for life after being released from an egg production facility. All of these animals are shut out of our general circle of compassion or empathy, for no reason other than that they fulfill our desire for certain 'foods'.

Although I admit that my own cultural prejudices kick in when I hear about a dog being killed to be turned into meat for a family lunch, I can't help but feel that there is a certain hypocrisy being displayed by the general reaction to this incident, as though there is some sort of significant difference between the value of the life of a dog and the value of the life of a pig, a cow, or a chicken, animals who are killed collectively by the billions every year. In the US alone, we kill 317 land animals every second of every day. That does not even include the billions of aquatic animals killed every year, and it equals almost 20,000 every minute, and over 1,000,000 every hour.

I am not suggesting that people should not be horrified by this story, nor am I suggesting that there is anything defensible about killing a family member, or any animal, for any reason, in any way. What I am suggesting is that those who are horrified by this story ought to think carefully about why it is horrifying, and what our reaction to this tells us about animal use in general. The only reason we are not equally moved by the brutal murder of other animals is simply because we choose to ignore it. The reason we ignore it is because we benefit from it, and are therefore complicit in it.

We disregard our ethical responsibility toward these animals because it is convenient, but in so doing, we unwittingly stunt our ethical development, and thereby inhibit the social progression of humanity. The evolution of civilization is a continuous path toward learning the difference between right and wrong, between justice and injustice. To cling so stubbornly to the practice of enslaving animals for food and other pleasures, is to deny the need for the evolution of society, as though our widespread problems with violence and brutality do not have some deeper cause that needs to be addressed.

To be deeply saddened by the murder of a family dog is a sane reaction to a horrific occurrence. The hypocrisy begins when we shut off that sadness in reaction to the murder of other animals simply because our culture has taught us that 'cow, pig, chicken, sheep, fish… it's good food for us'.

http://www.care2.com/causes/animal-welfare/blog/dog-horse-its-good-food-for-us/

---
Response to JHan (Original post)
Mon Apr 10, 2017, 04:41 PM
NickB79 (16,853 posts)
11. Sounds like this is still 20-30 years from being viable economically
http://www.sciencealert.com/lab-grown-burger-patty-cost-drops-from-325-000-to-12
But just two years on, and scientists have announced a drastic cut in the cost of producing one of these patties, saying the price tag is now just a little more than $11 per burger, or $80 per kilogram of the meat. And the best part? The technique requires just a just a small piece of muscle to produce 10,000 kilos of lab meat.

"Cattle are very inefficient animals in converting vegetable proteins into animal proteins. We lose actually a lot of food by giving it to animals as an intermediate," one of the team, Mark Post from Maastricht University in the Netherlands, told Dominqiue Schwartz at ABC News. "At an environmental scale in methane and other greenhouse gases exhaust, it is also for the environment not a very healthy system. I do think that in 20, 30 years from now, we will have a viable industry producing alternative beef."