Fri Aug 10, 2018, 03:32 AM
NNadir (25,716 posts)
Ken Seddon died this year.
I'm sure that for many people, the overwhelming majority of people on the planet, this man, Ken Seddon, is obscure and without meaning, but he was the sort of man on whom the world depends, more than most people know, a scientist with
extreme passion
.
Recently, going through a back issue of the scientific journal
Green Chemistry
, I came across his obituary:
Obituary: Kenneth R. Seddon: 1950–2018
An excerpt:
Prof. Ken Seddon died on 21 Jan 2018 and the green chemistry community has lost one truly original character. Ken was in many ways a larger than life figure and the image he cultivated was one designed to elicit a reaction. Like the ionic liquids he devoted much of his career to, this often resulted in polarisation into positives and negatives. He could be in equal measure, generous, supportive, challenging, and yet also dismissive, quick to judge and then as immovable as a rock. Amongst those of us around the world who counted him as a colleague, supervisor, mentor, or collaborator though, he evoked deep-seated loyalty and friendship. He could be gracious, charming and thoroughly inclusive and had an infectious enthusiasm for science.
Let's consider just what it was that Ken achieved. He published over 400 papers with 44 of these in Green Chemistry, starting with one in the very first issue (Diels–Alder reactions in ionic liquids. A safe recyclable alternative to lithium perchlorate–diethyl ether mixtures, Green Chem., 1999, 1, 23–25). In 2011, he found himself as the highest ranked UK chemist in the Times Higher Education 'Top chemists of the past decade' survey, and was awarded an OBE in 2015 for his services to chemistry.

But let's be clear, Ken did not invent ionic liquids, and he never claimed to have! He was not even the first to make use of ionic liquids in electrochemistry, synthesis, catalysis, or as new solvents.

What he did do, and he did this remarkably well, was to recognise that there was a need to unify the disparate niche research areas where ionic liquids were under investigation and to create a broader new research landscape. As such, his greatest impact on science, and on green chemistry in particular, is through the popularisation of the idea that ionic liquids might actually be interesting and useful liquids to study – indeed, that they might be 'neoteric solutions'.
Perhaps the most important "ionic liquid" is the one in your brain - whether you know it or not - the neurotransmitter acetylcholine, which has this structure:
Ionic liquids are salts, generally of a positively charged organic molecule and a negative charged molecule, also often organic. There are, in theory, an infinite number of them. Here's an example of one, utilized as a catalyst for the preparation of biodiesel apparently:
I met Ken Seddon once, when he gave a lecture at a company where I worked; we had some interest in the commercial synthesis of imidazoles, important building blocks of a class of ionic liquids, alkyl imidazolium salts. I actually didn't stay with that company very much longer, and in my career, ionic liquids didn't play all that much of a role. But I remember his talk, and his passion, that he carried right through lunch at a little restaurant besides a beautiful harbor in Massachusetts.
But nevertheless, in the light of his passion, I began to follow that chemistry, and it does seem to me that compounds of this type might well be extremely useful to save what's left of the world we are so hellbent on destroying. Learning about ionic liquids changed my life.
In Google Scholar, as of this morning, there are nearly half a million hits for the topic "ionic liquids."
This man had a lot to do with the scientific popularity of this set of molecules. Even if few people know who he was, he
was
important, and a valuable citizen of the world.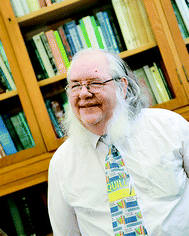 2 replies, 906 views
Replies to this discussion thread
| | | | |
| --- | --- | --- | --- |
| 2 replies | Author | Time | Post |
| Ken Seddon died this year. (Original post) | NNadir | Aug 2018 | OP |
| | mr_lebowski | Aug 2018 | #1 |
| | defacto7 | Aug 2018 | #2 |
---
Response to NNadir (Original post)
Fri Aug 10, 2018, 04:16 AM
mr_lebowski (16,116 posts)
1. Sorry for the loss of your friend and colleague (of sorts) NN ...
Sounds like a wonderful man and intellect.
---
Response to NNadir (Original post)
Fri Aug 10, 2018, 05:21 PM
defacto7 (13,485 posts)
2. I'm sorry to hear about the loss of another great innovator
and forward thinker. Sounds like a great man. It makes me ponder how many scientists and educators are out there who contribute great things to humanity and who we have never heard of.