Mon Sep 17, 2018, 06:45 PM
NNadir (25,916 posts)
Honoring the Mother of Modern Symmetry Mathematics, Emmy Noether.
Emmy Noether was a force in mathematics — and knew it. She was fully confident in her capabilities and ideas. Yet a century on, those ideas, and their contribution to science, often go unnoticed. Most physicists are aware of her fundamental theorem, which puts symmetry at the heart of physical law. But how many know anything of her and her life?

A conference in London this week, the Noether Celebration, hopes to change that. It's a welcome move. In a world where young scientists look for inspirational female role models, it is hard to think of a more deserving candidate.

Noether was born in 1882 in Erlangen, Germany. Her parents wanted all their children to get doctorates, so although many universities at the time did not formally accept women, she went. After graduation, sexist regulations prevented Noether from getting jobs in academia. Undaunted, for many years she lectured in Erlangen and, from 1915, at the University of Göttingen — often for free.

At the time, that city was the centre of the mathematical world, largely due to the presence of two of its titans — Felix Klein and David Hilbert. But even when Noether was being paid to teach at Göttingen and making her most important contributions, fate and further discrimination intervened: Hitler took power in 1933 and she was fired for being Jewish...

...The results that Noether published 100 years ago were, for her, a rare foray into physics, in which she was not particularly interested. Albert Einstein had just developed his general theory of relativity, and was struggling to understand how energy fitted into his equations. Hilbert and Klein were working on it, too, and asked Noether for help.

That she did help is an understatement. Noether's expertise in symmetry led her to discover that the symmetries of a physical system are inextricably linked to physical quantities that are conserved, such as energy...
I came across this news item in the most recent issue of Nature:
Celebrate the mathematics of Emmy Noether
I plainly confess that I had no idea about Noether until encountering this article.
Apparently for a time she was not allowed to join formally the faculty at Gottingen and therefore lectured under Hilbert's name. She worked for no pay, just for the love of mathematics.
These are the world's most beautiful people, people who do great things only for the appreciation and love of beauty.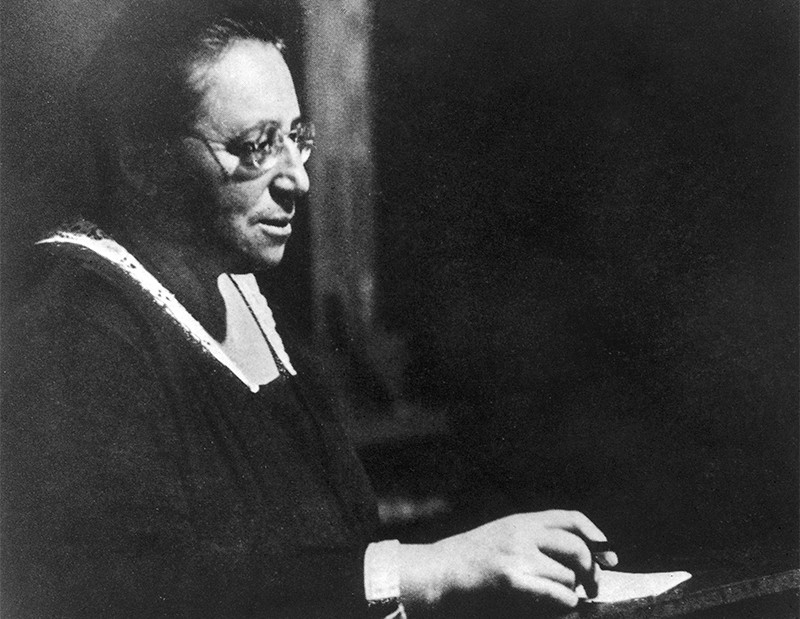 She reminds me of another great female contributor to science who also labored against prejudice against women in science and triumphed nonetheless, Lise Meitner, the true discoverer of nuclear fission. I wrote about Meithner elsewhere:
The Deformed Nucleus, Neptunium and the Rain
.
I thought it worth mentioning.
6 replies, 674 views
Replies to this discussion thread
| | | | |
| --- | --- | --- | --- |
| 6 replies | Author | Time | Post |
| Honoring the Mother of Modern Symmetry Mathematics, Emmy Noether. (Original post) | NNadir | Sep 2018 | OP |
| | calimary | Sep 2018 | #1 |
| | samnsara | Sep 2018 | #2 |
| | byronius | Sep 2018 | #3 |
| | Docreed2003 | Sep 2018 | #4 |
| | eppur_se_muova | Sep 2018 | #5 |
| | NNadir | Sep 2018 | #6 |
---
Response to NNadir (Original post)
Mon Sep 17, 2018, 06:46 PM
calimary (60,676 posts)
1. Bookmarking for later study.
---
Response to NNadir (Original post)
Mon Sep 17, 2018, 06:47 PM
samnsara (13,230 posts)
2. i dont have the gene for math so this was doubly amazing to me...(cuz i had to read it twice)...
...
---
Response to NNadir (Original post)
Mon Sep 17, 2018, 09:05 PM
byronius (6,702 posts)
3. It's an amazing story.
---
Response to NNadir (Original post)
Mon Sep 17, 2018, 09:06 PM
Docreed2003 (12,337 posts)
4. Amazing...thank you
Imagine what our world may have looked like had women and minorities been treated as equals throughout history.
---
Response to NNadir (Original post)
Mon Sep 17, 2018, 10:51 PM
eppur_se_muova (32,235 posts)
5. I have read it claimed that Noether's Theorem is the only famous theorem in mathematics that ...
... does not have an iconic equation associated with it.
Don't know if that's exactly true or not, but it's so interesting, it deserves to be true.
Pretty sure I first became aware of the importance of her work reading something by Feynman, an iconoclast in his own way.
Her academic situation famously led to the remark by Hilbert:
---
Response to eppur_se_muova (Reply #5)
Tue Sep 18, 2018, 10:20 AM
NNadir (25,916 posts)
6. I confess that I was completely unaware...
...of this apparently beautiful theorem and it's implication for theoretical physics until now.

I hope some day to have time to look into it or at least have my son look into it.

I do love these deeper sweeping scientific truths.

My interests in symmetry sort of was limited to Cotton's famous book on applications of group theory to chemistry, and though it's been many years since I've opened my copy, I can't recall reference to Noether's theorem.