Sat May 25, 2019, 04:32 AM
NNadir (27,085 posts)
James Wishart Awarded Maria Skłodowska-Curie Medal
I've heard this guy speak and I follow his work rather closely, a great scientist:
James Wishart, a chemist at the U.S. Department of Energy's (DOE) Brookhaven National Laboratory, has been awarded the Maria Skłodowska-Curie Medal by the Polish Radiation Research Society (PRRS). The award recognizes his distinguished achievements in the field of radiation chemistry and his long-lasting and productive interactions with Polish scientists. Wishart will receive the award at a ceremony during the society's 18th meeting in Kielce, Poland, on Sept. 16, 2019.

"Receiving this medal is a great honor," said Wishart, noting a legacy among radiation chemists that goes all the way back to Marie Curie. Born Maria Skłodowska in Warsaw, Poland, in 1867, Skłodowska-Curie and her husband, Pierre Curie, established the fields of radiochemistry (isolating and characterizing radioactive elements such as polonium and radium) and radiation chemistry (the study of chemical changes induced by ionizing radiation).

"Marie and Pierre Curie were the first people to report on the chemical effects of radiation, back in 1899," Wishart noted. If radiation has high enough energy, it can knock electrons out of molecules, resulting highly reactive negatively and positively charged ions, he explained.

Nearly 100 years later, in 1998, Wishart opened the Laser Electron Accelerator Facility (LEAF), in the Chemistry Division at Brookhaven Lab. LEAF was the first photocathode electron gun accelerator in the world designed for pulse radiolysis studies....

...Wishart has served directly as a mentor to more than 60 undergraduate and graduate students at Brookhaven Lab, with many of these students returning for multiple years through programs sponsored by DOE and OEP. He was recognized as an Outstanding Mentor by the DOE Office of Science in 2006. In 2010 he received a Keeper of the Alliance Flame Award from the New York City Lewis Stokes Alliance for Minority Participation, for his contributions to increasing diversity in undergraduate research. He has participated in numerous conferences, delivering over 100 invited talks abroad, including twelve in Poland, and he has hosted collaborators, postdocs, and International Atomic Energy Agency Fellows from Poland throughout his career. His trip to Kielce to receive this award will mark his tenth visit to Poland...

..."I have also made a personal pilgrimage to special locations connected to Marie Skłodowska-Curie," he said. "I've been to the Curie Museum in Paris several times, to Marie and Pierre's final resting place in the Pantheon, and I have also been to her birthplace in Warsaw..."

...In 2018, Wishart was selected to lead a new Energy Frontier Research Center (EFRC) established at Brookhaven Lab— known as the EFRC on Molten Salts in Extreme Environments (MSEE)—to explore the properties of a class of materials composed entirely of positively and negatively charged ions that exist in the liquid state under elevated temperatures. These materials have many potential uses, including as coolants and fuels in nuclear reactors. The team led by Wishart will use specialized tools—including Brookhaven Lab's National Synchrotron Light Source II (NSLS-II), the Chemistry Division's ACER facilities, and the Spallation Neutron Source at Oak Ridge National Laboratory—to explore how these materials behave at extreme temperatures while exposed to intense radiation.
James Wishart Awarded Maria Skłodowska-Curie Medal
I am very proud that my youngest son will be working with some of the tools used by Wishart in his summer internship. (I hope he appreciates it.)
Wishart is a world expert in low temperature molten salts which are generally organic or partially organic, commonly known as ionic liquids.
Just a great scientist, doing great work, in obscurity, in a world of rising ignorance, right and left. If the world is to be saved, the work of men and women like Wishart will do so.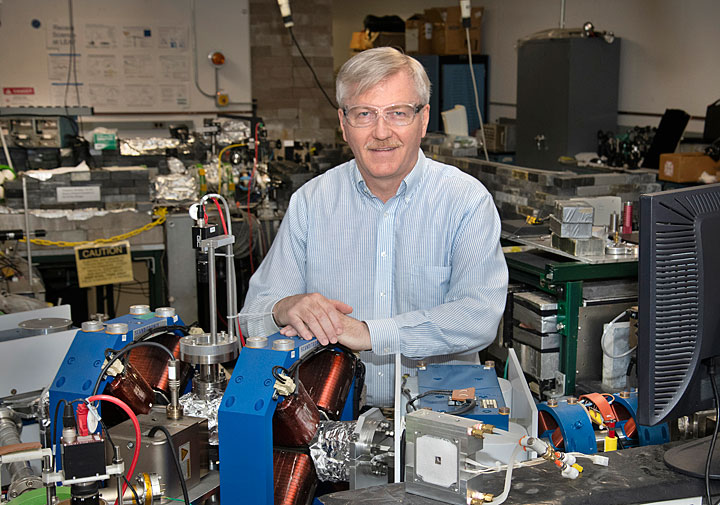 Enjoy the holiday weekend.
1 replies, 645 views
Replies to this discussion thread
| | | | |
| --- | --- | --- | --- |
| 1 replies | Author | Time | Post |
| James Wishart Awarded Maria Skłodowska-Curie Medal (Original post) | NNadir | May 2019 | OP |
| | MBS | May 2019 | #1 |
---
Response to NNadir (Original post)
Sat May 25, 2019, 06:52 AM
MBS (9,688 posts)
1. Great story, thanks!
I also love it that he's put real energy into mentoring students, in a job that does not require teaching, and in addition to doing great science. Plus the fact that he's fostered connections with Polish scientists in his field, and that those international connections emerged organically from personal sense of connection with the science of Marie Curie.
But most of all I love your own comment:
Just a great scientist, doing great work, in obscurity, in a world of rising ignorance, right and left. If the world is to be saved, the work of men and women like Wishart will do so.
YES.