Sat Jun 15, 2019, 10:22 AM
NNadir (24,546 posts)
Social Scientists Convene to Explore the Relationship Between Armed Conflict and Climate Change.
The paper I'll discuss in this post is from the current issue of
Nature
:
Climate as a risk factor for armed conflict
(Katharine J.Mach
et al
, Nature (2019) Published: 12 June 2019.
I'm not much of a social science person, but I found this paper interesting. Since I have no real expertise in the subject, perhaps I'll just post some excerpts and pictures.
My only remark would be to say that while any debate about whether climate change is "real" is a manufactured debate, completely and totally equivalent to a far less (in terms of risk) exigent, although terrible, debate about whether cigarettes caused cancer: The science is clear, but marketing people for the vested economic interests are spectacularly successful at suppressing the science, utilizing public ignorance about science as a rapier.
From the paper:
Research over the past decade has established that climate variability and climate change may influence the risk of violent conflict, including organized armed conflict1,2. However, use of different research designs, datasets and methods has resulted in divergent findings and stark questions about legitimate approaches to scientific inference1,3,4,5,6,7,8,9. Previous analyses, many from authors of this paper, have both asserted and refuted a substantial role for climate in conflicts to date and have repeatedly triggered dissenting perspectives...

...Expert elicitation is a well-vetted method for documenting the judgments of experts about available evidence29 (Methods). For societally relevant topics with divergent evidence, experimental comparisons of structured elicitation and group-panel assessment have suggested that individual elicitation paired with collective assessment can better reveal the state of knowledge than either approach in isolation30,31,32. Here, we develop a synoptic assessment of the relationship between climate and conflict...

...The authors of this manuscript consist of 3 assessment facilitators and a group of 11 climate and conflict experts. The group of 11 experts is a sample of the most experienced and highly cited scholars on the topic, spanning relevant social science disciplines (especially political science, economics, geography and environmental sciences), epistemological approaches and diverse previous conclusions about climate and conflict (Methods). The selection of the expert group was done based on expertise necessary to resolve scientific disagreement about the contribution of climate to conflict risks globally and in conflict-prone regions, which requires consideration of comparative and crosscutting analyses and replicable empirical research...

...The expert group participated in 6–8-h individual expert-elicitation interviews and a subsequent 2-day group deliberation (Methods). The interview and deliberation protocols were collectively developed by the authors and then administered by the assessment facilitators. In total, 950 transcript pages from the interviews and deliberation were iteratively analysed and distilled. The results presented here include subjective probabilistic judgments...
Graphics from the paper: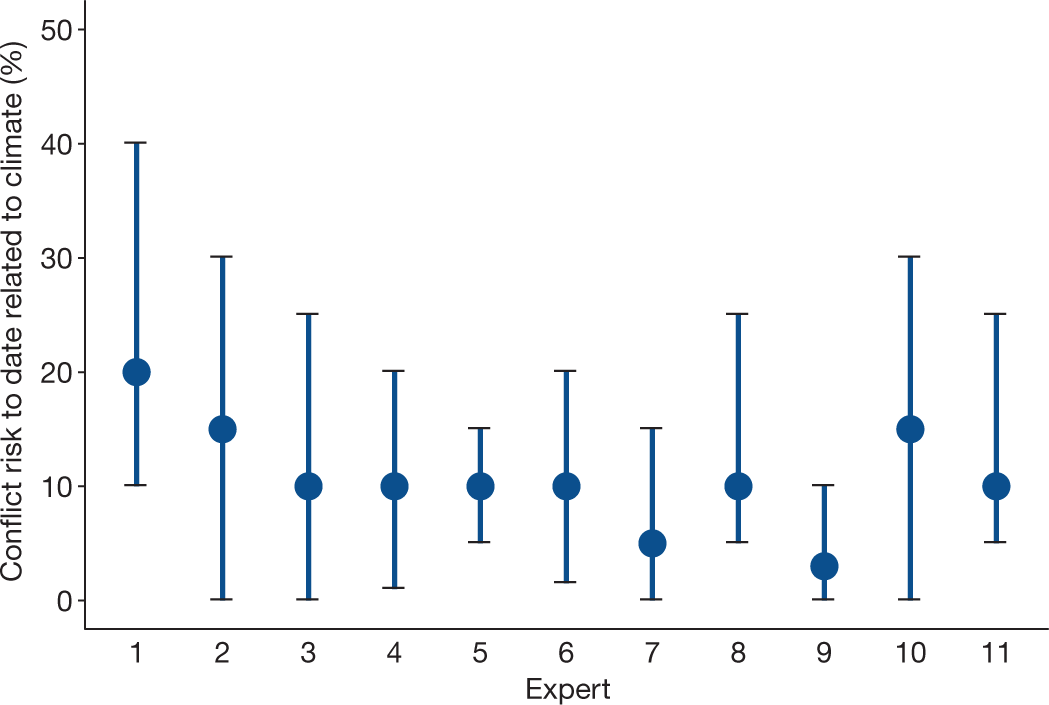 ?as=webp
Each expert provided subjective probabilistic judgments of the percentage of total conflict risk related to climate across experiences over the past century. The estimated 1st, 50th and 99th percentiles are shown for each expert.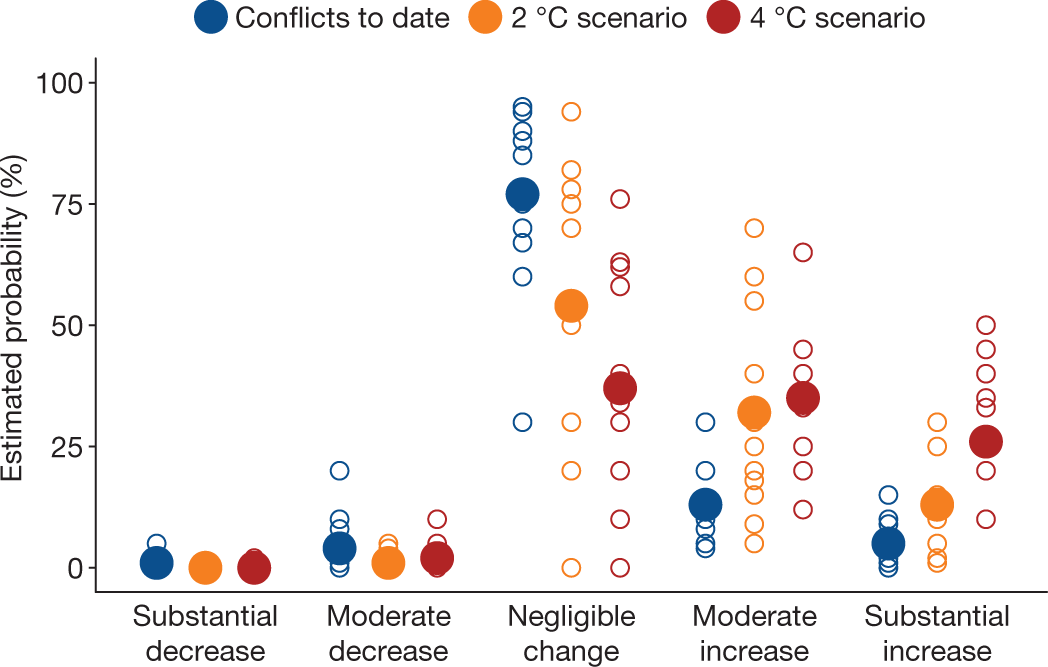 ?as=webp
For three scenarios, each expert estimated the likelihood that climate leads to negligible, moderate or substantial changes in conflict risk. For violent conflicts to date (blue), probability estimates indicate how frequently climate variability and change have led to the specified changes in conflict risk. For the approximately 2 °C (orange) and approximately 4 °C (red) warming scenarios, probability estimates indicate potential changes in conflict risk compared to the current climate. For these hypothetical 2 °C and 4 °C scenarios, each expert considered associated effects of climate change for current societies, assuming current levels of (for example) socioeconomic development, population and government capacity. Open circles, individual estimates; filled circles, mean across experts.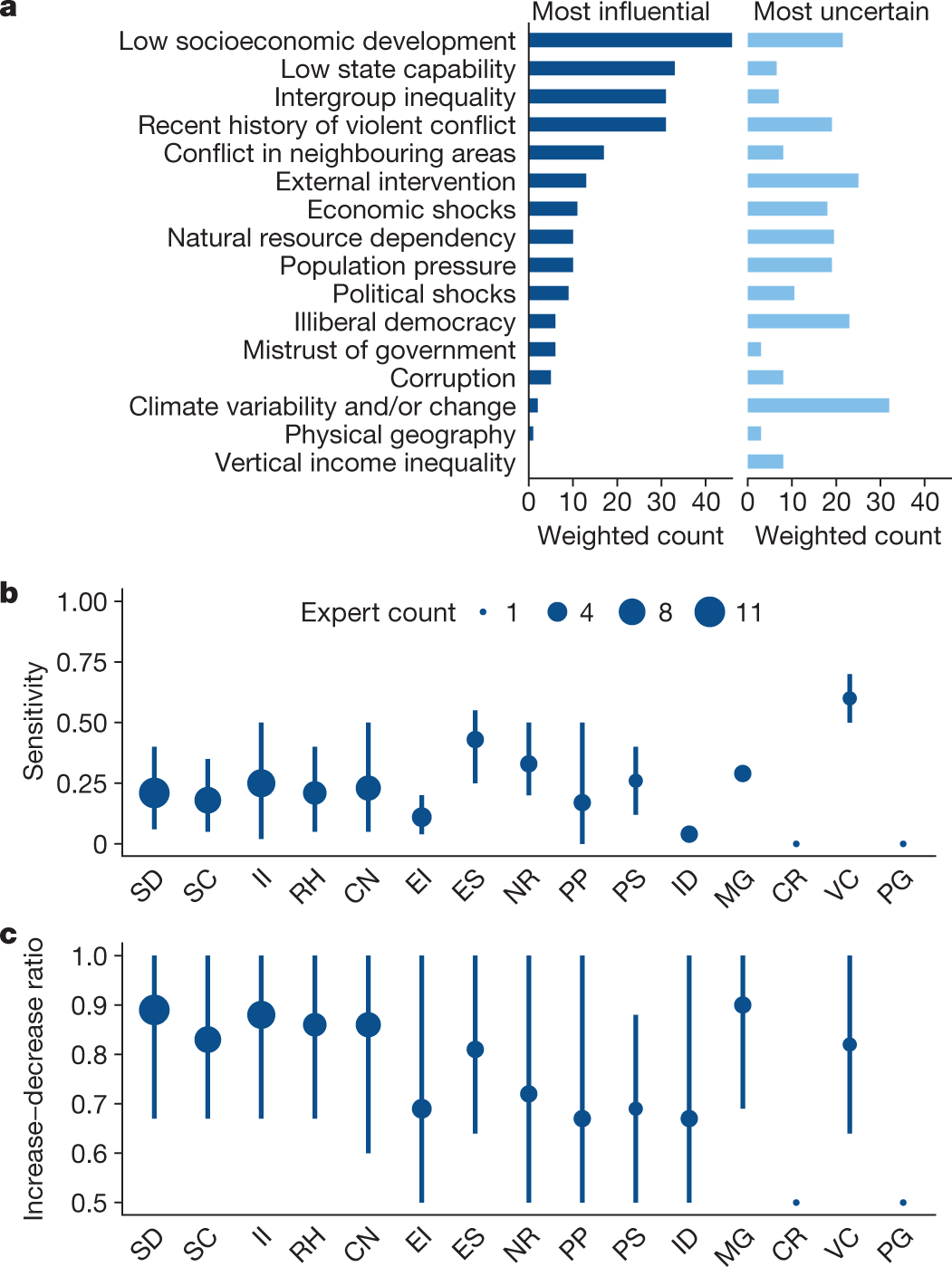 ?as=webp
a, Rankings of causal factors that influence conflict risk the most. Each expert individually ranked six causal factors that have influenced violent conflict the most to date and then ranked six causal factors for which there is the most uncertainty about their influence. Aggregated weighted rankings of the causal factors are indicated: a factor ranked first in the listing of an expert is assigned a value of 6, through to a value of 1 for a factor ranked sixth. b, c, The relationship between factors that drive conflict risk (from a) and climate in experiences to date. Two measures are shown: climate sensitivity (b) and the increase/decrease ratio (c). For conflicts to date in which each causal factor is relevant, climate sensitivity is the estimated fraction of these conflicts for which climate has affected conflict risk, increasing or decreasing it. Of this, the increase/decrease ratio is the fraction allocated to increased conflict risk. For climate sensitivity, a higher value indicates that climate variability and change have more frequently modulated conflict risk through the factor. For the increase/decrease ratio, a value of 1 indicates climate sensitivity was estimated to only increase conflict risk, whereas a value of 0.5 indicates climate sensitivity equally increases and decreases conflict risk. Filled circle, mean across experts, with circle size indicating the number of experts who ranked the factor in their top-six list; range for each factor, minimum and maximum values across the 11 experts. CN, conflict in neighbouring areas; CR, corruption; ES, economic shocks; EI, external intervention; ID, illiberal democracy; II, intergroup inequality; MG, mistrust of government; NR, natural resource dependency; PG, physical geography; PP, population pressure; PS, political shocks; RH, recent history of violent conflict; SC, low state capability; SD, low socioeconomic development; VC, climate variability and/or change.
From the conclusion to the paper:
The aim of this Analysis has been to generate a comprehensive and balanced assessment of the relationship between climate and conflict risks, reconciling contradictory findings in comparative and empirical research. On the basis of the methods that were applied here, we conclude that there is agreement that climate variability and change shape the risk of organized armed conflict within countries. In conflicts to date, however, the role of climate is judged to be small compared to other drivers of conflict, and the mechanisms by which climate affects conflict are uncertain. As risks grow under future climate change, many more potential climate–conflict linkages become relevant and extend beyond historical experiences.
My opinion is that the risks are going to grow very, very, very, very, very fast, since the degradation of the climate is proceeding at the fastest rate ever observed. Moreover the
rate
of the
rate
, the second derivative, is also increasing.
The means of addressing climate change on either end of the political spectrum, the power inherent in which end is in control defining the response at a particular moment, are absurd: On the right, denial, and on the left, endless affection for so called "renewable energy," which is not, in fact,
renewable
, being resource intensive, and which has not worked, is not working and will not work.
History will not forgive us, nor should it.
I hope you're having a pleasant weekend. The weather here in New Jersey is beautiful today.
0 replies, 489 views