Tue Oct 16, 2012, 10:58 PM
mikekohr (2,312 posts)
Willard, the Joe Isuzu of Politics, Just Got Recalled
?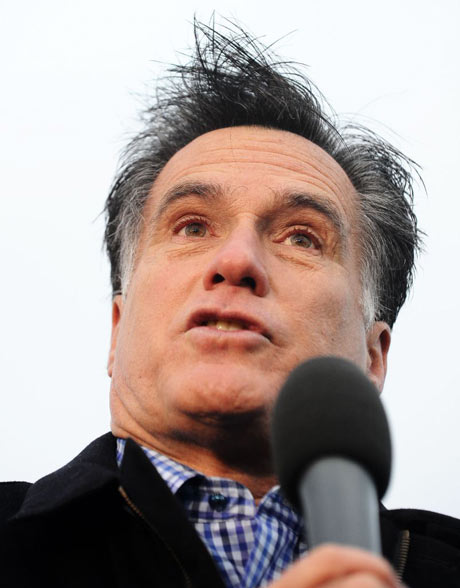 ?
Jim Sinegal, co-founder of Costco says, "… we need companies that plant and grow, not executives that reap and run." While men like John Mitchell and my grandfather's built this nation one shovel full at a time, Romney has made his millions tearing companies apart and outsourcing our jobs to China. Romney loves America. He does! He loves America the way a tick loves a dog. Middle Class America can't stand any more love'n like that.
Mitt Romney, the son of power and privilege, was born on third base, thinking he hit a home run. His vision of America is a sugar coated, Ayn Rand, survival of the fittest philosophy of "I got mine, the hell with you 47% 'ers."
Romney is fond of singing and reciting verses of the 1893 poem "Pikes Peak," written by Kathy Lee Bates, that is today known as "America the Beautiful." There are two lines from that poem however that he never recites, he never sings.
Till selfish gains no longer stain,
The banner of the free!
I can't help but believe that Mrs. Bates took inspiration for those lines from the example of Jesus throwing the money changers out of the Temple. Romney avoids those two lines because they are a damning indictment of his life and his vision of America. Mitt Romney is a modern day money changer looting the temple of Democracy. He is not one of us. He is not for us. He does not stand with us.
We need a President and leaders in Congress that will represent all of America. We do not need leaders like Romney and Ryan that are ready to write off ½ the people of this nation. President Obama and our Democratic leaders in Congress will strengthen and preserve Medicare and Social Security the two most successful poverty prevention programs in history. But we should never forget that every single House Republican voted to replace Medicare with a coupon, and they will kill Social Security if they get a chance.
0 replies, 973 views