Fri May 30, 2014, 07:45 PM
PumpkinAle (1,210 posts)
Palestinian Woman Plants Flowers In Israeli Army Tear Gas Grenades (four photos)
And an Israeli artist makes rockets into roses.
These two restore my hope for humanity.
In a poignant display of peaceful resistance, a Palestinian woman in the village of Bilin, near the State of Palestine's de facto capital of Ramallah, has planted a garden full of flowers grown inside of spent tear-gas grenades collected from clashes between Israeli soldiers and local Palestinians.

The flowers are being grown on a plot of land located in an area that was reclaimed by Palestinians two years ago in a court battle that re-routed the construction of Israel's highly controversial security wall. This wall, when completed, will stretch for 430 miles around the entire West Bank region.

Due to the high tensions and frequent clashes between Israelis and Palestinians, she has no short supply of materials for these small flower pots. Some of them even have wires attached so that they can be attached to fences or other objects.

The use of a weapon as a plant vessel is a powerful comment on a region in which many people on both sides are tired of the seemingly never-ending violence and conflict. Indeed, the creative human spirit shines through despite the conflict on both sides of the fence – there's also an Israeli artist who creates metal rose sculptures from the remains of rockets launched by Palestinian extremists.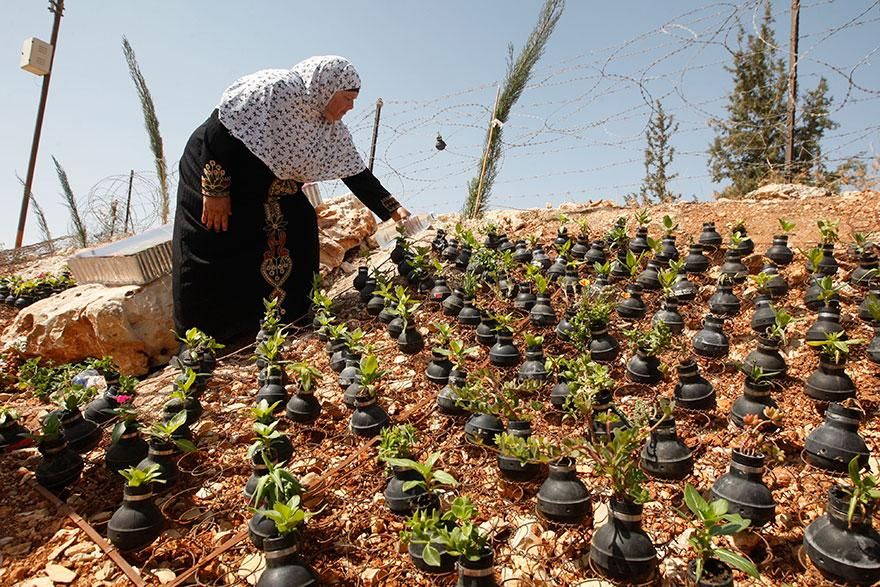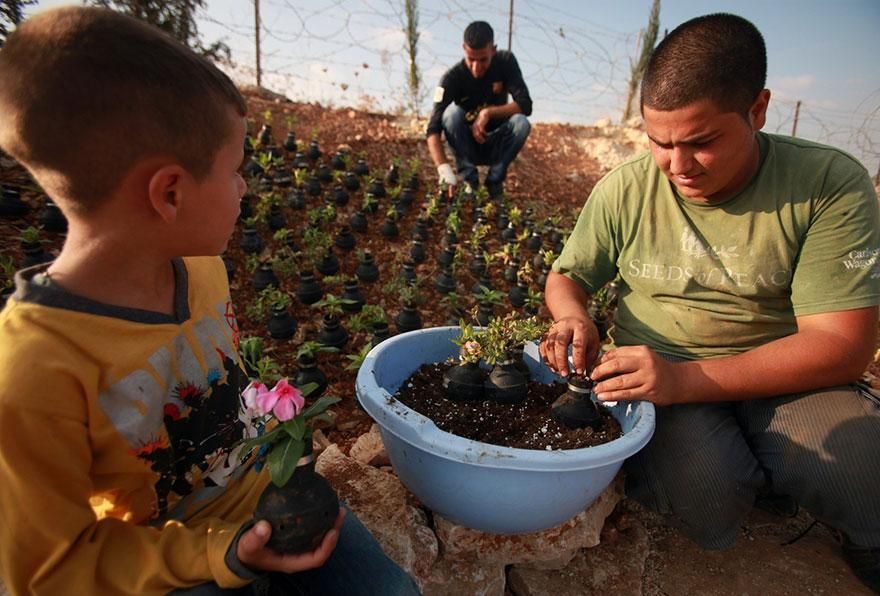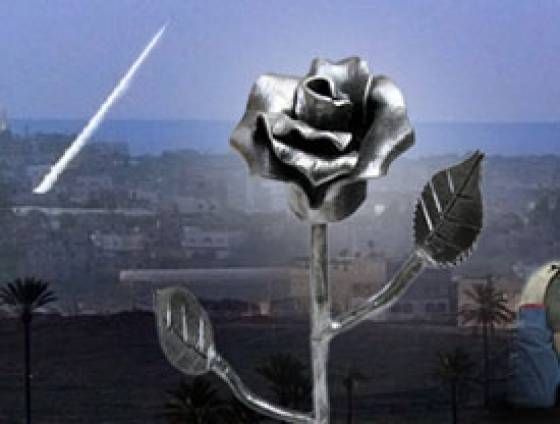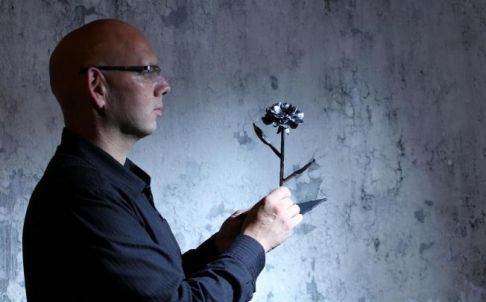 4 replies, 2778 views
Replies to this discussion thread
| | | | |
| --- | --- | --- | --- |
| 4 replies | Author | Time | Post |
| Palestinian Woman Plants Flowers In Israeli Army Tear Gas Grenades (four photos) (Original post) | PumpkinAle | May 2014 | OP |
| | nitush | Oct 2015 | #1 |
| | PumpkinAle | Oct 2015 | #2 |
| | nitush | Oct 2015 | #3 |
| | PumpkinAle | Oct 2015 | #4 |
---
Response to PumpkinAle (Original post)
Thu Oct 1, 2015, 04:15 PM
nitush (4 posts)
1. awww... this is beautiful here are some more:
former Gush Katif resident, Gideon Rivlin, built a 'Hanukkah Menorah' from rocket shells that were
shot on his home area, later on he was murdered by the same people who bombed his hometown, Arabs.
another one was made in Sderot,
this one placed on the roof of the Yeshivah of Sderot,
made of the missiles shot at the city. those people, unlike Gush Katif people are lucky,
they have a siren that goes of so they can find shelter in....15 seconds!
here just a little of the artifacts that's weren't used for art yet-
Oh! here's some more-
kids paint their bomb shelters..
how cute!
how lovely! hooray for art! boo to Israel who dares to defend itself!!
---
Response to nitush (Reply #1)
Thu Oct 1, 2015, 08:30 PM
PumpkinAle (1,210 posts)
2. Shame on you
you had to go back over a year to disparage some women who were trying to make something good for the area.

Shame on you.
---
Response to PumpkinAle (Reply #2)
Fri Oct 2, 2015, 03:44 AM
nitush (4 posts)
3. didn't go back anywhere, it was there on the first page.
it IS nice to make a garden out of used stuff, it's even good for the environment.
I, myself took some bombshells so I can make vases out of them.
I made whistles and a pan flute out of bullets.
this page has so far (and again, I haven't gone as far as the first one)
is very biased and I am willing to believe it's because the people who bring news only from the Arab side of the fence
are neglectful and not just plainly...anti-Israel, or in other words- anti-Jews.
I know what war in Israel is, I know what it is to have the army tear gas in my eyes,
the wind, instead of blowing it into the eyes of rioters who try to stone and burn my neighborhood,
usually blows the gas into OUR place, our homes...so...I'm just sorry I don't get to make this lovely garden, we only get the gas..
my friend's brother and his wife were murdered last night by arabs (who happened to miss there 4 young children in the back seat.
my question is-
what can the children make out of the car?
maybe a shack? or should it be turned into a sofa?
what colors should it be painted with? maybe change the Mitsubishi symbol with a peace symbol?
creativity is nice, I personally LOVE it, I study arts and music, so I just payed my tribute to it.
what's so shameful about that?
---
Response to nitush (Reply #3)
Sat Oct 3, 2015, 01:59 PM
PumpkinAle (1,210 posts)
4. If what you say is true
I send you my condolences.
But you too are being very biased.
No one has the answer to what is happening between Israel and Palestine. But there is good to be found on both sides. Not everyone one is bad or has evil intent. For the most part people want to be left alone and live in peace.
In dozens of interactions throughout Syria, Jordan, the West Bank (Palestine), Egypt and Pakistan, all places that are Arab and/or Muslim and presumably have antipathy toward Jews, unsurpassed hospitality and kindness reinforced these initial impressions.

http://mondoweiss.net/2015/06/arabs-hate-jews