Tue Mar 16, 2021, 02:54 PM
AndyS (10,590 posts)
So, gun makers are actively promoting anti government groups.
There has been a considerable increase in right wing domestic terrorism.
"Right-wing extremists perpetrated two thirds of the attacks and plots in the United States in 2019 and over 90 percent between January 1 and May 8, 2020."
https://www.csis.org/analysis/escalating-terrorism-problem-united-states
The 'militia movement' has proliferated drastically during the Trump years and is only being encouraged by the gun industry's lobby that continuously weakens any semblance of reason when it comes to gun violence prevention. It's well known that the NRA, since the gun industry coup of the 1970s, has had a zero tolerance policy on any and all restrictions on firearms but has the industry been actively encouraging and promoting the anti-government movement?
The answer is a resounding YES!
"I'll be honest, it drives sales," Nazaroff (an ammunition manufacturer) said in April of his company's marketing practices. "People think it's funny. People click on boogaloo memes. It's something that gun people enjoy joking about."
"You can look up any firearms social media influencer and probably find them using the term boogaloo at some point in time," he added. Nazaroff cut off communication after a police department notified him of our records request seeking information about sales to Fenix and emails referencing boogaloo.
https://www.thetrace.org/2020/06/boogaloo-gun-ammunition-marketing-facebook-instagram/?utm_source=The+Trace+mailing+list&utm_campaign=55bfd14801-EMAIL_CAMPAIGN_2019_09_24_04_06_COPY_01&utm_medium=email&utm_term=0_f76c3ff31c-55bfd14801-51831121
It seems the concept of good corporate citizenship isn't just foreign to them but completely alien. This is an industry that sells the right to copy the appearance of actual firearms to toy makers. "Replica" toys have resulted in the deaths of children by police officers thinking they are being threatened with real firearms only to discover that it was a non lethal toy. Tamir Rice is but one example.
https://www.theguardian.com/us-news/video/2014/nov/26/cleveland-video-tamir-rice-shooting-police
There is currently a lawsuit against Remington Arms brought by the parents of Sandy Hook victims. It is probably the most important lawsuit you never heard of.
Because the gun industry is protected by the PLCAA (the Protection of Legal Commerce in Arms Act) the plaintiffs have to rely on a Connecticut state consumer advertising law to hold the company accountable. Greatly simplified the suit alleges that Remington intentionally marketed the Bushmaster AR15 used in the slaughter to young men vulnerable to delusions of power bestowed by guns. The case hinges on Remington releasing all correspondence relating to marketing strategy which the gun industry has guarded with a fervor rivaled only by fanatic religions. The court has ruled that the case can go forward and the plaintiffs have been granted discovery. The trial is set for September of this year.
When the information from Remington's marketing campaign comes to light I predict Congressional hearings like the ones Big Tobacco was subjected to and that the outcome will be much the same. Seeing CEOs of major arms manufacturers defend marketing that they KNEW would feed the violence perpetrated with their product will bring the gun industry to it's knees.
Remember the PLCAA. It is one of the things that Democrats MUST repeal if reason is to be imposed on the gun industry. It's up to us to hold these cretins accountable. Remember, the only thing it takes for evil to prevail is for good people to do nothing.
2 replies, 757 views
Replies to this discussion thread
| | | | |
| --- | --- | --- | --- |
| 2 replies | Author | Time | Post |
| So, gun makers are actively promoting anti government groups. (Original post) | AndyS | Mar 16 | OP |
| | Midnight Writer | Mar 16 | #1 |
| | Hoyt | Mar 16 | #2 |
---
Response to AndyS (Original post)
Tue Mar 16, 2021, 03:10 PM
Midnight Writer (11,451 posts)
1. "Get Your Man Card!" Thumb through a gun magazine some time and check out the ads.
You'll come away with a new appreciation of the term "Toxic Masculinity".

They're not selling guns. They're selling manliness.
---
Response to AndyS (Original post)
Tue Mar 16, 2021, 03:17 PM
Hoyt (48,718 posts)
2. Gun profiteers have been encouraging militia/racist groups for years.
I hope the lawsuit against Remington Arms gets heard. Gunners and gun profiteers seem to think that encouraging people to arm up, lobbying government officials to thwart reasonable gun laws, funding the NRA, printing ads like below, etc., absolve them from any liability. That's BS.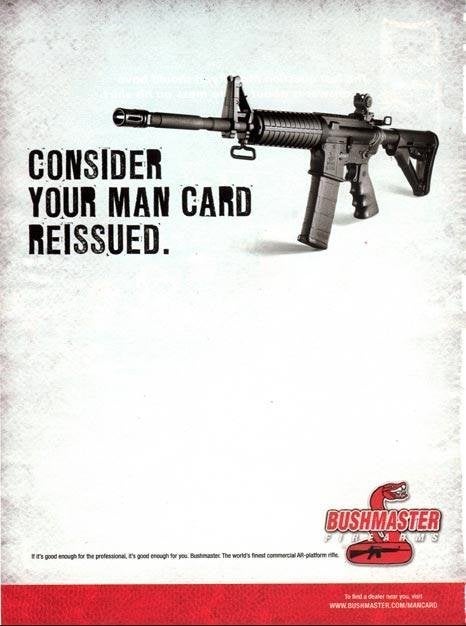 ?ops=scalefit_720_noupscale
?w=209&h=300&crop=1
?w=223&crop=0%2C0px%2C100%2C300px&ssl=1