Fri Dec 6, 2013, 10:37 AM
hermetic (5,893 posts)
BFFs (goose and dog)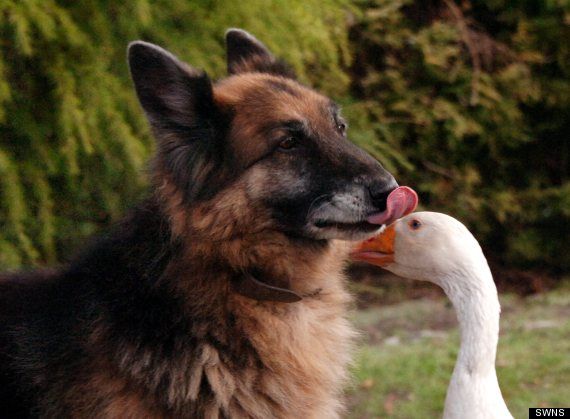 A German Shepherd named Rex was so aggressive that his handlers debated putting him down before he came to Puriton Horse and Animal Rescue in Somerset, England eight years ago.

Over time and with training, Rex calmed down a bit, the Western Daily Press reported -- but he wasn't completely rehabilitated until three months ago, when he met a goose named Geraldine.

With Geraldine by his side, 11-year-old Rex went from dangerous to mellow, according to the Daily Press. Workers originally worried that he might hurt Geraldine, but instead he showered her with kisses.

"It's so comical to see them," Sheila Brislin, of the Rescue, told the paper, "because they love each other to bits."
Lots of pics at link:
http://www.huffingtonpost.com/2013/12/04/goose-german-shepherd_n_4386472.html?utm_hp_ref=good-news
2 replies, 1322 views
Replies to this discussion thread
| | | | |
| --- | --- | --- | --- |
| 2 replies | Author | Time | Post |
| BFFs (goose and dog) (Original post) | hermetic | Dec 2013 | OP |
| | grantcart | Dec 2013 | #1 |
| | hermetic | Dec 2013 | #2 |
---
Response to hermetic (Original post)
Fri Dec 6, 2013, 11:51 AM
grantcart (50,827 posts)
1. Love this so much.

Everyday that we are in El Centro (over 100 a year). We go to the local park and feed 24 Geese. Two years ago when they drained the park pond the geese did not have a good water source and twice a day we went to the park and gave them water.

Ever since that time the geese have bonded with us, apparently thinking that we are the owners of the park.

We sit with them and feed them and have gotten them to line up (sort of) and patiently (kind of) wait for their little bread treat one by one.

They all have different personalities and before my wife leaves a couple of the key leaders come over (Big Boy is always first) and sit on her lap and get a hug.

We have named all of them and the one in the picture is a dead ringer for 'Cher' who always goes with her husband 'Sonny'.

Geese are perceived to be aggressive but this is actually because they are defensive minded when you tower over them. How would you like to be approached by some critical that is twice your height?

If you sit on the grass they can look you in the eye and become very curious.

We love our geese and this story.
---
Response to grantcart (Reply #1)
Fri Dec 6, 2013, 12:44 PM
hermetic (5,893 posts)
2. I love your story