Page: 1
UTUSN
UTUSN's Journal
Profile Information
Gender: Male
Member since: 2001
Number of posts: 66,785

Journal Archives
It's the same old chestnut but the link to the graphic had stopped working, and bad pennies never go away, and there are apparently very young peeps who don't know Tweety. What's good is that many YOOTs out there don't remember or never knew RAYGUN, only hear panderers from both parties calling him "great." And LIMBAUGH is not mentioned at all.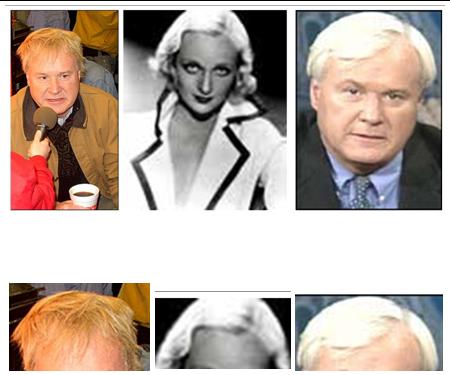 Etymology of "Tweety"
. During Campaign 2000 the media noise machine was swooning over the nicknames Shrub was giving some of them. Media Whores Online ran a contest to nickname Chris MATTHEWS. In the first three or so weeks, there was no clear, catchy front runner, with "The Screamer" sort of leading. Then one of MATTHEWS's own Hardball staff leaked to MWO that they themselves called him "Tweety" because of the Clairol shade of hair coloring he favored. This was immediately declared the winner. But in some quarters, it wasn't entirely satisfactory. For one thing, by the time the name was declared, the shade had changed to platinum, leading to a suggestion he be called "Carole LOMBARD".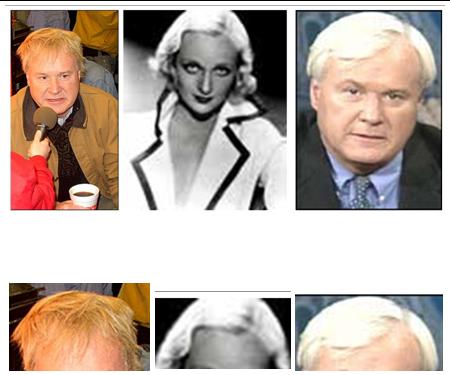 Plus, "Tweety" sounded too affectionate. 
His Misogyny.
  Then M-TV held its 20th or 25th or whatever anniversary, and all the cable echo chambers were doing segments of Britney shedding her duds down to almost nothing. Not to be left behind, Tweety followed suit, with a guest "culture" commentator from Time Mag, the young humor columnist, Joel STEIN. The staff kept re-running the Britney clip, and Tweety was clearly DROOLING disgustingly. STEIN said, "You're beginning to creep me out." Tweety responded, "Yeah, well, wait till YOU're 50." This led to the suggestion that "Tweety" be modified to "Tweezer" to retain the hair reference while canceling out the affection factor and also adding the (dirty old) "geezer" angle.
Back when, misogyny was a wink-wink/smirk-smirk thing among the old style flunkies like him, there were many examples of his, with HRC being his prime target for years until she was becoming a real contender, when he yearned to host her, but the bridges had been burned.  
But here's a vignette from back in the day, regarding his wife Kathleen. He deigned to host her or let her co-host a segment or so, this time with him and another recycled miscreant Mike BARNICLE. She was standing like at the front of a class and they two were sitting like the smirking, spit-balling, Catholic schoolboy-jerks that they really are. She trudged through her presentation, taking her subject seriously while the two of them smirked, giggled, and mocked all the way. But regarding Kathleen, he exemplifies one signature characteristic of misogynists: Despite the obviously hostile behaviors, they claim to adore, honor, put-on-a-pedestal women. And Tweety frequently does that over-compensating, protests-too-much thing by referring to her as, "MY QUEEN."  
*************So flash forward decades to the TWITLER atrocious era, specifically calling Senator WARREN "Pocahontas." Tweety hosted her soon after a TWITLER episode of it, besides a manic outburst of his sputtering interrupting, almost giggling every time he said that name, catching himself each time then protesting that it was a horrible thing, like Beavis/Butthead giggling at a dirty word. So WARREN kept to the high road and that TWITLER was not going to silence her. So then he struck, like when he lashed out at DONAHUE. He was in bursting giggle mode and said, "So, for you 'Pocahontas' will be like a clarion call for you to come charging out!1" and he busted his gut. WARREN looked sucker punched.  
Darrell HAMMOND "Doing" Tweety on SNL.
Tweety's ego was massively stroked after the debut of HAMMOND's impersonation of him, either in 2001 or 2002. He said, "I am now an ICON: I have been 'done' on Saturday Night Live'." The funniest line in the debut was HAMMOND as Tweety, cracking himself up with, "For the ... FIFTY ... people who watch this show..." (Hardball, not SNL). In the first few times HAMMOND featured him, the target was Tweety himself -- manically interrupting, spitting, and drooling. However, the characterization evolved, not true to the original, where Tweety became the "rational" character surrounded by oddball, extremist "guests", with HAMMOND-Tweety shaking his head in disbelief at their partisan spin.   
"Turning" from Being a Democrat.
He (like G.E.RUSSERT and Pat CADDELL) still trades on having been a Democrat in the CARTER/O'NEILL era. In the hothouse of big time political flunkydom, STATUS and POWER come from the SUCCESS of your boss. RAYGUN kicked Tweety's bosses' rears, and Tweety gravitated to admiring that "success". When he started up his media career he was mentored by G.E. RUSSERT, who had himself already started "turning" by "reaching out" to LIMBOsevic and expending his formerly-Lib-bleeding-heart on those poor wingnuts who had been maligned and marginalized by the Liberal Elite, lo those many years. Tweety started doing video valentines to RAYGUN, promenading arm in arm with Nancy. He might have tapped into the frenzy of the FAKE impeachment, but "hatred of the CLINTONs" isn't what made him turn. The last time he was identifiably a Democrat was sometime around 1988 when Hardball (the book) was published.  Throughout the year of Campaign 2000 he savaged the Dem candidate daily and went on to years of bromance over Shrub, renouncing any Democratic heritage.  He said his parents were "cloth coat" (Rethugs), and that basically what first drew him to the Dem side was Irish-Catholic pride over JFK.  Not ideology, not idealism.  He said the reason he joined the Peace Corps was specifically to avoid going to Vietnam. 
How Tweety "Executed" DONAHUE on MSNBC.
Tweety was on his book tour for another one of his "books" (large type, wide spaces between lines, blank half-pages). It was in the jingoistic hysteria in the run-up to the illegal Iraq attack. The book was about supposed "Americanism" -- an American Civ 101 ripoff about books and movies and cultural stuff that are essentially American (think, "The Great Gatsby" ). So Phil welcomed him as a colleague and peer on Phil's MSNBC show for the full hour to plug the book. From the moment he appeared, there was a strange, deadly snake look in Tweety's snake eyes. Phil was walking around the audience, apparently not sensing anything, while Tweety was motionless, following him only with his eyes. Phil brought up something or other questioning blind, kneejerk jingoism, and Tweety STRUCK! He started out with venom dripping, "You see, THIS is EXACTLY what's wrong with YOU Liberals: You are NEGATIVE about this country, you find NOTHING good about it," and on and on. It took awhile before Phil figured out what was happening. Later, Phil, devastated and spent, was sitting at the table with Tweety and, weaker and weaker, did some of his trademark shoulder shrugging and arm waving. Tweety delivered the coup de grace, "What's THIS (mimicking the movements)??!! What's with the --APE-- movements???!" Days or a week or two later, Phil's cancellation was announced and took effect. 
How Tweety "Triggered" a Gun Incident (re: Kathleen WILLEY).
At the height of the FAKE impeachment, Ms WILLEY claimed that a mystery jogger had threatened her or her cat or somebody, with the insinuation that there was a CLINTON connection. Several months later, there was gossip that the jogger had been identified. Tweety hosted her and it appeared they had discussed the identity off camera. He tried mightily to get her to say the name on the air, which she wouldn't do. Finally, he himself blurted it out, "Was it (Name/Surname)?" She wouldn't confirm it. Within days there was a bizarre incident, with the mentally disabled brother of Pat and Bay BUCHANAN going with a gun to the house of the supposed jogger named by Tweety, where there were only some foreign exchange students present. Later it was determined that the person Tweety named on the air had NOTHING to do with the supposed jogger incident. 
"Heroes" Tweety and Tom DeLAY.
In the aftermath of the 07-24-98 shooting of two Capitol police officers when the slain officers were duly eulogized and called heroes, Tweety latched on to this, the way we have seen him attempt to glorify himself in other instances: Like saying he was assigned to Africa in the Peace Corps and "WALKED THE SAME GROUND" THAT CHURCHILL had passed through. Or when he said, "I am an ICON! I have been 'done' by SNL!". So now that the Capitol policemen were being called heroes, Tweety came forward to say that HE had been a Capitol policemen, TOO, JUST LIKE THEM, when he was starting out. It turns out that he had worked a (temporary?) job for three months as that. In all the years before the officers were shot and eulogized, he probably NEVER referred to that job, most likely thinking of it as a rent-a-cop turn, until he could see in retrospect the glory that he had been DESTINED to from the beginning.  
But he is not the only glory hog. When that incident was happening, the news of the moment reported that Tom DELAY had hopped a plane out of town and immediately turned around in Houston when the incident was over. This show of courage is why he has been dubbed, "Tom-DePLANE!-DePLANE!-DELAY".  But searches of countless news reports of that time show no mention of the hopping-the-plane. Only this is left: 
http://www.washingtonpost.com/wp-srv/national/longterm
/... "...House members, many rushing out of town, did not have to remain behind. DeLay slipped out the main door of the Capitol less than 15 minutes after the shooting. He looked stricken. Asked if he'd seen anything, he said, "Did I ever. I don't want to talk about it." Aides rushed him into his waiting car. ...."
Using only anecdotal projection (as opposed to research of some sort), I postulate that:

* a significant part of the country's turning against the Vietnam War was opposition to the Draft, more than being anti-war or even the exposing of the deceptions of it all.

* The American NeoCons, in mounting their long dreamed of Iraq Attack, congealed their strategy from their lesson learned from Vietnam: The Draft is a lightning rod for dissent and opposition to whatever war - with other auxiliary issues for opposing ("peace", anti-war, unjust war) being covers, window dressing, multipliers for the main opposition (the Draft).

So, the NeoCons cut a Draft for Iraq *out* of the picture: All-volunteer troops, necessitating multiple tours of duty because of needed more numbers, as opposed to the one-year tour in Vietnam.

*** So here comes PUTEEN in desperation to salvage his emerging disaster, needing to bolster his forces, and falling into the trap of thinking that rounding up bodies will become an overpowering military machine.

Uh, Draftees tend to be less militaristic, more civilian disposed, anti-AUTHORITY, less disciplined, more skeptical, perhaps more educated, less impressed with military ritual/tradition/indoctrination, etc. But above all, mostly just do NOT WANT TO BE THERE. And the momentum is for plain opposition to the war, spreading exponentially through families and communities.

So, we're seeing Russian potential draftees and their families resisting loudly and fleeing the country. If those who stay behind favored the war the Draft would not be needed.





Some of us more than others have been referencing how LICHT's hacking away at CNN is surprising given his having been COLBERT's executive producer. Keith has tons of history on him: That LICHT was SCABS's "henchman" at MSNBC, who would scare the head honcho Phil GRIFFIN into cutting guests on Keith's and other MSNBC shows who were deemed to be too Lib or whom SCABS's Repuke friends found offensive (to them) and would threaten that SCABS would "not come in to work tomorrow" if GRIFFIN didn't do the bidding or if GRIFFIN would discipline SCABS for trash talking fellow MSNBC hosts.
I for one hereby apologize for bringing COLBERT into this.
*** ON EDIT P.S. - I remember when bowtie CARLSON had an afternoon circus on MSNBC under a guise of being a "nice" wingnut at that time and his producer was Willie GEIST, and Bowtie would bromance GEIST and bring him on camera lots. Both of them were broadcaster/legacy kids. I stopped watching Morning Scabs in 2012 but watched GEIST and Mika Mouse rehabilitate Scabs, with GEIST cultivating his own mainstream status and spread over into Today, while Bowtie festered into his rapacious Faux self. And I've often wondered what relationship those two have and whether GEIST is a double agent. Mika Mouse, too, now for that matter.
*******QUOTE*******
Keith Olbermann @KeithOlbermann
My full length warning to you about Chris Licht and @cnn
- how at MSNBC he was Joe Scarborough's henchman and got guests on my show, Maddow's, and Schultz's, banned or cancelled - is in Ep. 19 of the Countdown podcast, at about
29:30.
Listen here:
https://omny.fm/shows/countdown-with-keith-olbermann/episode-15-countdown-with-keith-olbermann-8-19-22
https://omny.fm/shows/countdown-with-keith-olbermann/episode-15-countdown-with-keith-olbermann-8-19-22
*********UNQUOTE******