Pinback
Pinback's Journal

Pinback's Journal

November 28, 2019

Inside the frantic response to mysterious 'slow-moving blob' flying over Washington

By Zachary Cohen, CNN

Updated 6:49 AM ET, Thu November 28, 2019

Washington (CNN)The mysterious "slow-moving blob" detected in the skies over Washington Tuesday prompted a frantic response from security officials on the ground as they raced against the clock to assess the potential threat.

From the moment the object was picked up on radar, US officials across several agencies only had about 10 minutes to determine whether American lives were in danger and respond accordingly.

Senior national security officials across the agencies immediately convened to coordinate and monitor the situation, ordering a lockdown at the White House and the Capitol Building to be placed on "restricted access" as a precaution.

A Capitol Police source told CNN the US Capitol went to "Aircon yellow" at 8:27 a.m., ET, when the object was first identified. AIRCON is the alert status triggered when an aircraft enters the restricted airspace in Washington without authorization.

It took 11 minutes before the object was 15 minutes from the Capitol, the range that causes the alert to go to "Aircon orange."

- more at link:

https://www.cnn.com/2019/11/28/politics/white-house-lockdown-scramble/index.html

I think we've been in "Aircon Orange" status since January 20, 2017.

November 1, 2019

...Since the rampaging California wildfires threaten the area around Saint Ronnie's presidential library in Simi Valley, maybe some Republicans could be convinced to give a crap about that. The library had to close Wednesday due to the Easy Fire, and visitors who were already there sheltered in place until they were able to leave safely.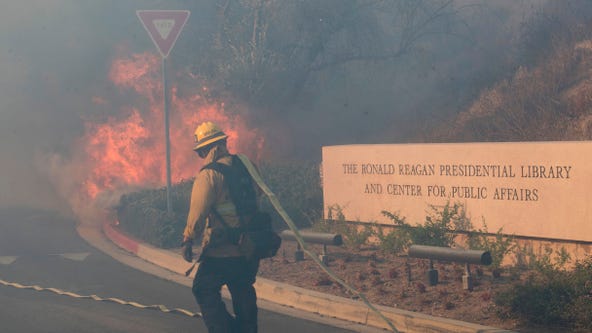 Mandatory evacuations for the area have been lifted today, but it seems only a matter of time before Saint Ronnie's memorial library will go up in flames if we don't do something! Think of the children!! No, don't think of the children -- Reagan's policies made life much worse for many of them.

But what if there were some policy, or set of policies, that would save this precious tribute to America's beloved cowboy president? You know, some way to reduce the likelihood of rampant wildfires in California...maybe if we put our minds to it we can think of something.
Profile Information
Gender: Do not display
Hometown: GA
Home country: USA
Member since: 2002
Number of posts: 12,033