Page: 1
Judi Lynn
Judi Lynn's Journal
Profile Information
Member since: 2002
Number of posts: 157,283

Journal Archives
Research note: Bolsonaro's firehose: How Covid-19 disinformation on WhatsApp was used to fight a government political crisis in Brazil
Brazil has one of the highest rates of cases and deaths attributed to Covid-19 in the world. Two factors contributed to the high rates: the Brazilian government underestimated the pandemic and a large amount of disinformation was spread through social media. We found that disinformation about Covid-19 on WhatsApp was associated with political disinformation, mostly composed to support president Bolsonaro during the crisis he faced at the beginning of the pandemic. Our main finding implicates that disinformation on WhatsApp was connected to the far-right political discourse and framed Covid-19 as a political issue rather than a public health issue.
BY
FELIPE BONOW SOARES
Media, Discourse and Social Networks Research Lab (MIDIARS), Brazil
RAQUEL RECUERO
Center for Languages and Communication, Federal University of Pelotas, Brazil
TAIANE VOLCAN
Media, Discourse and Social Networks Research Lab (MIDIARS), Brazil
GIANE FAGUNDES
Center for Languages and Communication, Federal University of Pelotas, Brazil
GIÉLE SODRÉ
Journalism Department, Federal University of Pelotas, Brazil
. . .
Implications
In this study, we analyzed disinformation about Covid-19 on WhatsApp and its connection to the political debate in Brazil. Brazil was heavily hit by Covid-19, partially because of the different discourses from government authorities about the seriousness of the pandemic. From the beginning, for example, Brazil's far-right president Jair Bolsonaro minimized Covid-19. He publicly called it a "little flu," advocated for the end of measures such as social distancing and quarantine (which were put in place by state governors and mayors), and constantly appeared in public hugging his supporters without wearing a mask. The Health Minister at the time, Luiz Henrique Mandetta, on the other hand, strongly followed WHO recommendations, establishing measures of social distancing and publicly asking for people to use face masks to underline the seriousness of the pandemic. Most state governors and mayors supported Mandetta. In this context, two opposing discourses emerged: one reinforcing WHO recommendations about the seriousness of the situation and following scientific evidence, and another minimizing the pandemic (Sandy & Milhorance, 2020). Amidst this dispute, many people refused to wear masks, and multiple protests against the Covid-19 containment measures and social distancing protocols erupted, which were lead predominantly by Bolsonaro's supporters. The pandemic quickly escalated in Brazil, with cases rapidly climbing from fewer than 100 cases in early March to more than 100,000 cases and over 8,000 deaths by early May. By the end of 2020, Brazil had one of the highest numbers of cases (over 7.5 million) and deaths (almost 200,000) in the world.1
Brazil's case demonstrates how disinformation can undermine public health strategies used by authorities and create a context in which people may choose not to follow scientific evidence and recommendations due to their political views. Political groups on WhatsApp may have played a central role in promoting the defiance of Covid-19 guidelines and regulations, since they already had part in spreading disinformation during elections and other key political moments (Reis et al., 2020). WhatsApp is the most popular communication app in Brazil and an important space for users to find and share information (Resende et al., 2018). According to the Reuters Institute Digital News Reports (Newman et al., 2020), 48% of Brazilians use WhatsApp for news consumption. Similarly, Baptista et al. (2019) found that 57% of Brazilians consider WhatsApp an important or very important source of political information. WhatsApp is also a key channel for spreading false information (Newman et al., 2020), particularly because it can't be traced or debunked publicly by fact-checkers.
The problem of disinformation and its connections to partisanship and, particularly, the far-right has been explored by researchers in different contexts. Hindman and Varash (2018) have shown that the far right and Russian trolls have created communication strategies for disseminating elections-related disinformation on social media in the United States. Pierri et al. (2019) have described similar strategies in Italy. Alves (2016, 2019) has also pointed out how Brazil's far right has taken control of social media strategies to massively create and share disinformation and hate campaigns targeted at political adversaries.
In this article, we discuss disinformation about Covid-19 on WhatsApp in Brazil. In particular, we look at the topics and types of disinformation messages spread in political public groups on the app. Our findings imply that WhatsApp may have had a role in spreading disinformation about the disease through these groups, particularly by aligning untruthful content with political views. The disinformation spread may also have negatively influenced how people within the groups we monitored responded to the containment measures proposed by health authorities, particularly if these people were politically aligned with Bolsonaro. We understand disinformation as distorted, manipulated, or entirely false information that is created to mislead and achieve political gains (Benkler et al., 2018; Fallis, 2015). It is created intentionally to influence public opinion. Accordingly, disinformation is dangerous because it might negatively affect the public sphere (Tucker et al., 2018).
More:
https://misinforeview.hks.harvard.edu/article/research-note-bolsonaros-firehose-how-covid-19-disinformation-on-whatsapp-was-used-to-fight-a-government-political-crisis-in-brazil/
JANUARY 24, 2021 4:37 PMUPDATED 8 HOURS AGO
By Reuters Staff
1 MIN READ
BOGOTA (Reuters) - Colombia's FARC political party - which was formed following the demobilization of the guerrilla group with the same acronym - will change its name to Comunes, it said on Sunday.
The decision to change the name was taken at the party's second national assembly, which ran for three days through Sunday.
"Our new name is COMUNES," the party said on Twitter. "It's a real and transformative bet on Colombia's peace made by the common people."
The leftist Revolutionary Armed Forces of Colombia (FARC) guerrilla group signed a peace deal with Colombia's government in 2016.
The signing of the pact ended the FARC guerrillas' role in a more than 50-year conflict that left more than 260,000 dead and millions displaced.
https://www.reuters.com/article/us-colombia-farc/colombias-farc-party-changes-name-to-comunes-idUSKBN29T0SF?rpc=401&
~ ~ ~
Right-wing paramilitarism in Colombia
From Wikipedia, the free encyclopedia
Right-wing paramilitary groups in Colombia (Spanish: paramilitares de derecha) are paramilitary groups acting in opposition to revolutionary Marxist-Leninist guerrilla forces and their allies among the civilian population. These paramilitary groups control a large majority of the illegal drug trade of cocaine and other substances. According to several international human rights and governmental organizations, right-wing paramilitary groups were responsible for at least 70 to 80% of political murders in Colombia per year.[1][2] The remaining political murders are often committed by leftist guerrillas and government forces.
The first paramilitary groups were organized by the Colombian military following recommendations made by U.S. military counterinsurgency advisers who were sent to Colombia during the Cold War to combat leftist political activists and armed guerrilla groups. The development of more modern paramilitary groups has also involved elite landowners, drug traffickers, members of the security forces, politicians and multinational corporations. Paramilitary violence today is principally targeted towards left-wing insurgents and their supporters.
. . .
Human Rights Violations

Right-wing paramilitary groups have been blamed for the vast majority of human rights violations in Colombia.[93] The United Nations has estimated that approximately 80% of all killings in Colombia's civil conflict have been committed by paramilitaries, 12% by leftist guerrillas, and the remaining 8% by government forces.[94] In 2005, Amnesty International stated that "the vast majority of non-combat politically-motivated killings, disappearances, and cases of torture have been carried out by army-backed paramilitaries".[13] In its 1999 report, Human Rights Watch cited estimates from Colombian human rights organizations CINEP and Justice and Peace, which indicated that paramilitary groups were responsible for about 73% of identifiable political murders during the first half of 1998, with guerrillas and state security forces being blamed for 17 and 10 percent respectively.[95] The Colombian Commission of Jurists reported that, in the year 2000, approximately 85% of political murders were committed by the paramilitaries and state forces.[96]

Paramilitary violence is overwhelmingly targeted towards peasants, unionists, teachers, human rights workers, journalists and leftist political activists.[98][99]

Paramilitary abuses in Colombia are often classified as atrocities due to the brutality of their methods, including the torture, rape, incineration, decapitation and mutilation with chainsaws or machetes of dozens of their victims at a time, affecting civilians, women and children.[17][97][98]

Paramilitary forces in Colombia have additionally been charged with the illegal recruitment of children into the armed ranks. Though this is an offense punishable by national law, the prosecution rate for these crimes is less than 2% as of 2008.[100]

More:
https://en.wikipedia.org/wiki/Right-wing_paramilitarism_in_Colombia#:~:text=Right%2Dwing%20paramilitary%20groups%20have,remaining%208%25%20by%20government%20forces.
Patrick Greenfield
@pgreenfielduk
Sat 23 Jan 2021 03.30 EST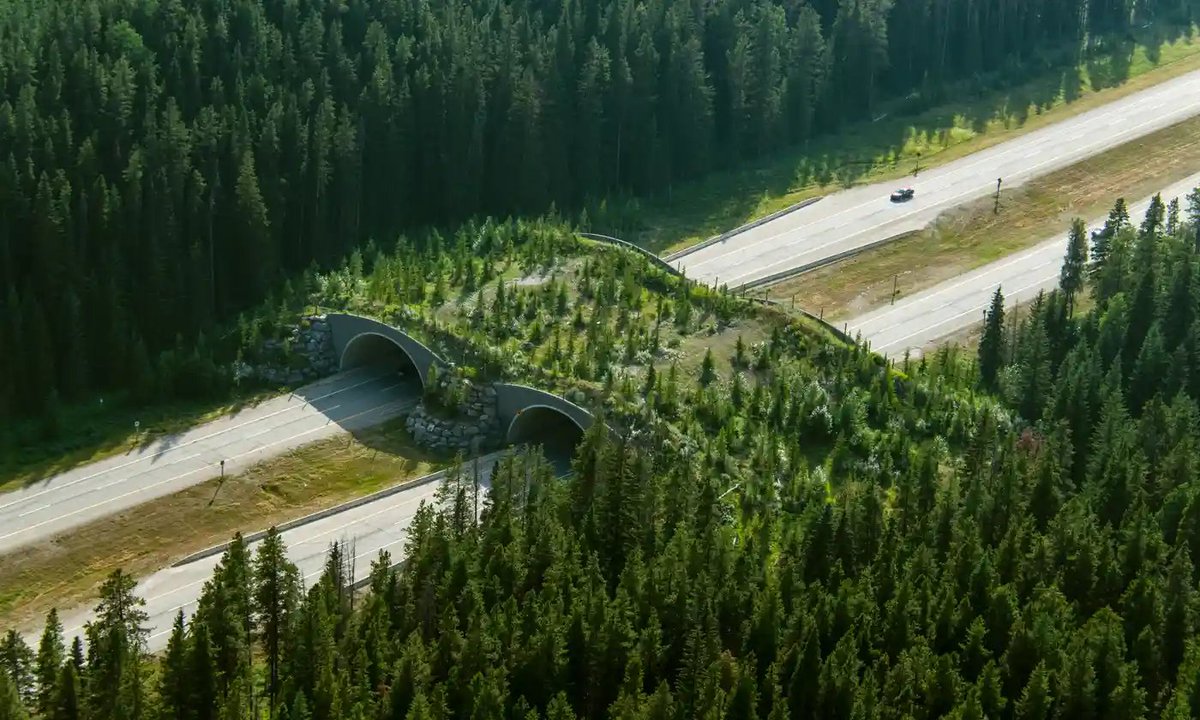 Sweden's announcement this week that it is to build a series of animal bridges is the latest in global efforts to help wildlife navigate busy roads
Every April, Sweden's main highway comes to a periodic standstill. Hundreds of reindeer overseen by indigenous Sami herders shuffle across the asphalt on the E4 as they begin their journey west to the mountains after a winter gorging on the lichen near the city of Umeå. As Sweden's main arterial road has become busier, the crossings have become increasingly fractious, especially if authorities do not arrive in time to close the road. Sometimes drivers try to overtake the reindeer as they cross – spooking the animals and causing long traffic jams as their Sami owners battle to regain control.
"During difficult climate conditions, these lichen lands can be extra important for the reindeer," says Per Sandström, a landscape ecologist at the Swedish University of Agricultural Sciences who works as an intermediary between the Sami and authorities to improve the crossings.
This week, Swedish authorities announced they would build up to a dozen "renoducts" (reindeer viaducts) to aid the crossings and allow reindeer herds to reach grazing more easily.
It is hoped the crossings will allow herders to find fresh grazing lands and alleviate traffic jams, and also help moose and lynx to move around the landscape. The country's 4,500 Sami herders and 250,000 reindeer have been hit hard by the climate crisis, battling forest fires in the summer and freezing rain in the winter that hides lichen below impenetrable sheets of ice.
More:
https://www.theguardian.com/environment/2021/jan/23/how-wildlife-crossings-are-helping-reindeer-bears-and-even-crabs-aoe
by Adriaan Alsema January 21, 2021
Colombia's far-right group "Aguilas Negras" claim "we will finish" the massacre in the village of El Salado that left more than 60 locals dead in 2000.
According to the town's leaders, they have been receiving death threats from the "Aguilas Negras" since Friday last week and were cut off the power grid on Sunday.
. . .
Same victim leaders threatened again
Among the leaders who have been threatened are victim representatives Luis Torres and Yirley Velasco, who has suffered multiple threats since she was raped during the massacre when she was only 14.
Both have been active in trying to rebuild their town, but have possibly received more death threats than responses from the government to help them get over the violence.
More:
https://colombiareports.com/far-right-duque-supporters-say-we-will-finish-one-of-colombias-worst-massacres/
Unbearable to know this continues all these long years of hard right violent control. The people are still helpless.
January 14, 2021
Mariana Castro
On January 6, the eyes of media worldwide were fixed on Washington, D.C., as a pro-Trump mob stormed the U.S. Capitol, forcing Congress to stop its count of electoral votes from the November 2020 presidential election, which affirmed the victory of President-elect Joe Biden.
Rioters broke past police, occupied, vandalized and looted parts of the building. Lawmakers were evacuated and the Capitol was placed on lockdown for several hours. Five people died in the unrest, including one woman -- a Trump supporter who was fatally shot inside -- and a Capitol police officer who later died from injuries sustained in the melee.
Brazil's largest conservative radio station, Jovem Pan, covered the events, including on its 6 p.m. show "Os Pingos nos Is" (The Dots on the I's). Toward the end of the show, Olavo the Carvalho, a self-proclaimed philosopher viewed as President Jair Bolsonaro's intellectual guru, was interviewed on the storming of the U.S. Capitol.
However, during his half hour interview, which has recorded more than 1.3 million views on YouTube alone, Carvalho spoke little about the events that were unfolding at that moment in Washington, D.C. Instead, he spread the same disinformation about election fraud that fueled the storming of the U.S. Capitol in the first place.
More:
https://www.polygraph.info/a/fact-check-olavo-de-carvalho-spreads-qanon-and-other-conspiracy-theories-after-storming-of-capitol-hill/31046899.html
Statue of mysterious woman with 'Star Wars'-like headdress found in Mexico
By Laura Geggel - Associate Editor 21 hours ago
The 6.5-foot-tall statue was found in a citrus orchard.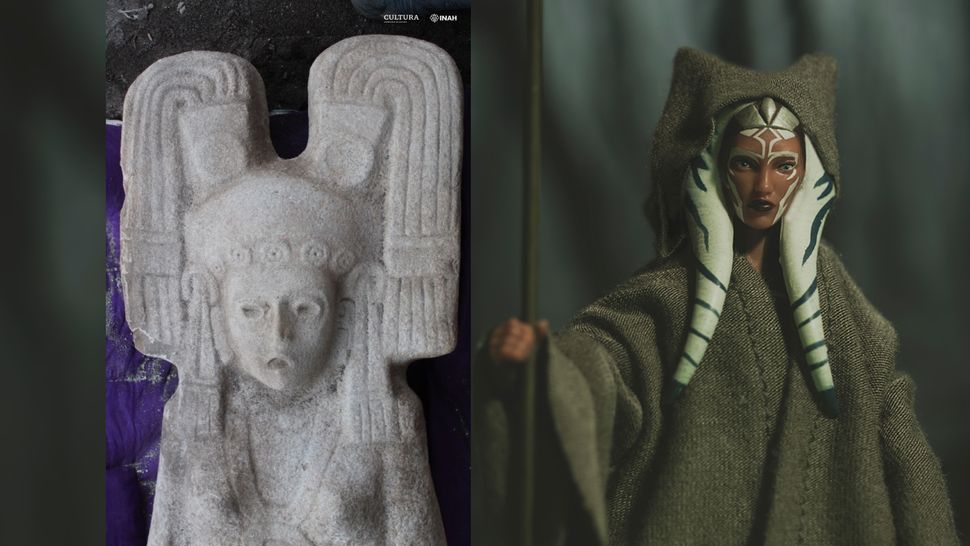 Farmers found the 500-year-old statue of mysterious woman (left), who has a headdress that looks like the head ornamentation of "Star Wars" former Jedi apprentice Ahsoka Tano (right), whose Hasbro action figure is shown here.
(Image: © María Eugenia Maldonado Vite; Shutterstock)
A 500-year-old statue of a mysterious woman wearing a large, "Star Wars"-like headdress has been discovered in central Mexico, according to Mexico's National Institute of Anthropology and History (INAH).
The 6.5-foot-tall (2 meters) limestone statue depicts a young woman dressed in elaborate clothes and jewelry, including a circular pendant, known as an "oyohualli," on a thick necklace; tassel-like earrings; and a headdress that rivals the head ornamentation of "Star Wars" Ahsoka Tano, a former Jedi apprentice turned warrior in the sci-fi series.
Just like Ahsoka Tano, this mysterious woman may have played a key role in her time. The statue likely depicts an elite woman, "possibly a ruler, because of her posture and attire, rather than a deity," María Eugenia Maldonado Vite, an archaeologist at the INAH Veracruz Center who is leading the excavation, said in a statement (translated from Spanish).
Local farmers found the figure in a citrus field in the town of Hidalgo Amajac, in the Mexican state of Veracruz, on Jan. 1. The statue likely dates to the late Postclassic period (1450-1521) and has features reminiscent of the Huastec culture, a group of people on the Mexican Gulf Coast that lived in a pre-Columbian crossroads for cultures, arts and trade. The discovery of what was likely an important female ruler "confirm[s] the active participation of ruling women in the Huastec social and political structure," Alejandra Frausto Guerrero, the Mexican secretary of culture, said in the statement.
More:
https://www.livescience.com/statue-woman-headdress-mexico.html
Also posted in Anthropology:
https://www.democraticunderground.com/12296547
Post on: January 8, 2021 Nathaniel Flakin
The United States has long supported right-wing protests to subvert elections. This is so common that there's a joke about it: Why has there never been a military coup in the U.S.? Because there is no U.S. embassy there.
Military police celebrating the ouster of Bolivian President Evo Morales in 2019. Photo: Daniel Walker
This is not what America stands for." That's what Thom Thillis, a Republican senator from North Carolina, wrote on Twitter while a right-wing mob was marauding through the Capitol. This sentiment was echoed throughout the liberal media and by members of both the Republican and Democratic Parties, who repeated the refrain that "America is better than this." The right-wing riot was clearly not a "fascist coup attempt" by any stretch. But the images coming out of the Capitol looked eerily similar to actions that the U.S. regime regularly supports in other countries, especially in Latin America.
Racist fanatics forcing their way into a government building, with the tacit support of the police, in order to overturn the results of an election in which Black and Brown people played an important role — that may sound like an apt description of what happened in D.C. yesterday. But it is also what happened in La Paz on November 9, 2019, when proto-fascists stormed Bolivia's presidential palace in order to stop the reelection of Evo Morales. Just like at the Capitol building, the police stood down and let the racists rampage.
Those protesters installed a coup regime run by the racist religious fundamentalist Jeanine Áñez. Resistance by indigenous people and unions to the coup was repressed with brutal violence. Despite this, the coup government was recognized by the U.S. just days later — and also by the UK, the EU, and right-wing governments in Latin America.
Behind the scenes, the U.S. government — via both diplomatic and clandestine channels — had long supported right-wing forces in Bolivia's eastern provinces in their attempts to topple Morales center-left government. Secretary of State Mike Pompeo had been very open about his support for efforts by the U.S.-controlled Organization of American States to subvert the election results.
More:
https://www.leftvoice.org/this-is-not-what-america-stands-for-except-uh-in-latin-america
Jose Mujica, Uruguay, 2020. | Photo: Twitter/ @oscarperis
Published 24 December 2020
The Uruguayan leftist leader stressed that political dialogue is the only way out when "times are tough."
Uruguay's ex-President of Uruguay Jose Mujica expressed his solidarity with the Catalan pro-independence activists who are imprisoned in Barcelona, Spain.
During a virtual meeting with the The Republican Left of Catalonia (ERC) leader Oriol Junqueras, Mujica sent his solidarity to all imprisoned politicians and affirmed his support for the Catalans to negotiate a political solution to the conflict with the Spanish State.
At this meeting, Uruguay's former president also told the Catalans that he is "very close to all those who are in jail for political reasons."
Junqueras thanked his solidarity and recalled that the ERC has always viewed "with sympathy the causes for justice and freedom in Latin America."
More:
https://www.telesurenglish.net/news/Mujica-Stands-in-Solidarity-With-Catalan-Political-Prisoners-20201224-0010.html
Jose Mujica, on the left, as a prisoner during dictatorship
by right-wing Uruguayan dictatorship.
~ ~ ~
Think Uruguay's president is fascinating? Meet his wife
GlobalPost
March 30, 2014 · 8:15 AM UTC
Updated: March 31, 2014 · 8:30 AM EDT
By Will Carless
Uruguay's first lady and senior Senator Lucia Topolansky, on her farm outside Montevideo.
Credit:
Will Carless
Update: On Sept. 13, 2017, Lucía Topolansky became Uruguay's first woman vice president. The story that follows, originally published in 2014, offers a close look at the politician at a time when her husband José Mujica was president of the South American country.

MONTEVIDEO, Uruguay — By most accounts, Uruguay's President José "Pepe" Mujica is pretty badass.
He survived 14 years in prison, fought as a revolutionary, gives away most of his salary, drives a crumbling VW bug and shows up to official meetings in his sandals.
Hell, he even signed a law making Uruguay the first country on the planet that will grow, harvest, sell and tax marijuana.
But you know who's just as much of a badass, if not more?
His wife.
Lucía Topolansky: Senator, ex-guerrilla, prison escapee, torture survivor, blonde-bombshell-turned-wild-haired, farm-living, hard-as-nails first lady.
More:
https://www.pri.org/stories/2014-03-30/think-uruguay-s-president-fascinating-meet-his-wife
Hulton Archive/Getty Images
BY CODY COPELAND/DEC. 31, 2020 1:25 PM EST
In the 16th century, Spain began extending its empire in the Americas. At its peak, it controlled lands from as far north as Virginia down to the Argentinian province of Tierra del Fuego, on the southernmost tip of South America (excluding Brazil, which was Portuguese), and westward as a far as California and even Alaska. By the 19th century, however, Spain had lost the vast majority of its colonies to independence movements. According to the British Library, countries from Mexico to Costa Rica to Colombia, Chile, and Argentina had all gained independence by 1821. By the end of the 19th century, the only Spanish colonial remnants in the Americas were Cuba and Puerto Rico. Aside from these two islands, Spain's only other imperial holdouts in the Western Hemisphere were in the Philippines, Guam, and the Northern Mariana, Marshall, and Carolina Islands in Micronesia. By the dawn of the 20th century, it had lost them all.
As noted by the Library of Congress, trouble began brewing for Spain in Cuba in 1868, when guerrilla fighters called mambises began a campaign for independence. Their struggled ended with a treaty that wasn't honored, and by the 1890s, the fight for Cuban independence was back on. Led by the poet José Martí, who died during the first few weeks of the armed conflict that ensued, this second crack at gaining autonomy set the stage for the Spanish-American war.
POLITICAL DISSENT IN PUERTO RICO AND UNREST IN THE PHILIPPINES
In the last two decades of the 19th century, the push for Puerto Rican independence manifested in the formation of several political parties that campaigned for a break from Spain in one way or another. Some advocated for independence, while others espoused an alliance with the United States. In November 1897, pressure from the United States led Spain to grant Puerto Rico autonomy, and a new government was installed when news finally made it to the island the following year.
Meanwhile, in the Philippines, José Rizal was leading a movement that challenged Spanish authority. After studying in Madrid and writing seditious novels during his travels through Europe in the 1880s, he returned to Manila and founded a peaceful political movement called the Liga Filipina, for which he was promptly exiled to the island of Mindanao. During his exile, a man named Andrés Bonifacio started up a secret society called Katipunan, which pushed for the violent overthrow of the Spanish colonizers. He issued a call to arms on August 26, 1986 called the Grito de Balintawak, and was later betrayed and killed by his successor, Emilio Aguinaldo y Famy. In May 1897, Aguinaldo worked out a deal with the Spanish to be exiled to Hong Kong with a sum of 400,000 pesos, which he invested in weapons in order to continue his plight. Now all the situation needed was a catalyst to propel all of this unrest into all-out war.
THE SINKING OF THE USS MAINE GIVES THE UNITED STATES CAUSE TO DECLARE WAR WITH SPAIN
The Spanish employed increasingly violent tactics to try and quell the revolution in Cuba. Spanish General Valeriano Weyler y Nicolau implemented a Reconcentration Policy that rounded up Cuban citizens and concentrated them in centralized locations in order to better control them. He also declared martial law across the entire island. According to History.com, this brutality was vividly portrayed in the U.S. media. Several newspapers engaged in yellow journalism (the original, and actual, fake news) to sensationalize the violence and drum up support for U.S. intervention in the conflict. The New York Journal published a copy of a letter in which the Spanish Foreign Minister harshly criticized President William McKinley. The catalyzing moment came when a ship sent to provide protection to U.S. and property in Havana, the
USS Maine
, blew up in Havana Harbor on February 15. An inquiry by the U.S. Naval Court found the cause to have been a Spanish mine, though a 1976 report lays the blame on a fire that ignited the ship's ammunition.
Read More:
https://www.grunge.com/305059/why-did-we-fight-the-spanish-american-war/?utm_campaign=clip
~ ~ ~
From another source, a memorable quote, written by the "Undersecretary of War" Breckenridge on Christmas Eve, 1898. Apparently he wasn't really in the "Christmas mood," yet:
Cuba: The weight of a long history
By Manuel R. Gomez Last updated Mar 2, 2015
President McKinley again unsuccessfully offered to buy Cuba in 1898, shortly before declaring war on Spain. Only a year before, his Undersecretary of War, I.C. Breckenridge, had reflected the annexationist thinking in a memo arguing that: "We must impose a harsh blockade so that hunger and its constant companion, disease, undermine the peaceful population and decimate the Cuban Army….in order to annex the Pearl of the Antilles [Cuba]." He meant the Cuban independence army, who had all but defeated the Spanish well before Roosevelt with his Rough Riders arrived to clean up. It was advocacy of a policy to starve the Cuban population and its army, just to make sure that the U.S. alone could determine the future of the island. The push for annexation eventually failed, in no small part because its supporters realized that Cubans would likely continue their war if the U.S. tried to impose it. Yet those who favored annexation were able to impose the Platt Amendment on the new Cuban Constitution in 1904, in effect granting the US the right to intervene in Cuba for practically any reason the US saw fit. Cuba's independence was brutally truncated, and the U.S. intervened on the island again in 1906, 1912, 1917 and 1920.
More:
https://progresoweekly.us/cuba-weight-long-history/