Page: 1
A HERETIC I AM
A HERETIC I AM's Journal
Profile Information
Name: Schmengie
Gender: Male
Hometown: Podunk, FL
Home country: USA
Current location: Various.
Member since: Mon Aug 4, 2003, 03:56 PM
Number of posts: 19,711

Journal Archives
If you have never played with it, I'm telling ya.....it's awesome. If you have played with it, please share your favorite spots, or coolest places you have "driven" around.
I've driven around the
Ferrari Factory
in Marenello and the Maserati Factory
in Modena
I've driven by our old house in
Mill Creek Towne
, outside of DC and where I lived in
Alice Springs, Australia
.
Around the
Faroe Islands
and through the countryside of the
South Island of New Zealand
The walk along the
Viet Nam Memorial
in DC and the
Pyramids of Giza
For all of the links above, you can scroll around - a panorama of you like, by putting your mouse pointer at any spot, clicking and holding and moving the mouse. You can scroll out and see the area from above, and scroll way out and see the satellite shots. You can move along the ground, following the track the camera car made by clicking ahead of you on the street or path.
There are plenty of places that aren't photographed, but the amount of ground they HAVE covered is frankly, astounding.
Shortly after this version of DU was launched (way back in 2011!), I put up
this post
, in which I provided a little background and my experience in the Securities Industry;
So I might as well start this by making a full confession and/or disclaimer.

For most of my adult life I have been an over-the-road tractor trailer driver. In 2006 I had an opportunity to change careers and joined AG Edwards & Sons, Which at the time was the 5th largest retail brokerage firm in the country and the largest based outside of NYC (St. Louis).

I studied for and passed the Series 7 general securities license exam and the Series 66 General State Law license exam (which allowed me to legally call myself a "Financial Advisor" ) and the Florida State Insurance exam for Life, Health and Variable Annuities. Those licenses allowed me to trade every security except Commodities and Futures. I "hit the street" in September of 2006. The Dow peaked exactly 12 months later!

AG Edwards was bought by Wachovia and Wachovia was bought by Wells Fargo. Things went from bad to worse and I lost my position with the firm in July, 2009, primarily due to the fact that my book of business wasn't deep enough to weather the downturn and by the end of 2008, no one wanted to talk to a broker about anything other than CD's. A retail broker with a small book can't make a living selling CD's.

The rules stipulate that if a registered representative leaves a firm and is not hired by another, any securities licenses held expire 24 months after the last day. So my licenses are expired. I am back in the trucking industry, hauling new cars primarily in the South Eastern US. (Edit, 2/19/2015 - I currently haul US Mail for a contracting firm. Got out of the car haul biz in September of 2013)

I say all this so that anyone I might respond to in this group can know that I do have some professional background in the securities industry. I am fairly well versed in how Mutual Funds work and are structured as well as how to analyze them, Bonds, Stocks, Exchange Traded Funds, Closed End Funds and have a working knowledge of Options, though Options are much like speaking French. If you don't use it, you get rusty and I am pretty rusty on a lot of that material. I am familiar with and know the differences between 401(k)'s, IRA's, Roth IRA's, 403(b)'s, 457 plans, and some estate planning strategies.

So....the reason I petitioned the Admins for this privilege is because I noticed an uptick in participation in this group over the course of the last 18 months or so. Higher rates of participation to me, means a higher probability of a need for oversight. Those of you reading this and regularly check on/post in this group know that it is by no means the most heavily trafficked group on DU! Not by a long shot.
BUT.....
It is, in my humble opinion, a VERY important group to those that seek sincere, serious conversation and advice regarding investing, retirement planning, Real Estate and any and all matters that fall under the blanket of "Personal Finance and Investing" .
I HAVE ABSOLUTELY NO INTENTION OF BEING HEAVY HANDED IN ANY WAY!
I want to make that absolutely clear. While I have my own personal opinion regarding what kind of "advice" is appropriate on a message board where the participants do not know each other in real life, I am, for lack of a better way of putting it, "Pro-Choice" all the way down the line. In other words, post away. I'm not going to get involved in, as I said, heavy handed moderating of this group.
The reasons I might see fit to lock or otherwise interfere with a thread or post is if it deliberately attempts to promote a specific security or investment. In other words, posts that say "You need to buy stock in XYZ company RIGHT NOW!!" are over the top, as I think most of you would agree.
On the other hand, a post that said "You should check out XYZ company! They seem to be ready for a huge upswing (or whatever) and here's why", THAT would be perfectly fine, in my view.
Telling someone to make a specific purchase or execute a particular trade are things to avoid. Pointing out a trend or offering research to back up an opinion is a different story, and that is the point I'm trying to make.
Now why is that? Because if someone were to actually TAKE that advice and the trade goes south, it could mean the loss of large sums of money and as a result, could cause serious and irreparable harm. It's a matter of ethics. This is the very reason the securities industry places severe restrictions on licensed and otherwise "Registered Representatives" from commenting or offering advice on forums such as this one. Now I realize that most, if not all of you aren't licensed brokers. If you were, you would know all this and would comply without me saying a word. But since you AREN'T licensed, there isn't a damned thing the Securities and Exchange Commission can do about it anyway!
And for the most part, neither shall I.
I take this subject very seriously because dammit, it
IS A SERIOUS SUBJECT
and someone very close to me, who had a direct impact on my family, over the course of a few decades, took bad investing advice, ignored good advice and basically squandered a multi-million dollar asset pool before anyone could put a stop to it. All this to the detriment of people I love.
So...my intentions are simply to act like a Border Collie! Keep things moving along (Which they pretty much do by themselves, anyway!), don't let anything stray too far afield and keep the wolves at bay.
I am more than happy to answer specific questions in private via PM if anyone cares to contact me. I am by no means any kind of stock market expert, I am not an Attorney, an Analyst or a Certified Financial Planner and I am not, as I indicated above, currently licensed to trade any securities. But I do have experience which some may find relevant to their situation or concerns, and as such, am more than happy to provide any guidance or help I can.
I like to end my posts with the following, and it is my sincere wish for all;
May all your trades be net gains.
Paul
(This post has been edited several times for grammar, spelling and accuracy pertaining to information I was not previously aware of)
The Marine Corps Squadron charged with transporting the president via Rotary Wing Aircraft is
"Marine Helicopter Squadron One"
, or HMX-1, based out of Quantico, VA. They operate two primary helicopters that transport the President.
The Sikorsky VH-3D Sea King, the one we are most familiar with and the one commonly seen landing on the South Lawn of the White House;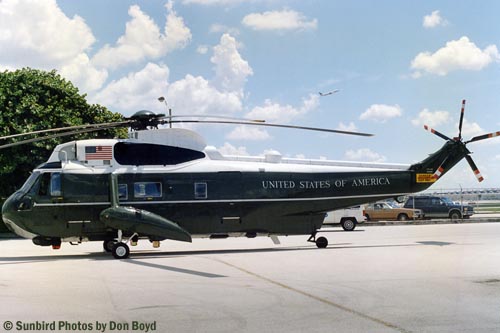 (This is new to me, so I stand corrected! ) A Sea King being loaded onto a C-17;
However, very often they do not carry a Sea King aboard either the C-5 or the C-17 airlifter, so when the President travels and a helicopter is brought along, it is sometimes the VH-60N, which is the executive version of the UH-60 Blackhawk.
The H-60 easily fits inside the large Air Force transport aircraft;
To fly for HMX-1 is a HUGE honor for a Marine Helicopter Pilot and only the best of the best rise to this level.
The Sikorsky dash 60 is used by every branch of the armed forces and by several overseas customers. Over 4000 have been built of the numerous variants.
BOTH OF THESE ARE ALL WEATHER HELICOPTERS
. The Coast Guard flies the UH-60 into storms to save lives.
(For posterity, I am going to re-write that sentence; )
The Coast Guard flies these fucking things into storms of all types,
INCLUDING KNOWN ICING CONDITIONS, SEVERE SNOW STORMS, HEAVY WINDS AND DOWNPOURS
to save lives. The people that fly the H-60 are well aware of it's capabilities and.....
There is
NOTHING
stopping one of these aircraft from safely operating in a gentle French rainstorm.
Nothing.
Except a petulant president who didn't wanna go out today.