Page: 1
bigtree
bigtree's Journal
Profile Information
Gender: Male
Hometown: Maryland
Member since: Sun Aug 17, 2003, 11:39 PM
Number of posts: 76,730

Journal Archives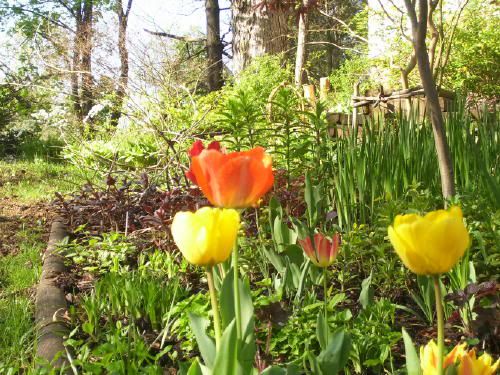 THIS has to be the earliest Spring blooms in my memory. The trees and bushes are already leafing out and flowering. The daffodil and tulip bulbs are up and blooming. The hostas have come up and are unfolding into proud stands of bright white and green to contrast with the rest of the emerald and burgundy explosions of color.
It's a welcome end (a tentative end) to the winter's bleakness and relative cold. There are certainly broader environmental implications and consequences to ponder and worry over in this unprecedented change of climate. Those can't completely quash my enthusiasm for shedding my heavy jackets and sweaters and venturing out, barefoot and in shorts.
I can't be dissuaded from my joy in the unexpected events of sprouting and bloom which are unraveling before me. I am a giddy fool, basking in the incidental sunlight and warmth; much of its early arrival presumably generated by the abuses and neglect of our industries regarding the atmosphere. My ecological conscience is (almost) undone by the betrayal of my arthritic bone's warming to the beauty and promise of this early Spring. I can't wait to see what comes up next!
This election year is much like our unusual weather. There's so much unprecedented in the atmosphere and landscape of our party's upcoming defense of our Democratic presidency. There's the obvious historic nature of this current president who's race is being deliberately (if not mindlessly) highlighted and framed by many of his bigoted, republican opponents and their supporters; so far, mostly to the advantageous effect of mobilizing and energizing our Democratic base to his heightened defense and support.
I'm mindful that it was just months ago that both the economy and President Obama's appeal was teetering on a precipice of indifference in his re-election to an outright wave of opposition from his own base of supporters. A combination of a populist appeal and some executive action has attracted enough of an early buzz regarding the president's re-election from his party regulars and others that he has effectively placed himself firmly into the vital role of our party's political champion.
It's a welcome end of term of a operationally defensive presidency caught up worrying about smoothing out every republican-induced bump in the legislative roadway. Free from any significant or noticeable primary challenge -- and advantaged by the distracted republican field still fighting it out over their eventual nominee -- President Obama has been able to appeal to both the traditional factions of our party, and to many more progressive interests, as well, and position his supporters to rally against the extremes coming from his republican opponents.
It's been a perfect storm of opposition which has inspired many passionate defenses of this presidency from potential Democratic voters; of its agenda; and of its legislative accomplishments. The opposition party has muddied up what had just recently augured to be a dry referendum from them on the struggling, incumbent President.
I am a giddy fool in my unquestioned, enthusiastic, energetic support for the re-election of Barack Obama; basking in the glow of his excellent character, his steady and progressive logic, and in his warm and embracing appeal to our core Democratic principles; reveling in the bold contrast he offers against the bleak and caustic republican opposition. I am a dedicated and loyal toiler against his demagogic attackers.
My natural aversion to the reflexive moderation and unnerving compromises which marked much of his first term is undone (almost) by the warmth, strength, and beauty of this Democratic President's substantive and inspiring campaign and office.
I can't wait to see what comes up next!
REUTERS/Jason Reed
U.S. President Barack Obama and first lady Michelle Obama talk as they wait to receive Britain's Prime Minister David Cameron and his wife Samantha as they arrive for an official dinner in their honor at the White House in Washington, March 14, 2012.
REUTERS/Jonathan Ernst
U.S. President Barack Obama and first lady Michelle Obama greet British Prime Minister David Cameron and his wife Samantha after arriving at the White House for a State Dinner held in their honor March 14, 2012.
REUTERS/Kevin Lamarque
Are you lifting the oxcart out of the ditch? Are you tearing up the pea patch? Are you hollering down the rain barrel? Are you scraping around the bottom of the pickle barrel? Are you sitting in the catbird seat?
-- Thurber
A familiar sound in the air today . . . a lone catbird has arrived in the neighborhood, back from its winter refuge, enabled in its early return by the unseasonable winter's warm end. It's a song known to every lonely creature who's ever searched longingly for their lost companions and loves. It repeats its signature refrain in a loud and uneven, but recognizable pitch, as it broadcasts the announcement of its untimely arrival to all corners of the block.
"Yes, we hear you're back in town, familiar friend," we answer back, cautious to avoid becoming its only conversational friend for the remainder of the season; for the remainder of its time in residence. Now, its melodious plea is becoming even louder and more insistent in its desperate longing for companionship and for the social order it had become accustomed to finding here.
Eventually, soon, our anxious catbird will be joined by all of its friends, acquaintances, and rivals. Until then, it will have to find a happy medium to its searching songs. We'll all understand and sympathize today; tomorrow we'll all expect a bit more temerity and patience -- at least a level commiserate with the rest of our temporary exiles and expatriates from the winter chill -- and a little more dignity as we all wait and watch as Spring completely unfolds before us.
My catbird talks to me all throughout the day, all season long.
He's been coming back to my yard for years and years. It's been so long that I suspect it's been more than one bird learning our songs from the other. He's pretty aggressive in his singing, but I haven't seen any aggressive moves to bother anything larger than the bothersome Blue-Jays who like to try and bully their way around (and steal eggs).
He didn't come the year after my father died, but the following year he came back, and, perched on a low branch above me, we both shared our year's experience together (in crazy song) for about a half-hour until I was exhausted. He never tires of singing out, though. And he's louder than the rest. He's taken to spotting me at the window at my computer, and, last year I startled him away from our outside gazebo because he was just so loud and annoying I couldn't hear myself think.
I called out to this little fellow when I first moved into my house and put the woodland garden together, because I had had a mockingbird friend years before and the call sounded just like his.
The bird that I had a relationship with many years ago had woken me in the middle of the night outside my courtyard townhouse window, a little fellow, I think. I tried to coo him back to sleep, but he'd found the friend he'd been looking for. He awoke every single night afterward and would just disrupt the neighborhood until I talked to him (and that took a while at that to shut him down). He was a night singer for years afterward - returning for three successive summers, until one year when he didn't return. He wasn't missed in that courtyard by many (I missed him).
The next summer I heard a call outside the window -- it was weaker than my friend's, but unmistakably in the range of our songs. Then I heard his call and I realized at once that he'd brought back a mate who had adopted parts of our melody. Lots of noise from them both outside in the trees for that day and then night fell.
Hours into the night, I heard the unmistakable song of my catbird friend coming from an alcove across the street and echoing like never before throughout the neighborhood. He wasn't just singing, he was trilling in several octaves at once like something out of Star Wars.
I went to the small tree where my friend was and he just exploded in the most incredible song I have ever heard. He wouldn't let me make a sound over his own incredible one and it was so overwhelming that I ended up on my butt in tears.
He was speaking of love - that was unmistakable - but also, there was a bittersweet sadness in his melody which cut right through me. It went on, seemingly forever, until he just stopped abruptly and flew away. I never heard from him again. What a lucky man I was to have experienced that.
Mockingbirds and catbirds do obsess on us when we interact with them. Best not to attract too much of their attention, I think. Better to let them get on with the business of interacting appropriately with their bird partners. Best to not encourage too much of our own compromised humanness in their expression. Better to just listen to them.
from Buzzfeed:
http://www.buzzfeed.com/andrewkaczynski/the-first-time-obama-was-elected-president
Mar 10, 2012 5:53pm EST
Barack Obama's election as President of the Harvard Law Review was a historic event for African Americans. A proud moment for people of color, the election garnered a ton of coverage from the back media. The following excerpts come from three publications Jet, Ebony, and Crisis Magazine, showing the extent the young law student and author was heralded in the black community.
A 1990 interview with Ebony Magazine reads:
Barack H. Obama has an arabic first name that means "by the grace of God," which could exlain why he looks so humbly upon success. The Harvard University law student made history this year when he became the first Black President of the 104-year-old Harvard Law Review. "The fact that I've been selected shows a lot of progress, but it's important that stories like mine aren't used to say that everything is okay for Blacks," says the son of a Kenyan economist. Obama has a bachelor's degree in political science from Columbia University.
A February 1990 edition of Jet Magazine read:
Barack Obama, a 28-year-old second-year law student, was elected in balloting by last year's editors. Obama, a native of Hawaii, said his election shouldn't be seen as a sign social barriers have been broken down.
"I wouldn't want people to see my election as a symbol there aren't problems out there with the situation of African-Americans in society," he said. "From experience I know that for everyone of me there are hundred or a thousand Black and minority students who are just as smart and just as talented and never get the opportunity."
In 1995, the young Obama, now an accomplished author, reflected on his election, race, and his book in Crisis Magazine:
CRISIS: Will race relations get better?
OBAMA: Not in the short term. We're moving out of a period of American preeminence on the world economic stage. Global competition means increasing economic uncertainty for the majority of Americans, black and white. Unfortunately, politicians in this country find it convenient to define these problems in racial termsó affirmative action, immigration and so on. It's always easier to organize people around tribe than around principle."
read:
http://www.buzzfeed.com/andrewkaczynski/the-first-time-obama-was-elected-president
That's the theme this weekend from some conservatives (Hannity and others) who are arguing that they were set up by Democrats and media sympathizers into making their outrageous and ignorant remarks -- and tricked them into taking political positions which are so abhorrent and damaging to the majority of the nation's women.

Kinda funny . . .and sad, that they believe they can turn that majority of women against their own selves by persuading them to vote republican; to vote against their own interests as these republican candidates fall over themselves to promote and support each and every denigrating proposal and pronouncement meant as red meat for their rabid, regressive republican base.

Yep, we 'trapped' and tricked them, all right. It didn't take much effort, though. It's not as if we're the ones writing their dialogue or transcribing their regressive political positions for them. All we've had to do is let them talk and make certain voters hear them; loud and clear.

The republican candidates have clearly jumped the shark on women's issues. Now, all they can do is defensively scold those tricky Democrats for making them say publicly what conservatives have always felt comfortable in asserting in their more private moments of bonding with their ilk.

We set them up good. It's amazing how simple it was. All we had to do was let them talk . . . and women (and America) listened. Ingenious.


It should be remembered that there are still folks around who actually experienced institutionalized racism and discrimination full-force, first-hand in their lifetimes. Critics of the opinions of the U.S. of black activists like Barack Obama's acquaintance at Harvard, Professor Derrick Bell, are certainly free to point out their mistrust and distaste of the white-dominated infrastructure of government and businesses they were made to endure.
Yet, to characterize that mistrust and cynicism of black Americans like Bell (and other black activists and advocates) toward the actions and attitudes of the nation's white majority as something sinister or untoward is completely dismissive of America's antagonistic past regarding almost every aspect of blacks' existence in the country.
You have to ask yourself just how black folks who grew up in that confrontational and discriminatory era, as well as the generations who followed, were supposed to regard the cliquish white majority as they perused their quest for inclusion and advancement against such determined and insidious headwinds?
As we consider the relatively short distance we've managed to put between this generation today and that tragic past, we also need to ask ourselves if any of that progress would have been possible without that cynical, insistent attitude from Prof. Bell and others as they challenged the status quo?
When we celebrate the efforts of black leaders from the past who were confronting the bewildering, illogical facets of racism and Jim Crow, we need to view their actions and statements in opposition to it all in context of the amazingly vicious assault on the citizenship and establishment of people of color that they were facing down.
First Lady Michelle Obama is surrounded by elementary students after a "Let's Move!" physical fitness promotion between games at the CIAA basketball tournament in Charlotte, N.C. on Friday, March 2, 2012. (AP Photo/Nell Redmond)
FOR a few minutes Friday, first lady Michelle Obama turned the hardwood floor at the Time Warner Arena into an elementary school gym.
Obama was in North Carolina for two Democratic Party events in Raleigh and Charlotte.
But before those fundraisers, she promoted the "Let's Move!" fitness program with children from two Charlotte elementary schools. It took place after the first women's basketball game at the Central Intercollegiate Athletic Association basketball tournament.
Obama walked to midcourt and addressed the crowd about her national anti-obesity campaign. She touted basketball as a way to keep active.
"We need them to be the next generation to handle challenges," she said.
read more:
http://tdn.com/sports/basketball/first-lady-promotes-fitness-at-basketball-tourney/article_89aa9eac-6b27-5f0c-9f3a-f769768af3e4.html
(AP Photo/Nell Redmond)
(AP Photo/Nell Redmond)
(AP Photo/Nell Redmond)