Page: 1
bigtree
bigtree's Journal
Profile Information
Gender: Male
Hometown: Maryland
Member since: Sun Aug 17, 2003, 11:39 PM
Number of posts: 77,467

Journal Archives
From articles predicting the death of his nascent campaign; to former officials and past community leaders (some disgraced, some convicted); to fictional television personalities and pundits; O'Malley faced an aggressive push to envelop him in a myriad of mishaps and missteps from his past terms as mayor of Baltimore and governor of Maryland.
O'Malley responded to the wave of orchestrated (and manufactured) controversy by traveling to his old governing ground in Baltimore and facing critics, hecklers, and questions head-on. He managed it all with his characteristically unflappable, appealing, and engaging style.
On Tuesday
, O'Malley walked into a West Baltimore community meeting and mingled and marched outside afterward with protesters. In the process he was able to connect with some of the familiar elements of his former community in which he had played a prominent role in aiding and providing a positive influence.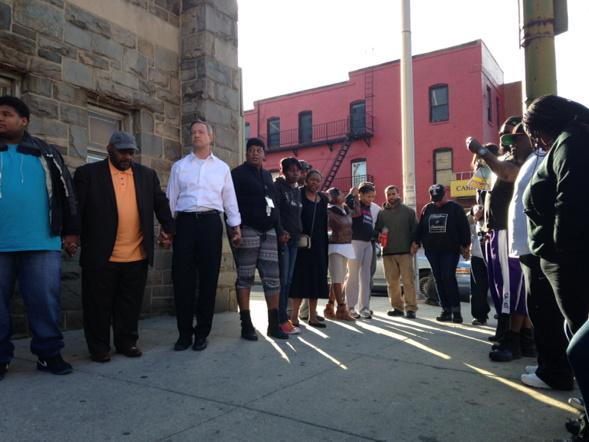 Peter Crispino
@PeterCrispino
O'Malley in prayer circle outside Simmons Memorial Baptist
Katie Wall
@NBCKatie
O'Malley comforting church members at the burned down senior center in East Baltimore.
On Wednesday
, O'Malley went to a food giveaway at the St. Peter Claver parish hall in northwest Baltimore's Sandtown neighborhood, lifting pallets of food and water, and packaged food to be collected by people whose local Save-A-Lot and CVS has been looted in the midst of the Baltimore uprising.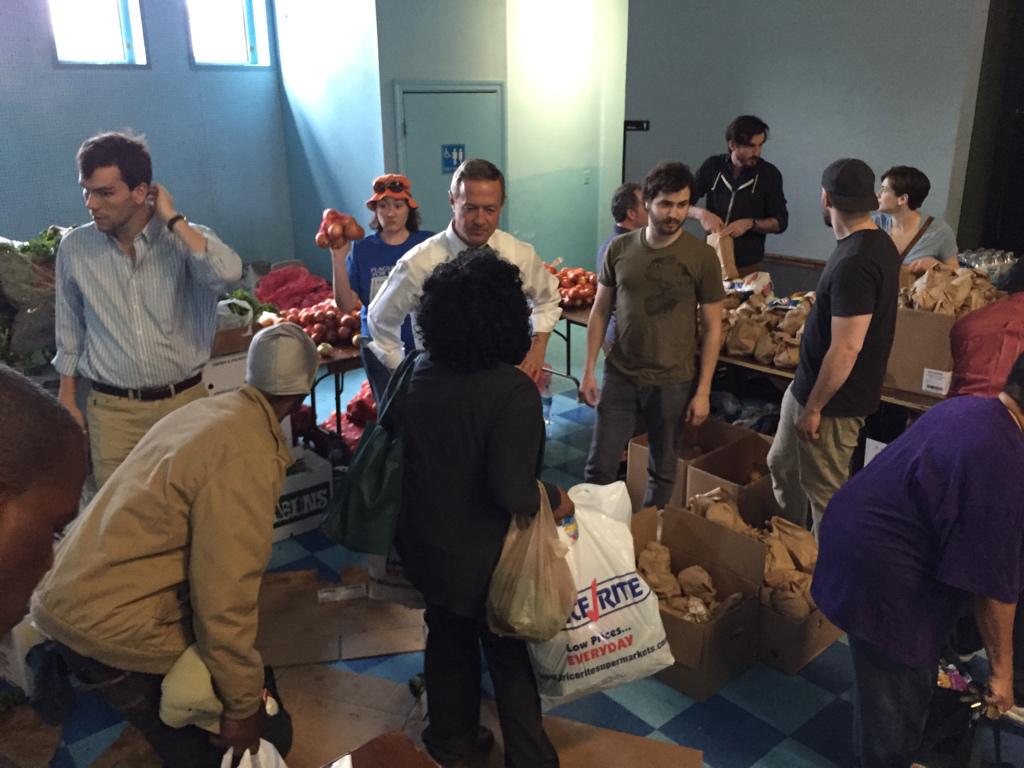 daveweigel
@daveweigel
...No riot.
https://twitter.com/daveweigel/status/593487815494729728
Throughout it all, O'Malley conducted almost a dozen prominent interviews in which he confronted and answered the questions swirling around his visit about his past performance in office and produced some extremely eloquent commentary about the present demonstration for justice in Baltimore, even as he defiantly pushed back criticism of his efforts to reduce crime as mayor of the troubled community from 1999 to 2006.
Several reports also highlighted his presence in Baltimore and praised him for his efforts. He was, after all, the ONLY potential presidential candidate to bother to visit the community.
...examples:
lapared
@lapared · Apr 29
Martin O'Malley takes a walk through Baltimore and shows real leadership via Daily Kos
-
http://www.dailykos.com/story/2015/04/29/1381092/-O-Malley-Takes-A-Walk-Through-Baltimore
…
Lis Smith
@Lis_Smith · Apr 29
Imagine what politics would look like if more pols showed the chops that @GovernorOMalley did yesterday
http://www.nytimes.com/politics/first-draft/2015/04/28/martin-omalley-takes-a-walking-tour-of-an-angry-baltimore/
…
Boyd Brown
@HBoydBrown · Apr 29
Great read on "Citizen O'Malley" volunteering and leading in his hometown.
http://www.bloomberg.com/politics/articles/2015-04-29/martin-o-malley-baltimore-s-prodigal-mayor-gets-to-work
…
Patrick Mellody
@OneMellody · 11h 11 hours ago
...
A must read from a true Baltimorer. GovernorOMalley: We Are Capable of More
http://www.huffingtonpost.com/gov-martin-omalley/we-are-capable-of-more_b_7179780.html
…"
Theodore M. Jamison
@tmj4ever · 10h 10 hours ago
This is why I like Martin O'Malley: He tells it like it is.
http://www.baltimoresun.com/news/maryland/politics/blog/bal-omalley-its-not-just-policing-20150430-story.html
…
Jake Tapper
@jaketapper · 5h 5 hours ago
Exclusive: @GovernorOMalley defends #Baltimore record in an interview
http://cnn.it/1JEyiRM
#TheLead
...despite all of the attempts to put a negative spin on this week for Martin O'Malley, the controversy provided him widespread exposure, and an excellent opportunity for him to demonstrate his character under fire. I think he came through it all (still ongoing?) actually elevating his stature and going a long way in establishing his unique, people-oriented brand of politics and calm, steady leadership in a fantastic preview of his expected campaign.
Chris Dickens reads Martin O'Malley, the former governor of Maryland and the former mayor of Baltimore, the names of people Mr. Dickens said had been brutalized by the police.
photo/ Jason Horowitz
One important element is the quest for justice and reform which motivates the vast majority of demonstrators.
The apparent police killing of Freddie Gray in Baltimore, for example has sparked organized and sporadic protests from a majority of peaceful residents and individuals with the aim of galvanizing attention and action from the local government and federal officials.
There is also an element of anger and frustration
which has compelled some residents to take to the streets and there have been violent confrontations with the massive array of police force which has responded to the protests with intimidating tactics, and, in some cases, with their own brand of oppressive violence against demonstrators. There have also been several recorded incidents of confrontations with non-protesters which have involved threats, physical attacks, and racist verbal attacks.
one account
: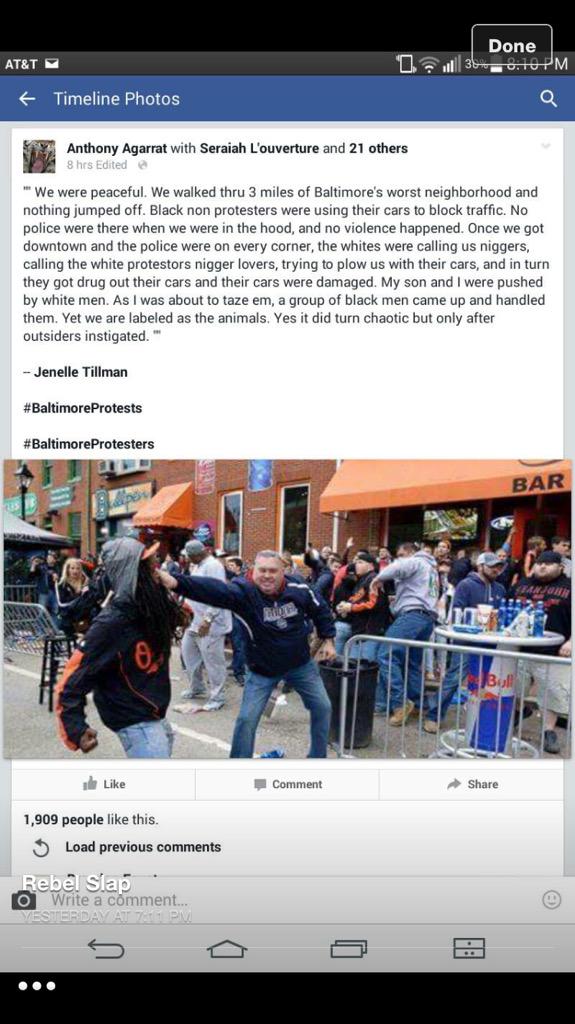 The other element which is often conflated with the other two mostly understandable and defensible reactions to police violence, is the human element of opportunism
in which we find individuals taking advantage of the unrest in the community and the relative chaos surrounding the demonstrations by looting and vandalizing. These are certainly not attempts to address police violence. They are lawless and reprehensible acts which do nothing more than exacerbate an already volatile situation. They are not orchestrated by the protesters seeking justice and police reform and accountability, and they are regularly denounced by those demonstrators as antithetical to their efforts. Conflating them with the protest actions is a mistake; a cynical deflection, at worst.
One thing that I think should be remembered is that these communities which experience unprovoked killings and violent attacks by police of unarmed and disproportionately black residents live with these injustices almost every day. When those communities rise up in protest, there is going to be a myriad of reaction which reflects all of these elements of resistance and opportunism.
Highlighting or focusing solely on the more egregious elements of these uprisings doesn't negate or assuage the root causes of the unrest. These communities are forced to endure what amounts to decades of injustice, indifference, and abuse. Expecting a completely rational and methodical reaction from residents to a chaotic and oppressive system of governance and law enforcement is unrealistic and unreasonable. What I would hope is that, as we take time to correctly denounce the violence and criminality from some in the community, we also expend the same, or more, energy in addressing the systematic and persistent abuses directed toward residents from those charged to protect and serve.
The Real Segun Idowu
@RevrendDoctor · Apr 26
If ever a photo should exist to explain how we feel every day, from the moment we arise til we fall asleep.
ron fullwood @ronfullwood
The trade promotion authority that President Obama is asking Congress to grant him is an outrageous subversion of the democratic process. The trade deal under consideration involves a third of the world economy; as opposed to the 10% that NAFTA covered. It's a major undertaking which will govern concerns raging from the environment, workers' rights, currency, and employment.
HuffPo:
The "trade promotion authority" bill, or TPA, would allow the White House to cut new trade deals with Asian and European nations, and then pass them through Congress using expedited procedures. Under these rules, the deals cannot be amended or obstructed, and they get a simple up-or-down vote.

The fast-track authority would likely pave the way for both the controversial Transatlantic Trade and Investment Partnership agreement with the European Union, and the Trans-Pacific Partnership with a dozen Asian nations. Both deals are vastly larger than NAFTA, and would involve about two-thirds of the entire world's economy. Currently, the United States has trade agreements covering just 10 percent of world trade.
I agree with Sen. Chuck Schumer, the man most observers expect to lead the Senate Democrats when Harry Reid resigns; and Sen. Sherwood Brown; that the fast track authority the WH wants is a 'abdication' of Congress' responsibilities.
Sen. Schumer:
"This process is not good...We are supposed to vote on TPA, tie our hands and not vote on amendments, before we've seen what the Trans-Pacific Partnership is. I've never seen anything like it."
If passed, the agreement between Senate republicans and Democrats on granting TPA, would permit President Obama to expedite the process of authorizing trade deals such as the Trans-Pacific Partnership (TPP) – currently being drafted by the US and 11 other Pacific nations – and the Transatlantic Trade and Investment Partnership (TTIP) with the European Union.
Yes, the TPA would allow two months before the President signs the trade pacts; four months before Congress votes on it...
Examiner:
If the agreement, negotiated by the United States trade representative, fails to meet the objectives laid out by Congress — on labor, environmental and human rights standards — a 60-vote majority in the Senate could shut off "fast-track" trade rules and open the deal to amendment.

Also, in a sop to Wyden, there is extended support to retrain workers displaced by off-shoring (I thought that wasn't supposed to be a consequence.&quot
The supermajority required to shut down fast track is a non-starter for the Democratic minority. Even though no one expects a majority of Democrats will vote for the trade pact, there appears to be sufficient amount of republican votes, coupled with a handful of Democratic supporters of the TTP which makes that olive branch to critics in Congress an insincere and obviously compromised one.
In effect, this fast track authority isn't some device which is designed to keep the republicans from thwarting an initiative from our Democratic president (they very clearly support this corporate-crafted trade agreement); it's a tactic designed to keep members of President Obama's own party from altering the trade pact with their decidedly progressive interests and concerns. That makes President Obama's complaints of betrayal from Democrats over their vocal opposition to reported provisions in the pact self-serving, cynical, and knowingly insincere.
Make no mistake about it, the President knows full well that he has as many votes as he needs to ram an already signed trade pact through Congress. All that's left for him now is to, somehow, get Democrats to knuckle under and pipe down so his victory party won't appear to be, mainly, a republican-sponsored affair.
Hillary Clinton greets workers at Capital City Fruit Company in Norwalk, Iowa - April 15, 2015 (
Barbara Kinney for Hillary for America
)
Norwalk, Ia. – Owners of Iowa small businesses told Hillary Clinton on Wednesday that problems they face include taxes that are too restrictive, an immigration system that doesn't allow them to hire workers they need, and health insurance expenses that continue to increase too much...
Iowa was Clinton's first destination after she declared her candidacy on Sunday. On the second day of a two-day trip, her campaign organized a roundtable discussion staged in a warehouse at Capital City Fruit, a supply chain manager of fresh fruits and vegetables based in the suburban Des Moines city of Norwalk.
"We need to be, we have to be, No. 1 again," she said. "Slowly over time it's become more difficult — more expensive, more red tape, unnecessary regulations that have really put a damper."
Clinton also expressed concern about the high cost of prescription drugs, especially for those with rare medical conditions.
"We need to drive a harder bargain negotiating with drug companies about the costs of drugs," she said, noting the "height of ironies" that medications developed in the United States are often sold more cheaply overseas.
http://www.desmoinesregister.com/story/news/elections/presidential/caucus/2015/04/15/clinton-unnecessary-regulations-thwart-business-growth/25837195/
(
Barbara Kinney for Hillary for America
)
New business owners also talked about how student debt impacts their business and personal finances.
Surrounded by crates of tomatoes, strawberries and oranges, Hillary Clinton stepped into a huge warehouse for a small gathering to talk about how to jump start small businesses.
Bryce Smith owns the Family Fun Center in Adel. He was one of the business owners selected to talk with Clinton. Smith said young people can't start businesses with so much student debt, one of Clinton's big issues.
"That's a real barrier. We need to tackle student debt. I'm grateful to you for your insight no one else has," said Clinton.
read:
http://www.kcci.com/news/clinton-wraps-up-iowa-tour-today/32378506
Kelsey Kremer/The Register
Clinton vowed to try "to build on what works in the Affordable Care Act" and said she would look into health care providers competing across states in a free-market system.
"It would be interesting to find out why in Iowa, a well-established company like yours is being asked to pay so much more for a private plan," she told Brendan Comito, who owns a fruit distributor and complained that his premiums have risen by 13 percent over one year.
"I will defend those important changes in the Affordable Care Act because of somebody like you, Jennifer," she told Jennifer Hansen, the owner of a small boutique, who revealed she was diagnosed with breast cancer last year.
On immigration , she said, "We are really missing out on economic opportunity because we haven't been able to agree on comprehensive immigration reform."
read:
http://www.politico.com/story/2015/04/hillary-clinton-iowa-campaign-trail-policy-agenda-117005.html
Kelsey Kremer/The Register
In an hour-long "conversation" with small-business leaders in Norwalk, a suburb of capital city Des Moines, Clinton ticked off several core issues that now ignite liberals. She pledged to take on low wages, unequal pay for women and immigration reform, as well as tackle an economic deck that she said was "still stacked in favor of those at the top" – and even the US supreme court on marriage equality.
Above all, the former secretary of state attached her name firmly to Barack Obama's signature legislation, the Affordable Care Act, apparently unperturbed that Republicans intend to make Obamacare a major lever of their attack against the eventual Democratic nominee – whomever that will be – in the 2016 presidential election.
"I am committed to building on what works in the Act because 16 million people now have insurance who didn't have it," she said.
Clinton delivered her remarks inside a cooling shed at a fruit distribution firm in Norwalk, surrounded by ripening objects – tomatoes on one side of her, members of the American media on the other. She appeared to be relaxing into the new role of a low-key candidate of the left, as high on domestic street cred as diplomatic frequent-flier miles, which Team Clinton has carefully built up around her since a formal campaign launch on Sunday.
read:
http://www.theguardian.com/us-news/2015/apr/15/hillary-clinton-iowa-progressive-voters-wage-inequality-gay-marriage-healthcare
Hillary Clinton posing with Iowa House and Senate pages, clerks and a few others at the Iowa Capitol on Wednesday, April 15.(
Eric Bakker/Special to the Register
)
Hillary Clinton stopped by the Iowa Capitol to meet privately with Democratic lawmakers Wednesday afternoon, but about 150 people were waiting to meet her when she entered the building.
"I think she touched on a lot of good general points of an overall vision for America," said Rep. Bruce Hunter, D-Des Moines. "I know that the speculation was that she didn't really want to come to Iowa eight years ago, but just from her demeanor today I think that she's glad to be here, was listening to what we had to say, and so we'll see where it goes."
Clinton stopped to talk with onlookers only briefly as she entered the building, taking a moment to snap a photo with five-year-old Silas Mueller who was wearing a Raygun t-shirt that said "Iowa: Wave the next time you fly over."
His mom, Carrie Miller of Grimes, said in 20 years they would look back on that photo.
"I'll say that my son took his picture with the first woman president, which is very cool," Miller said. "That's why we came today."
read:
http://www.desmoinesregister.com/story/news/elections/presidential/caucus/2015/04/15/hillary-clinton-iowa-visit/25815175/
Simpson College junior MacKenzie Bills shakes hands with Democrat Hillary Clinton Wednesday, April 15, 2015, as Clinton makes a stop at the Iowa State Capitol in Des Moines, Iowa. (
Michael Zamora/The Register
)
After her gathering with small-business owners before the cameras, Clinton held a closed-door meeting with Democratic members of the Iowa general assembly at the state capitol. She gave what one attendee described to the Guardian as "a very progressive speech", re-emphasizing her liberal talking points on immigration reform and getting money out of politics but also "listening a lot and being humble".
"She was introduced and received more as the nominee" than as a candidate, said the attendee, who asked to remain anonymous – and noted that former Maryland governor Martin O'Malley, seen as Clinton's most legitimate challenger from the left, did not get the same kind of attention when he spoke to Democratic legislators just a week ago.
read:
http://www.theguardian.com/us-news/2015/apr/15/hillary-clinton-iowa-progressive-voters-wage-inequality-gay-marriage-healthcare
(
Barbara Kinney for Hillary for America
)
related:
Hillary Kicks Off Campaign With Roundtable at Kirkwood Community College
http://www.democraticunderground.com/10026508519
more Hillary campaign photos:
https://www.flickr.com/photos/hillaryclinton/
bigtree sidebar:
One thing that I want to make clear about this 'photo essay' (and others) I've put together for this campaign season is that these aren't necessarily an endorsement of what's reported in the articles or approval of statements or remarks of candidates I choose to highlight. In the Obama/Clinton matchup, for instance, while I supported Hillary in that race (my fourth choice in that election), I also posted similar photo/article essays for Barack Obama. In this primary, I'm leaning toward Martin O'Malley, but I hope to share several more of these types of daily news posts featuring other announced candidates.
Hillary Rodham Clinton, with Kirkwood Community College President Mick Starcevich, participates in a roundtable with educators and students at the Kirkwood Community College's Jones County Regional Center, Tuesday, April 14, 2015, in Monticello, Iowa.
Charlie Neibergall/AP
MONTICELLO, Iowa – Democrat Hillary Clinton, at the first official event of her presidential campaign, spelled out the ideas that she said will be at the heart of her campaign.
"I want to be the champion who goes to bat for Americans in four big areas," she told four students and three educators at a roundtable staged in an automotive technology classroom at a community college...
"We need to build the economy of tomorrow, not yesterday," she said, as a handpicked audience of 20 and about 60 reporters looked on. "We need to strengthen families and communities because that's where it all starts.
"And we need to fix the dysfunctional political system and get unaccountable money out of it once and for all, even if that takes a constitutional amendment," she said. "And we need to protect our country from threats that we see and the ones that are on the horizon. So I'm here in Iowa to begin a conversation about how we do that."
"I want my granddaughter to have every opportunity, but I want every child to have every opportunity," she said. "That's one of the main reasons that I decided to run — because, believe me, I know that it's not going to be easy, that I'm going to have to work hard to earn every single vote and get every caucusgoer I can round up to show up next February. But I just felt like I couldn't walk away from what I see as the challenges we face. I want to build on what we've done to get out of the terrible recession and get back on our feet. We have to run the race."
read more:
http://www.usatoday.com/story/news/politics/elections/2015/04/14/hillary-clinton-iowa/25777397/
Hillary Clinton smiles after speaking with Kirkwood Community College student Andrew Lorimer in the Auto Tech Lab of the college's satellite campus in Monticello, Iowa.
Michael Zamora/The Register
The Democratic presidential hopeful kicked off the roundtable with a few remarks. The upshot? She's a huge fan of Kirkwood's approach to dual enrollment and the opportunities it gives students to get actual workforce skills. "The cooperation between the college and the high school is something I want to see a whole lot more of," Clinton said.
And she talked up her past record on education and children's issues. (Read more about it here.) "I've been fighting for children and families my entire adult life," she said. She talked about her early work with the Children's Defense Fund, going door-to-door and trying to figure out if students with disabilities had access to the kinds of services they needed.
"I do agree ... that we have to do more to open up our education system so that we are meeting individual students where they are and where they could be with the right motivation," she said. "I do think we have to have accountability measures, but not at the expense of individualized learning that has to go on."
And when it comes to the NCLB law (that's right, the law actually came up at this very early campaign event) Clinton said, "We've learned what works and what doesn't work so well." The challenge now: "How we take a system that has so much potential and has produced so many positive outcomes for so many people .. instead of arguing about education."
read more:
http://blogs.edweek.org/edweek/campaign-k-12/2015/04/hillary_clinton_talks_college-.html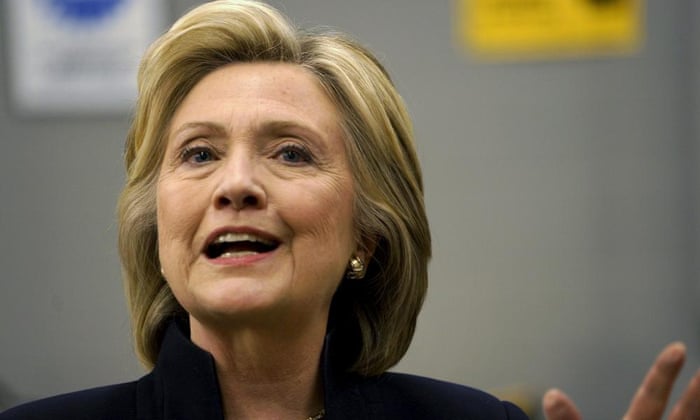 Rick Wilking/Reuters
Democrat Hillary Clinton blasted executive pay and tax rates for hedge-fund managers on Tuesday, using the first stop of her low-key campaign rollout in Iowa to highlight her promise to help Americans struggling toward economic recovery.
"There is something wrong when hedge fund managers pay lower tax rates than nurses or the truckers that I saw on I-80 as I was driving here over the last two days," Clinton said, perched on a stiff metal chair in the automotive shop of a community college.
Clinton also repeated her concerns, first voiced on Sunday, that chief executives make 300 times more than the average worker, and sympathized with students discussing the high cost of a college education.
"People are struggling," Clinton said at Kirkwood Community College. "I want to stand up and fight for people so they can not just get by, but they can get ahead and stay ahead."
read:
http://news.yahoo.com/clinton-unfair-fund-managers-pay-lower-tax-rate-212808340.html
watch on c-span:
http://www.c-span.org/video/?325353-1/hillary-clinton-education-roundtable-iowa
Tuesday was the first day of organized events for Clinton's campaign. On the way to her community college event, Clinton, her staff and a small number of pooled press stopped for a prearranged visit to Jones St. Java House in Le Claire, Iowa.
Charlie Neibergall/AP
Clinton greeted a few patrons in the coffee shop and spoke about the long, cold winter, according to reports from the small pool of reporters who were allowed by the campaign to attend the event.
She was met by Mayor Robert Scannell of Le Claire, his wife and Jeff Williams, husband of the coffee shop's co-owner and a small business owner.
Clinton ordered two drinks: a masala chai and a caramallow latte, and also asked for a cup of water with lemon.
Clinton, according to an aide, met with three Iowans at the coffee shop: Sara Sedlacek, a Planned Parenthood employee, Austin Bird, a student at St. Ambrose University, and Carter Bell, president of the University of Iowa College Democrats.
The newly minted presidential candidate, who needs to perform well in Iowa to dispense with negative memories of her 2008 campaign, joked with staff that she is going to "drink my way across Iowa."
read:
http://www.kcci.com/politics/clintons-iowa-campaign-starts-in-a-coffee-shop/32362268
watch:
http://www.reuters.com/video/2015/04/14/hillary-clinton-orders-chai-and-water-wi?videoId=363853581&videoChannel=1003
Michael Zamora/The Register
bigtree sidebar:
This is the first 'photo essay' I've put together for this campaign season. One thing that I want to make clear is that these aren't necessarily an endorsement of what's reported in the articles or approval of statements or remarks of candidates I choose to highlight. In the Obama/Clinton matchup, for instance, while I supported Hillary in that race (my fourth choice in that election), I also posted similar photo/article essays for Barack Obama. In this primary, I'm leaning toward Martin O'Malley, but I hope to share several more of these types of posts featuring other announced candidates.
I've read several threads which are asking for 'solutions' and suggestions on ways to address the issue of 'white privilege' in America. These are certainly important questions worthy of consideration and debate. I hesitate to express even small criticisms of characterizations of what white privilege means - most often with these definitions coming from white individuals, which isn't something I feel is damning or seriously inappropriate. That said, I do feel it's much more important to listen to the expressions of non-white individuals who feel subject to negative aspects and consequences of disparities in treatment, opportunity, or other realities of our existence in society.
Of course, while correctly pointing to the sometimes condescending or subjugating attitudes of some white people toward black individuals, it should be remembered that there are also stereotypes made and perpetuated against white Americans. The difference, of course, is the consequence in a majority white society in which black people are regularly discriminated against, judged, repressed, or attacked in a disproportionate measure by many in that white majority. Still, we should refrain from assuming these patronizing and subservient attitudes are universal and inherent in all white individuals; just as it's imperative to refrain from stereotyping black individuals.
Many black Americans, myself included, grapple with the way racism is so ingrained in all of our everyday insecurities about ourselves and others; and how its almost impossible for black Americans today to put aside those insecurities when so many perceptions of us and so many actions and attitudes of us are still so negatively skewed in ways which allow whites opportunities to define black lives outside of the boundaries of opportunity, acceptance, and understanding that they afford their own.
I had the opportunity to illustrate this to a former white soldier who had experienced verbal abuse upon his return home. He regularly characterized blacks who had run afoul of the law as 'thugs' and 'criminals' and I asked him to put himself in their place by questioning whether he thought he had served honorably and was a good soldier. When he replied in the affirmative, I pointed out that he was able to remove his uniform and avoid the stereotyping that had motivated the people castigating him for his service; but that blacks had no way of removing their 'uniform' or changing the color of their skin which compels so many to associate them with the worst our society has historically labeled our race with.
Point is, we need to avoid entering into interactions with each other assuming the worst of what we believe or assume about each other. It's, perhaps, naive and disarming, but that's the only way we'll be able to move beyond these barriers of perception; on either side of the racial divide. Easier said, then done, I know - but, we can all do our part to push past these artificial and contrived images of ourselves. Our national history has affirmed this possibility. There's no reason at all to second-guess ourselves or become overly cynical about our respective intentions now.
What I'd really like to express here is that it's not reasonable to expect black Americans to respond to acts of racism directed toward them - or to racism directed toward other black Americans which has been highlighted recently with the increased profile of disproportionate killings of black individuals at the hands of white law enforcement officers - with an analytical focus on solutions; solutions like engendering trust between police and our community. It just seems, to me, strange to expect that black Americans should be expected to generate attitudes like trust, acceptance, understanding, or respect in white individuals harboring the worst of instincts, beliefs, or fears toward their black counterparts.
The reaction which has come from Ferguson residents to the killing of Mike Brown by Officer Darren Wilson, for example, has been more of an expression of anger and frustration, than an overall petition for redress. That's not to say that there aren't specific demands for justice associated with the protests. There are detailed and enumerated demands for justice coming from that very organized community of individuals.
However, there's also a conscious and deliberate effort to make the community uncomfortable in their daily lives and livelihoods in an attempt to transfer some of the angst and frustration black residents feel to the consciousness of white citizens who are not likely subject to the same level of abuses and injustices which have led to far too many killings by authorities and other violence directed disproportionately against the black community. That deliberate transference of angst is what I would consider a natural reaction toward injustice; more than I would expect victims to reflexively concern themselves with persuading white officials and authorities to trust or treat them equitably.
We are, after all, imbued with as much personal pride and self-respect as the next person. We don't necessarily regard ourselves as subservient to anyone else's prerogative or initiative in every interaction. We should expect that we would be treated equitably in our interactions with others; in our interactions with authorities. It's perfectly understandable that we would act defensively when we are not, and we all know that defensiveness isn't always rational or accommodating.
I'll attempt some rationality in my response to the issue of institutionalized racism and offer some solution...
One of the remedies I'd suggest in response to advantages (and disadvantages for black individuals) which come with white privilege would be the elevation of more black individuals to positions of authority in businesses and institutions which confer or arbitrate rights which come into question. Since that occurrence is, in and of itself, leveraged and dependent on an equitable system of judgment and opportunity, the problems and neglect in providing those rights is likely to persist.
For centuries, the realities of patronage, wealth, and political power have been impediments to social changes which would level the playing field for minorities and blacks in America. Yet, these are only a part of the privileges afforded white individuals, as blacks often find that even these advantages fail to insulate them from denial of opportunities and protection from discrimination at all levels of interaction with society.
Racism certainly isn't practiced today like it was when slurs, slights, and outright discrimination were allowed to flourish under the umbrella of segregation and Jim Crow. But, it has still been used by some, over the years since the dismantling of that institutionalized racism, to manipulate and control the level of access and acceptability of blacks in a white-dominated political system. Open racism hasn't been in fashion for decades, but the fear and insecurities which underlie discrimination and prejudice still compel some to draw lines of distinction between black and white aspirations and potential for success. What is often unspoken is the reluctance some Americans have in envisioning blacks in a position to make decisions for a white majority, resulting in attempt to set boundaries and define the roles blacks must assume to achieve success and approval.
The gains blacks have made in our political institutions have not kept pace with even the incremental gains which have occurred in the workplace, for example. We may well have an abundance of black CEOs, military officers, business owners, doctors, lawyers and other professionals. However, Americans have yet to support and establish blacks in our political institutions with a regularity we could celebrate as 'colorblindness.' And, to be fair, not even many blacks would likely agree that we've moved past a point where race should be highlighted (if not overtly emphasized), in our political deliberations and considerations.
I watched and listened as the highest official in the country, a black man, responded to the Eric Garner decision against prosecution of the officer involved by raising concerns over 'trust.' Trust in our justice system; trust in police practices; is such a remote and unlikely possibility to me right now that I'm almost ready to just tune the those sentiments out from any public official or officer who purports to speak down to me from their positions of authority and influence.
Yet, there was something refreshingly direct in President Obama's statement which, perhaps, wasn't made as clear in the snippets offered along with news reports of the non-indictment of the cop filmed committing what was ruled a homicide, a murder of Eric Garner, by the city coroner. There was something in his statement which finally connected with my own thoughts and determination. The president used the word, "accountability," to buttress his concern about Americans "being treated equally under the law."
"I'm absolutely committed as president of the United States to making sure that we have a country in which everyone believes in the core principle that we are equal under the law," President Obama said at the White House Tribal Nations Conference.

"We are not going to let up until we see a strengthening of the trust and a strengthening of the accountability that exists between our communities and our law enforcement," he continued.

"When anybody in this country is not being treated equally under the law, that's a problem. It's incumbent on all of us as Americans ...that we recognize that this is an American problem and not just a black problem. It is an American problem when anybody in this country is not being treated equally under the law."

That sentiment, so eloquently expressed, I believe, is directly on point. To me, there is nothing short of accountability from these police officers and police departments which will assuage my concern and commitment. I don't see any way that 'trust' will ever be achieved without a clear avenue for accountability, both within the institutions and from our courts. Standards, training, and even cameras on officers are essentially meaningless without accountability for the actions of these officers and officials of the law. In the case of Eric Garner, strangleholds were already against police policy, and it's clear that filming the killing did little to effect accountability and justice for the assailant.
Moreover, there really isn't any provision of law which mandates 'trust' - or even understanding, or respect for each other - as a condition of our rights to equal treatment under the law. Those are certainly fine aspirations, but our rights are inherent in the Constitution which (improbably, at the time of its inception) asserts that we are all created equal. That's where our rights are drawn from, not from any expectation that we love or respect each other before they are administered fairly.
The only way to ensure proper management of departments and policy is for individuals employed to 'protect and serve' to fear for their own liberty or job security if they violate provisions or laws in their duties. There's far too much comfort in these police departments and impunity in the actions of their officers, creating an authoritarian atmosphere where officers feel safe in using excessive force without repercussions or serious rebuke.
That effort is going to require individuals in positions of power who respect those rights and who are committed to enforcing them. There's really nothing less which will bring about the changes many want to see in the disposition of these rights. The law is where our protests and demands originate and reside; the rest of those aspirations should flow from that demonstrated understanding of equal treatment in any legal reprimand from police or adjudication in court. We begin with our demands and exercise every instigation of democracy (and civil disobedience) to achieve them.
I believe we're long past the point where blacks need to prove their worth to anyone to expect equal justice under the law. We need to force the system to adhere to justice, to respect our rights, no quarter. That effort isn't always going to be rational, accommodating, or solution based. We're only human, and there are consequences which can arise from angering a people or backing them into a corner. I don't expect the black community to stand still or just genuflect in the face of oppression. If the white community is uncomfortable with that, perhaps it's time to consider how they're going to modify the ways they interact with the black community. If not, perhaps they'd better buckle up, it's going to be a bumpy ride.
In Pictures: The White House Easter Egg Roll
President Obama and the First Lady welcomed more than 35,000 guests to the South Lawn of the White House for the 137th annual White House Easter Egg Roll. This year's theme was #GimmeFive to celebrate the fifth anniversary of the First Lady's Let's Move! initiative. Take a look at the big day in photos: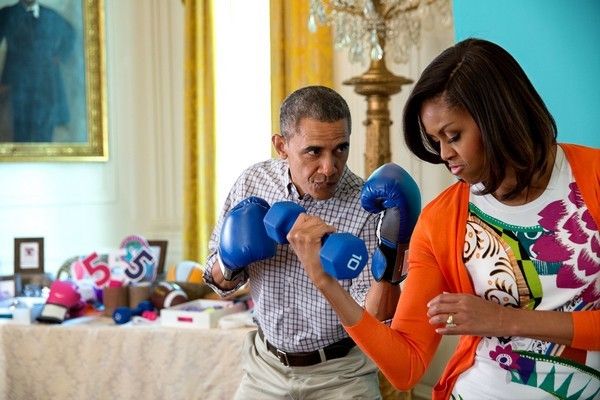 President Barack Obama and First Lady Michelle Obama take photos at the Instagram #GimmeFive photo booth in the East Room prior to the Easter Egg Roll. (Official White House Photo by Pete Souza)
The First Lady and the Easter Bunny listen to ID4GiRLS sing the national anthem. (Official White House Photo by Pete Souza)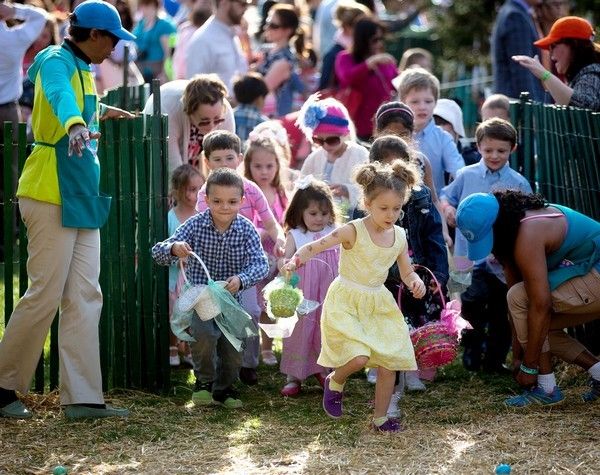 Children rush through the open gate in search of eggs. (Official White House Photo by Lawrence Jackson)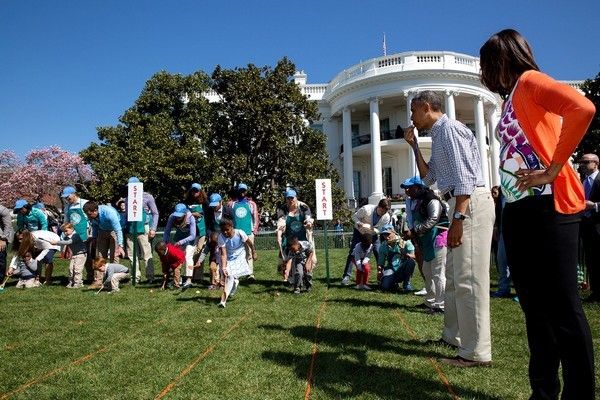 President Obama blows a whistle to begin the Egg Roll. (Official White House Photo by Pete Souza)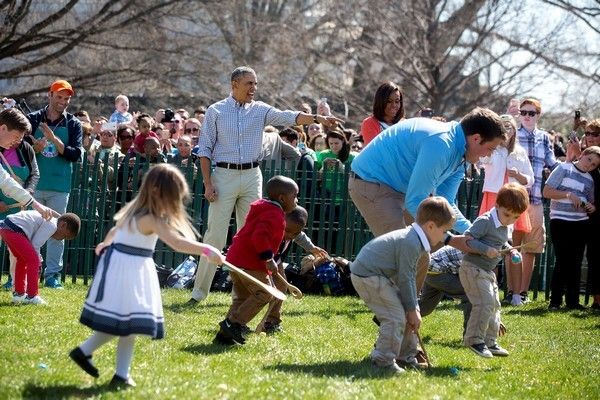 The President and First Lady cheer on Egg Roll participants. (Official White House Photo by Lawrence Jackson)
President Obama reads "Where the Wild Things Are" to children. (Official White House Photo by Pete Souza)
The President high-fives children after reading to them. (Official White House Photo by Lawrence Jackson)
President Obama participates in drills during a basketball clinic. (Official White House Photo by Pete Souza)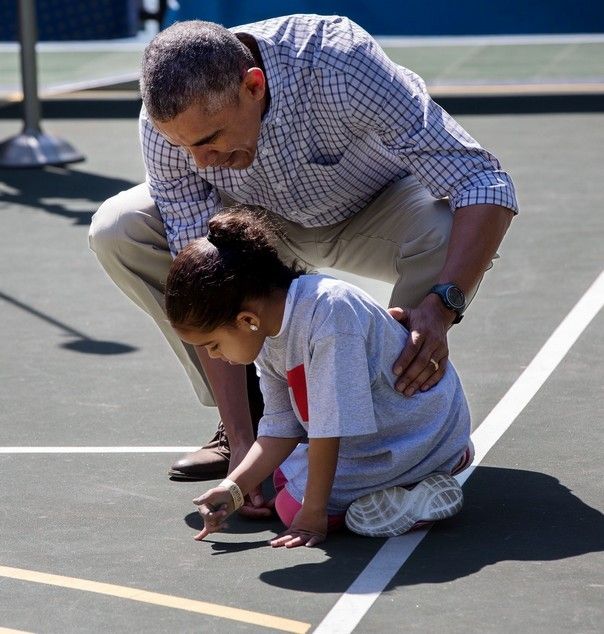 The President talks to a little girl playing with her shadow on the basketball court. (Official White House Photo by Pete Souza)
The President reacts to a tennis shot. (Official White House Photo by Lawrence Jackson)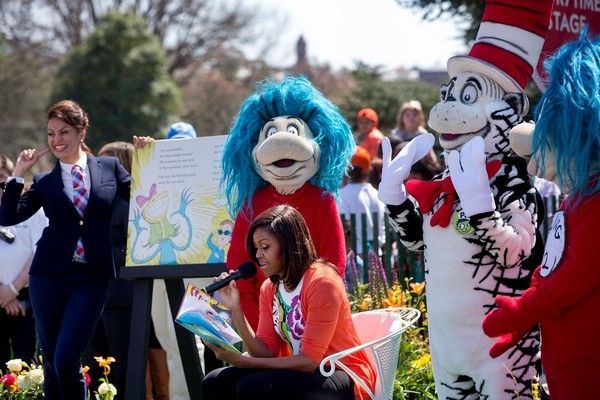 The First Lady reads Dr. Seuss's "Oh the Things You Can Do That are Good for You!" to children. (Official White House Photo by Amanda Lucidon)
A young girl listens as the First Lady reads. (Official White House Photo by Amanda Lucidon)
full set of pics (larger images)
related:
Obamas Celebrate Annual Easter Egg Roll at White House (pics)
http://www.democraticunderground.com/10026466632
____I've been a fan of Joni Mitchell since I was about 11 years old; more so in my teenage years. I used to lie on the hot grey slate by our swimming pool in our suburban neighborhood our family had exiled to a few years after the D.C. riots following the killing of MLK and listen to her and James Taylor croon together on 'You Got a Friend.' I'd listen for hours to our local AM radio station, WINX, with F.Scott Fitzgerald buried in the church next door to their studio, on my transistor radio as they played 'Big Yellow Taxi' over, and over, and over again in between songs by artists like Carole King, Credence Clearwater Revival, and Bill Withers. Almost every song swirled in my adolescent head, feeding my summer daydreams and adding texture and pattern to my childhood crushes.
We had a local alternative radio station at the other end of our town in Bethesda, Md. which was a natural extension of the two head shops, 'Good Stuff' and 'Marco Polo,' where I bought my chamber pipes, strawberry-flavored rolling papers (and the little hand roller), water pipes and bongs, and my first LSD from some stranger in the back of the shop of Marco Polo on a huge waterbed they had on display surrounded by blacklights, lava lamps, and beads hung from the doorways. WHFS featured amazing DJs like Damien (his dad, Jacob Einstein, was general mgr.), Weasel, Cerphe, and others, and broadcasted the D.C. area's first FM station's tunes from 'high atop the Triangle Towers' building directly across the street from the Psyche Dell, a tiny but amazing bar and beer store which featured bands on the weekends like the 'Nighthawks,' 'Evan John and the H-Bombs,' and 'Root Boy Slim' on the weekends.
Damien or Weasel would intersperse all of the great Joni songs throughout their sets and they became a natural part of the fabric of my hippie-wannabe life. I remember one particular night in my room listening to HFS in a half-sleep while tripping on some weak acid and I was dreaming I was in a small church courtyard and saw a young nun in full habit come out of the stone building's massive wooden door with her head down and her hands folded before her. She lifted her head to the sky and began to sing 'Woodstock'...
I came upon a child of God
He was walking along the road
And I asked him, where are you going
And this he told me
I'm going on down to Yasgur's farm
I'm going to join in a rock 'n' roll band
I'm going to camp out on the land
I'm going to try an' get my soul free
We are stardust
We are golden
And we've got to get ourselves
Back to the garden
Now standing in the middle of the small yard littered with gravestones and flowers, she continued...
Then can I walk beside you
I have come here to lose the smog
And I feel to be a cog in something turning
Well maybe it is just the time of year
Or maybe it's the time of man
I don't know who l am
But you know life is for learning
We are stardust
We are golden
And we've got to get ourselves
Back to the garden
At the end of the song (in my acid-addled dreamstate) she folded her head and slowly walked back into the stone church and closed the great door behind her. I woke completely convinced I had witnessed something divine and miraculous and was forever smitten by Joni's beautiful song which she later said she wrote for her then-boyfriend, Graham Nash, as consolation for not being able to attend the historic gathering in NY.. The song still haunts me with the image of that nun and that iron-gated church.
I was something of a JD in my youth; a petty thief, an opportunistic vandal, and an inveterate pothead. Many of my days were spent taking off in someone's car into the countryside, barefoot with our bongs and guitars, to some green field, some crop of rocks, or some comfortable woods to sit in a circle and pass the pipe around. I was a peaceful soul, but I could also be a rouge and a hopelessly misbehaving scamp.
I recall one day when I was out of weed and the only person in sight in our unbearably quiet neighborhood was a quirky, small kid who I had witnessed other more devious and corrupt acquaintances than myself take advantage of when he had weed or money to buy some. I had him all to myself that day and I was determined to have my own way with the unfortunate fellow and convinced him to take me to his house where I hoped to either steal something or get him to give up money for some pot... or anything I could gain.
We went down to a lower room in his house and I noticed a really nice stereo in the corner and I spotted Joni Mitchell's live album, 'Miles of Aisles,' stacked against the wall. I couldn't resist and asked if I could put it on the turntable. Like I said, I had brought this fellow to his house to take full advantage of someone I thought was a rube and beneath me. I had found a bottle of liquor and had it secreted away in my jacket as I put the record on to play. When the record began to play, something incredible happened. I had never heard anything so beautiful in my life and the words and music cut right through my heart and soul.
There I was, posturing as a toughie; a bully, an impossible cad; and this music was stripping away that absurd veneer with every sweet note and every gentle chord. I started to cry...not just cry, but actually weep uncontrollably, right there where I stood. It was all I could do to keep this kid from seeing my tears. I was, all at once, embarrassed and disarmed by the sweetness of the sounds coming from the stereo. I put the bottle of booze back where I found it, apologized to the fellow, and hurried away, completely ashamed of myself and transformed back into my natural state of peace and love that I had obviously gleaned from the gentle music of my time which featured Joni Mitchell as its heart and soul.
I still get a tear thinking back on that day; still recall my utter stupidity and chagrin, vividly, when I put on my own 'Miles of Aisles' album and hear those songs like it was yesterday all over again...
Blue, songs are like tattoos
You know I've been to sea before
Crown and anchor me or let me sail away

Hey blue, there is a song for you
Ink on a pin underneath the skin
An empty space to fill in

Well, there's so many sinking now
You've got to keep thinking
You can make it through these waves

Acid, booze and ass
Needles, guns and grass
Lots of laughs, lots of laughs

Everybody's saying that Hell's the hippest way to go
Well, I don't think so but I'm gonna take a look around it though
Blue, I love you

Blue, here is a shell for you
Inside you'll hear a sigh, a foggy lullaby
There is your song from me