Page: 1
bigtree
bigtree's Journal
Profile Information
Gender: Male
Hometown: Maryland
Member since: Sun Aug 17, 2003, 11:39 PM
Number of posts: 77,467

Journal Archives
...just got home from work and listened to Michelle's speech again.

I'd highly recommend giving her speech a listen (or two, or three). I daresay, it will be some time (hopefully not another eternity) before we find such important truths spoken from that elevation; truths spoken from a perspective of a newly realized, newly actualized personal empowerment which will undoubtedly resonate throughout generations to come.

I don't think it's an accident that the revival of black political power the Obama presidency has ushered in has been met by a concerted and desperate campaign by the right-wing to demonize, denigrate, and disenfranchise black Americans who may now recognize a personal stake in our democracy, energized and inspired by Michelle's husband's historic achievement.

The unity of purpose which put Barack Obama in the position of power and influence is still alive in Hillary's historic campaign, buttressed by her own brand of inspiration, which will undoubtedly influence and inspire millions more to believe in the power of our democracy to advance their own ideals and ambitions into action.

Our primary and this nomination is an affirmation of the message the Obama coalition of voters brought to our nation that we are stronger when we act together, both politically and socially. All of the attempts to divide us can be effectively brushed aside if we can remember where we stood eight years ago; where we stand right now; together.

Thank you Michelle, for reminding us. May we never forget these inspirational days as we work to build on this dynamic presidency, together.



watch:



I've read several articles and posts asking for 'solutions' and suggestions on ways to address the issue of 'white privilege' in America. These are certainly important questions worthy of consideration and debate. I hesitate to express even small criticisms of characterizations of what white privilege means - most often with these definitions coming from white individuals, which isn't something I feel is damning or seriously inappropriate.
That said, I do feel it's much more important to listen to the expressions of non-white individuals who feel subject to negative aspects and consequences of disparities in treatment, opportunity, or other realities of our existence in society.
Of course, while correctly pointing to the sometimes condescending or subjugating attitudes of some white people toward black individuals, it should be remembered that there are also stereotypes made and perpetuated against white Americans. The difference, of course, is the consequences in a majority white society in which black people are regularly discriminated against, judged, repressed, or attacked in a disproportionate measure by many in that white majority. Still, we should refrain from assuming these patronizing and subservient attitudes are universal and inherent in all white individuals; just as it's imperative to refrain from stereotyping black individuals.
Many black Americans, myself included, grapple with the way racism is so ingrained in all of our everyday insecurities about ourselves and others; and how its almost impossible for black Americans today to put aside those insecurities when so many perceptions of us and so many actions and attitudes of us are still so negatively skewed in ways which allow whites opportunities to define black lives outside of the boundaries of opportunity, acceptance, and understanding that they afford their own.
I had the opportunity to illustrate this to a former white soldier who had experienced verbal abuse upon his return home. He regularly characterized blacks who had run afoul of the law as 'thugs' and 'criminals' and I asked him to put himself in their place by questioning whether he thought he had served honorably and was a good soldier.
When he replied in the affirmative, I pointed out that he was able to remove his uniform and avoid the stereotyping that had motivated the people castigating him for his service; but that blacks had no way of removing their 'uniform' or changing the color of their skin which compels so many to associate them with the worst our society has historically labeled our race with.
Point is, we need to avoid entering into interactions with each other assuming the worst of what we believe or assume about each other. It's, perhaps, naive and disarming, but that's the only way we'll be able to move beyond these barriers of perception; on either side of the racial divide. Easier said, then done, I know - but, we can all do our part to push past these artificial and contrived images of ourselves. Our national history has affirmed this possibility. There's no reason at all to second-guess ourselves or become overly cynical about our respective intentions now.
What I'd really like to express here is that it's not reasonable to expect black Americans to respond to acts of racism directed toward them - or to racism directed toward other black Americans which has been highlighted recently with the increased profile of disproportionate killings of black individuals at the hands of white law enforcement officers - solely with an analytical focus on solutions; solutions like engendering trust between police and our community. It just seems, to me, strange to expect that black Americans would be able to generate attitudes like trust, acceptance, understanding, or respect in white individuals harboring the worst of instincts, beliefs, or fears toward their black counterparts.
We are, after all, imbued with as much personal pride and self-respect as the next person. We don't necessarily regard ourselves as subservient to anyone else's prerogative or initiative in every interaction. We should expect that we would be treated equitably in our interactions with others, in our interactions with authorities. It's perfectly understandable that we would act defensively when we are not, and we all know that defensiveness isn't always rational or accommodating.
I watched and listened a good while back as the highest official in the country, a black man, responded to the Eric Garner decision against prosecution of the officer involved by raising concerns over 'trust.' Trust in our justice system; trust in police practices; is such a remote and unlikely possibility to me right now that I'm almost ready to just tune the those sentiments out from any public official or officer who purports to speak down to me about trust from their positions of authority and influence.
Yet, there was something refreshingly direct in President Obama's statement which, perhaps, wasn't made as clear in the snippets offered along with news reports of the non-indictment of the cop filmed committing what was ruled a homicide, a murder of Eric Garner, by the city coroner. There was something in his statement which finally connected with my own thoughts and determination. The president used the word, "accountability," to buttress his concern about Americans "being treated equally under the law."
"I'm absolutely committed as president of the United States to making sure that we have a country in which everyone believes in the core principle that we are equal under the law," President Obama said at the White House Tribal Nations Conference.
"We are not going to let up until we see a strengthening of the trust and a strengthening of the accountability that exists between our communities and our law enforcement," he continued.

"When anybody in this country is not being treated equally under the law, that's a problem. It's incumbent on all of us as Americans ...that we recognize that this is an American problem and not just a black problem. It is an American problem when anybody in this country is not being treated equally under the law."
That sentiment, so eloquently expressed, I believe, is directly on point. To me, there is nothing short of accountability from these police officers and police departments which will assuage my concern and commitment. I don't see any way that 'trust' will ever be achieved without a clear avenue for accountability, both within the institutions and from our courts. Standards, training, and even cameras on officers are essentially meaningless without accountability for the actions of these officers and officials of the law. In the case of Eric Garner, for instance, strangleholds were already against police policy, and it's clear that filming the killing did little to effect accountability and justice for the assailant.
Moreover, there really isn't any provision of law which mandates 'trust' - or even understanding, or respect for each other - as a condition of our rights to equal treatment under the law. Those are certainly fine aspirations, but our rights are inherent in the Constitution which (improbably, at the time of its inception) asserts that we are all created equal. That's where our rights are drawn from, not from any expectation that we love or respect each other before they are administered fairly.
The only way to ensure proper management of departments and policy is for individuals employed to 'protect and serve' to fear for their own liberty or job security if they violate provisions or laws in their duties. There's far too much comfort in these police departments and impunity in the actions of their officers, creating an authoritarian atmosphere where officers feel safe in using excessive force without repercussions or serious rebuke.
That effort is going to require individuals in positions of power who respect those rights and who are committed to enforcing them. There's really nothing less which will bring about the changes many want to see in the disposition of these rights. The law is where our protests and demands originate and reside; the rest of those aspirations should flow from that demonstrated understanding of equal treatment in any legal reprimand from police or adjudication in court. We begin with our demands and exercise every instigation of democracy (and civil disobedience) to achieve them.
I also believe we're long past the point where blacks need to prove their worth to anyone to expect equal justice under the law. We need to force the system to adhere to justice, to respect our rights, no quarter. That effort isn't always going to be rational, accommodating, or solution based. We're only human, and there are consequences which can arise from angering a people or backing them into a corner. I don't expect the black community to stand still or just genuflect in the face of oppression. If the white community is uncomfortable with that, perhaps it's time to consider how they're going to modify the ways they interact with the black community. If not, perhaps they'd better buckle up, it's going to be a bumpy ride.
I put together a small gif slideshow of 5 pics from a homecoming parade in a sleepy Charleston, W.Va. that my father participated in sometime at the later end of the 40's. It's a 'snapshot' in time, a window into a not-so-distant past. I think the mix of races in the crowd is fascinating.
My father's in one of the closer pics grinning at the camera. He retired from the Army when he got back from New Guinea after WW2 ended. He told me that on the way home after being shipped back to the base out West, he had to change train cars on the rest of the way back home to Pennsylvania from the integrated train to the 'colored' rail line when they reached the segregated towns.
This parade and the obviously interested crowd is also notable for the young folks who witnessed this fascinating and pretty unique (for the time) unit of black soldiers. I've always named the one photo with the single soldier strutting out in front 'Proud Soldier' for the one fellow's sense of pride and the apparent appreciation shown by the mix of residents of the town looking on . . .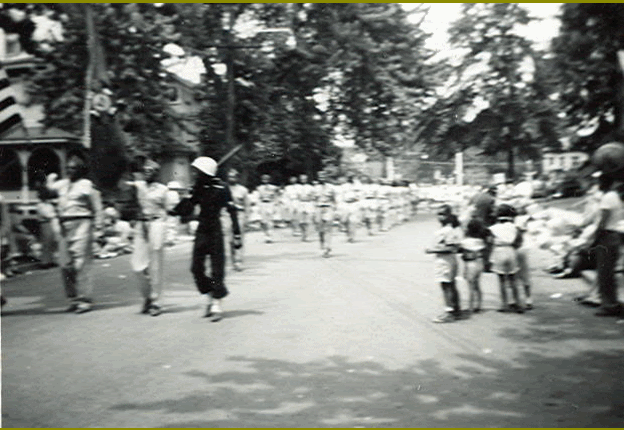 We have a Fourth of July parade down our circular street every year. It's a bit of hometown magic - not large by any standard, but probably the nicest thing about this town.

Most of the adults start drinking first thing in the morning and there's a softball game later on in the afternoon with the two adjoining streets competing against each other.

Here's two short vids on facebook of the parade from a couple years back (I swear it looked just the same today, except for the clouds and impending rain) :

https://www.facebook.com/photo.php?v=542262975895848

https://www.facebook.com/photo.php?v=542267199228759
Happy July 4th, everyone!
Well, that was it for Garrison Keillor as host of Prairie Home Companion. He had his last show yesterday, but I waited for the Sunday morning rebroadcast so I could sit outside one last time and listen to the sounds of his hometown chatter and song mingle once again with nature. I got lost one last time, drifting deep into my own thoughts, recalling narratives from my own life as I listened to Garrison's storytelling.
I guess I'm past the denial stage... I'll download the all-too-brief last telling of the News from Lake Wobegon later, I suppose, and listen to it with my wife at some quiet time. Maybe even play a couple of the sad goodbye songs from songstress Heather Massey, before and after.
But, man, what a bittersweet show. President Obama actually phoned in, to my delight, recalling how the show kept him company on long drives around the country. I suspect that was the case for many of us. Garrison's show was a fantastic companion, wherever you happened to be at the time.
"How does it feel?"
fellow cast member Tim Russell asked Keillor.
"Well, it's the first last show I've ever done, so I don't know how it's supposed to feel," Keillor answered.

"Radio was an accident. It was never my ambition. My ambition was the circus. And that's what I'm going to be doing starting Monday."
"How does it feel?"
Garrison suffered another seizure
this year
, so I am certainly wishing him well and hoping he can find some healing time away from work and closer to his family. I
wrote
about this moment a while back. Like the hopelessly vain, hopefully read writer that I am, I'm sharing it out again, one last time...
Wobegone Is Me

IT'S entirely possible I'll never recover from this. My world just cracked wide open and it's guts are oozing out into the universe, never to be repaired; never to be put back together again.

Okay, maybe I'm exaggerating (maybe not). I just now gathered up the strength to read the details behind the impending, announced exit from the stage of my wizard of the weekend; my Saturday evening/Sunday morning sage and muse; Garrison Keillor. It looks like he really means to retire this time and I'm just not ready for this. Wobegon is me.

Like everything good under the sun in my life which has faded out of being just as I come to it - things which existed for eons and eons and enjoyed by millions before I happened upon them, and then folded before I got my fair share - Prairie Home Companion will now go the way of the dodo; relegated to an archive or a crackly old recording someplace where sad, aging hipsters like me go to relive the glory days of our relative youth.

I'm 54 now, fast approaching 55. I'm just starting to feel old, mainly when I wake up and catch a glimpse of my gray, balding image in the bathroom mirror and glance downward to the sagging and wrinkled frame that still carries on like it's made of steel. I officially reached the outer limit of middle-age this week after an hour-long discussion over the phone with a childhood friend about his surgery for diverticulitis and the travails of his struggles and bout with his colostomy bag. That's it, it's all downhill from here.

I didn't catch up with Garrison Keillor until the late-eighties, well into his career. I was hiking around the woods, looking for a perfect spot to sit and smoke a bit of weed. I found a place by an opportunistic pond created by a rain-swollen little creek and pulled out my trusty transistor radio (yes, transistor radio), turned it on and scouted the stations toward the far left side of the FM dial which promised some natural musicality to mingle with the ambiance of my woodland refuge. I wasn't disappointed.

I came upon a faint, lilting country ballad of the likes I'd listened to the public radio DJ, Lee Michael Demsey, play for years on WAMU as I rode the world around noon atop Sugarloaf Mountain on the outskirts of my D.C. suburban town. I dutifully lit up a bowl and settled back to watch a frog unimpressed by my presence there hop around on the mucky bank, and stretched my gaze upward to gauge the reaction of the birds listening in the trees to the mandolin, banjo, and guitar compete with their orchestrated cacophony in the canopy above.

The music ended and a there came voice from the radio as familiar as it was unknown to me plying itself against the gentle applause from the live audience. The music, the audience, and then the gentle, but deep, baritone of Keillor was an instant source of joy to me which has never waned or grown stale. I listened to the rest of the show, ensconced there, crouched down in the trusty woods and was treated to my first introduction to Lake Wobegon; a magical, farcical town where the 'women were strong, the men good-looking, and the children were above average.'

An instant convert; a self-appointed resident; I never really left that mythical town of his. Through season after season; through repeats waiting it out with extreme anxiety through the days of his stroke in 2009; through every description of the changing seasons in that little town he narrated faithfully to us every weekend; I've wandered through the literary recesses of my own storied mind as I related every humorous and touching tale of the imaginary residents of Wobegone to the ideal of my life and times.

I can be found outside watching the sun set in the summer, listening in on my new transistor radio; watching the plants emerge in the spring; by the window in the glowing light of fall; or on a snowy winter's morning well before any of the sleepy household relinquishes their slumber; listening to the quiet, engaging sounds of Garrison Keillor's gift of a show and measuring my days until the next weekend's getaway into his familiar, comforting repertoire.

On one memorable show, he spoke at length about the day Buddy Holly and other musical greats went down in the plane crash and his spontaneous road-trip that day, after hearing the news, to the site of the plane crash. Interspersed with his singing a few verses of Holly's, he told of reaching the crash site and scouting through the woods and finding a broken piece of a guitar sticking up in the snow. It was an improbable tale (almost certainly a fantastical one) which ended in Keillor leading his audience in softly singing the refrain from American Pie...



They were singin'

Bye, bye Miss American Pie
Drove my Chevy to the levee but the levee was dry
Them good ol' boys were drinkin' whiskey 'n' rye
Singin' this will be the day that I die.



That's Keillor - a compelling mix of the improbable and the believable - not to mention his faithfulness to the Democratic liberal ideal expressed with his wry outlook on the political scene and his faithful reinforcement of our progressive values of community and humanity as he gently prods the demagogues with his own tongue-in-cheek commentary; sometimes brutally direct, sometimes tellingly obtuse.

I have another year, I know. In July 2016, he will host his last show. I'll have one more Fall, Winter, Spring, and Summer to measure my aging life against his aged radio show. So, good times...and then life carries on in its own interminable way.


Old Year! upon the Stage of Time
You stand to bow your last adieu;
A moment, and the prompterís chime
Will ring the curtain down on you.
Your mien is sad, your step is slow;
You falter as a Sage in pain;
Yet turn, Old Year, before you go,
And face your audience again.

(-Robert W. Service, 1874 - 1958)
AP