ck4829
ck4829's Journal

ck4829's Journal

July 29, 2020

If you are cheering on Donald Trump's tweet that people living in suburbs won't have to be bothered by the poors anymore in any way, then yes, you are an elitist.

You can spin it any way you want... call it "I care about my property value" until your face turns blue, point is, you don't want "those people" in your sight and in your mind.

It's elitism at the rawest.

July 18, 2020

The Tennessean ― the state's most widely circulated daily newspaper ― is facing intense scrutiny after publishing an anti-Muslim ad in its Sunday print edition that claimed "Islam" planned to detonate a nuclear bomb in Nashville.

The full-page ad, paid for by what appears to be a Christian doomsday cult, featured a banner at the top that included images of President Donald Trump, Pope Francis and American flags engulfed in flames.

...

The Tennessean said it's launching an investigation into how the ad, which the paper said clearly violates its standards, came to be published.

https://www.huffpost.com/entry/the-tennessean-islamophobic-ad_n_5eef957ec5b615bc9414b0d7 https://www.democraticunderground.com/10142520137

Here's a screenshot from the site today... July 18, 2020: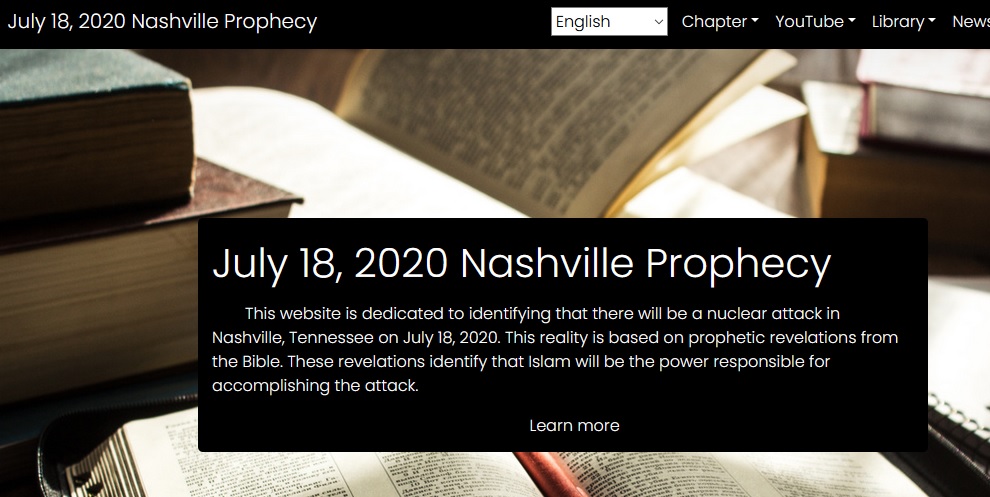 As of right now, Nashville has yet to be nuked by... (sigh)... "Islam".
So on that note, be sure to start screencapping things like this tweet for example which can be found at:
https://twitter.com/andrewsjd/status/1191883168095318017

Things like "the president is our parallel to a king" and "the president is selected by God" might just start magically disappearing soon, especially after November and really kicking into high gear after January 20, 2021. Better archive them for, you know, posterity.
Profile Information
Member since: Sat Mar 20, 2004, 10:37 AM
Number of posts: 34,685