Page: 1
Eugene
Eugene's Journal
Profile Information
Gender: Male
Hometown: Boston, MA
Member since: Wed May 12, 2004, 05:41 PM
Number of posts: 52,535

Journal Archives
Source:
BBC
36 minutes ago
A 21-year-old woman in El Salvador whose baby was found dead in the toilet where she gave birth has been cleared of murder during a retrial.
Evelyn Hernández had always maintained she was innocent, saying that she did not know she was pregnant and lost consciousness during the birth.
Prosecutors had asked for a prison sentence of 40 years.
Her case has been closely watched in El Salvador and abroad with women's rights activists calling for her acquittal.
-snip-
Read more:
https://www.bbc.com/news/world-latin-america-49368632
---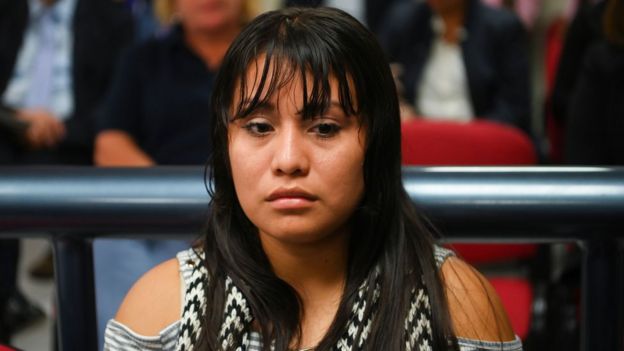 Ms Hernández had repeatedly said she was innocent (AFP)
Source:
Associated Press
El Salvador rape victim acquitted over stillbirth murder charge
Associated Press
Mon 19 Aug 2019 23.42 BST
A young rape victim who was suspected of having an abortion and charged with homicide after having a stillborn child has been acquitted by a judge at a retrial in a case that attracted international attention to El Salvador's strict abortion laws.
Evelyn Beatriz Hernandez, now 21, had served 33 months of a 30-year prison sentence when her conviction was overturned in February for lack of evidence and a new trial was ordered. Prosecutors had asked for a 40-year sentence.
The retrial was a first for such a case in the Central American nation, where prosecutors have aggressively pursued legal cases against women who have had miscarriages or other obstetric emergencies, accusing them of murder.
"Thank God, justice was done," Hernandez said following the announcement of the verdict, visibly emotional as dozens of women waited at the courthouse. "I also thank you who have been present here."
-snip-
Read more:
https://www.theguardian.com/world/2019/aug/20/el-salvador-victim-acquitted-over-stillbirth-charge
Source:
Reuters
BUSINESS NEWS AUGUST 19, 2019 / 7:23 PM / UPDATED 2 HOURS AGO
UK's Johnson puts health service off limits in potential U.S. trade deal: report
(Reuters) - British Prime Minister Boris Johnson is putting the National Health Service (NHS) off limits in any trade deal with the United States, the Sun newspaper reported.
"The Prime Minister has asked me to underline that measures affecting the NHS, including service provision and drug pricing, cannot under any circumstances form part of an agreement with the United States," a letter from Johnson's senior staff to Trade Secretary Liz Truss's office said, according to the report. bit.ly/2ZfwdG2
The letter continued that there should be no internal discussion of the issues within the government. Johnson fears the Labour Party would use any suggestion that NHS access is up for grabs to its electoral advantage, the article said.
U.S President Donald Trump had said in June that Britain's public health service should be on the table in talks about a trade deal between the two countries after Brexit but later backtracked on his comments.
Reporting by Sabahatjahan Contractor in Bengaluru; Editing by Cynthia Osterman
https://www.reuters.com/article/us-britain-usa-nhs/uks-johnson-puts-health-service-off-limits-in-potential-u-s-trade-deal-report-idUSKCN1V921N
Source:
The Guardian
North Pole: multiple lightning strikes follow record-low sea ice levels
'Furthest north lightning strikes in Alaska forecaster memory' hit as high temperatures and widespread fires plague region
Edward Helmore
Tue 13 Aug 2019 16.27 BST Last modified on Tue 13 Aug 2019 16.29 BST
Multiple lightning strikes have been observed 300 miles from the North Pole, according to the US National Weather Service, in the latest sign of extreme changes to the Arctic environment.
The strikes, detected by the NWS station in Fairbanks, Alaska, were produced by towering storm clouds. They were detected on Saturday, and while not unique, come as the region is experiencing record-low sea ice levels, high temperatures and widespread fires on areas of tundra.
An extreme ice-melt in Greenland is estimated to have produced a run off of 197bn tons of ice-sheet water into the Atlantic, enough to raise sea levels by 0.5mm, or 0.02in, in a one-month time frame. On a single day, 1 August, Greenland lost 12.5bn tons of surface ice to the sea.
At the same time, a wildfire has been burning in western Greenland while Siberian wildfires have produced smoke haze circling the upper regions of the globe.
According to a NWS tweet and statement, the lightning strikes hit an area of sea ice or open ocean waters mixed with ice, near 85 degrees North, 120 degrees East.
-snip-
Read more:
https://www.theguardian.com/us-news/2019/aug/13/north-pole-multiple-lightning-strikes-follow-record-low-sea-ice-levels
Source:
Washington Post
President Trump has made 12,019 false or misleading claims over 928 days
By Glenn Kessler, Salvador Rizzo and Meg Kelly August 12 at 3:00 AM
President Trump's proclivity for spouting exaggerated numbers, unwarranted boasts and outright falsehoods has continued at a remarkable pace. As of Aug. 5, his 928th day in office, he had made 12,019 false or misleading claims, according to the Fact Checker's database that analyzes, categorizes and tracks every suspect statement the president has uttered.
Trump crossed the 10,000 mark on April 26, and he has been averaging about 20 fishy claims a day since then. From the start of his presidency, he has averaged about 13 such claims a day.
About one-fifth of these claims are about immigration, his signature issue — a percentage that has grown since the government shut down over funding for his promised wall along the U.S.-Mexico border. In fact, his most repeated claim — 190 times — is that his border wall is being built. Congress balked at funding the concrete barrier he envisioned, so he has tried to pitch bollard fencing and repairs of existing barriers as "a wall."
False or misleading claims about trade, the economy and the investigation of Russian interference in the 2016 presidential campaign each account for about 10 percent of the total. Claims on those subjects are also among his most repeated.
-snip-
Read more:
https://www.washingtonpost.com/politics/2019/08/12/president-trump-has-made-false-or-misleading-claims-over-days/
LBN thread:
Twitter locks McConnell campaign account after posting video of protester shouting threats, profanit
______________________________________________________________________
Source:
Washington Post
Republican groups vow to stop buying Twitter ads until McConnell campaign account is unfrozen
By Felicia Sonmez
August 8 at 1:14 PM
A move by Twitter to freeze the account of Senate Majority Leader Mitch McConnell's (R-Ky.) campaign has prompted a backlash by President Trump's campaign and national Republican groups, who have vowed to stop buying ads on the social media platform until the account is unfrozen.
On Wednesday, Twitter locked McConnell's campaign account from further activity as punishment for its sharing of a video of protesters screaming obscenities outside the Kentucky Republican's home. The social media company said it will not unlock @Team_Mitch unless it agrees to remove the video.
Officials for the Trump campaign, the National Republican Committee, and the Republican Senate and House campaign arms accused Twitter of bias and tweeted Thursday that their organizations are withholding their advertising dollars until the issue is resolved.
"#MassacreMitch trended on @Twitter for a full day, and they did nothing," Kevin McLaughlin, executive director of the National Republican Senatorial Committee, said in a tweet. "Someone threatens to stab the Majority Leader, @TeamMitch posts the video and THEY get locked out. @NRSC is not spending $ until this is adequately addressed."
Richard Walters, chief of staff for the RNC, shared McLaughlin's post and added: "The @GOP and @TeamTrump stand with the @Team_Mitch and the @NRSC. Any future ad $ either organization was planning to spend with @Twitter has been halted until they address this disgusting bias."
-snip-
Read more:
https://www.washingtonpost.com/politics/republican-groups-vow-to-stop-buying-twitter-ads-until-mcconnell-campaign-account-is-unfrozen/2019/08/08/14feb5f4-b9f7-11e9-a091-6a96e67d9cce_story.html
______________________________________________________________________
All I can say is, please proceed, Republicans.
Other reporting:
Boulder man who allegedly posted guide for hunting refugees, Jews and Muslims arrested on child porn charge
(Denver Post - excerpt below)
______________________________________________________________________
Source:
Washington Post
He forgot his phone on the bus and got busted with child porn, officials say. It may have thwarted a hate crime.
By Antonia Noori Farzan August 8 at 4:32 AM
The black Apple iPhone sat forgotten on a public bus that looped its way through the bustling streets of Boulder, Colo., in May.
Its owner, Wesley David Gilreath, was already on the radar of the FBI after allegedly posting a "hunting guide" with information about synagogues, mosques and refugee centers. A week earlier, he had been blocked from buying a gun, but he wasn't charged with a crime. That changed when two transit workers found his abandoned cellphone while cleaning the bus, unlocked it to try to locate the owner and found themselves staring at reams of disturbing images, authorities say.
Gilreath, 29, was charged in federal court Tuesday with possession of child pornography, but officials say his arrest may have also thwarted a domestic terrorist attack.
"The charge in this case demonstrates that the U.S. attorney's office and our federal and state law enforcement partners will use every available law enforcement tool not just to prosecute federal crimes, but also to disrupt and prevent potential hate crimes," Jason Dunn, the U.S. attorney in Colorado, said in a statement to local media outlets on Wednesday
According to federal court records, Gilreath sat for an interview with the FBI on Jan. 24, after agents received a tip that someone had been posting online "hunting guides" targeting Jews, Muslims, refugee centers, Bureau of Land Management offices and Montana National Guard facilities, and linked a document labeled as a "Montana Hunting Guide" to the 29-year-old.
-snip-
Read more:
https://www.washingtonpost.com/nation/2019/08/08/he-forgot-his-phone-bus-got-busted-child-porn-it-may-have-thwarted-hate-crime-officials-say/
______________________________________________________________________
Source:
Denver Post
Boulder man who allegedly posted guide for hunting refugees, Jews and Muslims arrested on child porn charge
Suspect tried to buy gun and had addresses of local mosques and synagogues
By KIRK MITCHELL | The Denver Post
PUBLISHED: August 7, 2019 at 12:24 pm | UPDATED: August 7, 2019 at 1:34 pm
Federal agents have arrested a 29-year-old Boulder man on a pornography charge, and the U.S. attorney in Colorado said the arrest may have prevented a domestic terrorist attack because the man also is suspected of writing an online guide on how to commit violent hate crimes against refugee centers, synagogues and mosques.
Wesley David Gilreath was charged Tuesday with possession of child pornography, but federal law officers also arrested him in order to potentially stop a domestic terror attack, according to a statement by U.S. Attorney Jason Dunn.
"The charge in this case demonstrates that the U.S. Attorney's Office and our federal and state law enforcement partners will use every available law enforcement tool not just to prosecute federal crimes, but also to disrupt and prevent potential hate crimes," Dunn's statement said.
Magistrate Judge Scott Varholak ordered Gilreath detained without bond on the pornography charge Tuesday during a hearing in U.S. District Court. The investigation against Gilreath for other possible federal crimes is continuing, Dunn wrote in his statement.
-snip-
Read more:
https://www.denverpost.com/2019/08/07/us-attorney-colorado-domestic-terrorism-pornography-arrest/
EDIT
:
Excerpt added.
______________________________________________________________________
Source:
TechCrunch
8chan's new internet host was kicked off its own host just hours later
Devin Coldewey@techcrunch / 2 hours ago
The bottom-feeding forum 8chan, which grew popular by embracing fringe hateful internet cultures, is having trouble staying online. After Cloudflare dropped its protection of the site yesterday, 8chan adopted the services of Bitmitigate, but soon lost that too as the company providing Bitmitigate with services dropped them. Deplatforming works, but it can be complicated, so here's a quick explanation of what these pieces are and why we're witnessing this hot-potato act in the wake of the latest tragic mass shootings.
-snip-
When 8chan lost Cloudflare, it was exposed to the full force of the internet, likely including DDoS and other attacks, and was brought offline. But it soon found a new caching service in Bitmitigate.
-snip-
So 8chan went to Bitmitigate, but it wasn't long before the forum had that rug pulled out from under them as well. Turns out that Epik and Bitmitigate were purchasing services from a larger service provider called Voxility.
If this sounds over-complicated, just think of it this way: A cafe needs to provide internet to its customers, so it buys a high-speed connection from an ISP. Then it provides access to that connection to its customers using its own little portal or control method, maybe so you have to buy a coffee before you can get online. This is a bit like that: Epik was reselling the services of Voxility at a markup to a specific set of customers. It's a common enough thing online, but as we saw today, a bit risky.
Turns out Voxility wants no part of hosting 8chan, and after being alerted (by former Facebook CSO Alex Stamos) that one of its clients had decided to do so, it simply pulled the plug on Epik's services; right now Bitmitigate, Daily Stormer and 8chan are all down. They deplatformed the platform.
-snip-
Read more:
https://techcrunch.com/2019/08/05/8chans-new-internet-host-was-kicked-off-its-own-host-just-hours-later/
______________________________________________________________________
Source:
The Guardian
Amazon deforestation: Bolsonaro government accused of seeking to sow doubt over data
Ministers look at setting up alternative monitoring scheme as existing system shows alarming rise in clearance rates
Jonathan Watts
@jonathanwatts
Thu 1 Aug 2019 02.59 BST Last modified on Thu 1 Aug 2019 18.30 BST
The Amazon forest is being burned and chopped down at the most alarming rate in recent memory, but the Brazilian government of Jair Bolsonaro is focused on reinterpreting the data rather than dealing with the culprits, monitoring groups have said.
At a clearance rate equivalent to a Manhattan island every day, deforestation in July was almost twice as fast as the worst month ever recorded by the current satellite monitoring system, which is managed by the government's National Institute for Space Research.
Over the single month, the latest data shows destruction of more than 1,800 square kilometres, which is pushing the world's biggest rainforest towards an irreversible tipping point and eroding a globally essential sink for carbon dioxide.
After an international outcry, the Brazilian government – which is closely aligned with the loggers, miners and farmers responsible for most of the forest loss – held a special meeting on Wednesday of ministers and senior officials from the environment ministry, the science and technology ministry, and agencies responsible for satellites and forest protection.
The primary topic, according to several sources, was a review of the data collection system, which has come under attack from Bolsonaro and other ministers who have been embarrassed by the evidence from their own government that Brazil is moving in the opposite direction from the deforestation control commitments it made as a signatory to the Paris climate treaty.
-snip-
Read more:
https://www.theguardian.com/world/2019/aug/01/amazon-deforestation-bolsonaro-government-accused-doubt-data
Source:
Washington Post
Doctors urge probe of child migrant deaths: 'Poor conditions' at border increase risk of spreading flu
By Robert Moore August 1 at 7:17 AM
EL PASO — A group of doctors from Harvard and Johns Hopkins has urged Congress to investigate the deaths of six migrant children who were held in government custody after crossing the southern border in the past year, warning that "poor conditions" at U.S. facilities are increasing the risk of spreading deadly infectious diseases, especially the flu.
The doctors, who wrote to Congress on Thursday, said autopsy reports show that at least three of the children — ages 2, 6 and 16 — died in part as a result of having the flu, a far higher incidence of such deaths than across the general population. Child flu deaths are rare, the doctors said, and should be preventable.
"Poor conditions at the facilities may be amplifying the spread of influenza and other infectious diseases, increasing health risks to children," according to the letter, submitted by Harvard pediatrics professor Jonathan Winickoff; Johns Hopkins public health professors Joshua Sharfstein and Paul Siegel and two of their master's students; and San Francisco forensic pathologist Judy Melinek. "With so many lives at risk, these issues are worthy of congressional investigation. Another influenza season is around the corner, and there are other types of infectious diseases that pose a threat to detained populations. Timely action is critical."
The letter, dated Thursday, alleges that the Department of Homeland Security and the Department of Health and Human Services — which supervises longer-term custody of unaccompanied migrant minors — might not be following best practices in regard to screening, treatment, isolation and prevention of the flu.
-snip-
Read more:
https://www.washingtonpost.com/immigration/doctors-urge-probe-of-child-migrant-deaths-poor-conditions-at-border-increase-risk-of-spreading-flu/2019/08/01/0bf86b06-b445-11e9-8f6c-7828e68cb15f_story.html