Welcome to DU!
The truly grassroots left-of-center political community where regular people, not algorithms, drive the discussions and set the standards.
Join the community:
Create a free account
Support DU (and get rid of ads!):
Become a Star Member
stillcool
stillcool's Journal

stillcool's Journal

August 17, 2020

USPS will stop removing letter collection boxes in Western states until after the election, spokesman says

CNN Expansion NYC 2017 PH: JOHN NOWAK Paul Murphy

By Paul P. Murphy, CNN

Updated 10:43 PM ET, Fri August 14, 2020

https://www.cnn.com/2020/08/14/politics/usps-removes-letter-collection-boxes-reduces-post-office-operating-hours/index.html

In a statement Friday night, Rod Spurgeon -- a USPS spokesperson for the service's the Western region -- told CNN that the service will

stop the removal of letter collection boxes in 16 states and parts of two others until after the election.

That means, according to Spurgeon, the

USPS will stop collecting the letter collection boxes only in:

Washington, Oregon, Nevada, Arizona, New Mexico, Utah, Idaho, Montana, South Dakota, North Dakota, Wyoming, Colorado, Kansas, Iowa, Alaska, Nebraska and small parts of Wisconsin and Missouri.

It's not clear if the removal freeze would go into effect across the nation.

Kim Frum -- a spokeswoman for USPS based at headquarters -- could not say if the freeze would go into effect across the country and would not comment on the freeze in the Western region.

Officials say that in the last week the

USPS has removed letter collection boxes in at least four states: New York, Oregon, Montana and Indiana.

The USPS has also begun notifying postal workers in at least three states -- West Virginia, Florida and Missouri -- that they will start to reduce their retail operating hours, according to union officials.


USPS closing some posts offices for lunch, ending extended evening hours
In the St. Louis area, some post offices that had been open until 6:30 p.m. -- specifically to serve people getting off-work -- would start to close at 5:00 p.m, according to Rebecca Livingston, American Postal Workers Union president of the St. Louis Gateway chapter.
Union officials in West Virginia, Florida and Missouri also said workers are being told that post offices must close an hour for lunch.
Lunch "is historically their busier times," Sinikka Melvin, the president of the Clarksburg, West Virginia, local American Postal Worker Union, told CNN.
People often come in during their own lunch hour to send mail or purchase USPS retail products like stamps, according to Melvin. USPS reducing the retail hours worries union officials, who believe it could create long lines at clerk windows during the election season.

The White House says USPS isn't removing mail-sorting machines. Postal workers say it is.

Mark Meadows denied reports that hundreds of mail-sorting machines are being taken offline as part of a new initiative.

By Zeeshan Aleem@ZeeshanAleem Aug 16, 2020, 3:40pm EDT

White House Chief of Staff Mark Meadows said in an interview on Sunday that US Postal Service

mail-sorting machines will not be taken offline between now and Election Day

— a statement at odds with reports that the Postal Service is decommissioning 10 percent of its machines this year under a new policy.

But

reports from NBC News, CNN, and the Washington Post indicate that 671 machines are being taken offline under a new policy.

NBC reports that, according to internal Postal Service documents it obtained, the new postmaster general appointed by Trump in May, Louis DeJoy, is the one responsible for the decommissioning initiative. And postal workers say the process of taking machines out of service under this initiative began in June.

A Postal Service spokesperson told NBC News that the decommissioning was due to "Normal business adjustments!" and that equipment was being adjusted due to a decline in the volume of mail and an increase in the volume of packages.

But that policy has some postal workers concerned about their ability to process mail-in ballots, which are expected to surge to unprecedented levels this year due to the coronavirus pandemic. The Washington Post reports that the

American Postal Workers Union has filed a grievance claiming that the decommissioning of the machines — which are "concentrated in high-population areas"

— could hinder processing of election mail

https://www.vox.com/2020-presidential-election/2020/8/16/21370963/usps-postal-service-mail-sorting-machines-trump-meadows-2020-election-ballots

Voters in North Carolina have received absentee ballot request forms in the mail with Trump's face on them

CNN Expansion, Fernando Alfonso

By Fernando Alfonso III, CNN

Updated 4:32 PM ET, Sun August 16, 2020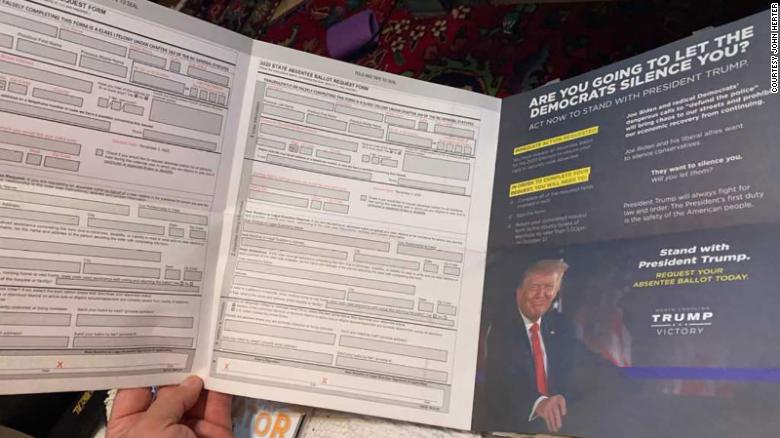 (CNN)Given the crisis facing the United States Postal Service before a presidential election, the last thing John Herter expected to receive in the mail Saturday was an
absentee ballot request form with President Donald Trump's face on it.
"Is this a joke?" Herter said his wife told him as she opened up the mailer to reveal a photo of Trump grinning underneath the words, "Are you going to let the Democrats silence you? Act now to stand with President Trump."
--------------
While it is common for candidates and political parties to send mail to voters, especially those who don't have access to TV or the internet, Real Facts NC, a non-profit dedicated to researching and telling the stories about issues facing North Carolinians, has never seen a mailer like this before, messaging director Jazmynne Williams told CNN.
https://www.cnn.com/2020/08/16/politics/postal-service-trump-absentee-ballot-request-mail-usps/index.html