Page: 1
AsahinaKimi
AsahinaKimi's Journal
Profile Information
Name: Kimiko
Gender: Female
Hometown: San Francisco
Home country: USA
Current location: California
Member since: Tue Oct 28, 2008, 06:27 PM
Number of posts: 20,776

About Me
I am a Dean Democrat. I am of Japanese and Korean decent. I do speak some Japanese. I love all Asian culture; Food, Drama, Movies, Anime, Traditions, History, and especially Music. I am Shinto~Buddhist. (Jodo Shinshu) Follow me on Twitter:@AsahinaKimiko.(Onegaishimasu!)
Journal Archives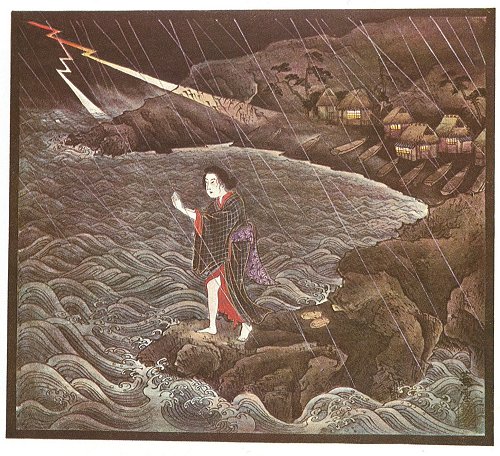 HATSUSHIMA ISLAND is probably unknown to all foreigners, and to 9999 out of every 10,000 Japanese; consequently, it is of not much importance. Nevertheless, it has produced quite a romantic little story, which was told to me by a friend who had visited there some six years before.
The island is about seven miles south-east of Atami, in Sagami Bay (Izu Province). It is so far isolated from the mainland that very little intercourse goes on with the outer world. Indeed, it is said that the inhabitants of Hatsushima Island are a queer people, and prefer keeping to themselves. Even today there are only some two hundred houses, and the population cannot exceed a thousand. The principal production of the island is, of course, fish; but it is celebrated also for its jonquil flowers (suisenn). Thus it will be seen that there is hardly any trade. What little the people buy from or sell to the mainland they carry in their own fishing-boats. In matrimony also they keep to themselves, and are generally conservative and all the better for it.
There is a well-known fisherman's song of Hatsushima Island. It means something like the following, and it is of the origin of that strange verse that the story is:—
Today is the tenth of June. May the rain fall in torrents!
For I long to see my dearest O Cho San.
Hi, Hi, Ya-re-ko-no-sa! Ya-re-ko-no-sa!
Many years ago there lived on the island the daughter of a fisherman whose beauty even as a child was extraordinary. As she grew, Cho—for such was her name—improved in looks, and, in spite of her lowly birth, she had the manners and refinement of a lady. At the age of eighteen there was not a young man on the island who was not in love with her. All were eager to seek her hand in marriage; but hardly any dared to ask, even through the medium of a third party, as was usual.
Amongst them was a handsome fisherman of about twenty years whose name was Shinsaku. Being less simple than the rest, and a little more bold, he one day approached Gisuke, O Cho's brother, on the subject. Gisuke could see nothing against his sister marrying Shinsaku; indeed, he rather liked Shinsaku; and their families had always been friends. So he called his sister O Cho down to the beach, where they were sitting, and told her that Shinsaku had proposed for her hand in marriage, and that he thought it an excellent match, of which her mother would have approved had she been alive. He added: 'You must marry soon, you know. You are eighteen, and we want no spinsters on Hatsushima, or girls brought here from the mainland to marry our bachelors.'
'Stay, stay, my dear brother! I do not want all this sermon on spinsterhood,' cried O Cho. 'I have no intention of remaining single, I can tell you; and as for Shinsaku I would rather marry him than any one else—so do not worry yourself further on that account. Settle the day of the happy event.'
Needless to say, young Gisuke was delighted, and so was Shinsaku; and they settled that the marriage should be three days thence.
Soon, when all the fishing-boats had returned to the village, the news spread; and it would be difficult to describe the state of the younger men's feelings. Hitherto every one had hoped to win the pretty O Cho San; all had lived in that happy hope, and rejoiced in the uncertain state of love, which causes such happiness in its early stages. Shinsaku had hitherto been a general favourite. Now the whole of their hopes were dashed to the ground. O Cho was not for any of them. As for Shinsaku, how they suddenly hated him! What was to be done? they asked one another, little thinking of the comical side, or that in any case O Cho could marry only one of them.
No attention was paid to the fish they had caught; their boats were scarcely pulled high enough on the beach for safety; their minds were wholly given to the question how each and every one of them could marry O Cho San. First of all, it was decided to tell Shinsaku that they would prevent his marriage if possible. There were several fights on the quiet beach, which had never before been disturbed by a display of ill-feeling. At last Gisuke, O Cho's brother, consulted with his sister and Shinsaku; and they decided, for the peace of the island, to break off the marriage, O Cho and her lover determining that at all events they would marry no one else.
However, even this great sacrifice had no effect. There were fully thirty men; in fact, the whole of the bachelors wanted to marry O Cho; they fought daily; the whole island was thrown into a discontent. Poor O Cho San! What could she do? Had not she and Shinsaku done enough already in sacrificing happiness for the peace of the island? There was only one more thing she could do, and, being a Japanese girl, she did it. She wrote two letters, one to her brother Gisuke, another to Shinsaku, bidding them farewell. 'The island of Hatsushima has never had trouble until I was born,' she said. 'For three hundred years or more our people, though poor, have lived happily and in peace. Alas! now it is no longer so, on account of me. Farewell! I shall be dead. Tell our people that I have died to bring them back their senses, for they have been foolish about me. Farewell!'
After leaving the two letters where Gisuke slept, O Cho slipped stealthily out of the house (it was a pouring-wet and stormy night and the 10th of June), and cast herself into the sea from some rocks near her cottage, after well loading her sleeves with stones, so that she might rise no more.
Next morning, when Gisuke found the letters, instinctively he knew what must have happened, and rushed from the house to find Shinsaku. Brother and lover read their letters together, and were stricken with grief, as, indeed, was every one else. A search was made, and soon O Cho's straw slippers were found on the point of rocks near her house. Gisuke knew she must have jumped into the sea here, and he and Shinsaku dived down and found her body lying at the bottom. They brought it to the surface, and it was buried just beyond the rocks on which she had last stood.
From that day Shinsaku was unable to sleep at night. The poor fellow was quite distracted. O Cho's letter and straw slippers he placed beside his bed and surrounded them with flowers. His days he spent decorating and weeping over her tomb.
At last one evening Shinsaku resolved to make away with his own body, hoping that his spirit might find O Cho; and he wandered towards her tomb to take a last farewell. As he did so he thought he saw O Cho, and called her aloud three or four times, and then with outstretched arms he rushed delightedly at her. The noise awoke Gisuke, whose house was close to the grave. He came out, and found Shinsaku clasping the stone pillar which was placed at its head.
Shinsaku explained that he had seen the spirit of O Cho, and that he was about to follow her by taking his life; but from this he was dissuaded.
'Do not do that; devote your life, rather, and I will help with you in building a shrine dedicated to Cho. You will join her when you die by nature; but please her spirit here by never marrying another.'
Shinsaku promised. The young men of the place now began to be deeply sorry for Shinsaku. What selfish beasts they had been! they thought. However, they would mend their ways, and spend all their spare time in building a shrine to O Cho San; and this they did. The shrine is called 'The Shrine of O Cho San of Hatsushima,' and a ceremony is held there every 10th of June. Curious to relate, it invariably rains on that day, and the fishermen say that the spirit of O Cho comes in the rain. Hence the song:—
Today is the tenth of June. May the rain fall in torrents!
For I long to see my dearest O Cho San.
Hi, Hi, Ya-re-ko-no-sa! Ya-re-ko-no-sa!
The shrine still stands, I am told.
http://www.sacred-texts.com/shi/atfj/atfj29.htm
IN the reign of the Emperor Sanjo began a particularly unlucky time. It was about the year 1013 A. D. when Sanjo came to the throne—the first year of Chowa. Plague broke out. Two years later the Royal Palace was burned down, and a war began with Korea, then known as 'Shiragi.'
In 1016 another fire broke out in the new Palace. A year later the Emperor gave up the throne, owing to blindness and for other causes. He handed over the reins of office to Prince Atsuhara, who was called the Emperor Go Ichijo, and came to the throne in the first year of Kwannin, about 1017 or 1018. The period during which the Emperor Go Ichijo reigned—about twenty years, up to 1036—was one of the worst in Japanese history. There were more wars, more fires, and worse plagues than ever. Things were in disorder generally, and even Kyoto was hardly safe to people of means, owing to the bands of bandits. In 1025 the most appalling outbreak of smallpox came; there was hardly a village or a town in Japan which escaped.
It is at this period that our story begins. Our heroine (if such she may be called) is no less a deity than the goddess of the great mountain of Fuji, which nearly all the world has heard of, or seen depicted. Therefore, if the legend sounds stupid and childish, blame only my way of telling it (simply, as it was told to me), and think of the Great Mountain of Japan, as to which anything should be interesting; moreover, challenge others for a better. I have been able to find none myself.
During the terrible scourge of smallpox there was a village in Suruga Province called Kamiide, which still exists, but is of little importance. It suffered more badly than most other villages. Scarce an inhabitant escaped. A youth of sixteen or seventeen years was much tried. His mother was taken with the disease, and, his father being dead, the responsibility of the household fell on Yosoji—for such was his name.
Yosoji procured all the help he could for his mother, sparing nothing in the way of medicines and attendance; but his mother grew worse day by day, until at last her life was utterly despaired of. Having no other resource left to him, Yosoji resolved to consult a famous fortuneteller and magician, Kamo Yamakiko.
Kamo Yamakiko told Yosoji that there was but one chance that his mother could be cured, and that lay much with his own courage. 'If,' said the fortune-teller, 'you will go to a small brook which flows from the southwestern side of Mount Fuji, and find a small shrine near its source, where Oki-naga-suku-neo (The God of Long Breath) is worshipped, you may be able to cure your mother by bringing her water therefrom to drink. But I warn you that the place is full of dangers from wild beasts and other things, and that you may not return at all or even reach the place.'
Yosoji, in no way discouraged, made his mind up that he would start on the following morning, and, thanking the fortune-teller, went home to prepare for an early start.
At three o'clock next morning he was off.
It was a long and rough walk, one which he had never taken before; but he trudged gaily on, being sound of limb and bent on an errand of deepest concern.
Towards midday Yosoji arrived at a place where three rough paths met, and was sorely puzzled which to take. While he was deliberating the figure of a beautiful girl clad in white came towards him through the forest. At first Yosoji felt inclined to run; but the figure called to him in silvery notes, saying:
'Do not go. I know what you are here for. You are a brave lad and a faithful son. I will be your guide to the stream, and—take my word for it—its waters will cure your mother. Follow me if you will, and have no fear, though the road is bad and dangerous.'
The girl turned, and Yosoji followed in wonderment.
In silence the two went for fully four miles, always upwards and into deeper and more gloomy forests. At last a small shrine was reached, in front of which were two Torii's, and from a cleft of a rock gurgled a silvery stream, the clearness of which was such as Yosoji had never seen before.
'There,' said the white-robed girl, 'is the stream of which you are in search. Fill your gourd, and drink of it yourself, for the waters will prevent you catching the plague. Make haste, for it grows late, and it would not be well for you to be here at night. I shall guide you back to the place where I met you.'
Yosoji did as he was bid, drinking, and then filling the bottle to the brim.
Much faster did they return than they had come, for the way was all downhill. On reaching the meeting of the three paths Yosoji bowed low to his guide, and thanked her for her great kindness; and the girl told him again that it was her pleasure to help so dutiful a son.
'In three days you will want more water for your mother,' said she, 'and I shall be at the same place to be your guide again.'
'May I not ask to whom I am indebted for this great kindness?' asked Yosoji.
'No: you must not ask, for I should not tell you,' answered the girl. Bowing again, Yosoji proceeded on his way as fast as he could, wondering greatly.
On reaching home he found his mother worse. He gave her a cup of the water, and told her of his adventures. During the night Yosoji awoke as usual to attend to his mother's wants, and to give her another bowl of water. Next morning he found that she was decidedly better. During the day he gave her three more doses, and on the morning of the third day he set forth to keep his appointment with the fair lady in white, whom he found seated waiting for him on a rock at the meeting of the three paths.
'Your mother is better I can see from your happy face,' said she. 'Now follow me as before, and make haste. Come again in three days, and I will meet you. It will take five trips in all, for the water must be taken fresh. You may give some to the sick villagers as well.'
Five times did Yosoji take the trip. At the end of the fifth his mother was perfectly well, and must thankful for her restoration; besides which, most of the villagers who had not died were cured. Yosoji was the hero of the hour. Every one marvelled, and wondered who the white-robed girl was; for, though they had heard of the shrine of Oki-naga-suku-neo, none of them knew where it was, and but few would have dared to go if they had known. Of course, all knew that Yosoji was indebted in the first place to the fortune-teller Kamo Yamakiko, to whom the whole village sent presents. Yosoji was not easy in his mind. In spite of the good he had brought about, he thought to himself that he owed the whole of his success in finding and bringing the water to the village to his fair guide, and he did not feel that he had. shown sufficient gratitude. Always he had hurried home as soon as he had got the precious water, bowing his thanks. That was all, and now he felt as if more were due. Surely prayers at the shrine were due, or something; and who was the lady in white? He must find out. Curiosity called upon him to do so. Thus Yosoji resolved to pay one more visit to the spring, and started early in the morning.
Now familiar with the road, he did not stop at the meeting of the three paths, but pursued his way directly to the shrine. It was the first time he had travelled the road alone, and in spite of himself he felt afraid, though he could not say why. Perhaps it was the oppressive gloom of the mysterious dark forest, overshadowed by the holy mountain of Fuji, which in itself was more mysterious still, and filled one both with superstitious and religious feelings and a feeling of awe as well. No one of any imagination can approach the mountain even to-day without having one or all of these emotions.
Yosoji, however, sped on, as fast as he could go, and arrived at the shrine of Oki-naga-suku-neo. He found that the stream had dried up. There was not a drop of water left. Yosoji flung himself upon his knees before the shrine and thanked the God of Long Breath that he had been the means of curing his mother and the surviving villagers. He prayed that his guide to the spring might reveal her presence, and that he might be enabled to meet her once more to thank her for her kindness. When he arose Yosoji saw his guide standing beside him, and bowed low. She was the first to speak.
'You must not come here,' she said. 'I have told you so before. It is a place of great danger for you. Your mother and the villagers are cured. There is no reason for you to come here more.'
'I have come,' answered Yosoji, 'because I have not fully spoken my thanks, and because I wish to tell you how deeply grateful I am to you, as is my mother and as are the whole of our villagers. Moreover, they all as well as I wish to know to whom they are indebted for my guidance to the spring. Though Kamo Yamakiko told me of the spring, I should never have found it but for your kindness, which has now extended over five weeks. Surely you will let us know to whom we are so much indebted, so that we may at least erect a shrine in our temple?'
'All that you ask is unnecessary. I am glad that you are grateful. I knew that one so truly filial as you must be so, and it is because of your filial piety and goodness that I guided you to this health-giving spring, which, as you see, is dry, having at present no further use. It is unnecessary that you should know who I am. We must now part: so farewell. End your life as you have begun it, and you shall be happy.' The beautiful maiden swung a wild camellia branch over her head as if with a beckoning motion, and a cloud came down from the top of the Mount Fuji, enveloping her at first in mist. It then arose, showing her figure to the weeping Yosoji, who now began to realise that he loved the departing figure, and that it was no less a figure than that of the great Goddess of Fujiyama. Yosoji fell on his knees and prayed to her, and the goddess, acknowledging his prayer, threw down the branch of wild camellia.
Yosoji carried it home, and planted it, caring for it with the utmost attention. The branch grew to a tree with marvellous rapidity, being over twenty feet high in two years. A shrine was built; people came to worship the tree; and it is said that the dewdrops from its leaves are a cure for all eye-complaints.
http://www.sacred-texts.com/shi/atfj/atfj33.htm
In the district called Toichi of Yamato Province, there used to live a goshi named Miyata Akinosuke... [Here I must tell you that in Japanese feudal times there was a privileged class of soldier-farmers,--free-holders,--corresponding to the class of yeomen in England; and these were called goshi.]
In Akinosuke's garden there was a great and ancient cedar-tree, under which he was wont to rest on sultry days. One very warm afternoon he was sitting under this tree with two of his friends, fellow-goshi, chatting and drinking wine, when he felt all of a sudden very drowsy,--so drowsy that he begged his friends to excuse him for taking a nap in their presence. Then he lay down at the foot of the tree, and dreamed this dream:--
He thought that as he was lying there in his garden, he saw a procession, like the train of some great daimyo descending a hill near by, and that he got up to look at it. A very grand procession it proved to be,--more imposing than anything of the kind which he had ever seen before; and it was advancing toward his dwelling. He observed in the van of it a number of young men richly appareled, who were drawing a great lacquered palace-carriage, or gosho-guruma, hung with bright blue silk. When the procession arrived within a short distance of the house it halted; and a richly dressed man--evidently a person of rank--advanced from it, approached Akinosuke, bowed to him profoundly, and then said:--
"Honored Sir, you see before you a kerai [vassal] of the Kokuo of Tokyo. My master, commands me to greet you in his august name, and to place myself wholly at your disposal. He also bids me inform you that he augustly desires your presence at the palace. Be therefore pleased immediately to enter this honorable carriage, which he has sent for your conveyance."
Upon hearing these words Akinosuke wanted to make some fitting reply; but he was too much astonished and embarrassed for speech;--and in the same moment his will seemed to melt away from him, so that he could only do as the kerai bade him. He entered the carriage; the kerai took a place beside him, and made a signal; the drawers, seizing the silken ropes, turned the great vehicle southward;--and the journey began.
In a very short time, to Akinosuke's amazement, the carriage stopped in front of a huge two-storied gateway (romon), of a Chinese style, which he had never before seen. Here the kerai dismounted, saying, "I go to announced the honorable arrival,"--and he disappeared. After some little waiting, Akinosuke saw two noble-looking men, wearing robes of purple silk and high caps of the form indicating lofty rank, come from the gateway. These, after having respectfully saluted him, helped him to descend from the carriage, and led him through the great gate and across a vast garden, to the entrance of a palace whose front appeared to extend, west and east, to a distance of miles. Akinosuke was then shown into a reception-room of wonderful size and splendor. His guides conducted him to the place of honor, and respectfully seated themselves apart; while serving-maids, in costume of ceremony, brought refreshments. When Akinosuke had partaken of the refreshments, the two purple-robed attendants bowed low before him, and addressed him in the following words,--each speaking alternately, according to the etiquette of courts:--
"It is now our honorable duty to inform you... as to the reason of your having been summoned hither... Our master, the King, augustly desires that you become his son-in-law;... and it is his wish and command that you shall wed this very day... the August Princess, his maiden-daughter... We shall soon conduct you to the presence-chamber... where His Augustness even now is waiting to receive you... But it will be necessary that we first invest you... with the appropriate garments of ceremony."
Having thus spoken, the attendants rose together, and proceeded to an alcove containing a great chest of gold lacquer. They opened the chest, and took from it various roes and girdles of rich material, and a kamuri, or regal headdress. With these they attired Akinosuke as befitted a princely bridegroom; and he was then conducted to the presence-room, where he saw the Kokuo of Tokoyo seated upon the daiza, wearing a high black cap of state, and robed in robes of yellow silk. Before the daiza, to left and right, a multitude of dignitaries sat in rank, motionless and splendid as images in a temple; and Akinosuke, advancing into their midst, saluted the king with the triple prostration of usage. The king greeted him with gracious words, and then said:--
"You have already been informed as to the reason of your having been summoned to Our presence. We have decided that you shall become the adopted husband of Our only daughter;--and the wedding ceremony shall now be performed."
As the king finished speaking, a sound of joyful music was heard; and a long train of beautiful court ladies advanced from behind a curtain to conduct Akinosuke to the room in which he bride awaited him.
The room was immense; but it could scarcely contain the multitude of guests assembled to witness the wedding ceremony. All bowed down before Akinosuke as he took his place, facing the King's daughter, on the kneeling-cushion prepared for him. As a maiden of heaven the bride appeared to be; and her robes were beautiful as a summer sky. And the marriage was performed amid great rejoicing.
Afterwards the pair were conducted to a suite of apartments that had been prepared for them in another portion of the palace; and there they received the congratulations of many noble persons, and wedding gifts beyond counting.
Some days later Akinosuke was again summoned to the throne-room. On this occasion he was received even more graciously than before; and the King said to him:--
In the southwestern part of Our dominion there is an island called Raishu. We have now appointed you Governor of that island. You will find the people loyal and docile; but their laws have not yet been brought into proper accord with the laws of Tokyo; and their customs have not been properly regulated. We entrust you with the duty of improving their social condition as far as may be possible; and We desire that you shall rule them with kindness and wisdom. All preparations necessary for your journey to Raishu have already been made."
So Akinosuke and his bride departed from the palace of Tokyo, accompanied to the shore by a great escort of nobles and officials; and they embarked upon a ship of state provided by the king. And with favoring winds they safety sailed to Raishu, and found the good people of that island assembled upon the beach to welcome them.
Akinosuke entered at once upon his new duties; and they did not prove to be hard. During the first three years of his governorship he was occupied chiefly with the framing and the enactment of laws; but he had wise counselors to help him, and he never found the work unpleasant. When it was all finished, he had no active duties to perform, beyond attending the rites and ceremonies ordained by ancient custom. The country was so healthy and so fertile that sickness and want were unknown; and the people were so good that no laws were ever broken. And Akinosuke dwelt and ruled in Raishu for twenty years more,--making in all twenty-three years of sojourn, during which no shadow of sorrow traversed his life.
But in the twenty-fourth year of his governorship, a great misfortune came upon him; for his wife, who had borne him seven children,--five boys and two girls,--fell sick and died. She was buried, with high pomp, on the summit of a beautiful hill in the district of Hanryoko; and a monument, exceedingly splendid, was placed upon her grave. But Akinosuke felt such grief at her death that he no longer cared to live.
Now when the legal period of mourning was over, there came to Raishu, from the Tokoyo palace, a shisha, or royal messenger. The shisha delivered to Akinosuke a message of condolence, and then said to him:--
"These are the words which our august master commands that I repeat to you: 'We will now send you back to your own people and country. As for the seven children, they are the grandsons and granddaughters of the King, and shall be fitly cared for. Do not, therefore, allow you mind to be troubled concerning them.'"
On receiving this mandate, Akinosuke submissively prepared for his departure. When all his affairs had been settled, and the ceremony of bidding farewell to his counselors and trusted officials had been concluded, he was escorted with much honor to the port. There he embarked upon the ship sent for him; and the ship sailed out into the blue sea, under the blue sky; and the shape of the island of Raishu itself turned blue, and then turned grey, and then vanished forever... And Akinosuke suddenly awoke--under the cedar-tree in his own garden!
For a moment he was stupefied and dazed. But he perceived his two friends still seated near him,--drinking and chatting merrily. He stared at them in a bewildered way, and cried aloud,--
"How strange!"
"Akinosuke must have been dreaming," one of them exclaimed, with a laugh. "What did you see, Akinosuke, that was strange?"
Then Akinosuke told his dream,--that dream of three-and-twenty years' sojourn in the realm of Tokyo, in the island of Raishu;--and they were astonished, because he had really slept for no more than a few minutes.
One goshi said:--
"Indeed, you saw strange things. We also saw something strange while you were napping. A little yellow butterfly was fluttering over your face for a moment or two; and we watched it. Then it alighted on the ground beside you, close to the tree; and almost as soon as it alighted there, a big, big ant came out of a hole and seized it and pulling it down into the hole. Just before you woke up, we saw that very butterfly come out of the hole again, and flutter over your face as before. And then it suddenly disappeared: we do not know where it went."
"Perhaps it was Akinosuke's soul," the other goshi said;--"certainly I thought I saw it fly into his mouth... But, even if that butterfly was Akinosuke's soul, the fact would not explain his dream."
"The ants might explain it," returned the first speaker. "Ants are queer beings--possibly goblins... Anyhow, there is a big ant's nest under that cedar-tree."...
"Let us look!" cried Akinosuke, greatly moved by this suggestion. And he went for a spade.
The ground about and beneath the cedar-tree proved to have been excavated, in a most surprising way, by a prodigious colony of ants. The ants had furthermore built inside their excavations; and their tiny constructions of straw, clay, and stems bore an odd resemblance to miniature towns. In the middle of a structure considerably larger than the rest there was a marvelous swarming of small ants around the body of one very big ant, which had yellowish wings and a long black head.
"Why, there is master of my dream!" cried Akinosuke; "and there is the palace of Tokyo!... How extraordinary!... Raishu ought to lie somewhere southwest of it--to the left of that big root... Yes!--here it is!... How very strange! Now I am sure that I can find the mountain of Hanryoko, and the grave of the princess."...
In the wreck of the nest he searched and searched, and at last discovered a tiny mound, on the top of which was fixed a water-worn pebble, in shape resembling a Buddhist monument. Underneath it he found--embedded in clay--the dead body of a female ant.
http://www.sacred-texts.com/shi/kwaidan/kwai15.htm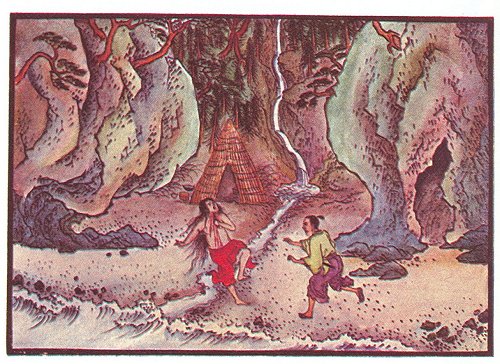 DOWN the Inland Sea between Umedaichi and Kure (now a great naval port) and in the province of Aki, there is a small village called Yaiyama, in which lived a painter of some note, Abe Tenko. Abe Tenko taught more than he painted, and relied for his living mostly on the small means to which he had succeeded at his father's death and on the aspiring artists who boarded in the village for the purpose of taking daily lessons from him. The island and rock scenery in the neighbourhood afforded continual study, and Tenko was never short of pupils. Among them was one scarcely more than a boy, being only seventeen years of age. His name was Sawara Kameju, and a most promising pupil he was. He had been sent to Tenko over a year before, when scarce sixteen years of age, and, for the reason that Tenko had been a friend of his father, Sawara was taken under the roof of the artist and treated as if he had been his son.
Tenko had had a sister who went into the service of the Lord of Aki, by whom she had a daughter. Had the child been a son, it would have been adopted into the Aki family; but, being a daughter, it was, according to Japanese custom, sent back to its mother's family, with the result that Tenko took charge of the child, whose name was Kimi. The mother being dead, the child had lived with him for sixteen years. Our story opens with O Kimi grown into a pretty girl.
O Kimi was a most devoted adopted daughter to Tenko. She attended almost entirely to his household affairs, and Tenko looked upon her as if indeed she were his own daughter, instead of an illegitimate niece, trusting her in everything.
After the arrival of the young student O Kimi's heart gave her much trouble. She fell in love with him. Sawara admired O Kimi greatly; but of love he never said a word, being too much absorbed in his study. He looked upon Kimi as a sweet girl, taking his meals with her and enjoying her society. He would have fought for her, and he loved her; but he never gave himself time to think that she was not his sister, and that he might make love to her. So it came to pass at last that O Kimi one day, with the pains of love in her heart, availed herself of her guardian's absence at the temple, whither he had gone to paint something for the priests.
O Kimi leveled up her courage and made love to Sawara. She told him that since he had come to the house her heart had known no peace. She loved him, and would like to marry him if he did not mind.
This simple and maidenlike request, accompanied by the offer of tea, was more than young Sawara was able to answer without acquiescence. After all, it did not much matter, thought he: 'Kimi is a most beautiful and charming girl, and I like her very much, and must marry some day.'
So Sawara told Kimi that he loved her and would be only too delighted to marry her when his studies were complete—say two or three years thence. Kimi was overjoyed, and on the return of the good Tenko from Korinji Temple informed her guardian of what had passed.
Sawara set to with renewed vigour, and worked diligently, improving very much in his style of painting; and after a year Tenko thought it would do him good to finish off his studies in Kyoto under an old friend of his own, a painter named Sumiyoshi Myokei. Thus it was that in the spring of the sixth year of Kioho—that is, in 1721—Sawara bade farewell to Tenko and his pretty niece O Kimi, and started forth to the capital. It was a sad parting. Sawara had grown to love Kimi very deeply, and he vowed that as soon as his name was made he would return and marry her.
In the olden days the Japanese were even more shockingly poor correspondents than they are now, and even lovers or engaged couples did not write to each other, as several of my tales may show.
After Sawara had been away for a year, it seemed that he should write and say at all events how he was getting on; but he did not do so. A second year passed, and still there was no news. In the meantime there had been several admirers of O Kimi's who had proposed to Tenko
for her hand; but Tenko had invariably said that Kimi-san was already engaged—until one day he heard from Myokei, the painter in Kyoto, who told him that Sawara was making splendid progress, and that he was most anxious that the youth should marry his daughter. He felt that he must ask his old friend Tenko first, and before speaking to Sawara.
Tenko, on the other hand, had an application from a rich merchant for O Kimi's hand. What was Tenko to do? Sawara showed no signs of returning; on the contrary, it seemed that Myokei was anxious to get him to marry into his family. That must be a good thing for Sawara, he thought. Myokei is a better teacher than I, and if Sawara marries his daughter he will take more interest than ever in my old pupil. Also, it is advisable that Kimi should marry that rich young merchant, if I can persuade her to do so; but it will be difficult, for she loves Sawara still. I am afraid he has forgotten her. A little strategy I will try, and tell her that Myokei has written to tell me that Sawara is going to marry his daughter; then, possibly, she may feel sufficiently vengeful to agree to marry the young merchant. Arguing thus to himself, he wrote to Myokei to say that he had his full consent to ask Sawara to be his son-in-law, and he wished him every success in the effort; and in the evening he spoke to Kimi.
'Kimi-chan' he said, 'today I have had news of Sawara through my friend Myokei-san.'
'Oh, do tell me what!' cried the excited Kimi. 'Is he coming back, and has he finished his education? How delighted I shall be to see him! We can be married in April, when the cherry blooms, and he can paint a picture of our first picnic.'
'I fear, Kimi-chan, the news which I have does not talk of his coming back. On the contrary, I am asked by Myokei-san to allow Sawara-san to marry his daughter, and, as I think such a request could not have been made had Sawara been faithful to you, I have answered that I have no objection to the union. And now, as for yourself, I deeply regret to tell you this; but as your uncle and guardian I again wish to impress upon you the advisability of marrying Yorozuya-sama, the young merchant, who is deeply in love with you and in every way a most desirable husband; indeed, I must insist upon it, for I think it most desirable.'
Poor O Kimi-san broke into tears and deep sobs, and without answering a word went to her room, where Tenko thought it well to leave her alone for the night.
In the morning she had gone, none knew whither, there being no trace of her.
Up in Kyoto Sawara continued his studies, true and faithful to O Kimi. After receiving Tenko's letter approving of Myokei's asking Sawara to become his son-in-law, Myokei asked Sawara if he would so honour him. 'When you marry my daughter, we shall be a family of painters, and I think you will be one of the most celebrated ones that Japan ever had.'
'But, sir,' cried Sawara, 'I cannot do myself the honour of marrying your daughter, for I am already engaged—I have been for the last three years—to Kimi-san, Tenko's daughter. It is most strange that he should not have told you!'
There was nothing for Myokei to say to this; but there was much for Sawara to think about. Foolish, perhaps he then thought, were the ways of Japanese in not corresponding more freely. He wrote to Kimi twice, accordingly, but no answer came. Then Myokei fell ill of a chill and died: so Sawara returned to his village home in Aki, where he was welcomed by Tenko, who was now, without O Kimi, lonely in his old age.
When Sawara heard that Kimi had gone away leaving neither address nor letter he was very angry, for he had not been told the reason.
'An ungrateful and bad girl,' said he to Tenko, 'and I have been lucky indeed in not marrying her!'
'Yes, yes,' said Tenko: 'you have been lucky; but you must not be too angry. Women are queer things, and, as the saying goes, when you see water running up hill and hens laying square eggs you may expect to see a truly honest-minded woman. But come now—I want to tell you that, as I am growing old and feeble, I wish to make you the master of my house and property here. You must take my name and marry!'
Feeling disgusted at O Kimi's conduct, Sawara readily consented. A pretty young girl, the daughter of a wealthy farmer, was found—Kiku (the Chrysanthemum);—and she and Sawara lived happily with old Tenko, keeping his house and minding his estate. Sawara painted in his spare time. Little by little he became quite famous. One day the Lord of Aki sent for him and said it was his wish that Sawara should paint the seven beautiful scenes of the Islands of Kabakarijima (six, probably); the pictures were to be mounted on gold screens.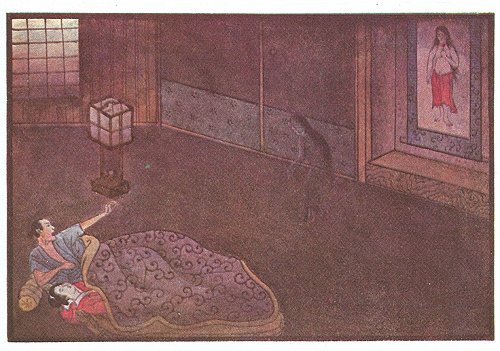 This was the first commission that Sawara had had from such a high official. He was very proud of it, and went off to the Upper and Lower Kabakari Islands, where he made rough sketches. He went also to the rocky islands of Shokokujima, and to the little uninhabited island of Daikokujima, where an adventure befell him.
Strolling along the shore, he met a girl, tanned by sun and wind. She wore only a red cotton cloth about her loins, and her hair fell upon her shoulders. She had been gathering shell-fish, and had a basket of them under her arm. Sawara thought it strange that he should meet a single woman in so wild a place, and more so still when she addressed him, saying, 'Surely you are Sawara Kameju—are you not?'
'Yes,' answered Sawara: 'I am; but it is very strange that you should know me. May I ask how you do so?'
'If you are Sawara-san, as I know you are, you should know me without asking, for I am no other than Kimi-chan, to whom you were engaged!'
Sawara was astonished, and hardly knew what to say: so he asked her questions as to how she had come to this lonely island. O Kimi explained everything, and ended by saying, with a smile of happiness upon her face:
'And since, my dearest Sawara-san, I understand that what I was told is false, and that you did not marry Myokei's daughter, and that we have been faithful to each other, we can he married and happy after all. Oh, think how happy we shall be!'
'Alas, alas, my dearest Kimi-chan, it cannot be! I was led to suppose that you had deserted our benefactor Tenko and given up all thought of me. Oh, the sadness of it.
http://www.sacred-texts.com/shi/atfj/atfj39.htm
IDE KAMMOTSU was a vassal of the Lord of Nakura town, in Kishu. His ancestors had all been brave warriors, and he had greatly distinguished himself in a battle at Shizugatake, which took its name from a mountain in the province of Omi. The great Hideyoshi had successfully fought in the same place so far back as in the eleventh year of the Tensho Era 1573-1592—that is, 1584—with Shibata Katsuiye. Ide Kammotsu's ancestors were loyal men. One of them as a warrior had a reputation second to none. He had cut the heads off no fewer than forty-eight men with one sword. In due time this weapon came to Ide Kammotsu, and was kept by him as a most valuable family treasure. Rather early in life Kammotsu found himself a widower. His young wife left a son, called Fujiwaka. By and by Kammotsu, feeling lonely, married a lady whose name was Sadako. Sadako later bore a son, who was called Goroh. Twelve or fourteen years after that, Kammotsu himself died, leaving the two sons in charge of Sadako. Fujiwaka was at that time nineteen years of age.

Sadako became jealous of Fujiwaka, knowing him, as the elder son, to be the heir to Kammotsu's property. She tried by every means to put her own son Goroh first.

In the meantime a little romance was secretly going on between a beautiful girl called Tae, daughter of Iwasa Shiro, and young Fujiwaka. They had fallen in love with each other, were holding secret meetings to their hearts' content, and vowing promises of marriage. At last they were found out, and Sadako made their conduct a pretext for driving Fujiwaka out of the house and depriving him of all rights in the family property.

Attached to the establishment was a faithful old nurse, Matsue, who had brought up Fujiwaka from his infancy. She was grieved at the injustice which had been done; but little did she think of the loss of money or of property in comparison with the loss of the sword, the miraculous sword, of which the outcast son was the proper owner. She thought night and day of how she might get the heirloom for young Fujiwaka.

After many days she came to the conclusion that she must steal the sword from the Ihai (shrine—or rather a wooden tablet in the interior of the shrine, bearing the posthumous name of an ancestor, which represents the spirit of that ancestor).

One day, when her mistress and the others were absent, Matsue stole the sword. No sooner had she done so than it became apparent that it would be some months perhaps before she should be able to put it into the hands of the rightful owner. For of Fujiwaka nothing had been heard since his stepmother had driven him out. Fearing that she might be accused, the faithful Matsue dug a hole in the garden near the ayumiya—a little house, such as is kept in every Japanese gentleman's garden for performing the Tea Ceremony in,—and there she put the sword, meaning to keep it hidden until such time as she should be able to present it to Fujiwaka.

Sadako, having occasion to go to the butsudan the day after, missed the sword; and, knowing O Matsue to have been the only servant left in the house at the time, taxed her with the theft of the sword.

Matsue denied the theft, thinking that in the cause of justice it was right of her to do so; but it was not easy to persuade Sadako, who had Matsue confined in an outhouse and gave orders that neither rice nor water was to be given her until she confessed. No one was allowed to go near Matsue except Sadako herself, who kept the key of the shed, which she visited only once every four or five days.

About the tenth day poor Matsue died from starvation. She had stuck faithfully to her resolution that she would keep the sword and deliver it some day to her young master, the lawful heir. No one knew of Matsue's death. The evening on which she had died found Sadako seated in an old shed in a remote part of the garden, and trying to cool herself, for it was very hot.

After she had sat for about half-an-hour she suddenly saw the figure of an emaciated woman with dishevelled hair. The figure appeared from behind a stone lantern, glided along towards the place where Sadako was seated, and looked full into Sadako's face.

Sadako immediately recognised Matsue, and upbraided her loudly for breaking out of her prison.

'Go back, you thieving woman!' said she. 'I have not half finished with you yet. How dare you leave the place where you were locked up and come to confront me?'

The figure gave no answer, but glided slowly along to the spot where the sword had been buried, and dug it up.

Sadako watched carefully, and, being no coward, rushed at the figure of Matsue, intending to seize the sword. Figure and sword suddenly disappeared.

Sadako then ran at top speed to the shed where Matsue had been imprisoned, and flung the door open with violence. Before her lay Matsue dead, evidently having been so for two or three days; her body was thin and emaciated. '

Sadako perceived that it must have been the ghost of O Matsue that she had seen, and mumbled 'Namu Amida Butsu; Namu Amida Butsu,' the Buddhist prayer asking for protection or mercy.

After having been driven from his family home, Ide Fujiwaka had wandered to many places, begging his food. At last he got some small employment, and was able to support himself at a very cheap inn at Umamachi Asakusa Temple.

One midnight he awoke and found standing at the foot of his bed the emaciated figure of his old nurse, bearing in her hands the precious sword, the heirloom valued beyond all others. It was wrapped in scarlet and gold brocade, as it had been before, and it was laid reverentially by the figure of O Matsue at Fujiwaka's feet.


'Oh, my dear nurse,' said he, 'how glad am I———' Before he had closed his sentence the figure had disappeared.

My story-teller did not say what became of Sadako or of her son.