Page: 1
Emrys
Emrys's Journal
Profile Information
Gender: Do not display
Current location: Scotland
Member since: Mon Sep 7, 2009, 12:57 AM
Number of posts: 5,897

Journal Archives
which this evening was announced to have contracted Liz Truss:
https://twitter.com/trussliz/status/1488243196509495299
Liz Truss
@trussliz
I tested positive for Covid this evening.

Thankfully I've had my three jabs and will be working from home while I isolate.
Attentive Twitter denizens pointed to Truss's appearance on the Tory front bench during this afternoon's boisterous Commons session as the
preliminary findings of the Gray report into lawbreaking over Covid regulations
were aired:
https://twitter.com/grimnorth_0/status/1488245707530194944
Northerner
@grimnorth_0
A good job you had your mask on this afternoon, Lizzy.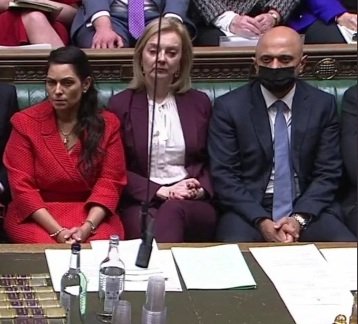 Covid Liz continued to spread later in the day:
https://twitter.com/KateEMcCann/status/1488244088075923458
Kate McCann
@KateEMcCann
Liz Truss has tested positive for covid. She attended the packed meeting of Tory MPs and ministers in Portcullis House this evening, leaving before it finished. She was not wearing a mask.
Meanwhile, Culture Shecretary Nadine Dorriesh appeared to have choshen to shelf-medicate with sheveral treblesh of gin ash she shtrove to defend Johnshon againsht shtiff queshtioning from Channel 4'sh Krishnan Guru-Murthy:
https://twitter.com/Channel4News/status/1488237534668861454
Channel 4 News
@Channel4News
"The Prime Minister tells the truth."

Culture Secretary Nadine Dorries defends Boris Johnson after the publication of the Sue Gray report and following Met police reports that they have 300 images pertaining to Downing Street parties.

[Twitter video]
The SNP's Ian Blackford had earlier been ejected by the Speaker after he refused to withdraw his remarks that Johnson had misled parliament and was a liar:
https://twitter.com/Ianblackford_MP/status/1488187418348036101
Ian Blackford
@Ianblackford_MP
This is what truth to power looks like at Westminster. A liar is allowed to keep his place- I am forced to leave for telling the truth. He misled the house, he must go. Tories must look themselves in the mirror and ask if they can allow this to go on much longer? Remove him now.

[Twitter video]
In what may become
another viral video success
, Peter Stefanovic sums up:
https://twitter.com/PeterStefanovi2/status/1488251105448546306
Peter Stefanovic
@PeterStefanovi2
Faced with accusations that he has lied to Parliament Boris Johnson responded today…with lies

[Twitter video]


Presumably it's not an attack on the prime minister because Johnson was too preoccupied with partying to pay any attention to whatever the fuck was going on and is away with the fairies most of the time anyway.



The nobility of Agnew's resignation is tempered by the fact he's likely just another rat bailing out of the rapidly sinking Tory hulk before it turns turtle and takes them all down with it. This from October last year suggests Agnew might have been more appropriately titled the Minister for Fraud:



And this is from April last year:


Bury South MP says Tory policies 'doing nothing' to help constituents, piling further pressure on Boris Johnson
Just minutes before prime minister's questions, Wakeford – elected as the MP for Bury South in 2019 – crossed the floor to sit with Keir Starmer's party, declaring in a letter to Johnson resigning the Conservative whip that he was "incapable of offering the leadership and government this country deserves".
The move will prove a huge embarrassment for Johnson, who is fighting to avoid enough of his own backbenchers submitting letters calling for a no-confidence vote. Fifty-four are needed to trigger a ballot. Many of those who have written a letter are members of the 2019 intake, like Wakeford. He submitted a letter last week.
...
To raucous cheers in the Commons chamber, Starmer "warmly welcomed" Wakeford to the opposition benches – gesturing to the MP who was sat directly behind him. "Like so many people up and down the country, he has concluded that the prime minister and the Conservative party have shown themselves incapable of offering the leadership and government this country deserved."
Johnson attempted to appear bullish in front of his own MPs, telling them: "The Conservative party won Bury South for the first time in generations under this prime minister, with an agenda of uniting and levelling up and delivering for the people of BS, and we will win again in BS at the next election under this prime minister."
https://www.theguardian.com/politics/2022/jan/19/tory-mp-christian-wakeford-has-defected-to-labour-says-starmer
If there something Johnson's an expert in, it's BS.
Apart from the scandals currently swamping Johnson and his party, Wakeford's defection in a seat that was part of the much-hyped "red wall" highlights some of the tensions between Johnson's "levelling up" election promises and the absence of delivery, not least in these constituencies.
Not that I'm keen to see Bury South back in Tory hands, but such a radical defection is surely grounds for a by-election, especially as Wakeford has voted for some of the most deplorable Tory policies since the last election. It also maybe says something about Labour under Starmer that a Tory crossing the floor like this is even possible.
This young woman seems to have a better grasp of what's going on than anyone in the Cabinet, as well as a better sense of morals:
https://twitter.com/SnellArthur/status/1482814340101283845
Arthur Snell
@SnellArthur
This is gold.

[Twitter video]
How about a petition to rename Prime Minister's Questions "The Naughty Centre"?
A storm in a teacup (with obligatory cocked pinky) is part of the fallout from yesterday's attempt at a non-apology from Boris Johnson for doing nothing wrong in his own eyes (it ends up it was all the fault of his minions - and not the adorable diminutive yellow-skinned goggles-wearing ones).
Yesterday, Jacob Rees-Mogg was on fine form as he lashed out on Iain Dale's LBC show at Scottish Tory leader Douglas Ross for (uncharacteristically boldly) calling for Johnson's resignation:
https://twitter.com/LBC/status/1481353090234261508
LBC
@LBC
'I don't think he's a big figure.'

Jacob Rees-Mogg's response to Scottish Conservative leader Douglas Ross calling for Boris Johnson to resign.

@IainDale | @Jacob_Rees_Mogg

[Twitter video]
He doubled down on the insult in a later interview on BBC
Newsnight
:
https://twitter.com/BBCNewsnight/status/1481405891979010054
BBC Newsnight
@BBCNewsnight
"Douglas Ross has always been quite a lightweight figure"
Jacob Rees-Mogg MP says the Secretary of State for Scotland "is a much more substantial and important figure in this"
#Newsnight
https://bbc.in/3I0s4wB
[Twitter video]
Ridiculous and useless as he undoubtedly is, Douglas Ross can at least boast about having been elected to his position, in contrast to Secretary of State Alister Jack, who's the archetypal unelected placeman (and equally ridiculous and useless).
Rees-Mogg was unrepentant today, inventing a convention that he predictably failed to observe when he played his part in deposing Theresa May (and later lying to the Queen about proroguing parliament):
https://twitter.com/STVKathryn/status/1481623159942139906
kathryn samson
@STVKathryn
In an interview Jacob Rees-Mogg stands by his comments on Douglas Ross saying:
'If you take the King's shilling you are beholden to the crown.'
Not sure if it's a shock that Rees-Mogg appears to refuse to accept Queen Elizabeth's accession (along with decimalization), but there we have it.
It's not the sort of friendly fire-provoked open goal Nicola Sturgeon makes a habit of missing:
https://twitter.com/BBCScotlandNews/status/1481606678961340420
BBC Scotland News
@BBCScotlandNews
"Even I am not as derogatory about [Douglas Ross] as his own Tory colleagues," says FM Nicola Sturgeon, referring to the "lightweight" comment from Rees-Mogg. Read more ➡
http://bbc.in/34P4ip5
Live #FMQs updates ➡
http://bbc.in/3Kbn3TJ
[Twitter video]
And other Scots Tories joined in the fun:
https://twitter.com/ITVBorderRB/status/1481600605202558977
Representing Border
@ITVBorderRB
NEW: Jacob Rees-Mogg 'should just go and have a long lie down... preferably not in the House of Commons'.

That's the reaction from Scottish Conservative MSP @jamiegreeneUK after JRM called Douglas Ross a 'lightweight'

[Twitter video]
True enough, he has looked inordinately comfortable in the past: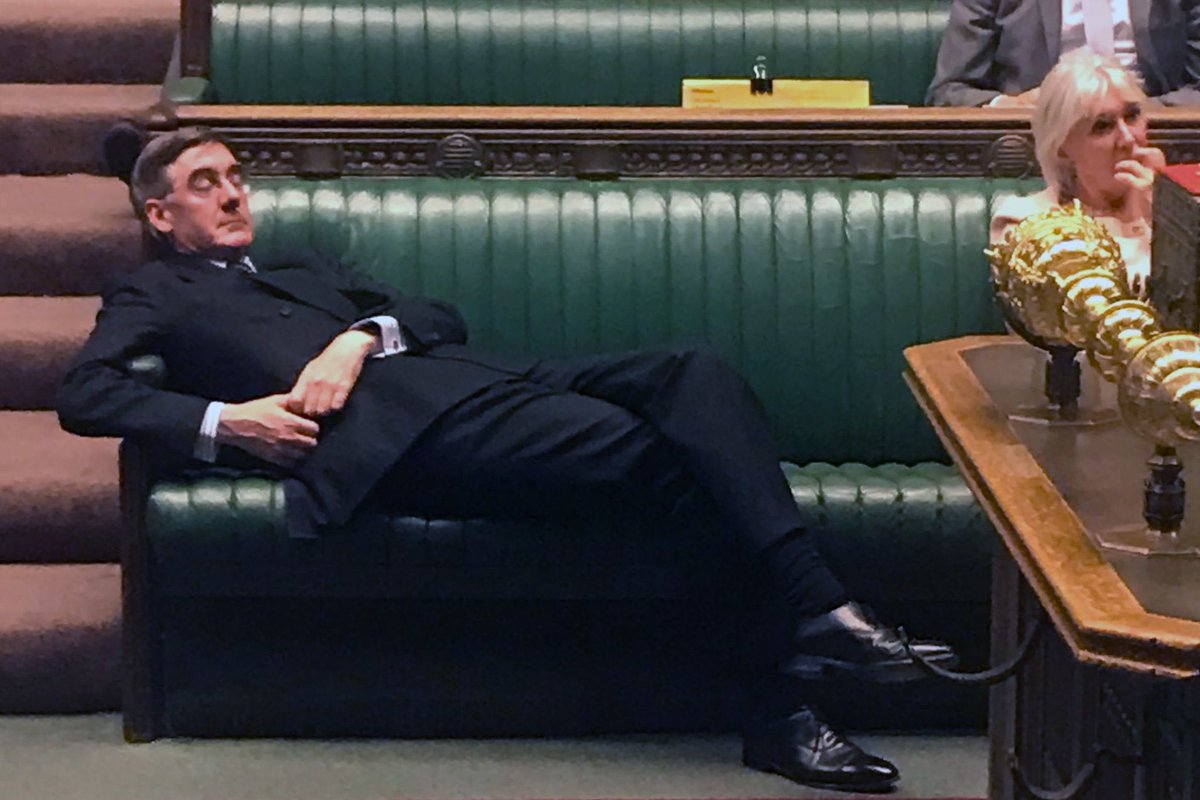 Some of the Twitter responses weren't charitable, the more repeatable of them suggesting that Rees-Mogg should recline "six foot under".
Then Welsh Labour joined the fray:
https://twitter.com/KevinBrennanMP/status/1481599557372891140
Kevin Brennan MP
@KevinBrennanMP
After Jacob Rees-Mogg's remarks about the leader of the Scottish Tories being a lightweight I asked him if he could even name the Leader of the Welsh Conservatives - he couldn't!

[Twitter video]
The Commons' laughter was because the Welsh Tory leader is in fact Andrew R.T. Davies.
As we all sail merrily to hell in a Tory-steered handbasket singing "Rule Britannia", can we enliven the journey by making this a weekly event?
Government's use of system to award deals to two firms during first Covid wave found to be unlawful
...
Describing the allocation of offers to the VIP lane as "flawed", the judge said: "There is evidence that opportunities were treated as high priority even where there were no objectively justifiable grounds for expediting the offer."
She added: "The claimants have established that operation of the high priority lane was in breach of the obligation of equal treatment under the PCR (public contract regulations) … the illegality is marked by this judgment."
More than 32bn items of PPE with a value of £14bn were bought through directly awarded and negotiated contracts.
...
The judge said it was "unlawful" to confer preferential treatment on PestFix and Ayanda on account of their allocation to the high priority lane, but in both cases said that they justified priority treatment on their merits and so would have been awarded anyway. In both instances O'Farrell said this was because the companies were offering "high volumes of PPE" at a time of urgent demand.
The judgment noted that gowns supplied by PestFix were deemed unsuitable for use in an NHS clinical setting. PestFix-supplied FFP2 masks were also found to be unsuitable for use in the NHS while its FFP3 masks failed testing and there were issues with the gowns. There are ongoing commercial disputes with PestFix with respect to the FFP3 masks and the gowns. O'Farrell also said that FFP2 masks supplied by Ayanda "have not been distributed into the NHS".
Describing the advantages being placed in the VIP lane conferred, O'Farrell said: "Offers that were introduced through the senior referrers received earlier consideration at the outset of the process. The high priority lane team was better resourced and able to respond to such offers on the same day that they arrived, in contrast to the opportunities team (which assessed suppliers and their offers not prioritised through the VIP lane), where the sheer volume of offers prevented such swift consideration."
It was accepted that the VIP lane did not act as a quality filter, it simply processed all offers provided they were considered credible.
https://www.theguardian.com/politics/2022/jan/12/use-of-vip-lane-to-award-covid-ppe-contracts-unlawful-high-court-rules
The meaning of "credible" seems to be stretched beyond the bounds of elasticity here, given the lack of track record among the suspect suppliers and their inability to provide protective equipment the NHS could actually use.