cpwm17
cpwm17's Journal

cpwm17's Journal

February 10, 2015

With a selective memory and a biased look at current events many people claim they are more violent. But we are the nation that has a very bad record of committing terrible violence against Muslims, far more than the violence they have committed against us. That is consistent with recent history throughout the Western and Muslim World.

Barrack Obama is right.

http://www.vox.com/2015/1/30/7951309/islam-violence



Whenever the subject of Islamist terrorism comes up, the national conversation almost always circles back to a somewhat bigoted question: are Muslims more violent than other kinds of people because of their religion?

What these conversations usually lack is data; that is, evidence that Muslim societies are actually more violent than other ones. And it turns out, according to UC-Berkeley Professor M. Steven Fish, that judging by murder rates, people in Muslim-majority countries actually tend to be significantly less violent (bolding is mine):
Predominantly, Muslim countries average 2.4 murders per annum per 100,000 people, compared to 7.5 in non-Muslim countries. The percentage of the society that is made up of Muslims is an extraordinarily good predictor of a country's murder rate. More authoritarianism in Muslim countries does not account for the difference. I have found that controlling for political regime in statistical analysis does not change the findings. More Muslims, less homicide.
http://www.alternet.org/belief/despite-wingnut-freakout-obama-right-christian-violence-just-bad-muslim-violence
[URL=
.html][IMG]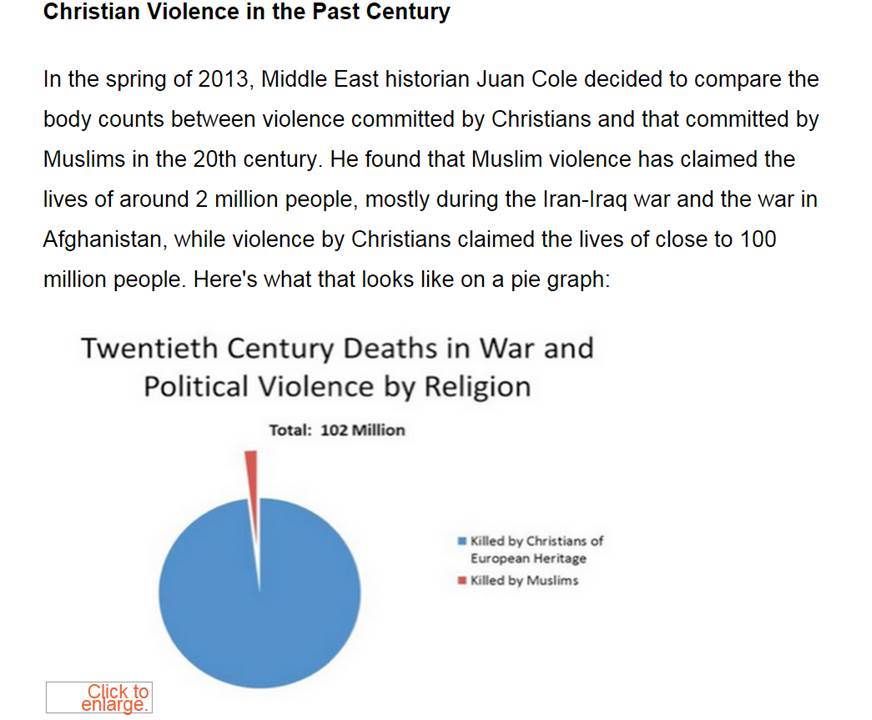 [/IMG][/URL]
30 Worst Atrocities of the 20th Century
http://users.erols.com/mwhite28/atrox.htm
[URL=
.html][IMG]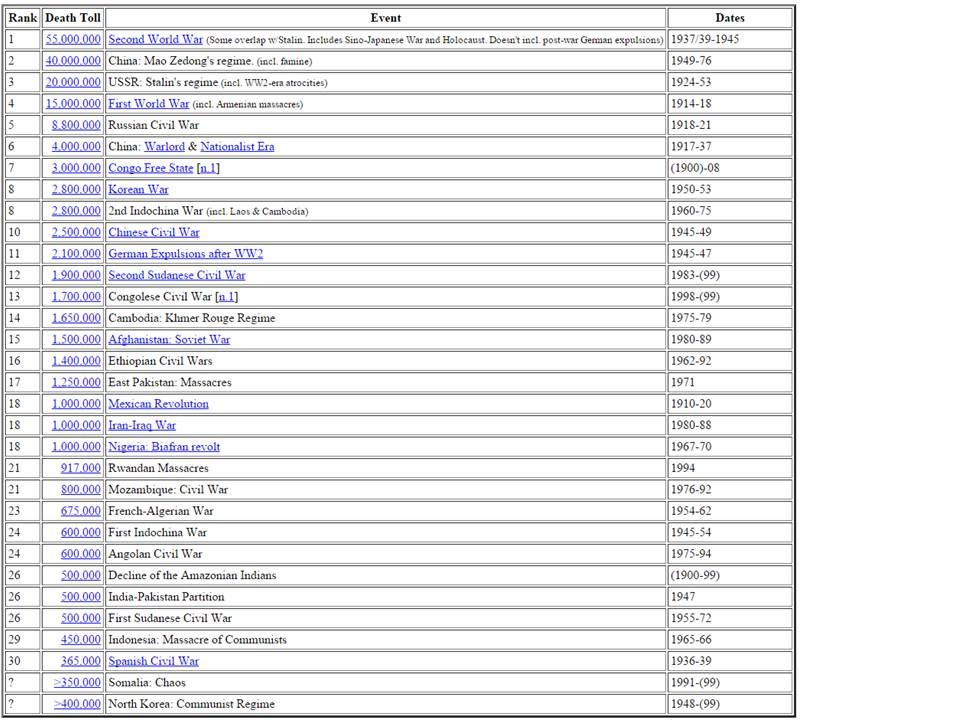 [/IMG][/URL]
Profile Information
Name: Paul
Gender: Male
Hometown: Florida
Home country: USA
Member since: Wed Mar 31, 2010, 02:20 PM
Number of posts: 3,829