Page: 1
Grey Lemercier
Grey Lemercier's Journal
Profile Information
Gender: Female
Hometown: San Diego
Home country: USA
Current location: London
Member since: Fri Jul 22, 2016, 05:13 AM
Number of posts: 1,429

About Me
26 yo, bi-racial, femme lesbian, happily married, moderate liberal, business owner, post grad degree, South Kensington, London GO HILLARY 2016! PS I hate flying with no leg room,lol. https://i.gyazo.com/08101542e7aeaac6a803a7b32f4fa723.png
Journal Archives
https://www.washingtonpost.com/news/the-fix/wp/2016/10/30/post-abc-poll-finds-tight-presidential-race-with-mixed-reaction-to-fbis-review-of-clinton-e-mails/
Republicans' growing unity behind Donald Trump has helped pull him just one percentage point below Hillary Clinton and placed GOP leaders who resist him in a vulnerable position, according to the latest Washington Post-ABC News Tracking Poll.
A majority of all likely voters say they are unmoved by the FBI's announcement Friday that it may review additional emails from Clinton's time as secretary of state. Just over 6 in 10 voters say the news will make no difference in their vote, while just over 3 in 10 say it makes them less likely to support her; 2 percent say they're more likely to back her as a result.
snip
The Post-ABC Tracking Poll continues to find a very tight race, with Clinton at 46 percent and Trump at 45 percent among likely voters in interviews from Tuesday through Friday, followed by Libertarian Gary Johnson at 4 percent and the Green Party's Jill Stein at 2 percent. The result is similar to a 47-45 Clinton-Trump margin in the previous wave released Saturday, though smaller than found in other surveys this week. When likely voters are asked to choose between Clinton and Trump alone, Clinton stands at 49 percent to Trump's 46 percent, a margin that is still statistically insignificant.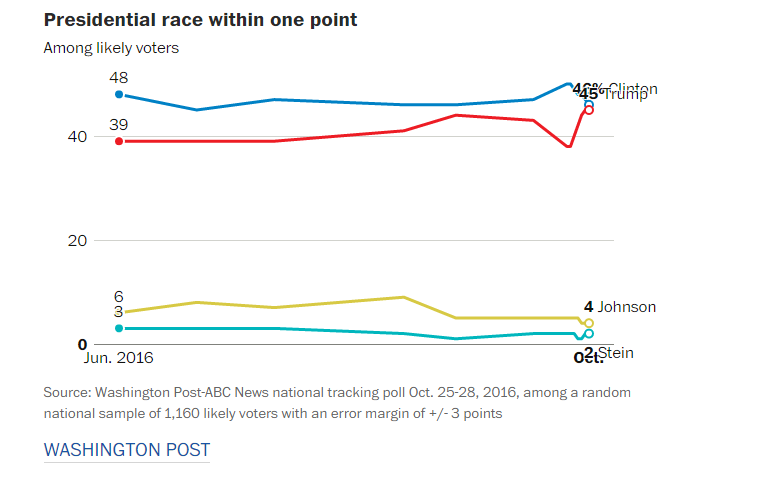 snip
538 Rating

11 point swing in less than a week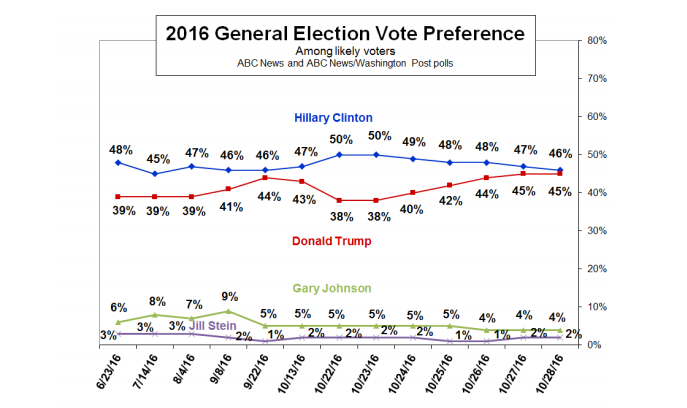 http://www.langerresearch.com/wp-content/uploads/1184a82016ElectionTrackingNo8.pdf
Great news is that Pennsylvania appears to be holding at 8 point lead, which is huge as a PA flip to the shitgibbon changes so much
https://today.yougov.com/news/2016/10/30/key-battlegrounds-tight-clinton-maintains-eight-po/
from idiot weak voters over Comey's email stunt)
I have been working on this for days. I can set the range right now for the entire Election. the LOWEST possible EV total for Clinton is 268 (2 scenarios) and 269 (4 scenarios), Trump has ONE scenario to 270, and then 2 at 269, 1 at 264, and 2 at 263 EV's. In all 5 non 270's, it goes to the Repub House who would have to vote him POTUS.
There is EXACTLY ONE way, yes ONE path for Trump to 270 and outright win. There are only 5 other ways for Hillary to NOT hit 270 and thus toss the POTUS choice to the House (probably Trump wins, but chaos could ensue, and THAT is beyond the scope of this post)
All 6 scenarios involve just 4 things
A
Utah (will be either Trump or McMullin, and ONLY MATTER in ONE scenario (the 270 outright Trump win, it is MEANINGLESS in ALL other scenarios because it will have zero effect on HILLARY's EV's)
B
Nebraska 2nd district (Obama won it, thus gaining one vote in 2008, and Hillary has a shot at it again)
C
Maine 2nd District (Trump has lead thruout for its one split EV)
D
New Hampshire... the simplest one, IF TRUMP loses NH, there is NO path, if my 4 Blue Wall states below hold.
I start out by laying out the 4 "Blue Wall states" that Sec Clinton is up in so high there is basically no way she can lose them, even if there is a bad blowback from the combined onslaught of the Foundation leaks plus the new Comey bullshit partisan October surprise (he is a fucking traitor)
These 4 are Wisconsin, Michigan, Virginia (the newest entry to the Blue Wall, yay) and then the shakiest, but still in the bag one, Pennsylvania. In all 4 she has a 85% (91% in VA) or higher shot at winning and other than PA, is probably near a double digit lead.
So now we move to ALL the other states Trump HAS to SWEEP in order for my pathways to even be considered, he WILL NOT, NOT NOT sweep all these, but again, I am giving them ALL to Trump to show you how hard it is for him to win EVEN with all these.
Trump MUST SWEEP:
NEVADA
ARIZONA
TEXAS
IOWA
MISSOURI
INDIANA
OHIO
FLORIDA
GEORGIA
NORTH CAROLINA
ALASKA
he loses ANY, any one
its impossible for Clinton to not hit 270 and thus win. No way will he sweep those, but lets just say he does
now here the only 6 scenarios left, literally
and
ALL these include NEW HAMPSHIRE going to Trump (by far the state out of all those he is doing the worst in) He loses NH, he is also toast.
If Hillary takes Nebraska 2nd district and Trump loses Maine 2nd, he is toast too
The only 270 Trump scenario
Clinton 268 Trump 270 Utah Trump ME only split Only Way Trump wins outright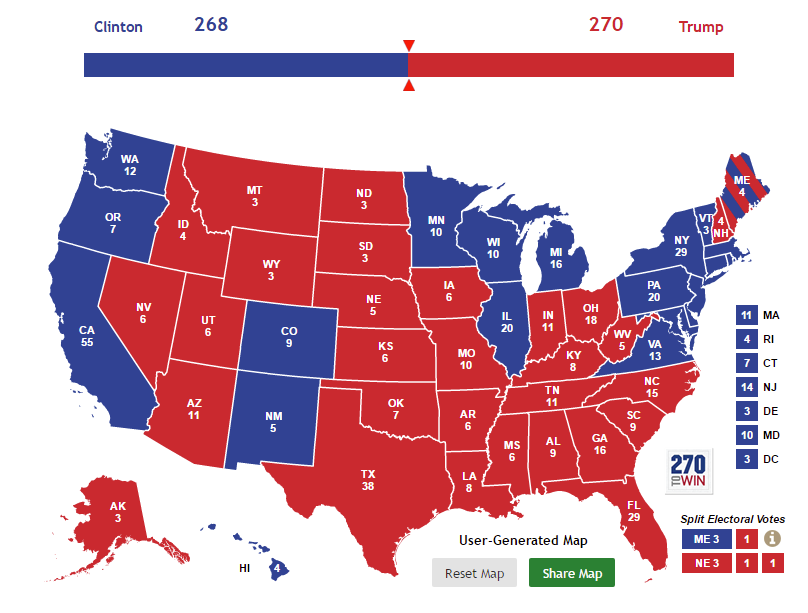 now the "House elects Trump" ones
Clinton 269 Trump 269 Utah Trump NE ME Both split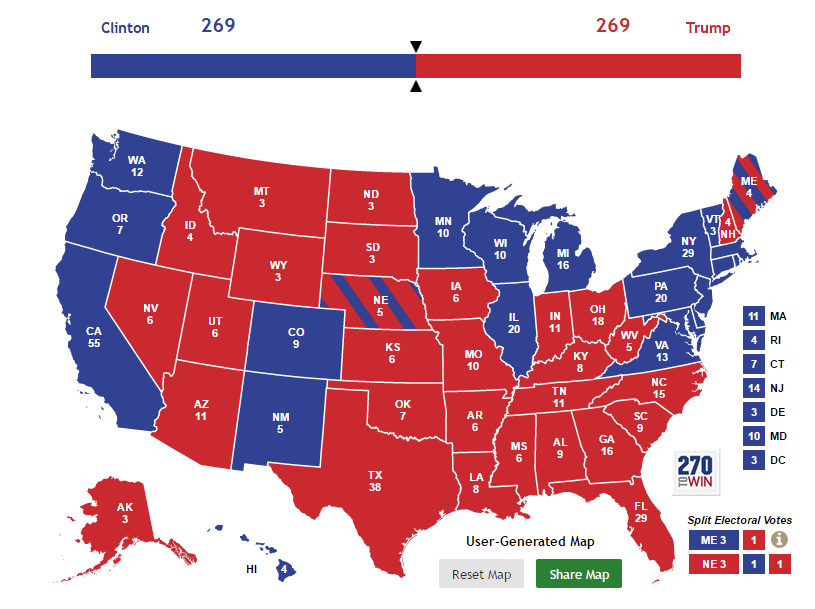 Clinton 269 Trump 269 Utah Trump NE ME no split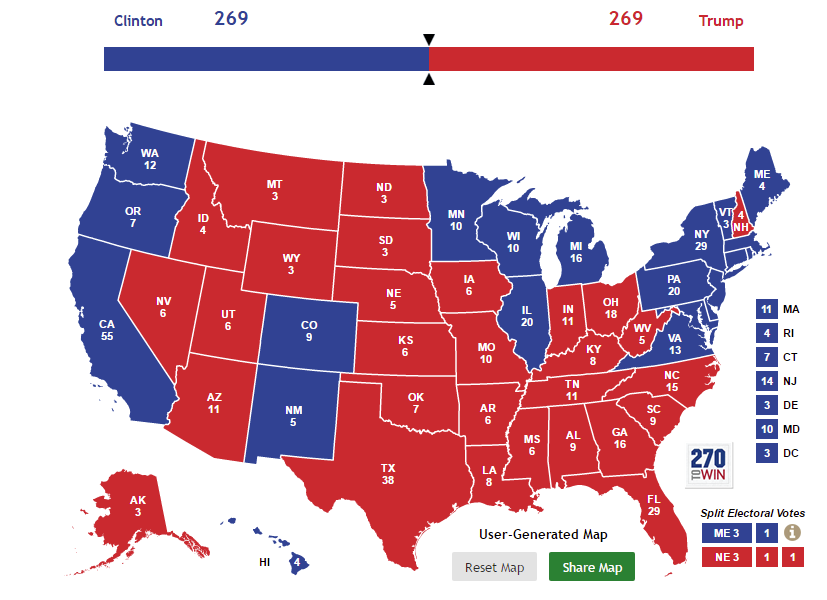 Clinton 268 Trump 264 Utah McMullin only ME split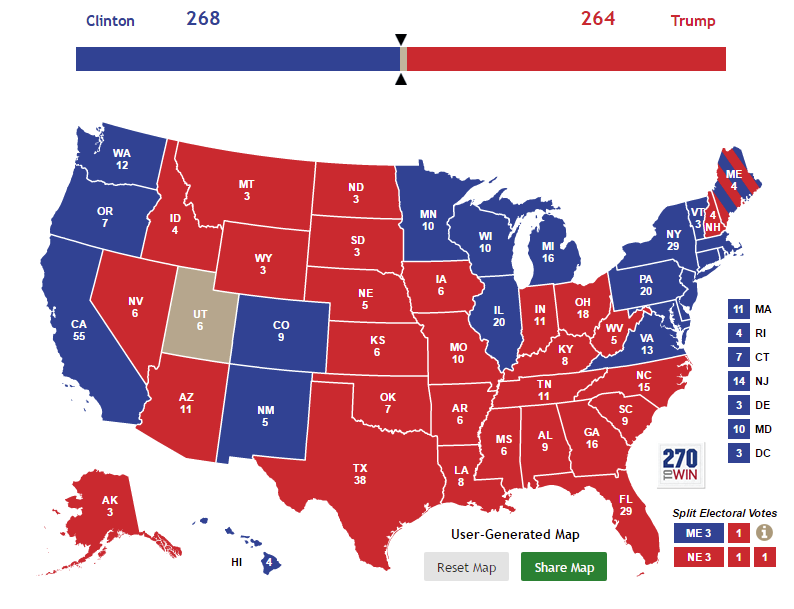 Clinton 269 Trump 263 Utah McMullin NE ME both split
Clinton 269 Trump 263 Utah McMullin NE ME no splits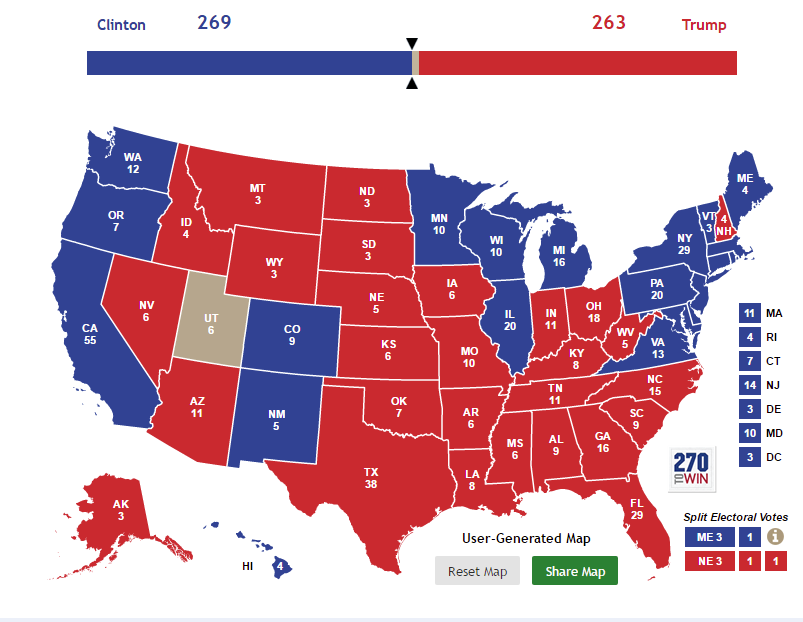 There you have it, EVERY even remotely possible way Trump could win,
He literally needs to sweep every state listed except Utah, PLUS win New Hampshire, PLUS win ME 2nd district IF Hillary wins NE 2nd district.
THERE is less than a 1% chance ALL this goes his way.
My prediction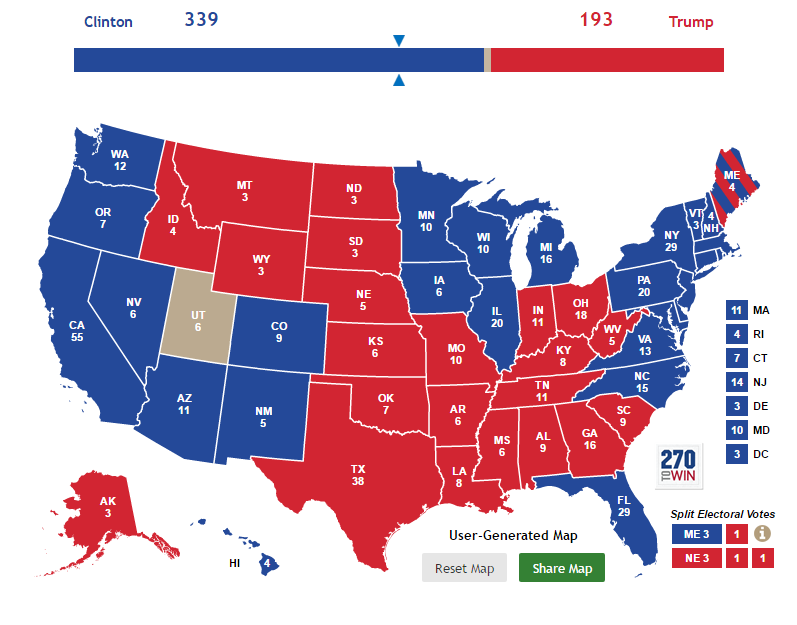 I use a RW source to prove it, as it was the only site i could find that addressed their methodologies.
Even THEY admit Remington is SHITE.
http://hotair.com/archives/2016/10/26/gop-pollster-trump-4-oh-back-3-pa/
Don't like polls from media outlets and academic institutions? Meet Remington Research, which regularly conducts polls for Axiom Strategies, a Republican-oriented consultancy. Both were founded by Jeff Roe, a longtime GOP strategist who has worked at times for Mike Huckabee and Ted Cruz, specifically on his presidential bid this cycle. Axiom has a very good success rate in Congressional elections (81% of its clients have won their elections as of early 2016), and Roe got a great deal of the credit for Cruz' surprise win in the Iowa caucuses in February.
Remington has turned its focus to swing-state polling, and finds Donald Trump up in one key state and within striking distance of Hillary Clinton in another. Both, however, raise questions about reliability.
Let's start with Ohio, where Remington finds Trump leading by four points, 46/42. In order to get there, Remington starts off with a poll sample that has an R+9 partisan composition (34/43/23). That's, um, a very optimistic election turnout model for Ohio.
George W. Bush won the state in 2004 by three points while the split was even at 37/37/26. In 2012, the most recent presidential election, Ohio had a D+7 turnout model at 38/31/31. Even with John Kasich running against the utterly inept Ed Fitzgerald in the 2014 midterms, the GOP edge in turnout was only four points at 32/36/32.
The issue of partisan composition of samples gets overused as a credibility argument, but this is notable for three reasons. One, it posits a sixteen-point swing in the gap in turnout model from the previous presidential election, which seems highly unlikely. Second, this is precisely the issue that Trump's supporters make when dismissing other polls. Third, with an R+9 turnout model in a state that traditionally leans GOP, we should see a much larger lead if Trump really is generating that kind of turnout among Republican voters — especially if he's winning Hamilton County (Cincinnati) by 13 points and getting 19% of the African-American vote. Those should add up to a Kasich-scale landslide, not a just-outside-the-MoE lead.
Pennsylvania's results seem a little more credible, but still have issues. Hillary leads 45/42, but only leads in Philadelphia by 56/32, a county won by Obama 85/14 on his way to a 5-point win in 2012.
Again, Remington has Trump winning a much higher percentage of the African-American vote than any Republican has in decades (29%, compared to Romney's 7% and George W. Bush's 16%). Those two data points alone suggest that Trump should be doing better than 42% overall, a lower figure than either Romney or Bush eventually got. The partisan breakdown in this poll is much more reasonable (D+6, 48/42/10), but Hillary's thin six-point margin among women seems a little suspect, too.
snip
http://fusion.net/story/360141/trump-drain-the-swamp-campaign-slogan-origin/
Donald Trump has a new favorite saying to describe the way he wants to bring change to Washington: "#DrainTheSwamp." He's been tweeting it a whole bunch this last week.
After Trump made the slogan "America First"—a phrase used by a handful of proto-fascists who opposed war with Germany in the 1930s and '40s—a centerpiece of his campaign, he eventually said he didn't care about the historical roots of the term. "Drain the swamp," too, is loaded down with the weight of its history: What Trump probably doesn't realize is that the phrase "drain the swamp" actually has a long history in socialist organizing. That's right, pinkos.
As etymologist Barry Popik noted on his blog in 2010, some of the earliest uses and potential coinages of the phrase "drain the swamp" come from anti-capitalist organizers around the turn of the century who were describing their plans to drive capitalists out of Washington, D.C.
Back then swamp draining was a well-known method for reducing the mosquito population to combat outbreaks of malaria. On the heels of the nation's first major financial crises, the Panic of 1907, socialist organizers began to think of the proponents of financial capitalism as disease-ridden mosquitos, and the nation's marshy capital on the Potomac River as a swamp.
In 1912 Victor Berger, a founding member of both the Social Democratic Party of America and the Socialist Party of America, wrote the following about capitalism and speculation: "So [speculation] is another evil that is inherent in this system. It cannot be avoided any more than malaria in a swampy country. And the speculators are the mosquitos. We should have to drain the swamp—change the capitalist system—if we want to get rid of those mosquitos."
snip
Source:
Associated Press
WASHINGTON (AP) -- Premiums will go up sharply next year under President Barack Obama's health care law, and many consumers will be down to just one insurer, the administration confirmed Monday. That will stoke another "Obamacare" controversy days before a presidential election.
Before taxpayer-provided subsidies, premiums for a midlevel benchmark plan will increase an average of 25 percent across the 39 states served by the federally run online market, according to a report from the Department of Health and Human Services. Some states will see much bigger jumps, others less.
Moreover, about 1 in 5 consumers will only have plans from a single insurer to pick from, after major national carriers such as UnitedHealth Group, Humana and Aetna scaled back their roles.
"Consumers will be faced this year with not only big premium increases but also with a declining number of insurers participating, and that will lead to a tumultuous open enrollment period," said Larry Levitt, who tracks the health care law for the nonpartisan Kaiser Family Foundation.
snip
Read more:
http://hosted.ap.org/dynamic/stories/U/US_HEALTH_OVERHAUL_PREMIUMS?SITE=AP&SECTION=HOME&TEMPLATE=DEFAULT&CTIME=2016-10-24-17-03-27
---
Single payer is the only answer for this. Assuming we take back the Senate (I am looking at 51 to 53 Dems, depending on PA and NC) and gain 15 to 20 or so in the House (not control, unfortunately) there is a 2 year window to get this done. 2018 will probably be a Senate election problem for us, so the chances after that will be grim.
We will have 10 or 11 hard races, all defending seats, many in red or pink states, all in an off year, all in a 3rd consecutive term of Dem POTUS's.
FL Bill Nelson
IN Joe Donnelly
MI Debbie Stabenow (safest of these 11)
MO Claire McCaskill
MT Jon Tester
ND Heidi Heitkamp
NJ Bob Menendez (mainly due to his criminal case, if it is not resolved and he runs still)
PA Bob Casey
VA Tim Kaine (will be another Dem, due to VP)
WI Tammy Baldwin
WV Joe Manchin
then these
NM Martin Heinrich (safe unless Susanna Martinez, who is termed out, runs)
OH Sherrod Brown (safe unless termed out Kasich runs for Senate)
The main Rethug seat we can realistically flip is
NV Dean Heller
Maybe Flake in AZ
https://www.theguardian.com/books/2016/oct/21/wonder-woman-un-ambassador-staff-protest
"This is the most fun the UN has had, I'm pretty sure right?" Diane Nelson, president of DC Entertainment said at a ceremony appointing Wonder Woman as the United Nations' honorary ambassador for the empowerment of women and girls. The ceremony was meant to honor the fight for gender equality and the 75th anniversary of the character.
Not all agreed with her sentiment, as UN staff members protested against the appointment both inside the event and in the lobby of the building. It was announced that
Wonder Woman would become an honorary ambassador earlier this month
, in support of the UN's sustainable development goal number five – "to achieve gender equality and empower all women and girls". The sustainable
development goals were adopted by the UN in 2015
and hope to fulfill their agenda by 2030.
The news was met with both praise and criticism,
and a petition was created by "Concerned United Nations staff members" asking
the UN secretary general to reconsider. It mentioned concerns over her "overtly sexualized image" that is not "culturally encompassing or sensitive".
"The bottom line appears to be that the United Nations was unable to find a real-life woman that would be able to champion the rights of ALL women on the issue of gender equality and the fight for their empowerment. The United Nations has decided that Wonder Woman is the role model that women and girls all around the world should look up to," the petition read.
snip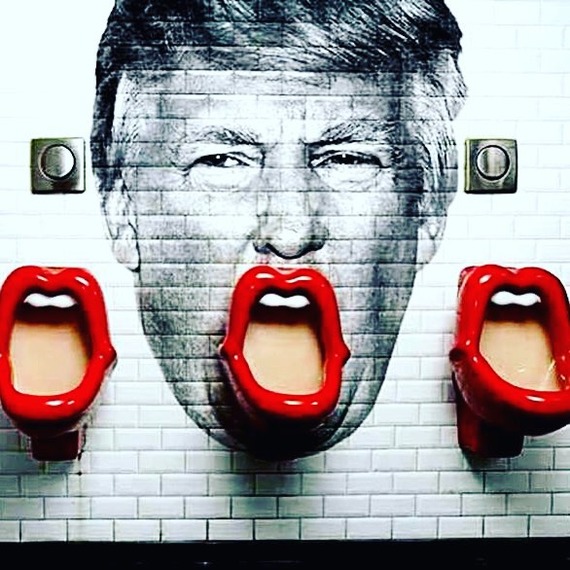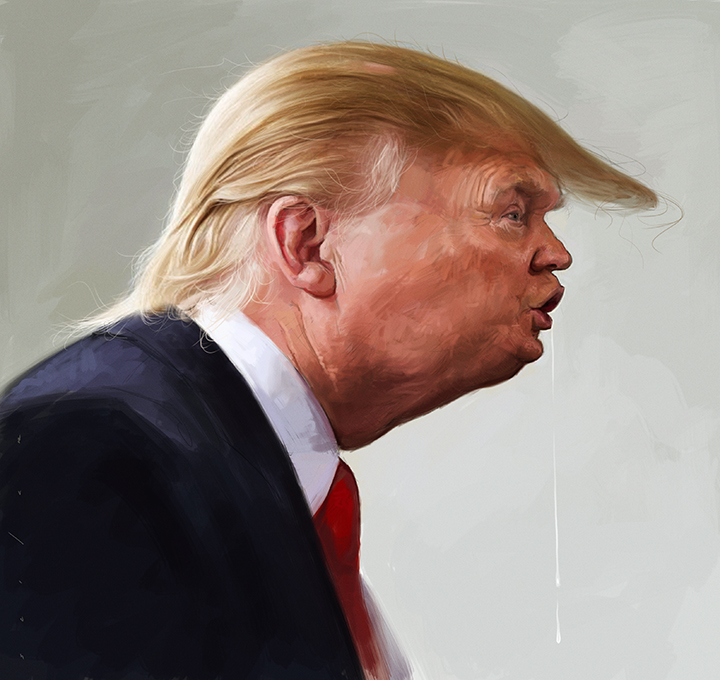 Trump Rendered In Actual Pig Guts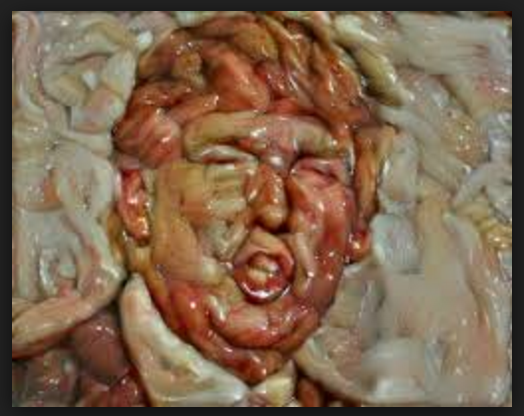 Source:
The Guardian
The government does not have legal authority to use royal prerogative powers to trigger Brexit without parliamentary approval, the high court has been told. In opening arguments over who should initiate the UK's departure from the EU, Lord Pannick QC, who represents the lead challenger in the claim, Gina Miller, said formal notification by ministers alone would undermine parliament and "deprive people of their statutory rights".
Three of the most senior judges – the lord chief justice, Lord Thomas of Cwmgiedd, the master of the rolls, Sir Terence Etherton, and Lord Justice Sales – are hearing the challenge, which could have far-reaching political and constitutional effects. At issue is who has the power to give the EU formal notification of the UK's intention to leave under article 50 of the treaty on European Union.
"Notification," Pannick said, "is pulling the trigger and once pulled the bullet hits the target. It inevitably leads to the consequence that the [European Communities Act 1972] ceases to apply.
"This is not simply action on the international plane … It leads to the removal of a whole series of important rights whatever parliament may think about it later." He added: "Prerogative powers may not be used by the minister [David Davis, the Brexit secretary] to remove rights established by the act of parliament."
Read more:
https://www.theguardian.com/politics/2016/oct/13/government-cannot-trigger-brexit-without-mps-backing-court-told-article-50
http://www.huffingtonpost.com/leo-w-gerard/donald-trump-the-american_b_12419958.html
On Sept. 2, a tarp covering part of the Liberty Bridge in Pittsburgh caught fire during repair work. The flames enveloped a steel beam that buckled and nearly caused the entire 88-year-old structure to collapse. A town already racked by hard-to-navigate streets and limited access into downtown was then thrown into mass chaos for more than three weeks while the bridge was closed and workers frantically fixed the damage.
The reopening was delayed multiple times, and the construction company was fined $8,400 each hour the span remained closed. By the time the bridge finally opened, the penalty had reached over $5 million, not to mention the unknown cost of Yinzer (A.K.A. Pittsburgher) angst and fury.
This whole situation not only epitomizes the disaster that is America's aging and disintegrating infrastructure, but it also symbolizes the horror of a possible Donald Trump presidency.
Trump says he's going to make America a country that makes things again and those things will be used to rebuild what he calls the nation's "horrible, horrible third-world" infrastructure. The problem is that his infrastructure improvement plan, like his economic restoration plan and all of his other so-called plans, is a giant fail.
snip