Thu Jun 21, 2018, 09:03 AM
IronLionZion (36,336 posts)
The health care industry needs workers. So it's turning to former factory and retail workers [View all]
http://money.cnn.com/2018/06/21/news/economy/health-care-worker-shortage-ohio/index.html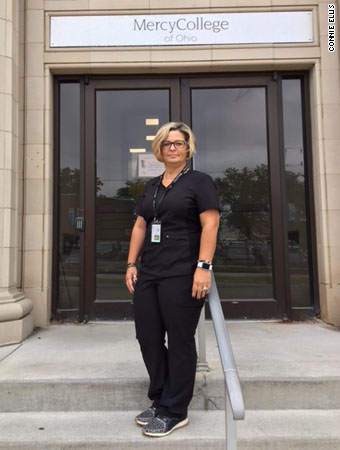 Connie Ellis had been working at railroad operator CSX Corp. for seven years when she accepted a buyout package and left the company.
In the three years since, she's worked as a janitor at a local college, then as a quality manager at an auto supplier. But she wanted a position that offered a lot more job security - and better pay than those jobs.
When she heard about the growing demand for health care workers, she started looking around and found Mercy College of Ohio about 10 minutes away.
The school, which is based in Toledo, specializes in health sciences and offers 16 programs that train students for a variety of medical professions, including certificate programs that can be completed in as little as one semester to master's degrees.
At job fairs and community events, Mercy College's recruiters are seeking out students from a variety of fields, but especially the manufacturing and retail sectors -- which have been hit by layoffs after big companies like General Motors, DHL and Toys R Us left scores of people looking for work.
That could prove to be a real boon for the area's health care system, said Jason Theadore, vice president of ambulatory services and business development with Mercy Health, which partners with the college and operates 23 hospitals and 500 health care centers throughout the state.
This is a great option for many liberals looking to improve their station in life while conservatives wait patiently for Trump's imaginary jobs to never come back and get rid of those job stealing immigrants.
I grew up in Appalachian Trump country. I've noticed a big improvement in attitude and quality of life for the laid off workers who retrained for health care jobs vs the ones who blame immigrants. There just aren't very many immigrants in Appalachia and approximately 0 working in coal mines.
12 replies, 938 views
Replies to this discussion thread
12 replies
Author
Time
Post

The health care industry needs workers. So it's turning to former factory and retail workers

[View all]

IronLionZion
Jun 2018
OP
MineralMan
Jun 2018
#1
IronLionZion
Jun 2018
#4
MineralMan
Jun 2018
#10
IronLionZion
Jun 2018
#12
mitch96
Jun 2018
#7
WhiskeyGrinder
Jun 2018
#2
IronLionZion
Jun 2018
#3
Sherman A1
Jun 2018
#5
IronLionZion
Jun 2018
#6
Sherman A1
Jun 2018
#8
IronLionZion
Jun 2018
#9
Sherman A1
Jun 2018
#11