Sun Nov 11, 2018, 01:01 PM
Kind of Blue (8,709 posts)
The Africans who fought in WWI and WWII [View all]
When the major powers of Europe went to war in 1914, so too did half the globe. France and Britain controlled the world's two largest colonial empires and were quick to draw upon their resources – and their people.

More than four million non-European, non-white soldiers and auxiliaries would serve in WW1. Over a quarter of these soldiers would end up in the battlefields of northern France and Belgium, braving a new type of industrial warfare for which they were often ill-equipped and inadequately trained. They would prove vital in holding the front lines. But the fascinating story of what played out behind the trenches is rarely told. For four years, the tented cities of the Western Front would be the setting for a world in miniature. Against the backdrop of war, soldiers also navigated the cultural battlegrounds and the no-man's land of race relations at the dawn of the 20th Century.
Pretty thorough report and fantastic photos of all the fighting men from the colonies here
http://www.bbc.co.uk/guides/z2bgr82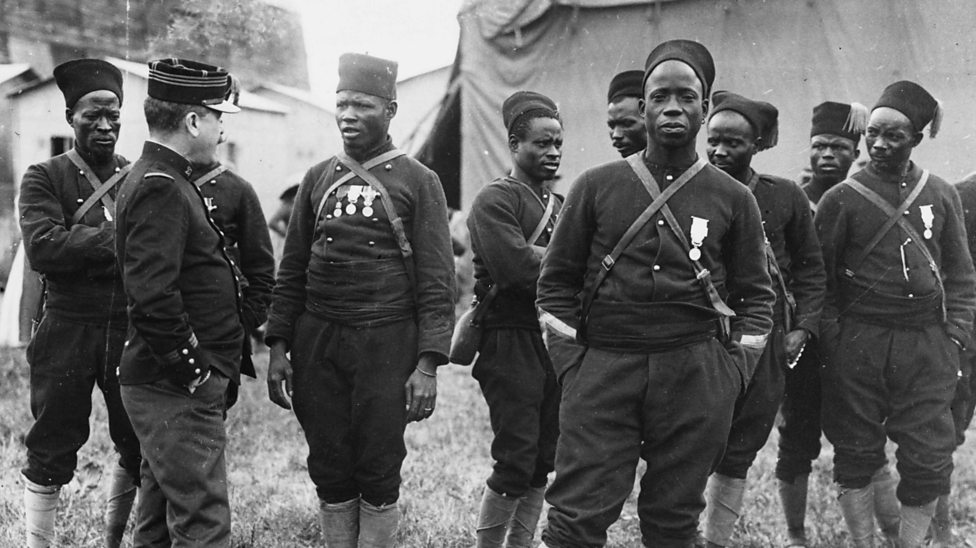 WWII
How many now recall the role of more than one million African troops? Yet they fought in the deserts of North Africa, the jungles of Burma and over the skies of Germany. A shrinking band of veterans, many now living in poverty, bitterly resent being written out of history. For Africa, World War II began not in 1939, but in 1935.
http://news.bbc.co.uk/2/hi/africa/8344170.stm
Jagama Kello, middle, left home at just 15 to fight Italian invaders
John Henry Smythe, left, read Hitler's Mein Kampf before joining the RAF
2010
For most of the 20th century, France recruited, usually forcibly, men from its colonies in Africa fight its battles around the world. From the first world war in 1914 to the Indochina wars and Algeria's fight for independence in the 1950s and 1960s, hundreds of thousands of Africans soldiers fought under the French flag. They were called tirailleurs, or "sharpshooters," a name to mock their limited training. Decades later, 28 of these former soldiers were recognized in a ceremony on April 15 where they were given French citizenship. Many of them were from Senegal, a country that sent more than a third of all of its military- age men to France to fight during World War I.

A group of West African soldiers stationed at camp in Thiaroye, Senegal, mutinied in 1944, demanding equal pay and the same treatment as their French counterparts. French soldiers fired on them, killing up to 400 men. Their mass grave still hasn't been found.

Over the past few decades, activists have gained some ground. The 2006 French film "Indigènes," about a group of North African soldiers in France during World War II, dramatized the contributions of colonial soldiers in France's liberation. More than half of French forces in Italy and France between 1943 and 1944 came from African colonies, and at least 40,000 died.
https://qz.com/africa/960851/france-gives-citizenship-and-full-pensions-to-african-soldiers-who-fought-its-20-century-wars/


32 replies, 2860 views
Replies to this discussion thread
32 replies
Author
Time
Post

The Africans who fought in WWI and WWII

[View all]

Kind of Blue
Nov 2018
OP
HipChick
Nov 2018
#1
dalton99a
Nov 2018
#2
Kind of Blue
Nov 2018
#3
Brother Buzz
Nov 2018
#4
Kind of Blue
Nov 2018
#5
Brother Buzz
Nov 2018
#6
Kind of Blue
Nov 2018
#7
Brother Buzz
Nov 2018
#9
Kind of Blue
Nov 2018
#13
Docreed2003
Nov 2018
#30
Brother Buzz
Nov 2018
#31
Docreed2003
Nov 2018
#32
Retrograde
Nov 2018
#8
Kind of Blue
Nov 2018
#12
Sunlei
Nov 2018
#10
Kind of Blue
Nov 2018
#14
Wounded Bear
Nov 2018
#11
Kind of Blue
Nov 2018
#15
Hortensis
Nov 2018
#16
Kind of Blue
Nov 2018
#17
Hortensis
Nov 2018
#18
Kind of Blue
Nov 2018
#20
Hortensis
Nov 2018
#21
Kind of Blue
Nov 2018
#23
Hortensis
Nov 2018
#24
Kind of Blue
Nov 2018
#25
Hortensis
Nov 2018
#28
oasis
Nov 2018
#19
Maru Kitteh
Nov 2018
#22
Pope George Ringo II
Nov 2018
#26
Kind of Blue
Nov 2018
#27
ismnotwasm
Nov 2018
#29