Fri Jun 5, 2020, 08:37 AM
kpete (68,286 posts)
Holy cow-City of DC is out here on 16th street behind WH painting BLACK LIVES MATTER onto streets [View all]
Last edited Fri Jun 5, 2020, 12:29 PM - Edit history (1)
Washington DC paints a giant 'Black Lives Matter' message on the road to the White House
By AJ Willingham, CNN
Updated 9:28 AM ET, Fri June 5, 2020
(CNN)Washington DC is painting a message in giant, yellow letters down a busy DC street ahead of a planned protest this weekend: BLACK LIVES MATTER.
The massive banner-like project spans two blocks of 16th Street, a central axis that leads southward straight to the White House. Each of the 16 bold, yellow letters spans the width of the two-lane street, creating an unmistakable visual easily spotted by aerial cameras and virtually anyone within a few blocks.
The painters were contacted by DC Mayor Muriel Bowser and began work early Friday morning, the mayor's office told CNN.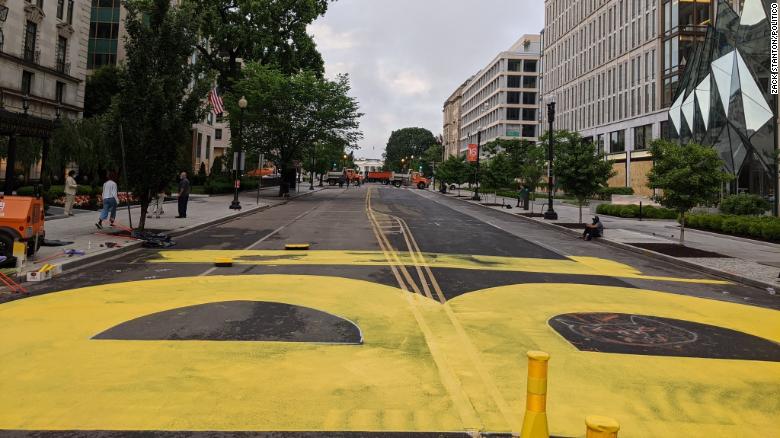 Holy cow. The city of DC is out here on 16th street behind the White House painting BLACK LIVES MATTER onto the streets — that it owns — stretching all the way to k Street.
Link to tweet
?s=20
https://www.cnn.com/2020/06/05/us/black-lives-matter-dc-street-white-house-trnd/index.html
Link to tweet
?s=20
UPDATED TO ADD:
https://www.popville.com/2020/06/vigil-against-racism-starts-at-545pm-on-16th-street-nw/
44 replies, 8170 views
Replies to this discussion thread
44 replies
Author
Time
Post

Holy cow-City of DC is out here on 16th street behind WH painting BLACK LIVES MATTER onto streets

[View all]

kpete
Jun 2020
OP
Voltaire2
Jun 2020
#1
GoCubsGo
Jun 2020
#2
blaze
Jun 2020
#3
csziggy
Jun 2020
#29
SheltieLover
Jun 2020
#5
GoCubsGo
Jun 2020
#8
SheltieLover
Jun 2020
#28
Lonestarblue
Jun 2020
#10
demmiblue
Jun 2020
#4
KY_EnviroGuy
Jun 2020
#6
fishwax
Jun 2020
#7
Scarsdale
Jun 2020
#9
Alex4Martinez
Jun 2020
#11
KS Toronado
Jun 2020
#12
IronLionZion
Jun 2020
#13
LiberalArkie
Jun 2020
#14
BigmanPigman
Jun 2020
#35
CatWoman
Jun 2020
#15
MineralMan
Jun 2020
#16
N_E_1 for Tennis
Jun 2020
#25
SeattleVet
Jun 2020
#31
burrowowl
Jun 2020
#41
SoonerPride
Jun 2020
#17
Old Crow
Jun 2020
#18
Yonnie3
Jun 2020
#21
SoonerPride
Jun 2020
#23
Yonnie3
Jun 2020
#19
crickets
Jun 2020
#26
EndlessWire
Jun 2020
#27
HAB911
Jun 2020
#20
grumpyduck
Jun 2020
#22
cate94
Jun 2020
#24
Nevilledog
Jun 2020
#30
OverBurn
Jun 2020
#32
Karadeniz
Jun 2020
#33
BigmanPigman
Jun 2020
#34
stopwastingmymoney
Jun 2020
#36
slack-bot
Jun 2020
#37
calimary
Jun 2020
#39
slack-bot
Jun 2020
#44
calimary
Jun 2020
#38
musicblind
Jun 2020
#40
DeSmet
Jun 2020
#42
Chemisse
Jun 2020
#43