Mon Aug 3, 2020, 04:25 PM
TheBlackAdder (18,177 posts)
Jerry Falwell Jr. Posted -- Then Deleted -- a Bizarre 'Vacation Photo' From Instagram [View all]
.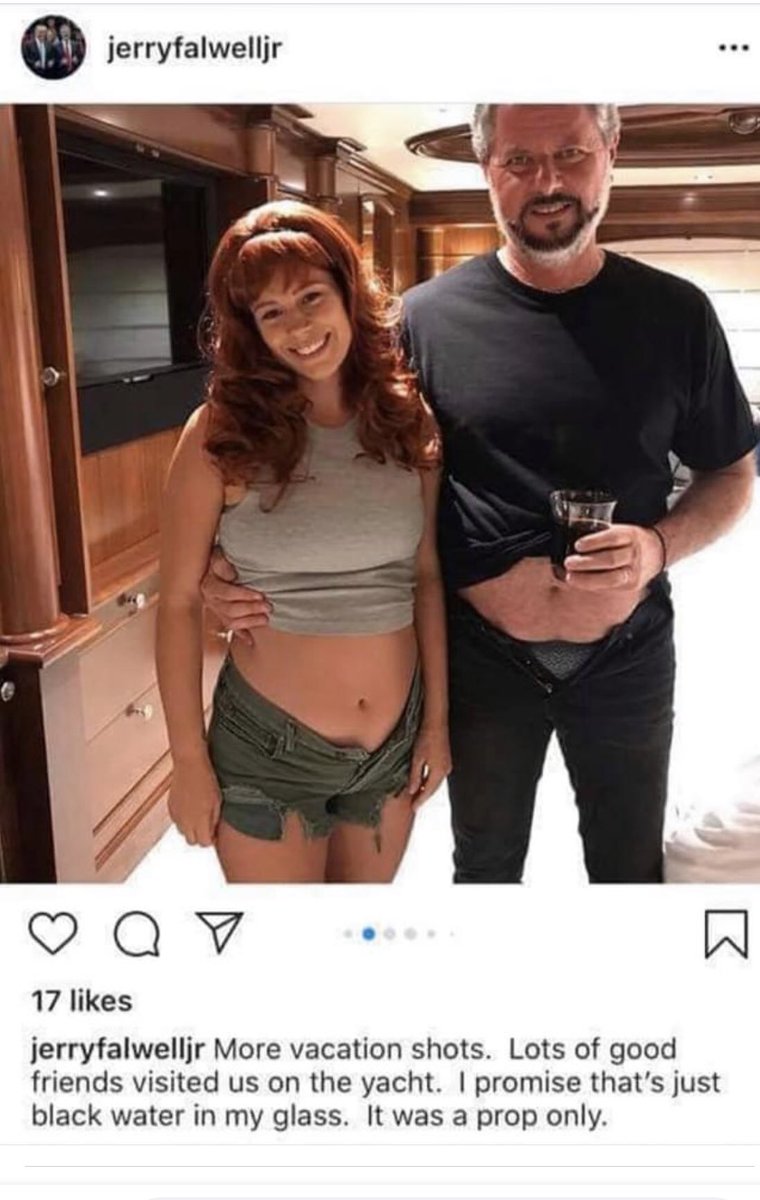 Liberty University President Jerry Falwell Jr. posted — and then apparently deleted — a bizarre Instagram post in which he appeared with his shirt hiked up and his pants unzipped, standing next to a woman identified as a "friend." In the caption, Falwell wrote the drink he was holding was "just black water" and a "prop only."
The post was captured by Houston Chronicle reporter Robert Downen before it was deleted. The caption says that "Lots of good friends visited us on the yacht."
.
.
.
In the hours after the screenshot of the photo was posted, Falkirk Center fellow Malachi O'Brien tweeted that the photo was "not President Falwell." The Falkirk Center is the conservative thinktank Falwell started in partnership with Turning Point USA founder Charlie Kirk. O'Brien deleted that tweet and posted an update, confirming "it was Jerry."
O'Brien also said that the photo in question was "taken out of context of the other photos w/ it."
"What it was was being used to imply is ungodly & seems to have been posted out of context for that reason," O'Brien tweeted.
Give Me Liberty-Post Grad
@People_Of_LU
·
20h
Imagine posting this while living on the dorms.

This would have been at least one required meeting with the office of student leadership or Resident Director

I'm not for legalism, but I do think we should keep figureheads accountable for how they represent their community


Link to tweet




More at the jump:
https://relevantmagazine.com/current/jerry-falwell-jr-posted-then-deleted-a-bizarre-vacation-photo-from-instagram
Rum can really fuck someone up.
.
103 replies, 7014 views
Replies to this discussion thread
103 replies
Author
Time
Post

Jerry Falwell Jr. Posted -- Then Deleted -- a Bizarre 'Vacation Photo' From Instagram

[View all]

TheBlackAdder
Aug 3
OP
Loki Liesmith
Aug 3
#1
Goodheart
Aug 3
#7
Loki Liesmith
Aug 3
#35
StClone
Aug 3
#61
Greg K
Aug 3
#79
Loki Liesmith
Aug 3
#93
sarcasmo
Aug 3
#41
TheBlackAdder
Aug 3
#47
Volaris
Aug 3
#85
zaj
Aug 3
#82
TheBlackAdder
Aug 3
#97
yellowcanine
Aug 3
#2
slumcamper
Aug 3
#60
crickets
Aug 3
#72
Eliot Rosewater
Aug 3
#3
Srkdqltr
Aug 3
#4
3catwoman3
Aug 3
#67
mr_lebowski
Aug 3
#5
demmiblue
Aug 3
#14
mr_lebowski
Aug 3
#26
demmiblue
Aug 3
#32
mr_lebowski
Aug 3
#33
demmiblue
Aug 3
#34
mr_lebowski
Aug 3
#40
Historic NY
Aug 3
#6
a kennedy
Aug 3
#91
CurtEastPoint
Aug 3
#8
WinstonSmith4740
Aug 3
#48
yellowcanine
Aug 3
#9
dchill
Aug 3
#10
yellowcanine
Aug 3
#19
dchill
Aug 3
#20
LonePirate
Aug 3
#11
yellowcanine
Aug 3
#12
Dread Pirate Roberts
Aug 3
#13
renate
Aug 3
#84
spanone
Aug 3
#15
yellowcanine
Aug 3
#16
underpants
Aug 3
#22
skypilot
Aug 3
#54
Generic Brad
Aug 3
#87
SergeStorms
Aug 3
#74
procon
Aug 3
#17
BlancheSplanchnik
Aug 3
#69
jcgoldie
Aug 3
#88
KY_EnviroGuy
Aug 3
#18
yellowcanine
Aug 3
#21
SergeStorms
Aug 3
#78
yellowcanine
Aug 4
#99
SergeStorms
Aug 4
#102
Doremus
Aug 3
#23
GeorgeGist
Aug 3
#24
Yeehah
Aug 3
#25
onethatcares
Aug 3
#27
bpj62
Aug 3
#28
bpj62
Aug 3
#29
PCIntern
Aug 3
#30
mr_lebowski
Aug 3
#38
Vinca
Aug 3
#31
blogslut
Aug 3
#36
blueinredohio
Aug 3
#37
WinstonSmith4740
Aug 3
#39
yellowcanine
Aug 3
#42
WinstonSmith4740
Aug 3
#58
Initech
Aug 3
#43
bucolic_frolic
Aug 3
#44
safeinOhio
Aug 3
#45
StarryNite
Aug 3
#50
3catwoman3
Aug 3
#77
Grammy23
Aug 3
#46
yellowcanine
Aug 3
#52
phylny
Aug 3
#89
Sophia_Of_PlanetX
Aug 3
#49
marble falls
Aug 3
#51
Brainfodder
Aug 3
#53
Tiger8
Aug 3
#55
Progressive Jones
Aug 3
#56
StarryNite
Aug 3
#65
Progressive Jones
Aug 3
#66
TheBlackAdder
Aug 3
#68
StarryNite
Aug 3
#70
TheBlackAdder
Aug 3
#71
StarryNite
Aug 3
#81
SergeStorms
Aug 3
#80
oldsoftie
Aug 3
#83
TheBlackAdder
Aug 3
#96
Marcuse
Aug 3
#57
Captain Zero
Aug 3
#59
phylny
Aug 3
#90
Miigwech
Aug 3
#62
Ford_Prefect
Aug 3
#63
Upthevibe
Aug 3
#64
lonely bird
Aug 3
#73
Kid Berwyn
Aug 3
#75
Sancho
Aug 3
#76
Person of Interest
Aug 3
#86
kacekwl
Aug 3
#92
North Shore Chicago
Aug 3
#94
jmowreader
Aug 3
#95
JI7
Aug 3
#98
Iggo
Aug 4
#100
intheflow
Aug 4
#101
yellowcanine
Aug 4
#103