Sat Sep 26, 2020, 11:42 PM
UTUSN (62,303 posts)
Got my Vietnam commemorative lapel pin with a "proclamation" by SHITLER - ripped it like the Speaker [View all]
Besides the *fifty years* of "appreciation," it took an extra six months to get it from my Blue Dog congresscritter. I first heard there was such a pin over six months ago when the real Dem in the district next-door was in the news delivering the pins over there. So because of turf, had to get mine under the special graces of *my* critter. Leaving out the copious details besides the first quarantine, my status contacts with the staffer became a sort of virtual friendship, with all the postponements - no, the pin could NOT be mailed or picked up at the local office by me, had to give the critter his veterans photo op.
Well, finally the ceremonial delivery was held with all options of drive-through with masks, in-person with masks, streaming video, or snail mail of the pin. I chose snail mail.
Well, I thought the mailing could happen anytime but no, it had to be AFTER the ceremony. Fine. So I thought 2-3 days arrival, *no*!1 The staffer said there was a delay in getting "the package" together (huh?) so would be a week or so.
Well, I was expecting just the lapel pin, but no, here arrived a letter from the congresscritter under separate cover, plus a large plastic envelop containing not only the tiny pin, but a letter sized vinyl holder with a certificate and some kind of other letter-sized commemoration deal. Fine.
I was focused on the pin and that the certificate left off my middle initial and only glanced at the other letter-sized deal, and went to do chores. Later, I looked things over again and something CAUGHT MY EYE: A *scrawl* at the bottom of the letter thing. My mind ZOOMED to those obnoxious signing photo-ops with SHITLER scrawling himself ridiculously, and screwing my eyes to check it, sure enough, it was a "proclamation from the potus" with his freaking scrawl at the bottom.
Besides the revulsion of HIM in everything about him, it was an insult that Poor Little Bone Spurs had the gall to send a piece of toilet paper to me. I immediately removed it from the holder and will rip it up after showing it to people like Speaker PELOSI with his so-called state of the union thing. Am going to tell the staffer. Feast your eyes: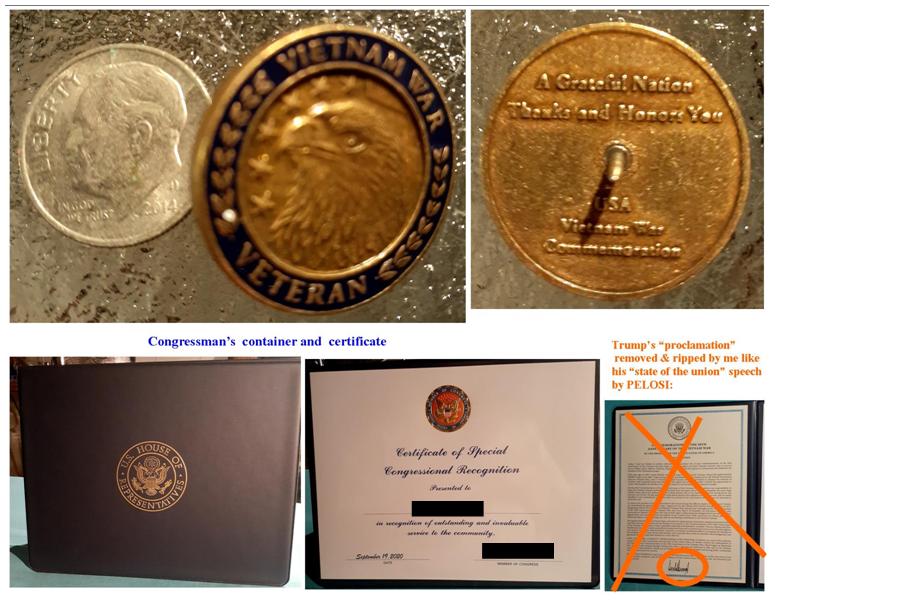 15 replies, 916 views
Replies to this discussion thread
15 replies
Author
Time
Post

Got my Vietnam commemorative lapel pin with a "proclamation" by SHITLER - ripped it like the Speaker

[View all]

UTUSN
Sep 2020
OP
dweller
Sep 2020
#1
UTUSN
Sep 2020
#2
denbot
Sep 2020
#9
SeattleVet
Sep 2020
#3
UTUSN
Sep 2020
#4
TreasonousBastard
Sep 2020
#5
UTUSN
Sep 2020
#6
sprinkleeninow
Sep 2020
#7
sprinkleeninow
Sep 2020
#8
UTUSN
Sep 2020
#10
sprinkleeninow
Sep 2020
#14
UTUSN
Sep 2020
#11
JustABozoOnThisBus
Sep 2020
#12
pwb
Sep 2020
#13
sprinkleeninow
Sep 2020
#15