Fri Apr 23, 2021, 06:55 AM
underpants (164,771 posts)
We made Oxygen!!!! On Mars!!! With a toaster sized thingy! [View all]
Sorry I didnít see this yesterday
Perseverance rover just made oxygen on Mars


https://www.cnn.com/2021/04/22/world/mars-rover-oxygen-moxie-scn/index.html
The rover on Tuesday successfully converted some of the plentiful carbon dioxide on Mars into oxygen as a first test of its MOXIE instrument. The name MOXIE is short for Mars Oxygen In-Situ Resource Utilization Experiment.
After warming up for about two hours, MOXIE produced 5.4 grams of oxygen. This is enough to sustain an astronaut for about 10 minutes.
The instrument is about the size of a toaster, and it's a technology demonstration installed on the rover. If this experiment is successful, it could assist with human exploration of Mars in the future.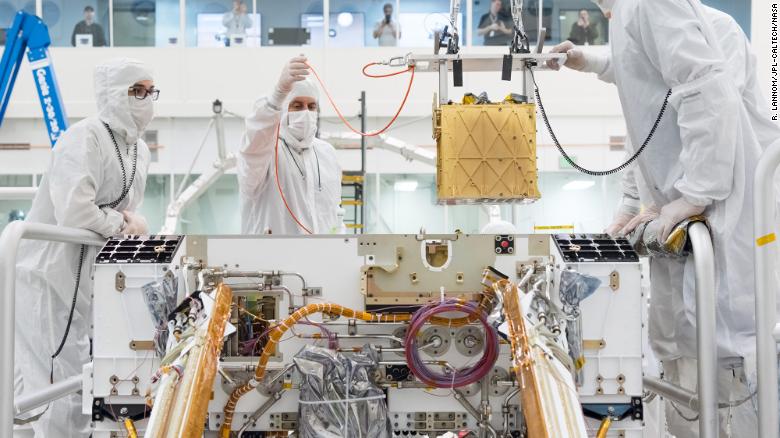 55 replies, 2889 views
Replies to this discussion thread
55 replies
Author
Time
Post

We made Oxygen!!!! On Mars!!! With a toaster sized thingy!

[View all]

underpants
Apr 2021
OP
largeststage
Apr 2021
#1
niyad
Apr 2021
#13
lagomorph777
Apr 2021
#34
gopiscrap
Apr 2021
#53
electric_blue68
Apr 2021
#2
Duncanpup
Apr 2021
#3
mahatmakanejeeves
Apr 2021
#22
panader0
Apr 2021
#25
underpants
Apr 2021
#42
johnthewoodworker
Apr 2021
#4
Harker
Apr 2021
#24
kentuck
Apr 2021
#5
bucolic_frolic
Apr 2021
#6
Elessar Zappa
Apr 2021
#8
NurseJackie
Apr 2021
#12
mac2766
Apr 2021
#15
Tom Rinaldo
Apr 2021
#19
onethatcares
Apr 2021
#27
mac2766
Apr 2021
#28
lastlib
Apr 2021
#30
mac2766
Apr 2021
#35
Hiawatha Pete
Apr 2021
#18
Calista241
Apr 2021
#51
Irish_Dem
Apr 2021
#29
Agschmid
Apr 2021
#32
Victor_c3
Apr 2021
#39
CaptainTruth
Apr 2021
#46
llmart
Apr 2021
#54
Throck
Apr 2021
#7
meadowlander
Apr 2021
#9
Midnight Writer
Apr 2021
#47
edbermac
Apr 2021
#10
Ace Rothstein
Apr 2021
#16
Carlitos Brigante
Apr 2021
#23
greenjar_01
Apr 2021
#45
kentuck
Apr 2021
#11
samnsara
Apr 2021
#14
speak easy
Apr 2021
#21
abqtommy
Apr 2021
#17
speak easy
Apr 2021
#20
tanyev
Apr 2021
#26
Takket
Apr 2021
#31
jcboon
Apr 2021
#33
3825-87867
Apr 2021
#36
Botany
Apr 2021
#37
Wounded Bear
Apr 2021
#38
Botany
Apr 2021
#41
Wounded Bear
Apr 2021
#43
Botany
Apr 2021
#44
Brother Buzz
Apr 2021
#49
Wounded Bear
Apr 2021
#52
JustABozoOnThisBus
Apr 2021
#48
Botany
Apr 2021
#50
llashram
Apr 2021
#40
misanthrope
Apr 2021
#55