Thu Dec 27, 2012, 08:18 AM
undeterred (34,658 posts)
From protesting to legislating: Two who marched at WI Capitol set to take office [View all]
DEE J. HALL | Wisconsin State Journal | dhall@madison.com | 608-252-6132
In 2011, Melissa Sargent was among the most diehard demonstrators at the Capitol. For 50 days straight, Sargent, often accompanied by some or all of her four children, protested the policies of Gov. Scott Walker and the new Republican majority in the Legislature, whose moves to gut collective bargaining for public employees sparked mass demonstrations.
When officials locked the Capitol, Sargent said she and the kids, including the baby, Trystan, marched outside in the cold. And when the Capitol police ordered her three older boys — Devin, Bailey and Keanan — to take down their protest sign declaring "Solidarity," they refused, earning a ticket that was later dismissed.
Come January, the 43-year-old small-business owner will occupy the Capitol in a radically different way. Sargent is the newly elected representative to Madison's 48th Assembly District, whose redrawn boundaries include the city's East and North sides.
She will be joined by another protester-turned-lawmaker, Katrina Shankland, 25, who will represent the 71st Assembly District including Stevens Point and Plover. Shankland also credits the protests that rocked the Capitol with catapulting her into politics. She left her job with a renewable energy company to work "90-plus hours a week" as an organizer for the Democratic Party collecting recall signatures against Walker. Shankland testified in the middle of the night at the Assembly Democrats' 61-hour marathon hearing to oppose Walker's efforts to strip bargaining rights from most government employees. "I actually became a protester right out of the gate," Shankland said. "I was there every weekend. (And) when Act 10 came down (on March 9, 2011), I was in the Capitol."
Read more:
http://host.madison.com/news/local/govt-and-politics/from-protesting-to-legislating-two-who-marched-at-capitol-set/article_57b7883e-4fbf-11e2-a063-0019bb2963f4.html#ixzz2GFnPy0GM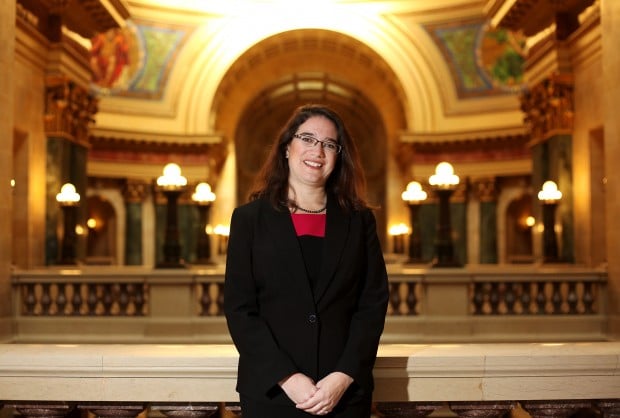 11 replies, 2917 views
Replies to this discussion thread
11 replies
Author
Time
Post

From protesting to legislating: Two who marched at WI Capitol set to take office

[View all]

undeterred
Dec 2012
OP
Scuba
Dec 2012
#1
graham4anything
Dec 2012
#2
efhmc
Dec 2012
#4
sybylla
Dec 2012
#6
madrchsod
Dec 2012
#3
sybylla
Dec 2012
#5
efhmc
Dec 2012
#9
Botany
Dec 2012
#7
hue
Dec 2012
#8
undeterred
Dec 2012
#10
PeaceNikki
Dec 2012
#11