Sun Mar 23, 2014, 08:58 PM
sheshe2 (73,007 posts)
Happy Birthday Obamacare. ACA turns 4 today~ [View all]
TheObamaDiary.com @TheObamaDiary
Follow
Happy Birthday #Obamacare - you're growing up to be a very beautiful thing
#GetCovered ->
https://www.healthcare.gov/
6:40 PM - 23 Mar 2014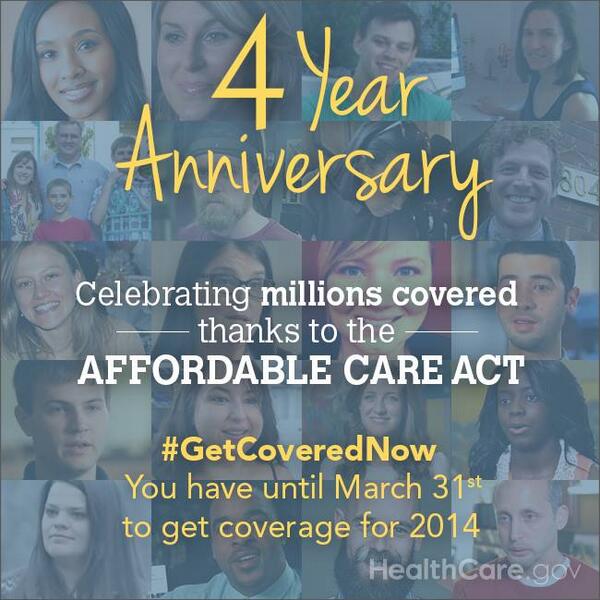 View image on Twitter
HHS.gov ✔ @HHSGov
Follow
The ACA turns 4 today—help celebrate the millions of Americans who have gotten coverage with a Retweet #GetCoveredNow
2:25 PM - 23 Mar 2014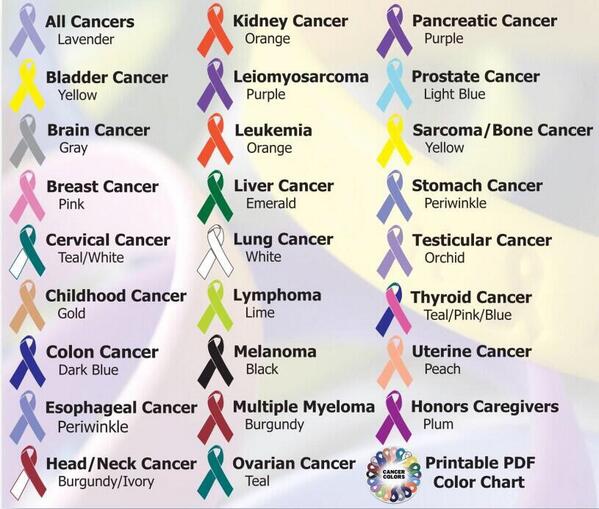 View image on Twitter
The Baxter Bean @TheBaxterBean
Follow
Thanks To #ACA #Obamacare These Types Of Cancer Patients Now Cannot Be Denied Healthcare. #ThisIsWhy #GetCovered
2:02 PM - 23 Mar 2014
Liberal Librarian @Lib_Librarian
Follow
Koch Bros. flog fake, easily disproven #Obamacare horror stories. Get the real benefits here:
http://theobamadiary.com/2014/03/23/obamacare-means-affordable-and-comprehensive-coverage/
…
6:59 PM - 23 Mar 2014
http://theobamadiary.com/
ACA Turns 4, GOP Still Suffers From Obamacare Derangement Syndrome
Everyone sing Happy Birthday to ObamaCare!
Four years ago today, I melted into tears watching President Obama sign the Patient Protection and Affordable Care Act into law.

For me it had been like the end to a pregnancy from hell. Between fighting right wing lies and left wing discontent, I was exhausted from the constant barrage of misinformation and manufactured outrage on the right, and the painful disappointment on the left over the public option.
On that day, all I knew was that my children would now have a future where they didn't have to face a decision between paying for doctors or paying the rent. For one of those kids, the ACA meant the difference between a full, happy, healthy life and a life of constant struggle to maintain his health at all.
Here we are, four years later. Our billionaire-fueled right wing has not abandoned their pathological obsession with telling us all to "Die, and die quickly." Indeed, Alan Grayson was raked over the coals for what was considered an outrageous insult to his esteemed colleagues, but he was proven to be correct over and over again.
http://crooksandliars.com/2014/03/aca-turns-4-gop-still-suffers-severe
Sunday marks four years since President Barack Obama signed the Affordable Care Act into law on March 23, 2010. (FILE/AP, J. Scott Applewhite)
http://mynews13.com/content/news/cfnews13/news/article.html/content/news/articles/cfn/2014/3/23/obamacare_4_years.html
16 replies, 3281 views
Replies to this discussion thread
16 replies
Author
Time
Post

Happy Birthday Obamacare. ACA turns 4 today~

[View all]

sheshe2
Mar 2014
OP
Cha
Mar 2014
#1
sheshe2
Mar 2014
#3
Cha
Mar 2014
#5
sheshe2
Mar 2014
#7
Cha
Mar 2014
#9
steve2470
Mar 2014
#2
sheshe2
Mar 2014
#4
Whisp
Mar 2014
#6
sheshe2
Mar 2014
#8
Cha
Mar 2014
#10
blue neen
Mar 2014
#11
sheshe2
Mar 2014
#12
Cha
Mar 2014
#13
flamingdem
Mar 2014
#14
William769
Mar 2014
#15
sheshe2
Mar 2014
#16