Sat Aug 23, 2014, 10:27 PM
redqueen (112,607 posts)
The Hawkeye Initiative redraws absurd superheroine poses with Hawkeye [View all]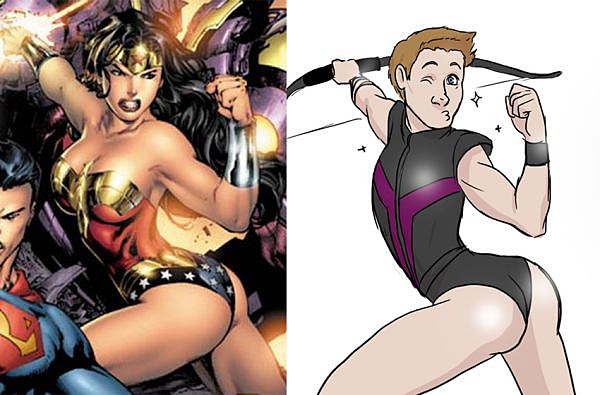 We've seen a lot of clever responses to the spine-twisting, butt-baring poses so many female comic book characters are subjected to, but
The Hawkeye Initiative
is particularly fun. Their mission: to take those particularly awful poses and replace the female characters with Hawkeye.
Why Hawkeye? It seems it all began when artist Blue decided to
switch the poses and positions of Hawkeye and the Black Widow
on one of their comic book covers:
Then Blue and Noelle Stevenson (also known as
Gingerhaze
and creator of the fabulous webcomic
Nimona
threw a challenge out to Tumblr: fix those "Strong Female Character" poses by replacing them with Hawkeye doing the same thing. And the Hawkeye Initiative Tumblr was born. Granted, the poses aren't always exact copies; the contributors are having a bit of silly fun and tend to give Hawkeye but sparkles or make him mug for the camera. But it's always interesting to see artists recontextualize a female pose with a male character.
...
http://io9.com/5964969/the-hawkeye-initiative-redraws-absurd-superheroine-poses-with-hawkeye
And before anyone gets started with the false equivalence...
http://www.shortpacked.com/2011/comic/book-13/05-the-death-of-snkrs/falseequivalence/
Sadly -- but hardly surprisingly -- many people are still unclear about why sexual harassment is even a problem.
Some of the consequences of widespread sexual objectification are:
Sexual harassment
Depression, eating disorders, etc.
And of course, violence against women:
Thankfully,
more
and
more
people who
do
recognize the
sexism
inherent in sexual objectification are speaking up. Support these voices. Call out objectification and raise awareness of the problems it causes. This is just one very effective method of fighting back against rape culture and helping to change the way women are portrayed and perceived.
And because this is too good to miss and I know not everyone will click the links, I'm going to include one of the redrawn images of the Madara cover... From the awesome tumblr blog
Less Tits N' Ass, More Kickin' Ass
:
...just by making the pelvis horizontal and lifting the torso off the ground, Iíve managed to move the center of gravity so her weight is on her feet instead of her knees, she can use her arms to maneuver in most directions, and you still get an interesting body shape to look at. I think this works better, and much more ready to spring into motion. More in-depth discussion here:
148 replies, 23727 views
Replies to this discussion thread
148 replies
Author
Time
Post

The Hawkeye Initiative redraws absurd superheroine poses with Hawkeye

[View all]

redqueen
Aug 2014
OP
pinboy3niner
Aug 2014
#1
redqueen
Aug 2014
#2
pinboy3niner
Aug 2014
#6
redqueen
Aug 2014
#7
Rex
Aug 2014
#18
kentauros
Aug 2014
#47
MADem
Aug 2014
#130
Rex
Aug 2014
#136
pinboy3niner
Aug 2014
#3
redqueen
Aug 2014
#9
Tuesday Afternoon
Aug 2014
#4
redqueen
Aug 2014
#8
Heidi
Aug 2014
#5
redqueen
Aug 2014
#10
Squinch
Aug 2014
#11
redqueen
Aug 2014
#12
redqueen
Aug 2014
#13
redqueen
Aug 2014
#14
BainsBane
Aug 2014
#17
redqueen
Aug 2014
#22
snooper2
Aug 2014
#89
redqueen
Aug 2014
#95
snooper2
Aug 2014
#98
redqueen
Aug 2014
#100
snooper2
Aug 2014
#106
redqueen
Aug 2014
#108
snooper2
Aug 2014
#111
redqueen
Aug 2014
#112
snooper2
Aug 2014
#114
opiate69
Aug 2014
#102
redqueen
Aug 2014
#107
Starry Messenger
Aug 2014
#15
redqueen
Aug 2014
#25
Hell Hath No Fury
Aug 2014
#16
redqueen
Aug 2014
#23
Hell Hath No Fury
Aug 2014
#24
BainsBane
Aug 2014
#19
Blue_Adept
Aug 2014
#20
redqueen
Aug 2014
#21
BklnDem75
Aug 2014
#57
Iron Man
Aug 2014
#26
hifiguy
Aug 2014
#27
redqueen
Aug 2014
#28
Iron Man
Aug 2014
#29
hifiguy
Aug 2014
#30
opiate69
Aug 2014
#31
redqueen
Aug 2014
#32
opiate69
Aug 2014
#34
Inkfreak
Aug 2014
#36
opiate69
Aug 2014
#37
Iron Man
Aug 2014
#40
PragmaticLiberal
Aug 2014
#38
KitSileya
Aug 2014
#122
hifiguy
Aug 2014
#123
KitSileya
Aug 2014
#124
hifiguy
Aug 2014
#126
KitSileya
Aug 2014
#128
hifiguy
Aug 2014
#131
KitSileya
Aug 2014
#132
hifiguy
Aug 2014
#140
Warpy
Aug 2014
#33
Iron Man
Aug 2014
#39
Warpy
Aug 2014
#41
Iron Man
Aug 2014
#43
Marr
Aug 2014
#46
Iron Man
Aug 2014
#48
hifiguy
Aug 2014
#110
el_bryanto
Aug 2014
#72
Iron Man
Aug 2014
#86
el_bryanto
Aug 2014
#90
leftstreet
Aug 2014
#35
Marr
Aug 2014
#42
Blue_Adept
Aug 2014
#45
redqueen
Aug 2014
#49
Blue_Adept
Aug 2014
#50
redqueen
Aug 2014
#51
Blue_Adept
Aug 2014
#52
redqueen
Aug 2014
#53
Blue_Adept
Aug 2014
#59
redqueen
Aug 2014
#60
Blue_Adept
Aug 2014
#62
redqueen
Aug 2014
#64
Marr
Aug 2014
#77
redqueen
Aug 2014
#85
Marr
Aug 2014
#88
redqueen
Aug 2014
#92
Marr
Aug 2014
#99
redqueen
Aug 2014
#101
ismnotwasm
Aug 2014
#125
Marr
Aug 2014
#129
Sheldon Cooper
Aug 2014
#133
Marr
Aug 2014
#137
Sheldon Cooper
Aug 2014
#139
Marr
Aug 2014
#141
ismnotwasm
Aug 2014
#134
Marr
Aug 2014
#138
el_bryanto
Aug 2014
#109
hifiguy
Aug 2014
#113
el_bryanto
Aug 2014
#115
Marr
Aug 2014
#127
AngryAmish
Aug 2014
#44
LittleBlue
Aug 2014
#54
redqueen
Aug 2014
#55
LittleBlue
Aug 2014
#58
redqueen
Aug 2014
#63
Blue_Adept
Aug 2014
#61
LittleBlue
Aug 2014
#65
Blue_Adept
Aug 2014
#68
LittleBlue
Aug 2014
#70
Blue_Adept
Aug 2014
#73
Marr
Aug 2014
#93
Blue_Adept
Aug 2014
#94
Marr
Aug 2014
#104
Blue_Adept
Aug 2014
#105
LisaLynne
Aug 2014
#74
Blue_Adept
Aug 2014
#76
LittleBlue
Aug 2014
#80
LisaLynne
Aug 2014
#81
LittleBlue
Aug 2014
#82
LisaLynne
Aug 2014
#83
LittleBlue
Aug 2014
#84
hifiguy
Aug 2014
#91
edhopper
Aug 2014
#66
LittleBlue
Aug 2014
#67
edhopper
Aug 2014
#69
LisaLynne
Aug 2014
#71
Blue_Adept
Aug 2014
#75
LisaLynne
Aug 2014
#78
edhopper
Aug 2014
#87
hifiguy
Aug 2014
#97
edhopper
Aug 2014
#103
edhopper
Aug 2014
#117
G_j
Aug 2014
#56
Blue_Adept
Aug 2014
#79
Tuesday Afternoon
Aug 2014
#96
hughee99
Aug 2014
#116
Tuesday Afternoon
Aug 2014
#118
hifiguy
Aug 2014
#119
opiate69
Aug 2014
#120
hifiguy
Aug 2014
#121
ProudToBeBlueInRhody
Aug 2014
#135
hughee99
Aug 2014
#142
ProudToBeBlueInRhody
Aug 2014
#143
justiceischeap
Aug 2014
#144
hughee99
Aug 2014
#145
Ilpavision
Aug 2014
#146
uppityperson
Aug 2014
#147
Nye Bevan
Aug 2014
#148