---
Response to H2O Man (Original post)
Sat Dec 12, 2015, 10:49 AM
Octafish (55,745 posts)
5. Friendly Fascism: A Division of the BFEE
Apart from the occassional avid reader or cowboy movie fan, too few notice the bad guy when he's bathed, shaved, well dressed, soft spoken and so very polite. From
before
Ronald Reagan:
Bush. Family. Evil. Empire. It's a handy catch phrase to describe the convergence of the super-rich with their toadies in secret government offices. Like the Safari Club.
When Jimmy Carter's CIA director, Adm. Stansfield Turner, tossed out the bad apples, rogues, etc. -- Poppy was ticked. They were his chums. So, the petrodollar-connected friends found a work-around. Voila! The hostages are held past the election and Pruneface and Poppy are back in the White House.
So, where did the Safari Club get such a mandate? Could it be the same employer that Scalia -- appointed by Poppy Bush -- really works for? Based on the money
flowing from the US Taxpayer to War Inc and on to Swiss banks
, yeah.
Both of these guys had
ancestors and cronies in the slave trade
.
Baron de Rothschild and Prescott Bush, share a moment and some information, back in the day.
The people who tried to overthrow FDR in 1933 had kids.
And their offspring* and connected cronies in crime are the ones* screwing America now.
What's different today, is
we don't have Smedley Butler or FDR
to stop them.
* Of course, it's not just a few rich families's offspring who screw the majority today. They've hired help and built up the giant noise machine to continue their work overthrowing the progress FDR and the New Deal brought America for 80 years.
Why would the nation and world's richest people do that? Progress costs money. And they don't want to pay for it, even when they've
gained more wealth than all of history
put together. Instead, whey continue to work -- legally, through government and lobbyists -- to amass even more, transferring the wealth of the many to themselves.
And instead of an armed mob led by a war hero on a white horse, as planned in 1933, their weapon since Pruneface made his first payment to the Ayatollah has been "Supply Side Economics." To most Americans, that means Trickle-Down.
Generation upon generation, knowing only
service to power and property
.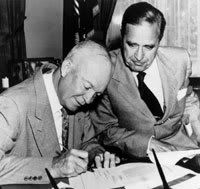 Kevin (Someone Mention "Southern Strategy"?) Phillips called them a ''multigenerational family of fibbers.''
Of course, outside of DU and Bartcop, no one's heard of the BFEE. While everybody wonders where Saddam's WMDs went off to, Wall Street gets ahead and the Constitution continues to shrink to the point where it's only big enough to cover Scalia's conscience.
PS: Sorry so much recycling, H2O Man. Not that any of it is a masterpiece of storytelling, the facts and reportage are sound. Readers in some future date will be able to access pertinent documents, etc., should the links go bad, and find out how these weasels not only are working to destroy Democracy, they don't care who they kill in the process or to make a buck.
Replies to this discussion thread
| | | | |
| --- | --- | --- | --- |
| 10 replies | Author | Time | Post |
| | H2O Man | Dec 2015 | OP |
| | antigop | Dec 2015 | #1 |
| | H2O Man | Dec 2015 | #2 |
| | antigop | Dec 2015 | #4 |
| | H2O Man | Dec 2015 | #9 |
| | spanone | Dec 2015 | #3 |
| | H2O Man | Dec 2015 | #10 |
| Friendly Fascism: A Division of the BFEE | Octafish | Dec 2015 | #5 |
| | Martin Eden | Dec 2015 | #6 |
| | Baitball Blogger | Dec 2015 | #7 |
| | JEB | Dec 2015 | #8 |
Edit History
Please
login
to view edit histories.