Thu Jul 14, 2016, 04:24 AM
Rhiannon12866 (136,974 posts)
Here's why ISIS just blew up 5 of its own oil refineries in Iraq [View all]
Five oil wells set on fire is the latest disaster caused by ISIS militants. The de facto rulers of Mosul set the wells on fire in a bid to stop the Iraqi army, which has been steadily advancing to the capital of the terrorist group, Fars News reports. In addition to the well blow-ups, ISIS also mined roads in the vicinity.
The wells were located near the Qayyrah refining complex in the province of Nineveh, where the Iraqi army has been preparing to take on Mosul – the city that fell to the militants in 2014. A day ago the army successfully took control of the Qayyrah airbase, which is 60 miles south of Mosul.
Blowing up the wells is a desperate measure: ISIS relies on oil for its funding and the destruction of refineries and oil tankers in the territories under its control has been a priority for the army. Earlier this month, media reported that the terrorist group is digging pits in the oil fields around Mosul to use as storage, and is also constructing makeshift teapot refineries to process the crude.
The information came from aerial photos taken by Stratfor, showing scores of tiny little refining units. These typically require just a pit for the crude and a portable furnace to separate the fuel fractions.
Read more:
http://www.businessinsider.com/isis-blew-up-5-oil-refineries-in-iraq-2016-7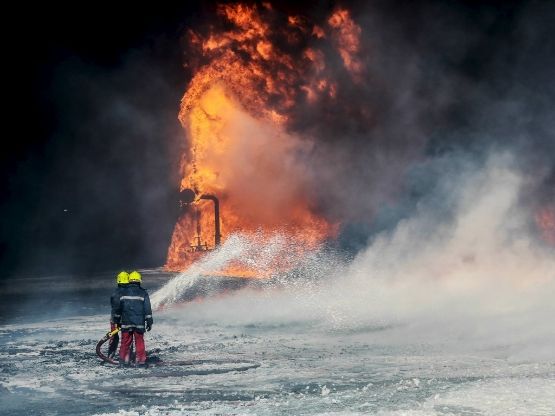 Firefighters try to put out the fire in an oil tank in the port of Es Sider, in Ras Lanuf, Libya after an ISIS attack.
Reuters
12 replies, 5070 views
Replies to this discussion thread
12 replies
Author
Time
Post

Here's why ISIS just blew up 5 of its own oil refineries in Iraq

[View all]

Rhiannon12866
Jul 2016
OP
Cooley Hurd
Jul 2016
#1
jtuck004
Jul 2016
#5
Cooley Hurd
Jul 2016
#9
Post removed
Jul 2016
#12
joshcryer
Jul 2016
#6
tenderfoot
Jul 2016
#10
uhnope
Jul 2016
#2
joshcryer
Jul 2016
#7
secondwind
Jul 2016
#3
BlueStateLib
Jul 2016
#11
Bernardo de La Paz
Jul 2016
#4
ProfessorGAC
Jul 2016
#8