Fri May 26, 2017, 12:38 PM
IronLionZion (34,829 posts)
Why this photo of political spouses and partners is making waves [View all]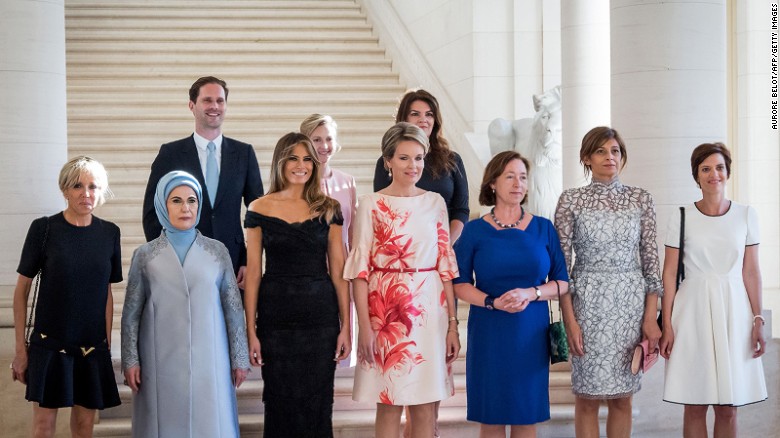 (CNN)What's the first thing you noticed about this picture of political spouses and partners, other than Melania Trump's continued mastery of the color black?
It's probably the man in the back row, standing out against the nine women pictured. That's Gauthier Destenay, the First Gentleman of Luxembourg and the husband of the world's only acting openly gay prime minister.
Destenay and Luxembourg Prime Minister Xavier Bettel wed in 2015, right after Luxembourg legalized gay marriage. When Bettel won the Prime Ministership in 2013, he was already in a civil partnership with Destenay and their sexualities were not a secret.
To be clear, Bettel isn't the only gay prime minister ever, just the only one in office right now. Former Belgian Prime Minister Elio Di Rupo and former Icelandic Prime Minister Jóhanna Sigurőardóttir were both public about their sexualities.
Can you name the rest of the people in this photograph? We'll help you out:
First row: First Lady of France Brigitte Macron, First Lady of Turkey Emine Gulbaran Erdogan, First Lady of the US Melania Trump, Queen Mathilde of Belgium, Secretary General of NATO Jens Stoltenberg's partner Ingrid Schulerud, Partner of Bulgaria's President Desislava Radeva, partner of Belgium's Prime Minister Amelie Derbaudrenghien
Second row: First Gentleman of Luxembourg Gauthier Destenay, partner of Slovenia's Prime Minister Mojca Stropnik, and First Lady of Iceland Thora Margret Baldvinsdottir.
http://www.cnn.com/2017/05/26/world/luxembourg-prime-minister-husband-gauthier-destenay-trnd/index.html
I was expecting more men in this photo. There are a lot of female leaders in Europe.
13 replies, 4940 views
Replies to this discussion thread
13 replies
Author
Time
Post

Why this photo of political spouses and partners is making waves

[View all]

IronLionZion
May 2017
OP
jberryhill
May 2017
#1
IronLionZion
May 2017
#3
jehop61
May 2017
#2
leftstreet
May 2017
#4
IronLionZion
May 2017
#6
underpants
May 2017
#5
IronLionZion
May 2017
#7
IronLionZion
May 2017
#8
matt819
May 2017
#9
snooper2
May 2017
#10
dixiegrrrrl
May 2017
#13
Tracer
May 2017
#11
Squinch
May 2017
#12