Sat May 7, 2016, 07:04 AM
Rhiannon12866 (136,705 posts)
Fort McMurray wildfire threatens to double in size by day's end (includes videos) [View all]
Source:
CBC News
Now covering 156,000 hectares, continues to grow to the northeast
Firefighters are once again preparing to battle with what Darby Allen, the Regional Fire Chief of Wood Buffalo, has been calling "the beast," Fort McMurray's out-of-control wildfire.
Officials worry the "the beast" — a fire that has destroyed more than 1,600 homes and buildings and burned more than 101,000 hectares of forest — will grow to over double its size by the time the sun sets.
"I do expect that there is a high potential that this fire could double in size by tomorrow," said Chad Morrison, senior wildfire manager for the province, on Friday.
"We have substantially extreme fire conditions in front of us still for the next two days."
Read more:
http://www.cbc.ca/news/canada/edmonton/fort-mcmurray-wildfire-saturday-1.3571678
---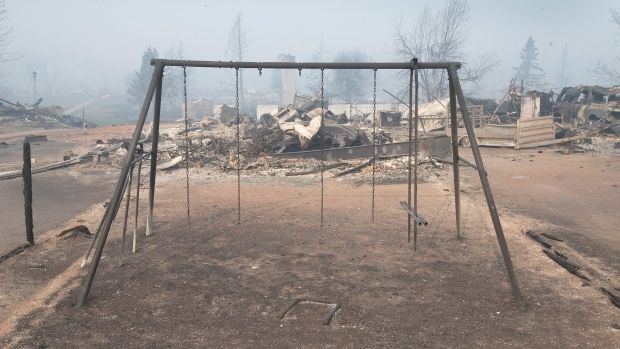 A badly damaged swing set sits in a residential neighborhood destroyed by the fire in Fort McMurray, which is still burning out of control.
(Photo by Scott Olson/Getty Images)
24 replies, 2542 views
Replies to this discussion thread
24 replies
Author
Time
Post

Fort McMurray wildfire threatens to double in size by day's end (includes videos)

[View all]

Rhiannon12866
May 2016
OP
Agony
May 2016
#1
Tess49
May 2016
#9
Agony
May 2016
#12
Plucketeer
May 2016
#13
Hortensis
May 2016
#2
Agony
May 2016
#4
Hortensis
May 2016
#7
allan01
May 2016
#3
jtuck004
May 2016
#5
OnlinePoker
May 2016
#10
jtuck004
May 2016
#14
Ptah
May 2016
#6
polly7
May 2016
#8
406-Boz
May 2016
#11
Cooley Hurd
May 2016
#15
suffragette
May 2016
#16
GOPblows431
May 2016
#17
Rhiannon12866
May 2016
#18
Rhiannon12866
May 2016
#19
nitpicker
May 2016
#20
Rhiannon12866
May 2016
#21
Scruffy1
May 2016
#22
Rhiannon12866
May 2016
#23
Rhiannon12866
May 2016
#24