Sat Oct 19, 2019, 04:55 PM
BumRushDaShow (55,995 posts)
Boris Johnson sends unsigned request to Brussels for Brexit delay [View all]
Last edited Sat Oct 19, 2019, 05:52 PM - Edit history (2)
Source:
The Guardian
Boris Johnson has sent a letter to European council president Donald Tusk requesting a further Brexit delay beyond 31 October. Despite the prime minister's insistence that he would not "negotiate" a further extension of the UK's membership of the EU, he confirmed on Saturday evening that he would be seeking such a prolongation.
Shortly after 10pm London time Tusk tweeted: "The extension request has just arrived. I will now start consulting EU leaders on how to react." Reports suggested Johnson had sent three letters: an unsigned photocopy of the request he was obliged to send under the Benn act, an explanatory letter from the UK's ambassador to the EU and a letter explaining why Downing Street did not want an extension.
An EU source said that in the call between Tusk and Johnson at 8.15pm Brussels time on Saturday the UK prime minister had confirmed that the request would be sent within hours. Tusk will now speak to the EU27 heads of state. "This may take a few days," the source said.
Officials in Brussels said there was no doubt that an extension request would be granted, despite the prime minister's attempts to throw doubt on such a decision. A decision on the terms could be taken later in October to allow for events to unfold in London.
Read more:
https://www.theguardian.com/politics/2019/oct/19/eu-will-grant-brexit-extension-if-johnson-sends-letter-says-brussels
---
UPDATE:
The Guardian updated their headline.
Original headline -
Boris Johnson sends request to Brussels for Brexit delay
Here are the letters sent (
to Denzil_DC) -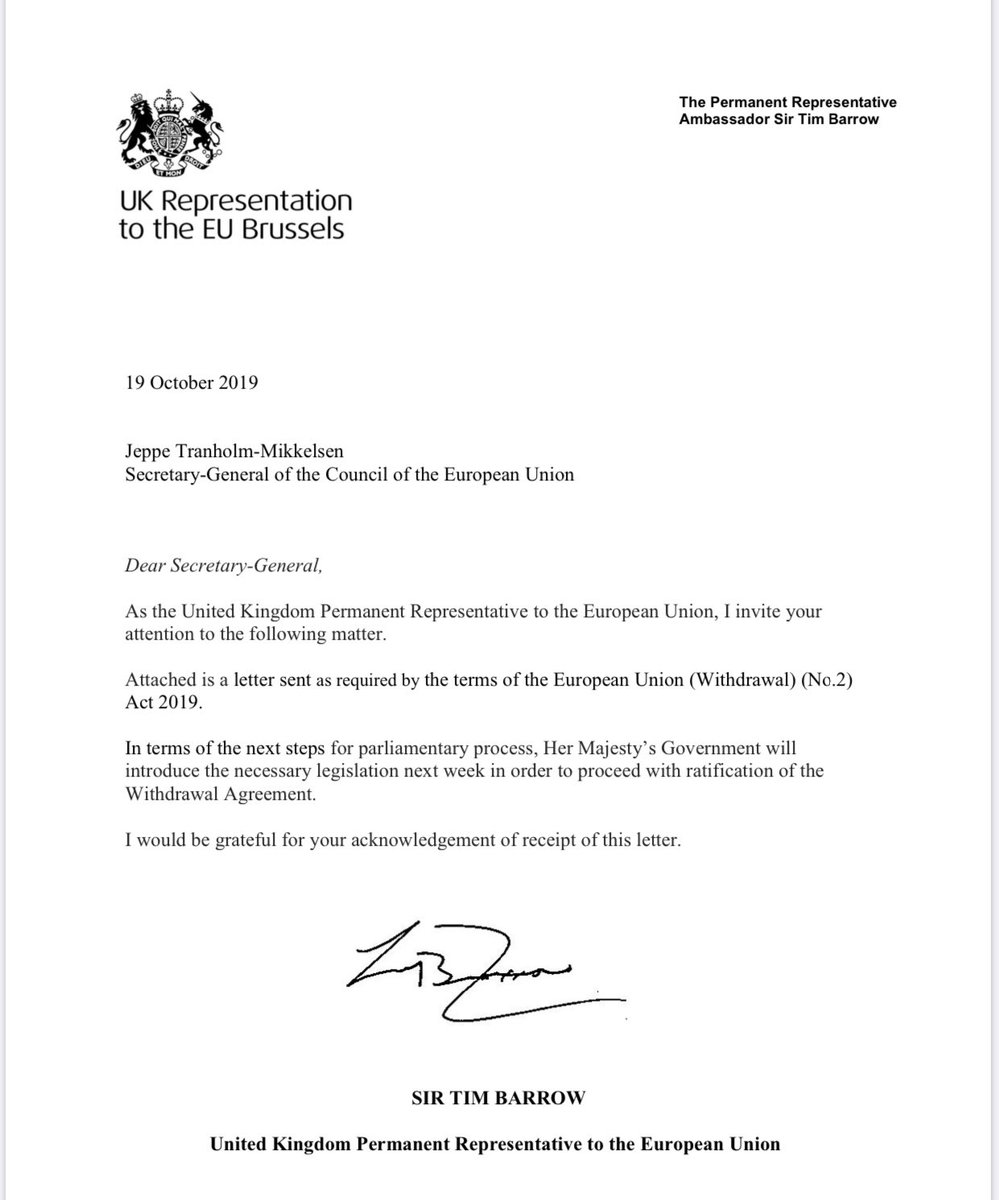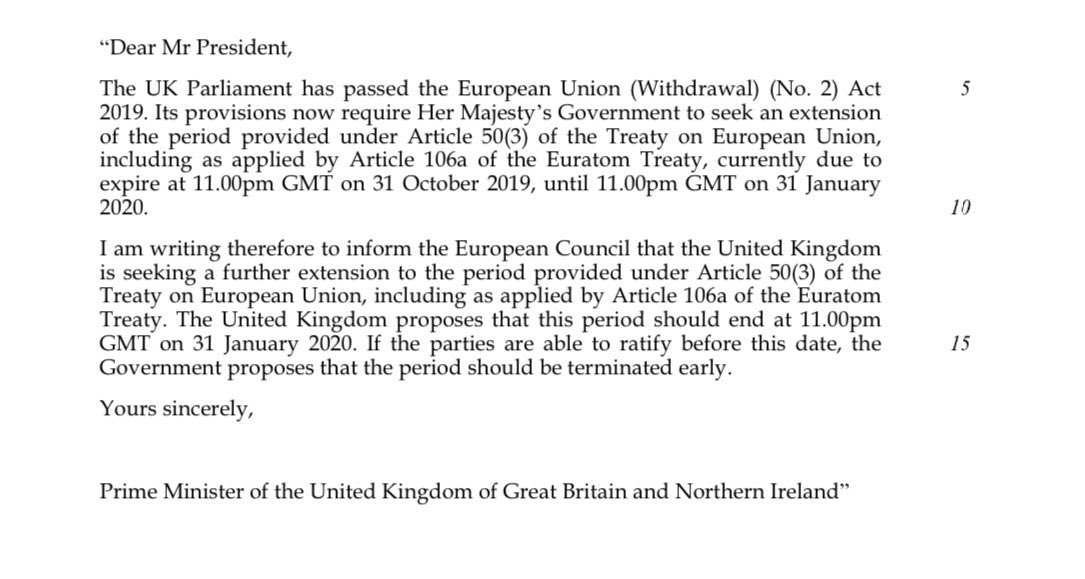 Tweet at the OP article site which includes an additional letter sent -
Link to tweet
TEXT
Mehreen
✔
@MehreenKhn
🔔🔔 Here is the letter Boris Johnson has sent to Brussels tonight saying an extension would "damage" interests of the EU and UK
550
5:20 PM - Oct 19, 2019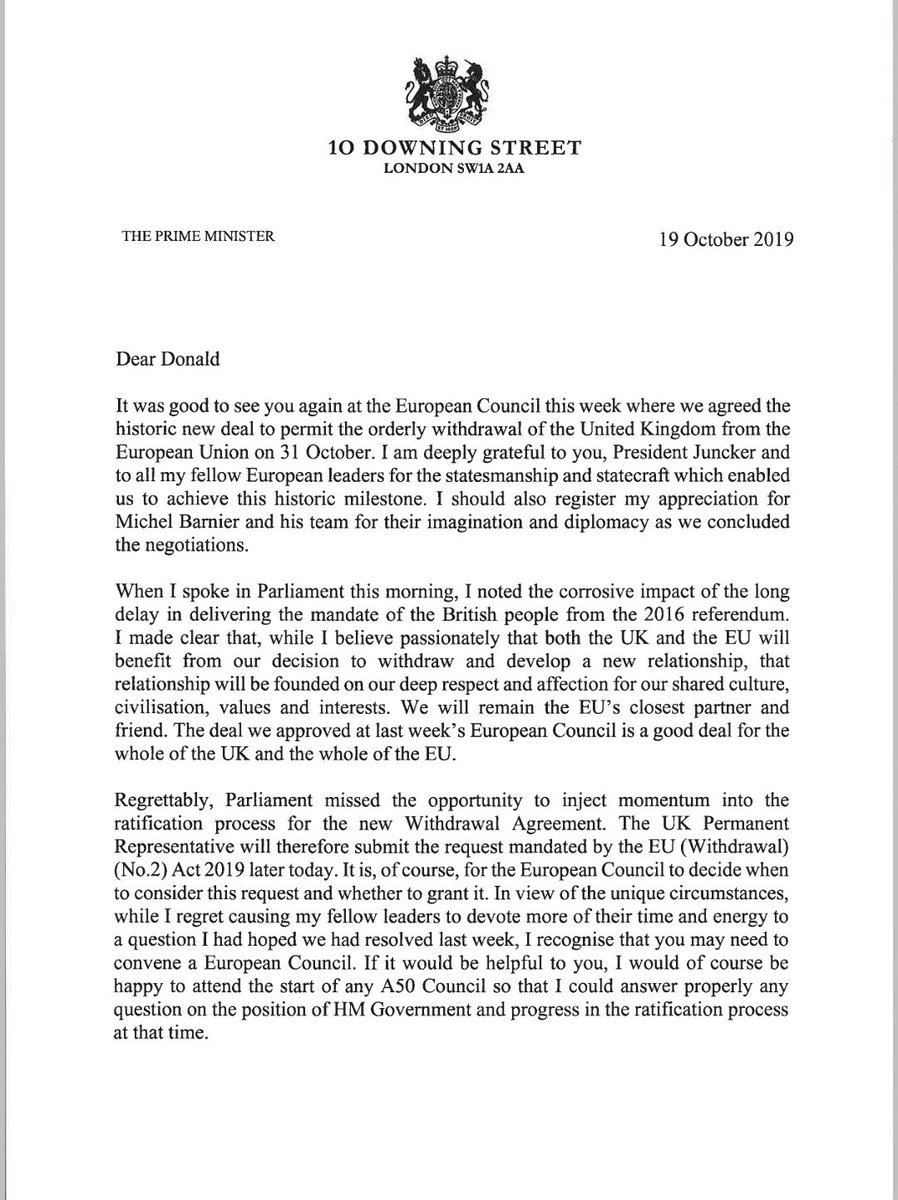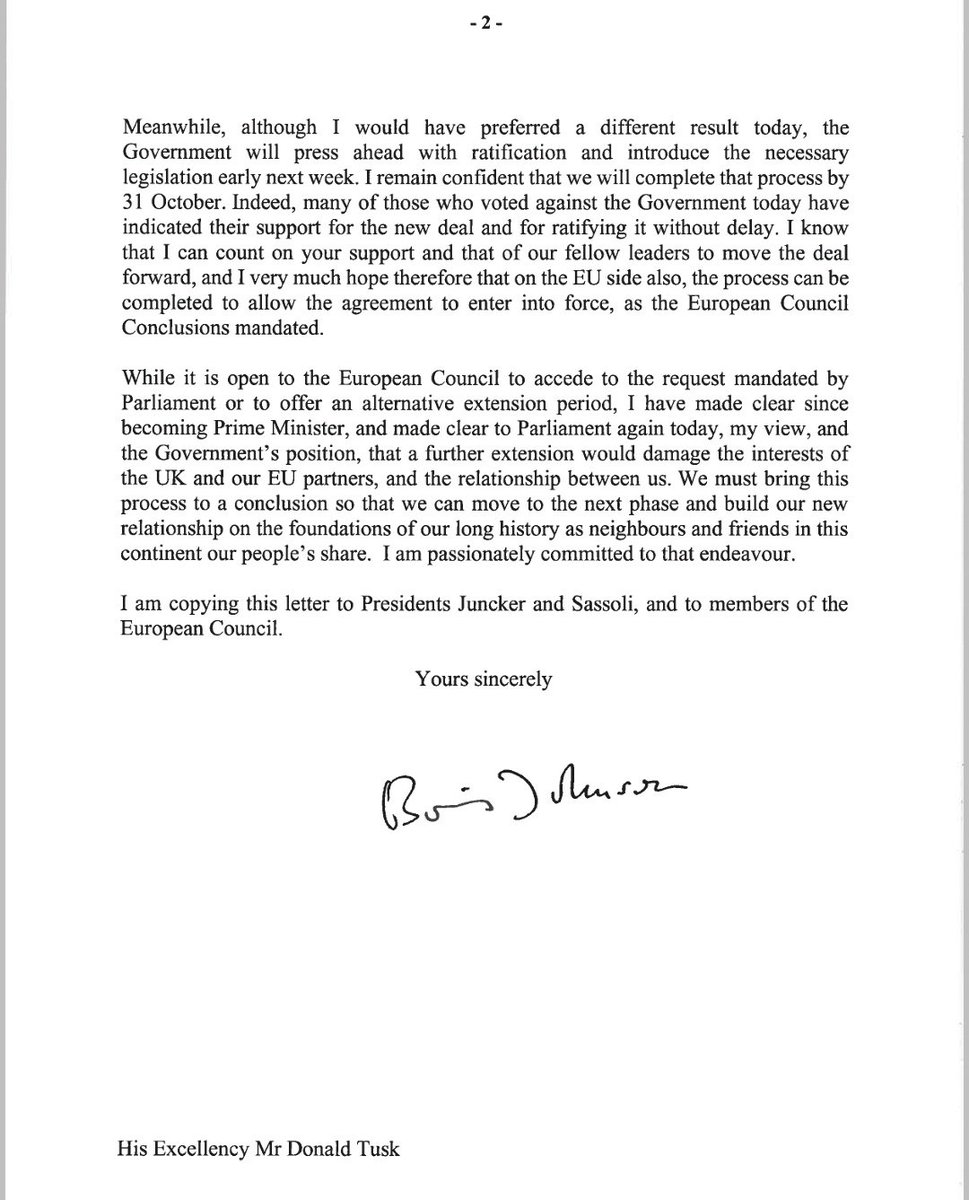 18 replies, 2318 views
Replies to this discussion thread
18 replies
Author
Time
Post

Boris Johnson sends unsigned request to Brussels for Brexit delay

[View all]

BumRushDaShow
Oct 2019
OP
samnsara
Oct 2019
#1
Denzil_DC
Oct 2019
#3
former9thward
Oct 2019
#14
AlexSFCA
Oct 2019
#2
BumRushDaShow
Oct 2019
#4
herding cats
Oct 2019
#10
muriel_volestrangler
Oct 2019
#11
Denzil_DC
Oct 2019
#5
BumRushDaShow
Oct 2019
#6
Denzil_DC
Oct 2019
#7
BumRushDaShow
Oct 2019
#8
abqtommy
Oct 2019
#9
Denzil_DC
Oct 2019
#12
BumRushDaShow
Oct 2019
#13
Denzil_DC
Oct 2019
#15
BumRushDaShow
Oct 2019
#16
Denzil_DC
Oct 2019
#17
BumRushDaShow
Oct 2019
#18