Wed Oct 30, 2019, 01:20 PM
BumRushDaShow (80,655 posts)
Bill Taylor is willing to testify publicly in impeachment probe [View all]
Source:
CNN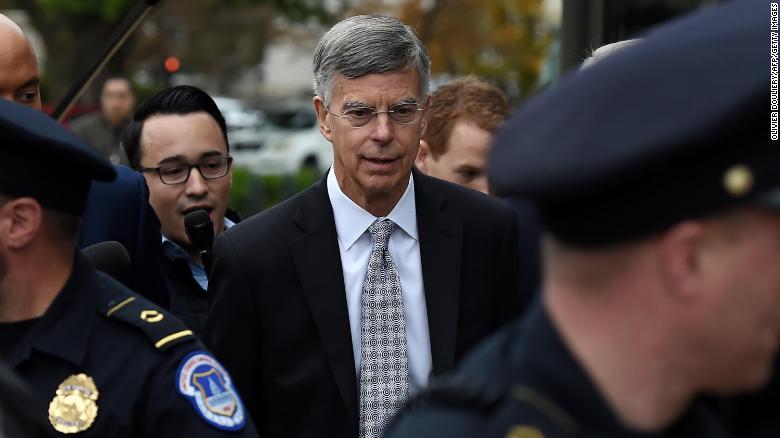 (CNN)The top US diplomat in Ukraine, Bill Taylor, is willing to return to Capitol Hill to testify publicly, according to a source familiar with his thinking, making him a potential key early witness for Democrats as they shift their impeachment inquiry into a public phase.
There has not been a request yet made for Taylor to testify publicly, according to the source. But Democrats privately say that Taylor would be a logical choice for one of the first witnesses when the House begins public impeachment hearings. He meticulously documented how he believed the White House had linked Ukraine's announcing an investigation that could help the President politically with unfreezing of US security aide and a one-on-one meeting between President Donald Trump and Ukrainian President Volodymyr Zelensky.
The House on Thursday will vote on a resolution that will formalize the rules for the impeachment inquiry and set the stage for public hearings in the House Intelligence Committee. House Intelligence Chairman Adam Schiff, a California Democrat, has declined to comment on which witnesses he will bring in or when the hearings will start, but lawmakers and aides say that a timetable where hearings begin next month before Thanksgiving is feasible, though not finalized.
Democrats believe that Taylor, a career diplomat who has worked for administrations of both parties, will be an unassailable witness with detailed notes and an impeccable memory. They believe he's someone who will tell a story to the public authoritatively about why efforts to provide aid to Ukraine and bolster relations with that key ally were delayed amid the push by Trump to investigate the Bidens and the 2016 elections. His 15-page opening statement delivered some of the most dramatic and damning testimony that Democrats have heard thus far.
Read more:
https://www.cnn.com/2019/10/30/politics/bill-taylor-willing-testify-publicly/index.html
10 replies, 2494 views
Replies to this discussion thread
10 replies
Author
Time
Post

Bill Taylor is willing to testify publicly in impeachment probe

[View all]

BumRushDaShow
Oct 2019
OP
50 Shades Of Blue
Oct 2019
#1
duforsure
Oct 2019
#2
BumRushDaShow
Oct 2019
#4
Leghorn21
Oct 2019
#3
Midnightwalk
Oct 2019
#5
BigmanPigman
Oct 2019
#7
Mopar151
Oct 2019
#9
BigmanPigman
Oct 2019
#10
calimary
Oct 2019
#6
sprinkleeninow
Oct 2019
#8