Mon Mar 15, 2021, 04:29 PM
Omaha Steve (81,329 posts)
3 die when car hits 9 people in San Diego; driver in custody [View all]
Source:
AP
By JULIE WATSON
SAN DIEGO (AP) — A driver lost control and veered onto a sidewalk Monday dotted with homeless tents in downtown San Diego, killing three people and injuring six others, including two who are hospitalized in critical condition, police said.
The driver — whom authorities identified only as a 71-year-old man — was heading through a tunnel underneath a community college campus when he drove his Volvo station wagon up on the sidewalk shortly after 9 a.m., said San Diego Police Chief David Nisleit. He was arrested on suspicion of driving while impaired.
"For whatever reason, (the driver) veered to the right, went up on the sidewalk, struck multiple pedestrians there and then came back on to the roadway," Nisleit said, offering "my deepest condolences," to the families of those who died.
Three people died at the scene. Five of the six others who were injured were taken to hospitals, authorities said.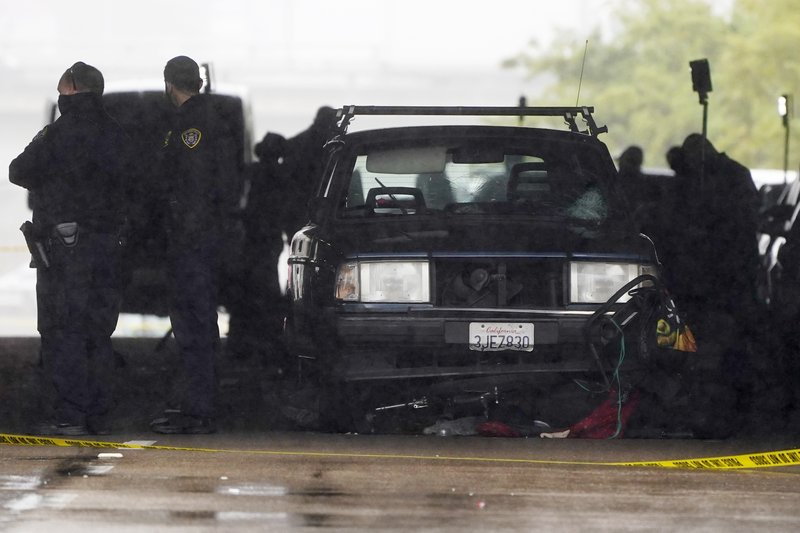 A car involved in a deadly accident sits at the scene Monday, March 15, 2021, in San Diego. A driver plowed through a crowd on a sidewalk in downtown San Diego on Monday morning, killing three people and injuring six others, including two who are hospitalized in critical condition, police said. (AP Photo/Gregory Bull)
Read more:
https://apnews.com/article/3-die-car-hits-9-people-san-diego-c5838885f0f4ad52090326fec97bf4d7
18 replies, 2671 views
Replies to this discussion thread
18 replies
Author
Time
Post

3 die when car hits 9 people in San Diego; driver in custody

[View all]

Omaha Steve
Mar 2021
OP
Fullduplexxx
Mar 2021
#1
Hassin Bin Sober
Mar 2021
#2
sdfernando
Mar 2021
#3
FreeState
Mar 2021
#12
sdfernando
Mar 2021
#13
FreeState
Mar 2021
#14
bluestarone
Mar 2021
#4
JI7
Mar 2021
#5
hookaleft
Mar 2021
#6
JI7
Mar 2021
#7
niyad
Mar 2021
#8
oldsoftie
Mar 2021
#11
niyad
Mar 2021
#9
pfitz59
Mar 2021
#10
zentrum
Mar 2021
#15
Blues Heron
Mar 2021
#16
zentrum
Mar 2021
#17
Blues Heron
Mar 2021
#18