---
Response to Omaha Steve (Original post)
Thu Apr 8, 2021, 09:17 PM
Judi Lynn (149,406 posts)
4. No loss there. The guy is a monster. He won't be a President long, if justice prevails.
Democrats have had his number from the first. He's much more Trump's kinda scum.
US Cuts Military Aid to El Salvador Amid Intense Lobbying
The U.S. is slashing foreign military aid to El Salvador despite staunchly pro-American President Nayib Bukele's intense lobbying in Washington to counter criticism he has taken his country down an authoritarian path.
By Associated Press, Wire Service Content Dec. 28, 2020, at 7:30 p.m.
FILE - In this Feb. 9, 2020 file photo, armed Special Forces soldiers of the Salvadoran Army, following orders of President Nayib Bukele, enter congress upon the arrival of lawmakers, in San Salvador, El Salvador. Opposition lawmakers recommended on Thursday, Dec. 17, 2020, that President Bukele dismiss the director of the National Police and the chief of the armed forces, because of serious human rights violations that occurred when the armed forces entered congress. (AP Photo/Salvador Melendez, File) THE ASSOCIATED PRESS
BY JOSHUA GOODMAN, Associated Press Writer
MIAMI (AP) — The U.S. is slashing foreign military aid to El Salvador despite staunchly pro-American President Nayib Bukele's intense lobbying in Washington to counter criticism he has taken his country down an authoritarian path.
Tucked into the omnibus spending bill signed Sunday by President Donald Trump was a provision barring access for El Salvador — as well as for neighbors Guatemala and Honduras — to a State Department program that finances the purchase of U.S. defense equipment.
The ban is part of an initiative by House Democrats to strengthen anti-corruption efforts in Central America.
While far larger security assistance channeled through the Pentagon to fight drug trafficking is not affected, it's nonetheless a symbolic blow to the countries as they try to show progress in strengthening the rule of law, said Adam Isacson at the Washington Office on Latin America.
"It basically puts these countries on the same tier as dictatorships and failed states," said Isacson, an expert on defense spending. "Only a handful of countries aren't eligible for this program."
More:
https://www.usnews.com/news/us/articles/2020-12-28/us-cuts-military-aid-to-el-salvador-amid-intense-lobbying
~ ~ ~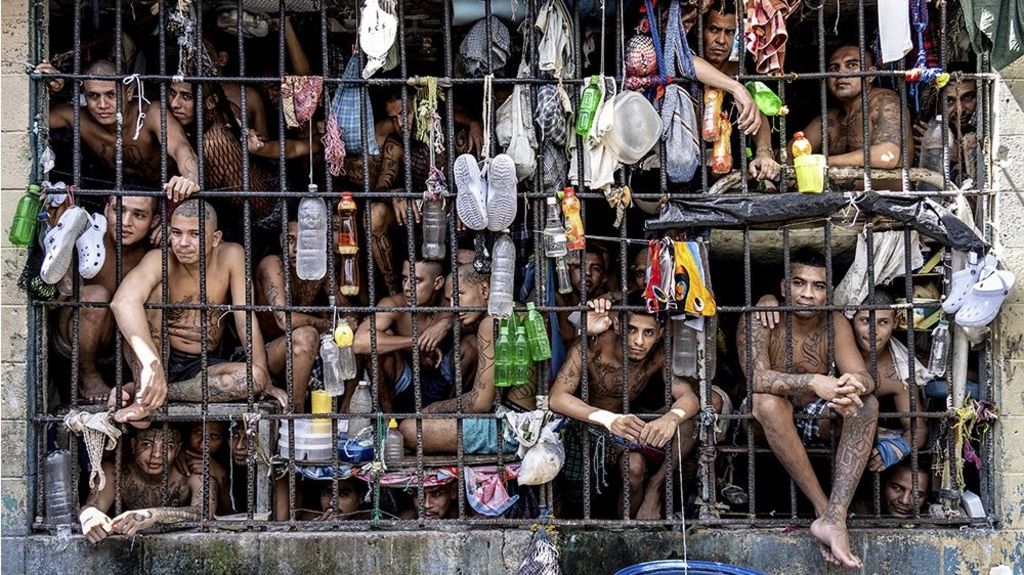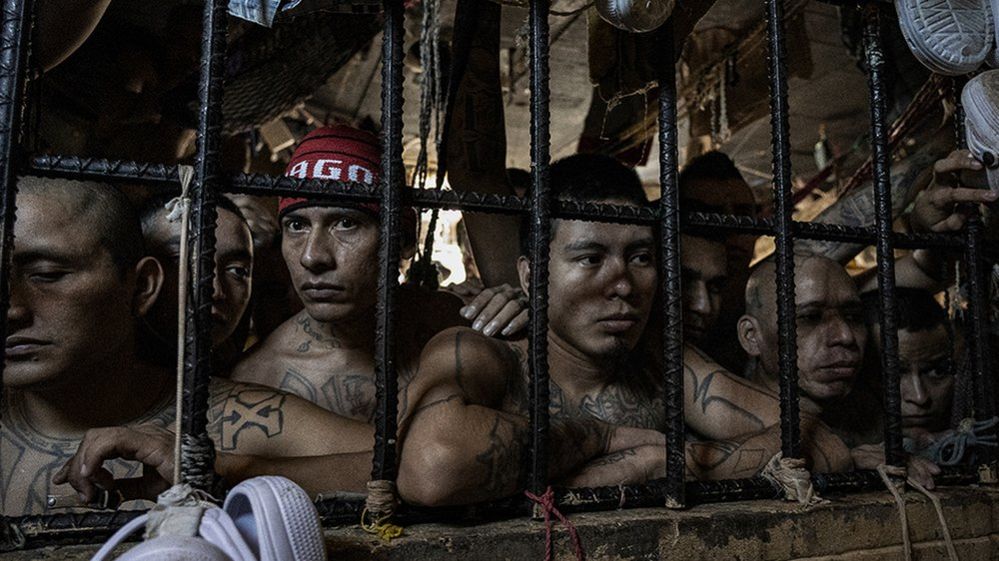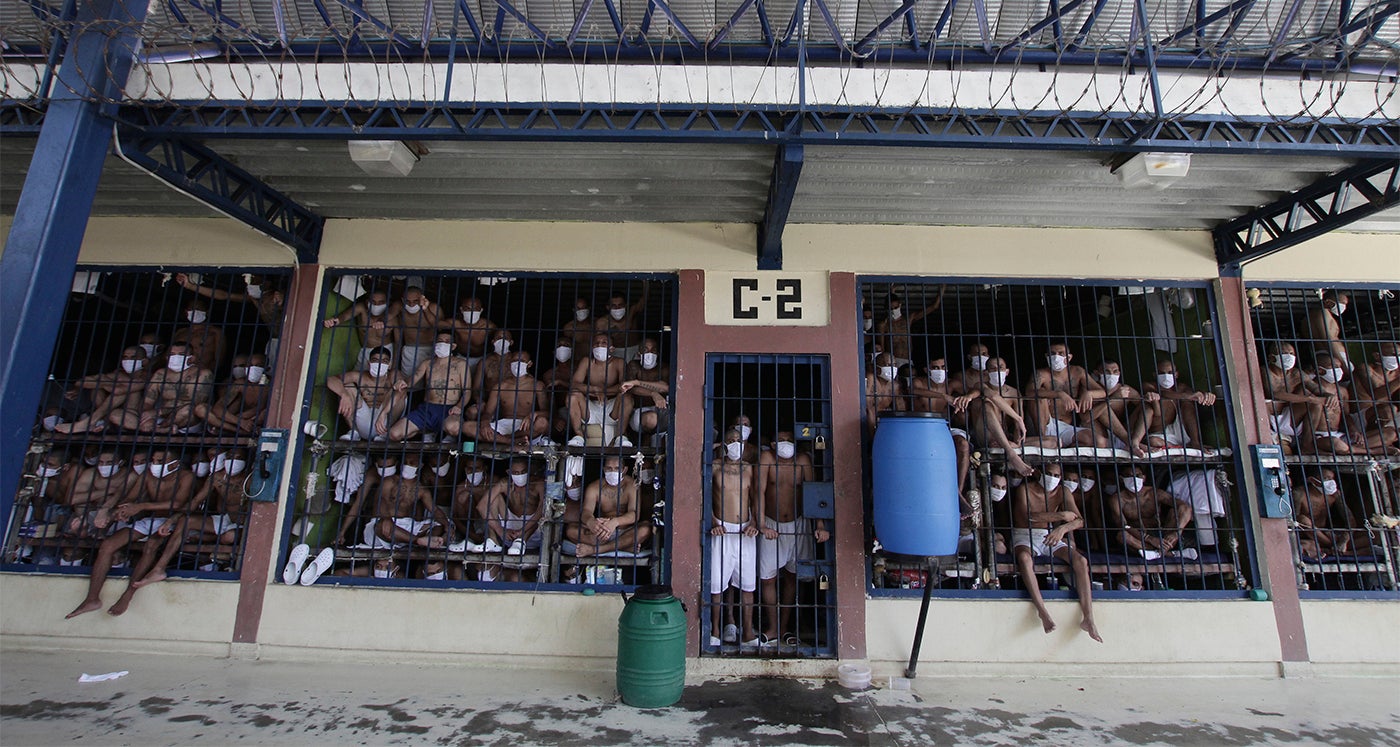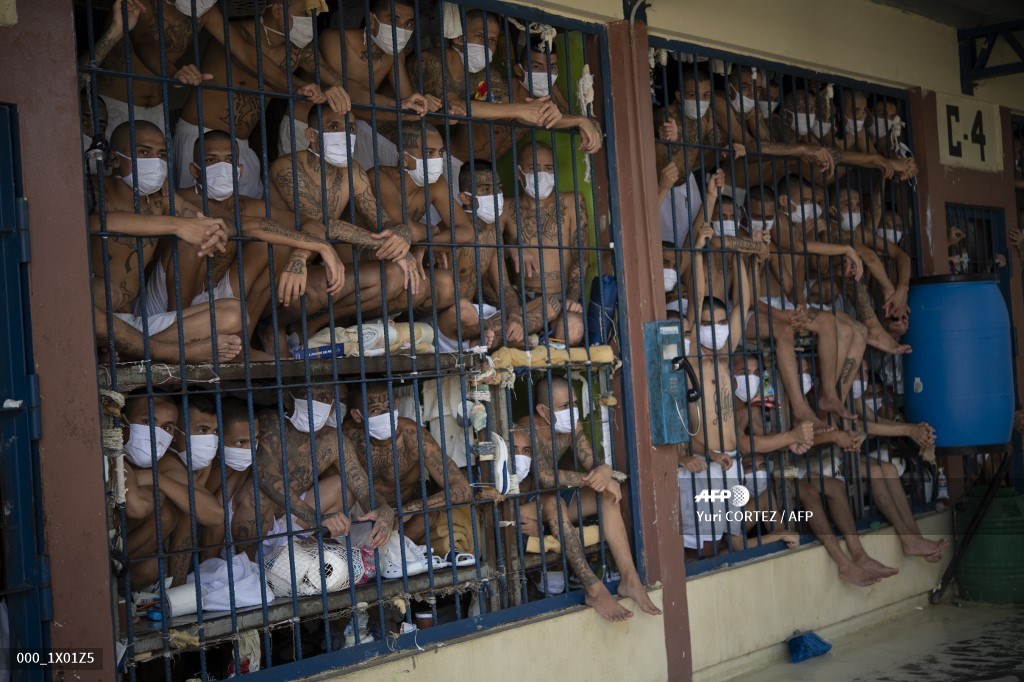 Human Rights Watch:
Since taking office, Nayib Bukele has been determined to dismantle all institutional controls on presidential power. In February 2020, he entered the Legislative Assembly accompanied by armed soldiers, in an apparent effort to intimidate lawmakers into approving a loan for the security forces. Likewise, he openly disobeyed three judgments issued by the Constitutional Chamber of the Supreme Court that prohibited detaining people just for having breached the rules of confinement.
In March, Bukele decreed a mandatory nationwide lockdown in response to the Covid-19 pandemic, and ordered security forces to detain people who did not comply in "containment centers." Since then, thousands of people have been detained in overcrowded and unsanitary conditions at these facilities.
Maras exercise territorial control in some neighborhoods and extort money from residents across the country. They forcibly recruit boys and girls and subject women, girls and lesbian, gay, bisexual and transgender (LGBT) people to sexual abuse. The gangs are responsible for the death, disappearance, rape or displacement of those who show resistance to them.
Historically, the security forces have been implicated in serious human rights violations, including extrajudicial executions, sexual assaults, enforced disappearances and other acts of torture. In general, they continue to be ineffective in protecting the population from gang violence.
Girls and women accused of abortions have been imprisoned for homicide and aggravated homicide. LGBT people are targets of discrimination and violence and do not receive effective protection from the state.
Abuses by members of the security forces
President Bukele maintained the role of the military in public security operations, despite stipulation to the contrary in a peace agreement reached in 1992.
More:
https://www.hrw.org/es/world-report/2021/country-chapters/377425
~ ~ ~
In El Salvador, a beacon of truth under threat
By Joel Simon
OCTOBER 8, 2020
. . .
Bukele, like other leaders in Latin America and around the world, has understood that the key to managing Trump is never to contradict him publicly, and to throw him a few bones linked to a particular political obsession—in this case, stemming the flow of Salvadoran migrants to the US. When Bukele met with Trump at the United Nations last September, he pledged to do just that, while also calling Trump "nice and cool" and noting their joint obsession with Twitter.
In fact, Trump has used his Twitter feed, and an unthinking US media which chases it around, to dehumanize Salvadorans and define the country as the place that is seeding the United States with violent criminals. Trump said, conspiratorially, that members of the binational street gang MS-13 were ravaging American cities. They were coming here as part of caravans, the president alleged, marching through Mexico, and they needed to be shut down.
While Bukele left Trump's smears and lies unchallenged, El Faro has exposed them, not just in El Salvador, but through its cooperation, both direct and indirect, with international media organizations, including The New York Times. A joint investigation published in 2016 demonstrated that the gangs were a profoundly destabilizing force in El Salvador, but hardly a geopolitical threat. El Faro has also published joint projects with Univision, in the US, and El País in Spain, while shaping global perceptions and understanding through its daily coverage.
El Faro is part of a global network of independent media that are under increasing threat. Many receive significant funding from US-based based foundations. The best known example is the Philippine outlet Rappler, whose editor, Maria Ressa, is facing a legal assault that could send her to jail for years. Times media columnist Ben Smith called this new breed of independent reporter "pound for pound, the most impressive journalists in the world," a moniker that would certainly apply to Martínez and the El Faro staff. The extent to which our entire global ecosystem relies on these islands of journalistic exceptionalism cannot be overstated.

In normal times, serious US officials would recognize what's at stake and stand up to defend El Faro, along with the other Salvadoran media outlets that have come under attack. There is, of course, no chance of that happening as long as Trump remains in power.

If Joe Biden is elected president he will have a chance to reverse this profoundly destructive policy and restore US leadership. Biden should announce that, as part of a global strategy to bolster democracy, accountability, and the free circulation of information and ideas around the world, he will support press freedom and back independent news organizations like El Faro.

More:
https://www.cjr.org/analysis/el-faro-nayib-bukele-press-freedom.php
Replies to this discussion thread
| | | | |
| --- | --- | --- | --- |
| 6 replies | Author | Time | Post |
| | Omaha Steve | Apr 2021 | OP |
| | AZSkiffyGeek | Apr 2021 | #1 |
| | Politicub | Apr 2021 | #2 |
| | AZSkiffyGeek | Apr 2021 | #3 |
| No loss there. The guy is a monster. He won't be a President long, if justice prevails. | Judi Lynn | Apr 2021 | #4 |
| | JI7 | Apr 2021 | #5 |
| | SunSeeker | Apr 2021 | #6 |
Edit History
Please
login
to view edit histories.