Sun Jun 13, 2021, 10:32 PM
Omaha Steve (81,764 posts)
Biden says 'very gracious' queen 'reminded me of my mother' [View all]
Source:
AP
By KELVIN CHAN, JONATHAN LEMIRE and DARLENE SUPERVILLE
WINDSOR, England (AP) — President Joe Biden and his aviator sunglasses met Queen Elizabeth II on a bright Sunday afternoon.
The queen hosted the president and first lady Jill Biden at Windsor Castle, her royal residence near London. Biden flew to London after wrapping up his participation in a three-day summit of leaders of the world's wealthy democracies in Cornwall, in southwestern England. He arrived at the castle aboard the presidential helicopter and was ferried to the queen in a black Range Rover.
The 95-year-old monarch greeted the Bidens in the castle's quadrangle, where she waited beneath a covered dais that shielded her from the sun on one of the hottest days of the year so far in the United Kingdom. Assembled soldiers from the Queen's Company First Battalion Grenadier Guards gave a royal salute and the Bidens placed their hands over their hearts as the U.S. national anthem was played.
The president was then led across the grass for an inspection of the Guard of Honor. He wore a stern expression on his face after he had removed his trademark sunglasses, but when the 78-year-old Biden got to the end of the row, he smiled for the soldier in front of him who held up a sword. The queen and Jill Biden remained on the dais.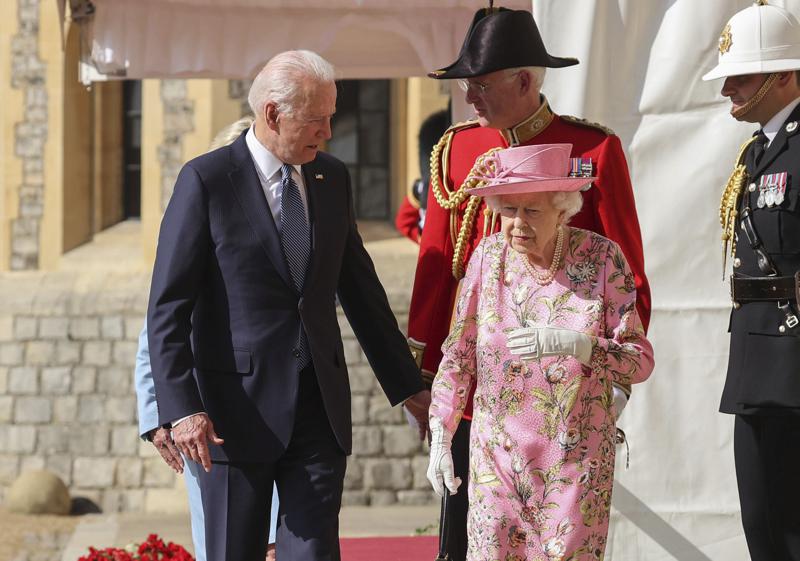 Britain's Queen Elizabeth II, right, walks with US President Joe Biden during his visit to Windsor Castle, near London, Sunday June 13, 2021. (Chris Jackson/Pool Photo via AP)
Read more:
https://apnews.com/article/joe-biden-queen-elizabeth-jill-tea-windsor-castle-G7-183a217e4e688cc070a155260b60f821
35 replies, 2768 views
Replies to this discussion thread
35 replies
Author
Time
Post

Biden says 'very gracious' queen 'reminded me of my mother'

[View all]

Omaha Steve
Jun 2021
OP
Hoyt
Jun 2021
#1
Ocelot II
Jun 2021
#2
calimary
Jun 2021
#3
Ocelot II
Jun 2021
#5
VMA131Marine
Jun 2021
#9
Ocelot II
Jun 2021
#10
FarPoint
Jun 2021
#20
mopinko
Jun 2021
#28
Grammy23
Jun 2021
#4
CottonBear
Jun 2021
#6
Jon King
Jun 2021
#8
Raven
Jun 2021
#11
PatSeg
Jun 2021
#22
CottonBear
Jun 2021
#25
CottonBear
Jun 2021
#26
Kali
Jun 2021
#30
CottonBear
Jun 2021
#32
Bayard
Jun 2021
#31
CottonBear
Jun 2021
#33
MiniMe
Jun 2021
#7
calimary
Jun 2021
#12
Fortinbras Armstrong
Jun 2021
#27
Prof. Toru Tanaka
Jun 2021
#34
Fortinbras Armstrong
Jun 2021
#35
demosincebirth
Jun 2021
#13
Hekate
Jun 2021
#14
sarge43
Jun 2021
#16
PatSeg
Jun 2021
#23
mopinko
Jun 2021
#29
Mike Nelson
Jun 2021
#15
riversedge
Jun 2021
#17
peppertree
Jun 2021
#18
SharonClark
Jun 2021
#19
FarPoint
Jun 2021
#21
PatSeg
Jun 2021
#24