Thu Sep 22, 2022, 10:48 AM
Omaha Steve (91,930 posts)
US: Security Council must tell Russia to stop nuke threats [View all]
Source:
AP
By MATTHEW LEE and JENNIFER PELTZ
UNITED NATIONS (AP) — U.S. Secretary of State Antony Blinken called on every U.N. Security Council member to "send a clear message" to Russia that it must stop its nuclear threats in the war in Ukraine.
Russian President Vladimir Putin said earlier this week that his nuclear-armed country "certainly use all means available to us" if its territory is threatened and to defend the country and its people.
Blinken used a council session Thursday to criticize Russia's invasion and press other countries to join in their forceful condemnations of the conflict.
"Every council member should send a clear message that these reckless nuclear threats must stop immediately," he said.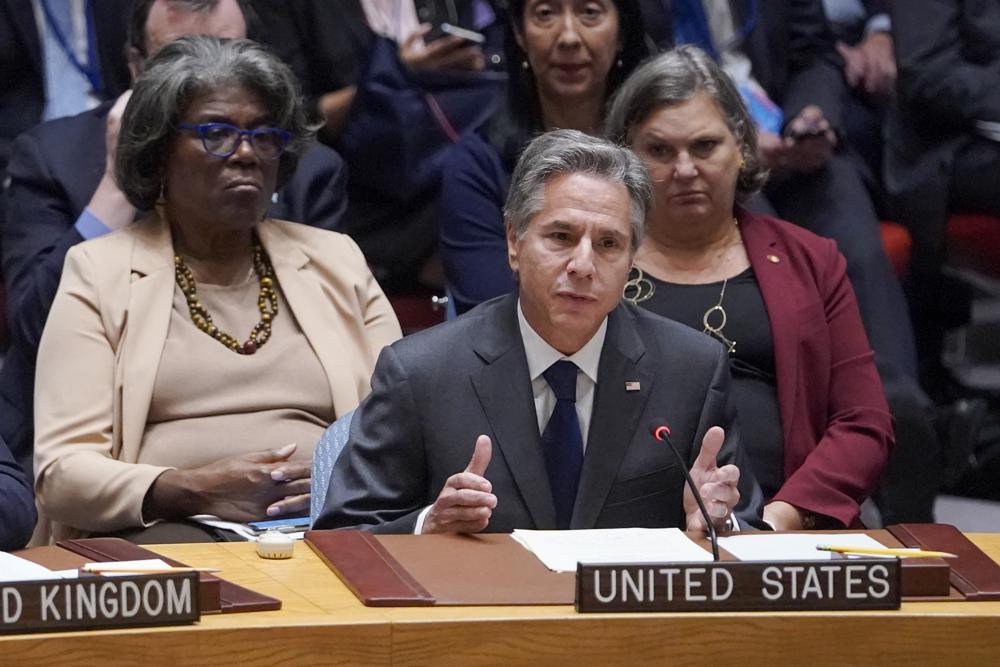 United States' Secretary of State Antony Blinken speaks during high level Security Council meeting on the situation in Ukraine, Thursday, Sept. 22, 2022 at United Nations headquarters. (AP Photo/Mary Altaffer)
Read more:
https://apnews.com/article/russia-ukraine-united-nations-general-assembly-putin-biden-1f07b96623709607c6e720e252516b32?utm_source=homepage&utm_medium=TopNews&utm_campaign=position_01
9 replies, 1362 views
Replies to this discussion thread
9 replies
Author
Time
Post

US: Security Council must tell Russia to stop nuke threats

[View all]

Omaha Steve
Sep 2022
OP
SheltieLover
Sep 2022
#1
JohnSJ
Sep 2022
#2
GB_RN
Sep 2022
#5
Shanti Shanti Shanti
Sep 2022
#3
Brainfodder
Sep 2022
#9
cstanleytech
Sep 2022
#4
Martin68
Sep 2022
#6
SunSeeker
Sep 2022
#7
ck4829
Sep 2022
#8