Thu Jul 23, 2020, 01:15 PM
Budi (6,038 posts)
Thanks to COVID-19, Houston is home to Texas' first drive-thru strip club. [View all]
July 21, 2020
Well this is quite the read!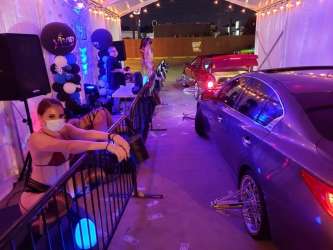 "
Would you like a side of glitter with that burger?"

If you're a fan of exotic dancers and eating in your car then
Vivid Gentleman's Club
is probably your kind of pandemic paradise. The struggling Houston-based strip club now has a drive-thru.
Black metal barricades separate the dancers from the cars, and dollar bills litter the asphalt between the white siding of the tent walls. The purplish-blue lighting casts a familiar (to club-goers) ambience over the scene, but obvious reminders of the pandemic remain; some of the performers are in face masks
.
While restaurants are now allowed to operate at 50 percent capacity and bars are still currently shut down with the option of to-go sales, strip clubs fall in a gray area between bars and restaurants, depending on the business. In an effort dedicated to supporting their staff,
Vivid Gentlemen's Club
decided to take their shot at the drive-thru experience by becoming Texas' first drive-thru strip club.
I'm assuming every red-blooded American is familiar with the drive-thru experience: you order your food, you wait in a line, you receive said food and you move on with your life.
Vivid
has managed to replicate this experience… with a few notable differences
SNIP
Once inside the tent, every car has a two-song limit so "you're able to get some live entertainment" while your food is being prepared, according to general manager Gino DiLollo.
The "live entertainment" are masked and unmasked performers dancing from behind steel barricades.
The concept is not entirely original.
The Lucky Devil Lounge in Portland
was the first to implement the drive-thru. But it is still a risky way to throw a lifeline to employees in an industry some may not consider at the moment, or look down on.
"We racked the numbers and thought 'should we do it?' and realized that IF we do it, we're doing it for the entertainers, the staff and employees", explains DiLollo, "Because to keep us open, we just can't do the numbers. We're not making any money. This is purely for the staff."
SNIP
"
We're trying to get a restaurant license so we can open up as a restaurant and then we're able to have people in here," DiLollo said. "Instead of operating more like a bar, we would operate more like a restaurant.
We're trying to adapt to the times and whatever cards we're being dealt."
----------
https://www.chron.com/local/amp/Would-you-like-a-side-of-glitter-with-that-burger-15423217.php?utm_source=t.co&fbclid=IwAR0QMCEy94S2BM5rKTwKLORbVpcNcYepY6fIrdy2uw7PhhffOXlcGAOdQy0&utm_campaign=CMS%20Sharing%20Tools%20
8 replies, 893 views
Replies to this discussion thread
8 replies
Author
Time
Post

Thanks to COVID-19, Houston is home to Texas' first drive-thru strip club.

[View all]

Budi
Jul 2020
OP
Throck
Jul 2020
#1
Budi
Jul 2020
#3
LastDemocratInSC
Jul 2020
#2
Budi
Jul 2020
#4
Throck
Jul 2020
#5
Budi
Jul 2020
#6
calguy
Jul 2020
#7
Budi
Jul 2020
#8