Thu Jan 14, 2021, 04:20 PM
appalachiablue (30,908 posts)
'The Leaders Of The Riot Were Paid!' [View all]
- Loyal insurgents gather.
_______________
- 'The Leaders Of The Riot were Paid.' Daily Kos, Jan. 14, 2021.
Yahoo News has the exclusive story: Large bitcoin payments to right-wing activists a month before Capitol riot linked to foreign account:
- Right-wing figures and websites, including VDARE, the Daily Stormer and Nick Fuentes, received generous donations from a bitcoin account linked to a French cryptocurrency exchange, according to research done by software company Chainalysis, which maintains a repository of information about public cryptocurrency exchanges and whose tools aid in government, law enforcement and private sector investigations. Chainalysis investigated the donations after Yahoo News shared the data points about the transaction. -
If this happened, now, one can be sure it's happened before. The 1/6 riots have done more then expose the weakness in protecting the seats of our government, it has brought to the forefront the terror we face within.
Under the Biden Department of Justice these fringe terrorist groups and organizations will be watched, scrutinized, and indicted. The cow-towed media, beaten into submission by Trump, will be hungry for any story on domestic terrorism and it's sponsors. Their enablers within the government will be flushed out and punished.
The fact that the monies have been traced to overseas will bring multiple agencies into play. We are under attack from within and abroad.
There was a reason Trump and Republicans feared losing, this is a big one... ~
https://www.dailykos.com/stories/2021/1/14/2009209/-The-Leaders-of-the-Riot-Were-Paid
_______________
- Yahoo News, 'Large Bitcoin Payments To Rightwing Activists A Month Before Capitol Riot Linked To Foreign Account'
WASHINGTON — On Dec. 8, someone made a simultaneous transfer of 28.15 bitcoins — worth more than $500,000 at the time — to 22 different virtual wallets, most of them belonging to prominent right-wing organizations and personalities.
Now cryptocurrency researchers believe they have identified who made the transfer, and suspect it was intended to bolster those far-right causes. U.S. law enforcement is investigating whether the donations were linked to the Jan. 6 assault on the U.S. Capitol.
While the motivation is difficult to prove, the transfer came just a month before the violent riot in the Capitol, which took place after President Trump invited supporters to "walk down Pennsylvania Avenue" and "take back our country."...
https://news.yahoo.com/exclusive-large-bitcoin-payments-to-rightwing-activists-a-month-before-capitol-riot-linked-to-foreign-account-181954668.html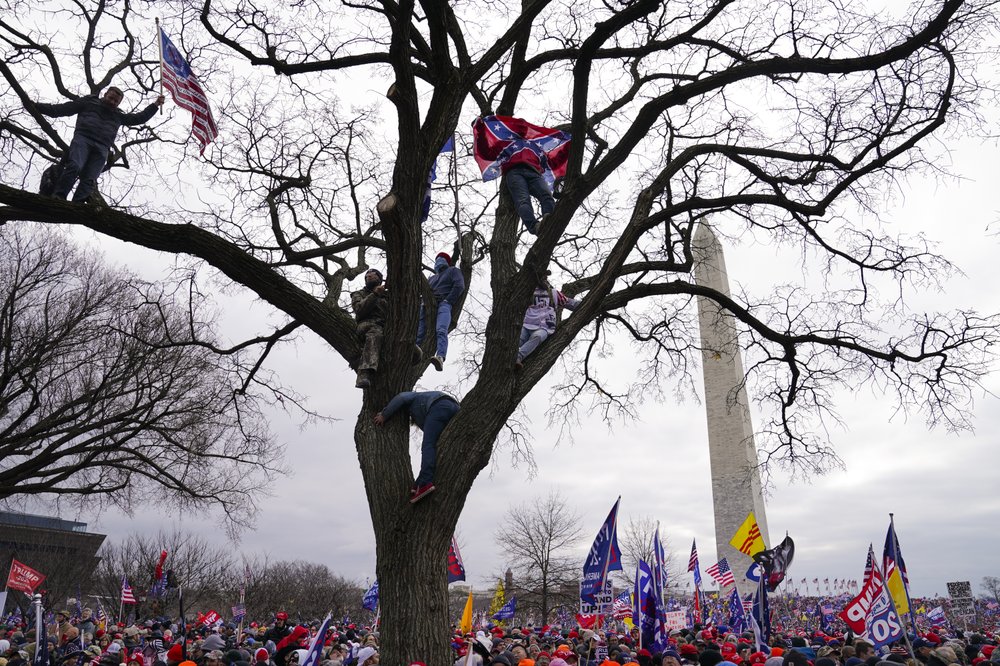 - AP news photo.
53 replies, 6737 views
Replies to this discussion thread
53 replies
Author
Time
Post

'The Leaders Of The Riot Were Paid!'

[View all]

appalachiablue
Jan 2021
OP
catrose
Jan 2021
#1
underpants
Jan 2021
#10
JHB
Jan 2021
#19
Dark n Stormy Knight
Jan 2021
#52
NCjack
Jan 2021
#2
Wicked Blue
Jan 2021
#5
Arne
Jan 2021
#3
Baitball Blogger
Jan 2021
#4
underpants
Jan 2021
#7
Marcuse
Jan 2021
#18
AnotherMother4Peace
Jan 2021
#17
Hekate
Jan 2021
#47
SheltieLover
Jan 2021
#6
orangecrush
Jan 2021
#40
Chin music
Jan 2021
#8
Bluethroughu
Jan 2021
#9
Mike 03
Jan 2021
#11
appalachiablue
Jan 2021
#13
njhoneybadger
Jan 2021
#12
Irish_Dem
Jan 2021
#14
JHB
Jan 2021
#22
Irish_Dem
Jan 2021
#26
DENVERPOPS
Jan 2021
#32
Irish_Dem
Jan 2021
#33
DENVERPOPS
Jan 2021
#35
Irish_Dem
Jan 2021
#36
DENVERPOPS
Jan 2021
#41
Irish_Dem
Jan 2021
#44
DENVERPOPS
Jan 2021
#45
Irish_Dem
Jan 2021
#46
DENVERPOPS
Jan 2021
#49
Irish_Dem
Jan 2021
#50
DENVERPOPS
Jan 2021
#51
Blue Owl
Jan 2021
#15
llashram
Jan 2021
#16
soldierant
Jan 2021
#21
BadgerMom
Jan 2021
#20
mjvpi
Jan 2021
#23
grantcart
Jan 2021
#24
Borderer
Jan 2021
#25
Irish_Dem
Jan 2021
#27
Borderer
Jan 2021
#28
Irish_Dem
Jan 2021
#29
orangecrush
Jan 2021
#39
bucolic_frolic
Jan 2021
#30
BobTheSubgenius
Jan 2021
#31
BumRushDaShow
Jan 2021
#34
mountain grammy
Jan 2021
#37
orangecrush
Jan 2021
#38
PatrickforO
Jan 2021
#42
Swamp Country Po Boy
Jan 2021
#43
dalton99a
Jan 2021
#48
live love laugh
Jan 2021
#53